There's nothing quite like coming home after a long day to be greeted by your feline companions. As a proud cat mama, I know how fulfilling it is to share your space with these lovable, furry friends. But I also know how challenging it can be to simultaneously keep your home looking beautiful and cat-friendly!
As an interior designer who has worked with hundreds of clients over the years, I've seen it all regarding the relationship between cats and carpets. And let me tell you – it's not always pretty! Scratches, stains, loose fibers…keeping carpets looking their best in a home with cats takes some thought and effort.
That's why I wanted to create this comprehensive guide to choosing the best carpet for your cats. Read on for my tips and recommendations so you can make an informed decision for your home and fur babies!
Understanding Your Feline Friends
Before we dive into the nitty-gritty of carpets, it's essential to understand what makes cats tick. The better we know their instincts and behaviors, the better we can accommodate them in our home decor choices. Here are some key things to know: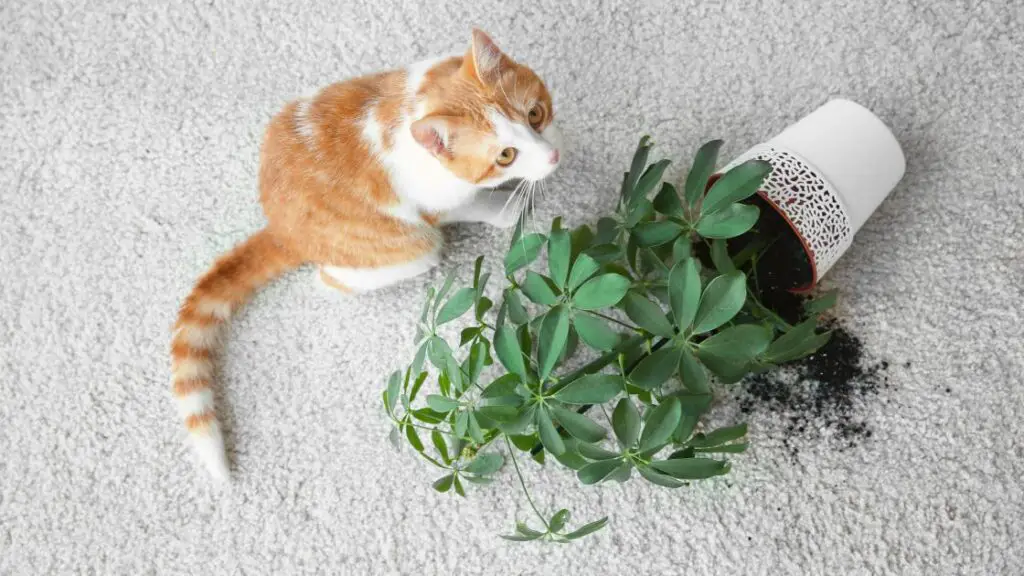 The Nature of Cats
Cats have some natural behaviors that don't always jive well with delicate rugs and carpets. Two big ones are:
Scratching habits: It's in their DNA! Scratching helps cats remove the dead outer layer of their claws and mark their territory. Unless you provide designated scratching posts, they'll scratch on almost anything, including carpets.
Shedding and grooming: No matter how much you brush them, cats will shed. And all that loose fur ends up on your carpets. Cats also tend to groom themselves frequently, leaving traces of dirt, skin cells, and oils.
Why Standard Carpets Don't Always Hold Up
Given how cats behave, it's no wonder that run-of-the-mill carpeting often can't withstand the wear and tear. Here are two key reasons:
Carpet fibers and durability: Budget carpets are typically made with cheap, low-denier fibers that pill easily and quickly, making them look dirty and dingy.
Stain and odor retention: When accidents (ahem, pee) inevitably happen, cheap carpelike sponges sponge, trapping stains and smells within the fibers. Getting that urine stench out ultimately can be nearly impossible. No thanks!
So, how do we choose a durable carpet for feline activity that still feels soft and plush underfoot? Read on, my cat-loving friends!
Key Features to Consider in a Cat-Friendly Carpet
Choosing carpet for your kitties comes down to a few key considerations. Keep these features in mind as you shop: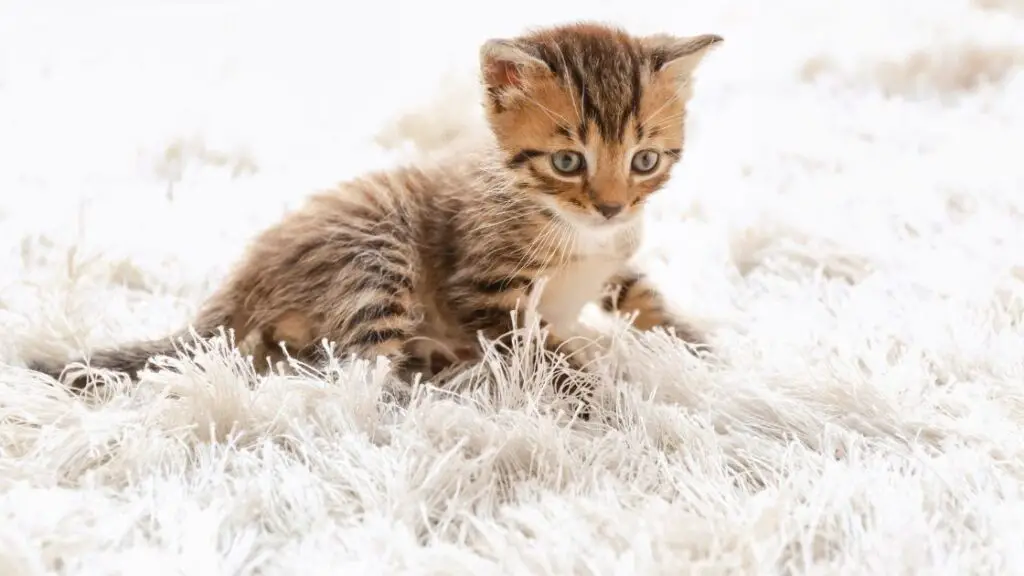 Durability and Resistance
Look for a medium to high-density carpet made of fibers like nylon or polyester. The thicker, denser piles resist pilling, matting, and crushing the fibers underfoot (or paw, I should say).
Nylon vs Polyester: Nylon fibers are strong, stain-resistant, and easy to clean. But polyester carpets hold vibrant colors well and repel water-based stains. Both are durable options.
Stain and Odor Resistance
Cats will be cats, which means accidents. Look for carpets made with stain-treatment technologies that allow quick, easy cleaning. An antimicrobial treatment will also resist odor-causing bacteria.
You want a carpet that releases stains easily with water or mild soap. No heavy-duty cleaners or hours of scrubbing are required.
Claw-Friendly Weave
The weave of the carpet significantly impacts how well it resists clawing damage. Loop or Berber styles hold up best because of their tight, dense construction. The shorter loops don't pull up quickly.
Cut piles are more susceptible to snags, runs, and loose strands from claws. Plush cuts are the most fragile.
Comfort and Safety
Of course, your carpet must be comfortable for sleeping, playing, and lounging! For plushness, focus on soft, cozy polyester fibers or wool.
Also, ensure that any carpet treatments and backings meet non-toxic safety standards. We want a healthy home for our furry friends!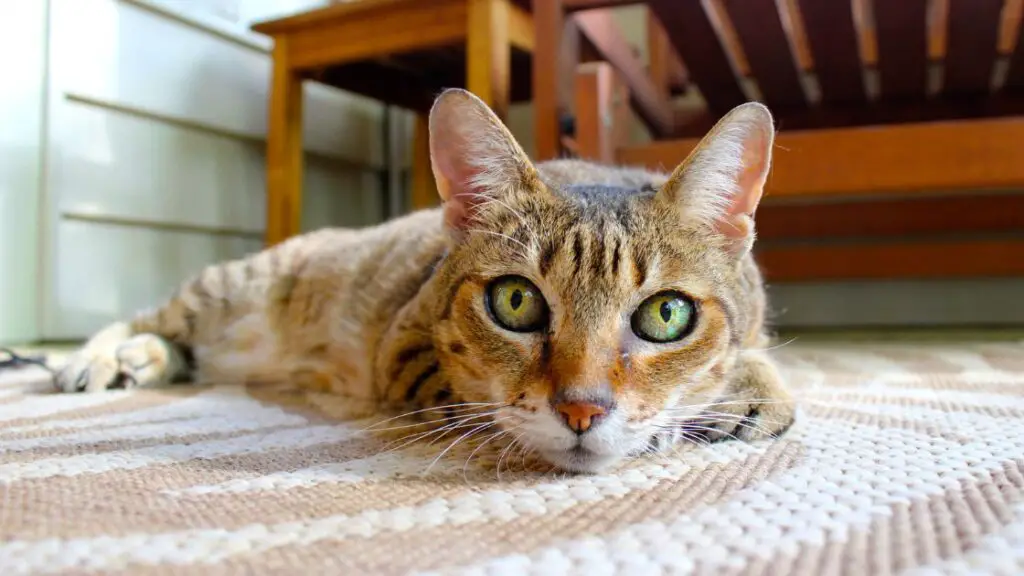 Top Carpet Choices for Homes with Cats
Now for the fun part – my top recommendations across styles and budgets!
Best Overall: Stainmaster PetProtect Carpet
For all-around durability, cleanability, and comfort, I recommend Stainmaster PetProtect carpet. It meets all my criteria for cat-friendly flooring:
Soft, stain-resistant nylon fibers
Proprietary PetProtect treatment resists stains
Tight, loop-style weave prevents damage from scratching
Cushioned for comfort without being overly plush
PetProtect comes in a range of neutral, pleasing colors to suit any decor. It may cost more than bargain carpets, but it's worth it for the years of worry-free use you'll get.
Best Budget: Shaw Floors EverTouch Nylon Carpet
EverTouch Nylon is a great, affordable option for cat owners looking for value. Available exclusively at Home Depot stores, key features include:
Dense, durable nylon fibers shed dirt easily
StainGuard protection allows quick clean-up
Low, tight loop pile minimizes damage from claws
Durable but softer underfoot than some Berbers
As a bonus, EverTouch Nylon's fun, speckled multi-color designs hide stains and shed fur. At $2-3 per square foot installed, it's easy on the wallet, too.
Best Luxury: Fabrica Carpet Tuff Stuff
If you want to splurge for a super-soft, durable carpet, look no further than Fabrica's Tuff Stuff line. With a dense, double-weave construction and stain-resistant wool, key benefits include:
Extreme durability from the double-weave wool fibers
The plush, cozy pile feels wonderful underfoot
Superior resistance to claws, stains, and high-traffic
Soft and luxurious – indeed, an heirloom carpet!
The investment pays off with decades of unparalleled performance and indulgence. Give your cats – and yourself – the luxury you deserve.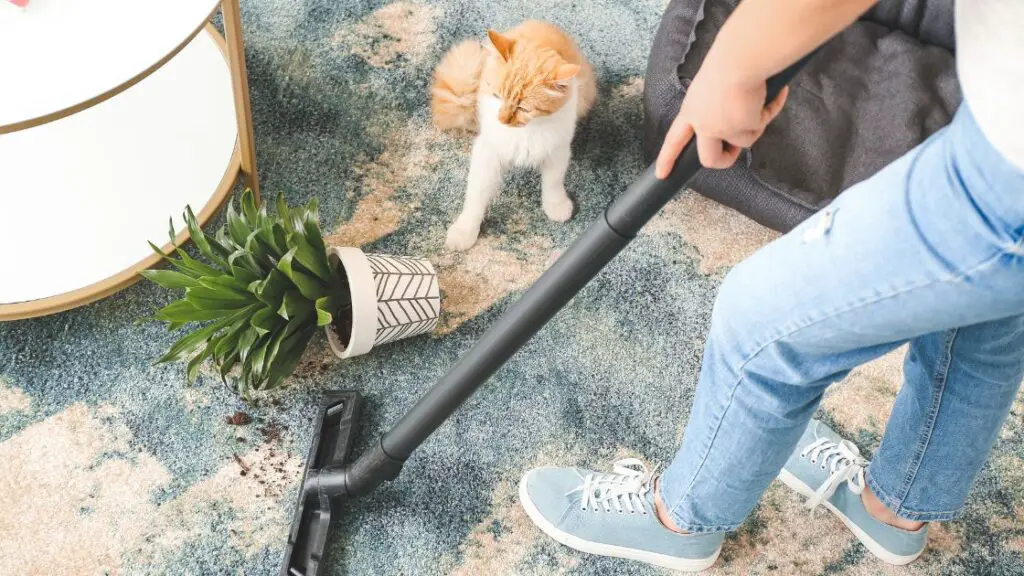 Best Green: Flor Carpet Tiles
For an eco-friendly, non-toxic flooring option, I love FLOR carpet tiles. These clever carpet squares allow you to mix and match colors and swap out damaged tiles as needed. Benefits include:
Cushioned recycled polyester fibers
Non-toxic adhesives and backing
Replace single tiles instead of the entire carpet
Fun patterns and textures to mix and match!
FLOR tiles are sustainably produced in the USA. While pricier than wall-to-wall carpets, their longevity and low environmental impact make the investment worthwhile.
Essential Tips for Maintaining Your Carpet
Once you've chosen the perfect cat-friendly carpet, caring for it properly is essential. Follow my maintenance tips, and you'll add years of life to your flooring:
Regular Cleaning and Maintenance
Vacuum frequently – ideally every 2-3 days if you have multiple cats. Use a vacuum with adjustable height and a rotating brush roll to lift embedded dirt and hair.
Have your carpet professionally cleaned with hot water extraction every 6- 12 months. This deep cleans and revives the carpet fibers.
Immediate Action on Accidents
When you spot a stain or spill, blot it thoroughly with a clean cloth or paper towel. Avoid rubbing, which forces the mess deeper into fibers.
For urine stains, saturate the spot with an enzymatic cleaner formulated for pet stains, then rinse with water. This will neutralize odors rather than just masking them.
Combating Cat Hair
It's a never-ending battle, isn't it? Here are my tips for managing the fur tumbleweeds:
Use a rubber pet hair broom daily to gather loose hair from carpeted areas. The rubber bristles grab onto hair.
Apply a damp microfiber mop over carpets to create static that attracts and grabs pet hair.
Brush and groom your cats frequently to minimize shedding directly onto the carpet in the first place!
Dealing with Scratches and Snags
Trimming kitty claws regularly blunts the tips and discourages scratching. Cat towers and scratching posts also keep paws active.
For minor scratches or snags, carefully trim loose fibers with scissors. Use a carpet repair kit to fill in gaps for a seamless look for longer runs.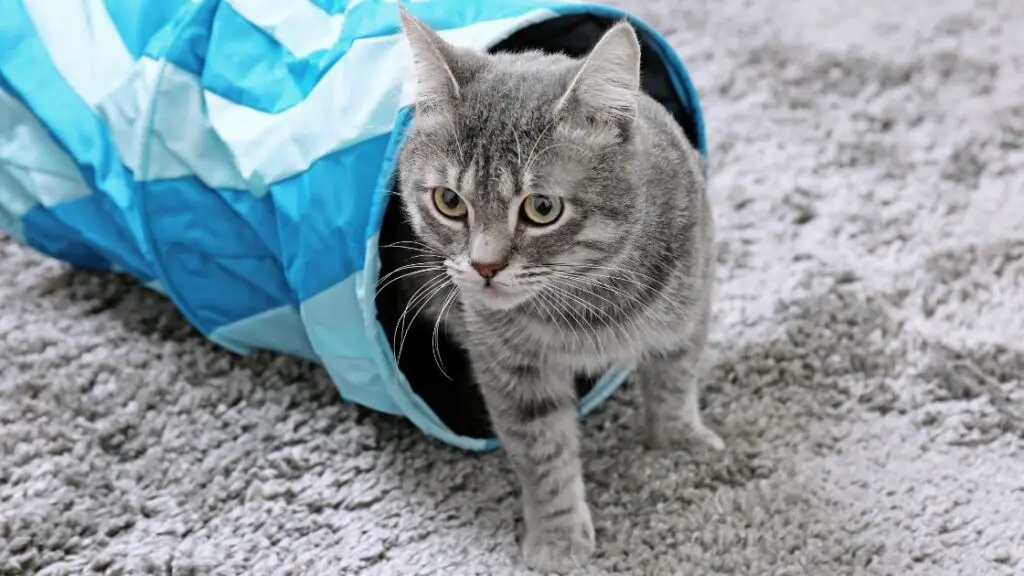 Creating a Cat-Friendly Home Beyond the Carpet
Choosing the carpet is just the first step! Here are a few more tips for making your home as cat-friendly as possible:
Provide scratching posts and pads – Multiple types, like vertical and horizontal scratch pads, will satisfy their scratching urges. Use materials like sisal rope, corrugated cardboard, and wool rugs.
Add cat trees or wall-mounted shelves – These create new vertical territory for your cats to climb, perch, and lounge. Place near windows for bird-watching vantage points!
Use ceramic tile in high-traffic bath or kitchen areas – Tile stands up to accidents and food spills better than carpeting in wet rooms. It's easy to clean and replace as needed.
Train cats to avoid off-limits areas – Use scat mats, foil, or double-sided tape to teach cats to avoid kitchen counters, furniture, or carpet edges. Be patient – you can train an old cat new tricks!
Final Thoughts
This guide has helped you unpack everything you need to confidently choose the best carpet for your feline family members! While it takes some effort, carpeting that stands up to your cats is possible.
The most important thing is understanding your cats' needs and matching those to the suitable carpet materials and construction. Do your homework, read reviews and recommendations, and avoid splurging on forums for durability and easy maintenance.
With the right carpet and proper care, you can enjoy soft, cozy floors that withstand everything your kitties dish out. You can also have peace of mind knowing your home decor is safe and comfy for your fur babies. Let me know if you have any other questions about the cat carpet! I'm always happy to chat about creating a home that's as stylish as pet-friendly.