Hey there, decor fans! It's Amanda here, your friendly neighborhood interior design expert. Today, I want to discuss one of my favorite elements in open-concept home design – the versatile half wall spanning your kitchen and living room.
Whether you're working with a brand new blank canvas or looking to revamp an existing space, incorporating a half wall can transform these core areas of your home. Half walls (pony walls or mid-walls) perfectly blend between separating and unifying your kitchen and living room. They let you enjoy the benefits and flow of an open-concept space while providing some division and privacy between the two zones.
In this post, we'll explore:
What half walls are and how they create the best of both worlds in open floor plans
Creative ways to use half walls – from storage and seating to greenery and decor
Design considerations around height, materials, lighting, and more
Style ideas for complementing your home's aesthetic
Practical tips for installation, cleaning, noise reduction, and beyond
So whether you're building, remodeling, or just looking to refresh, read on for tons of inspiring ideas to make the most of the liminal space that is the half wall!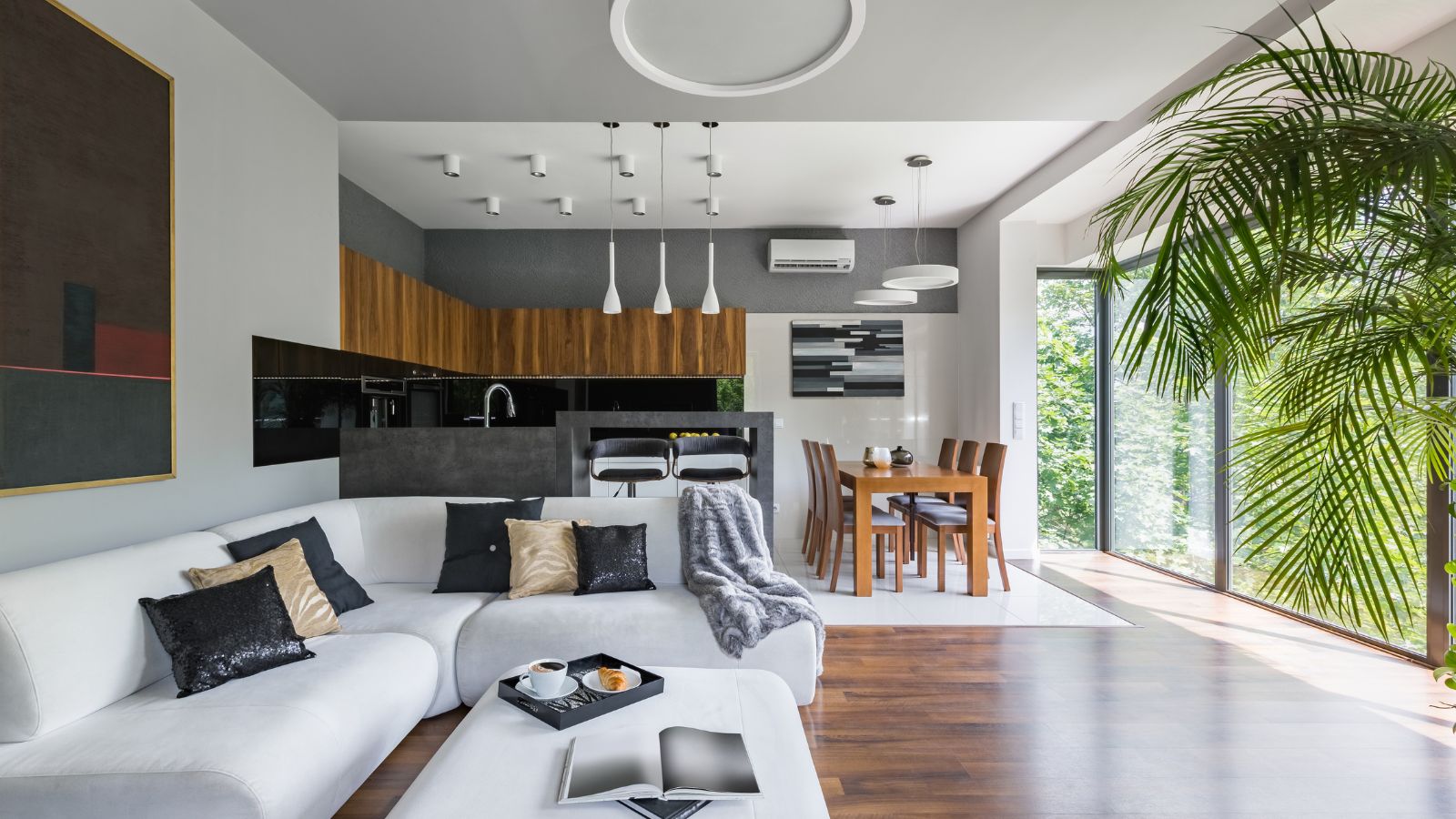 What Are Half Walls and Where Do They Come From?
Before we get to the fun stuff, let's quickly cover the basics.
Definition and Purpose
A half wall, as you may have guessed, is a wall that rises just halfway up to the ceiling. Typically ranging from 3 to 4 feet tall, half walls separate spaces while allowing an open and connected feel.
In between the kitchen and living room, half walls create a nice transition area that keeps the spaces defined without totally closing them off. This allows activities like cooking, eating, and lounging to flow from one place to another.
History and Rise of Popularity
Half walls are far from a new invention, but they have become popular in recent decades. This lines up with the growing trend toward open-concept homes.
In the 20th century, homes transitioned from closed-off rooms to a more open and connected floor plan. Flowing common areas became ideal for entertaining and family living.
But some division is still lovely for functionality. This is where half walls came in – providing privacy and separation while maintaining an airy, spacious feel.
Benefits of Open Floor Plans
So why are half walls so prevalent in modern and open floor plans? Here are some of their best benefits:
Manage views – Half walls allow you to divide spaces while still permitting views across the room subtly. For example, you can see your kids playing while cooking.
Direct flow – They gently direct the flow of movement through open spaces while keeping areas loosely defined.
Retain openness – Lower height retains spaciousness and natural lighting. Tall, full walls would close off the space.
Provide division – Subtly divide noisy or messy functional areas from formal living spaces.
Create intimate zones – Use half walls to define sitting areas or home office nooks within a larger open space.
Offer versatility – Easily change the decor or function of each zone separated by a half wall!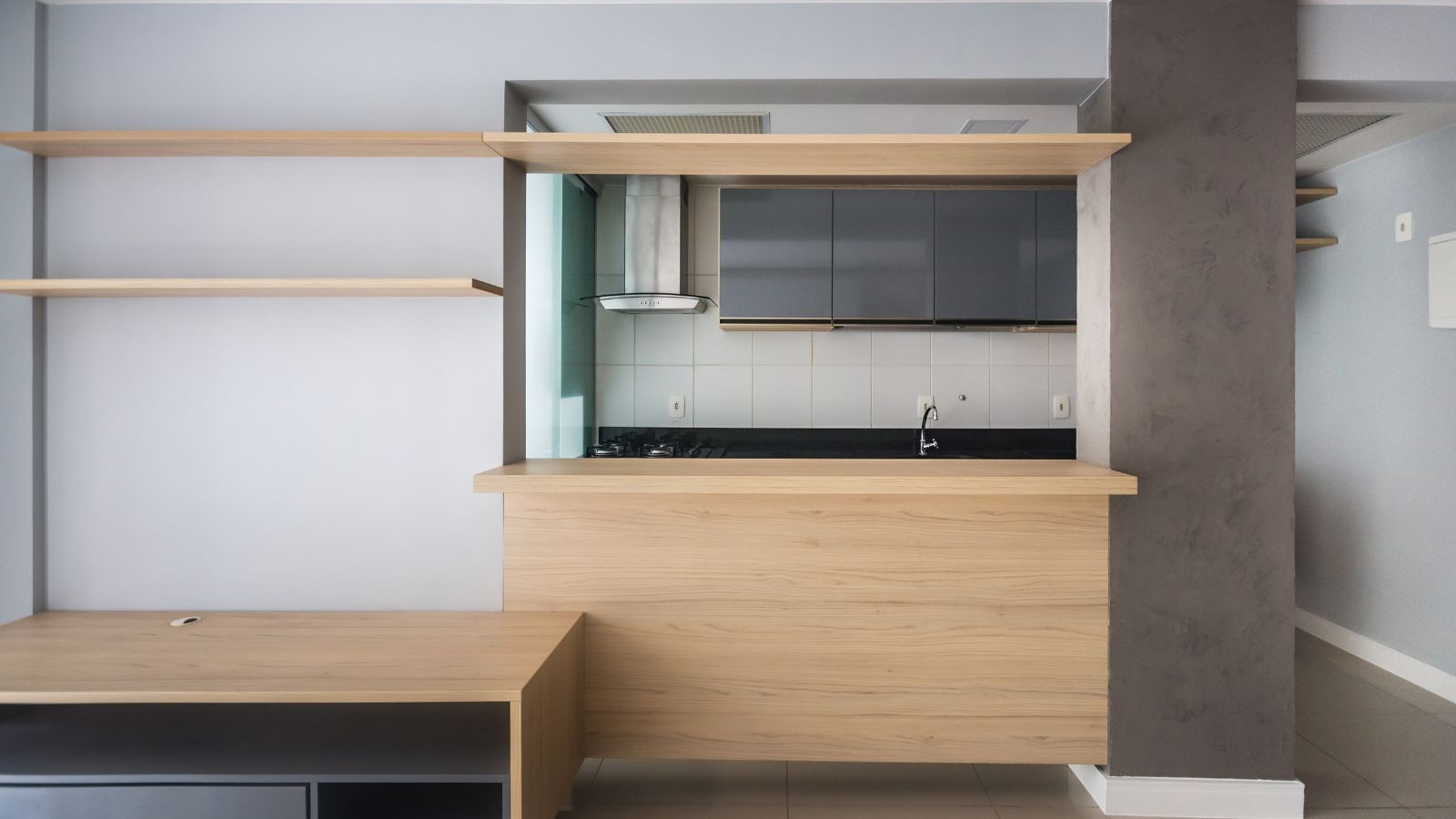 Getting Creative: Half Wall Design and Decoration Ideas
Alright, now that we're up to speed on what half walls are and why they're awesome, let's get into the fun stuff – how to design and decorate them!
Get ready for tons of cool ideas for maximizing your half-wall space:
Storage and Display
One of the best uses for half walls is integrated storage and display. Why waste the vertical real estate?
Open shelving – Perfect for books, collectibles, or displaying pretty dishes and glassware. Go modern with steel or industrial wood, or add charm with floating cottage-style shelves.
Enclosed cabinets – Conceal less sightly items in upper cabinets. Try glass front for an airy feel that still displays items.
Wine rack – Fancy bottles on display make for an elegant accent. Install a mounted wine glass rack, too, for easy entertaining access.
Coat hooks – Use the half-wall end by mounting a row of coat hooks for guests to stash jackets easily.
Floating desk – Install a slim floating desk for drink mixing or laptop use. Multi-functional!
Seating and Tables
Your half-wall can also provide additional seating and surface areas.
Breakfast bar – Top with a countertop and add stools for casual meals and chatting.
Kitchen banquette – Use the length for a cozy kitchen banquette with storage underneath.
** Desk area** – Pull up a chair on the living room side to create a handy work surface for tasks.
Bar space – Install a narrow drink rail to take advantage of the room's flow.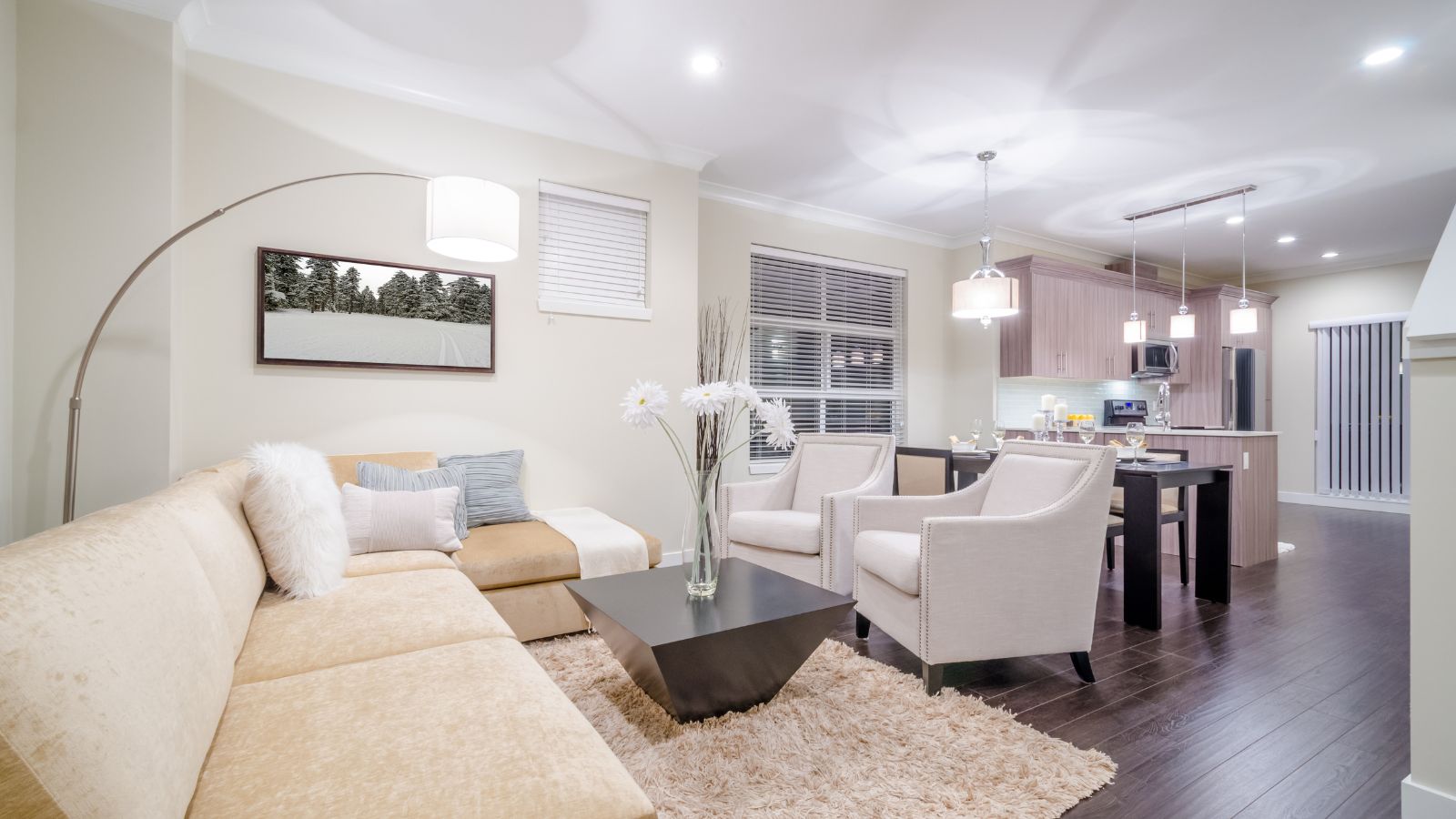 Greenery
Bring your half wall to life with gorgeous greenery – the ideal way to link indoor and outdoor beauty.
Planter boxes – Line planters along the top for a mini garden feel and fresh texture.
Hanging plants – Suspend air plants or trailing ivy from mounted macrame hangers.
Plant wall – Install mounted planters or vertical hydroponic garden channels. Thriving plants make a living wall!
Succulents and cacti – Mix low-maintenance succulents and cacti in tiny pots for an on-trend desert vibe.
Art and Decor
Use your half wall as an extended display area for artwork, decorative objects, or accent lighting.
Gallery wall – Paint the wall a vibrant tone and arrange framed photos, prints, or artwork.
Sconces – Mount decorative sconces along the length for ambient mood lighting. Choose brass, iron, or rustic wood frames.
Accent tiles – Use tile, shiplap, or textured wallpaper along the lower half for a unique detail.
Wreaths and signs – Incorporate wreaths, signs, and other homey decorative touches. Change them up seasonally!
Design Considerations and Construction Tips
Now that you have many ideas for decking out your half wall, let's chat about the design process. Here are some key considerations when planning and constructing your kitchen-to-living room half wall:
Height
Consider the intended purpose when choosing the ideal half-wall height.
Match the room's window height for balanced proportion. This is often 30-36''.
Default to counter height (36'') for drink stations or food prep.
For more division, go 42-48'' to partially conceal sights and dampen noise.
Child safety requires a half wall over 24 inches tall. For toddler visibility, stay under 48''.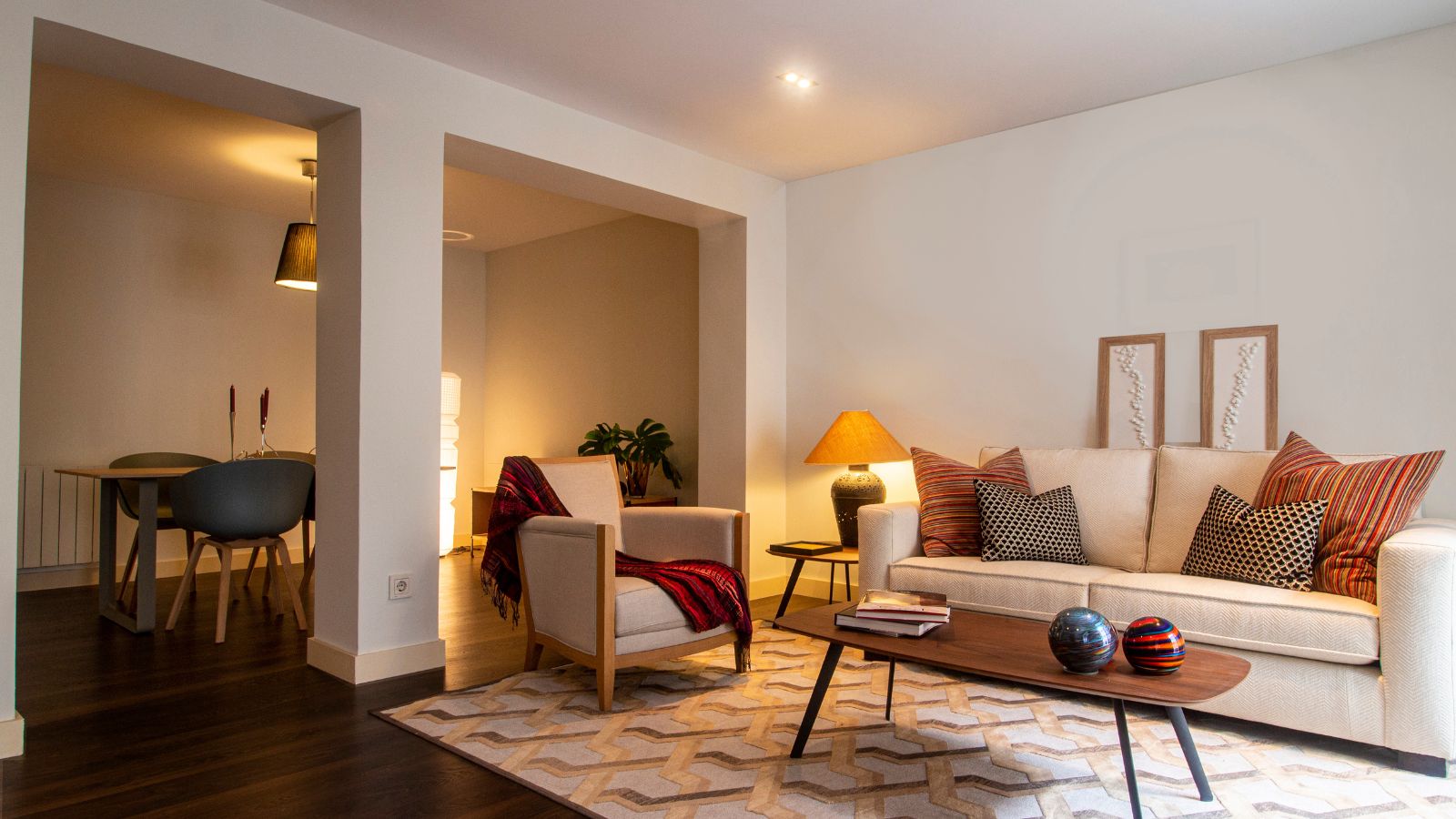 Materials
Select materials that complement both the kitchen and living room.
Cover kitchen backsplash tile or flooring onto the half wall for a unified look.
Use wood that matches the existing living room trim and cabinetry.
Glass, metal, or textured tile create an accent while allowing light to pass through.
Change the paint color from the kitchen to the living room side for a transition.
Structural Support
Half the walls still need proper framing and anchoring, especially for the upper cabinets.
Bolt wall into the floor and ceiling with bracket hardware.
Use thick plywood, not drywall, for strength to hold cabinets and decor.
Add wood studs at least every 16 inches for stability and hanging cabinets.
Extend side posts into ceilings with angle brackets for lateral strength.
Lighting
Layer ambient, task, and accent lighting to create the perfect vibe.
Use recessed ceiling lights to wash both rooms in a glow.
Under cabinet LEDs illuminate kitchen tasks.
Mount cozy sconces on the living room side.
Show off display areas and decor with track or spotlight fixtures.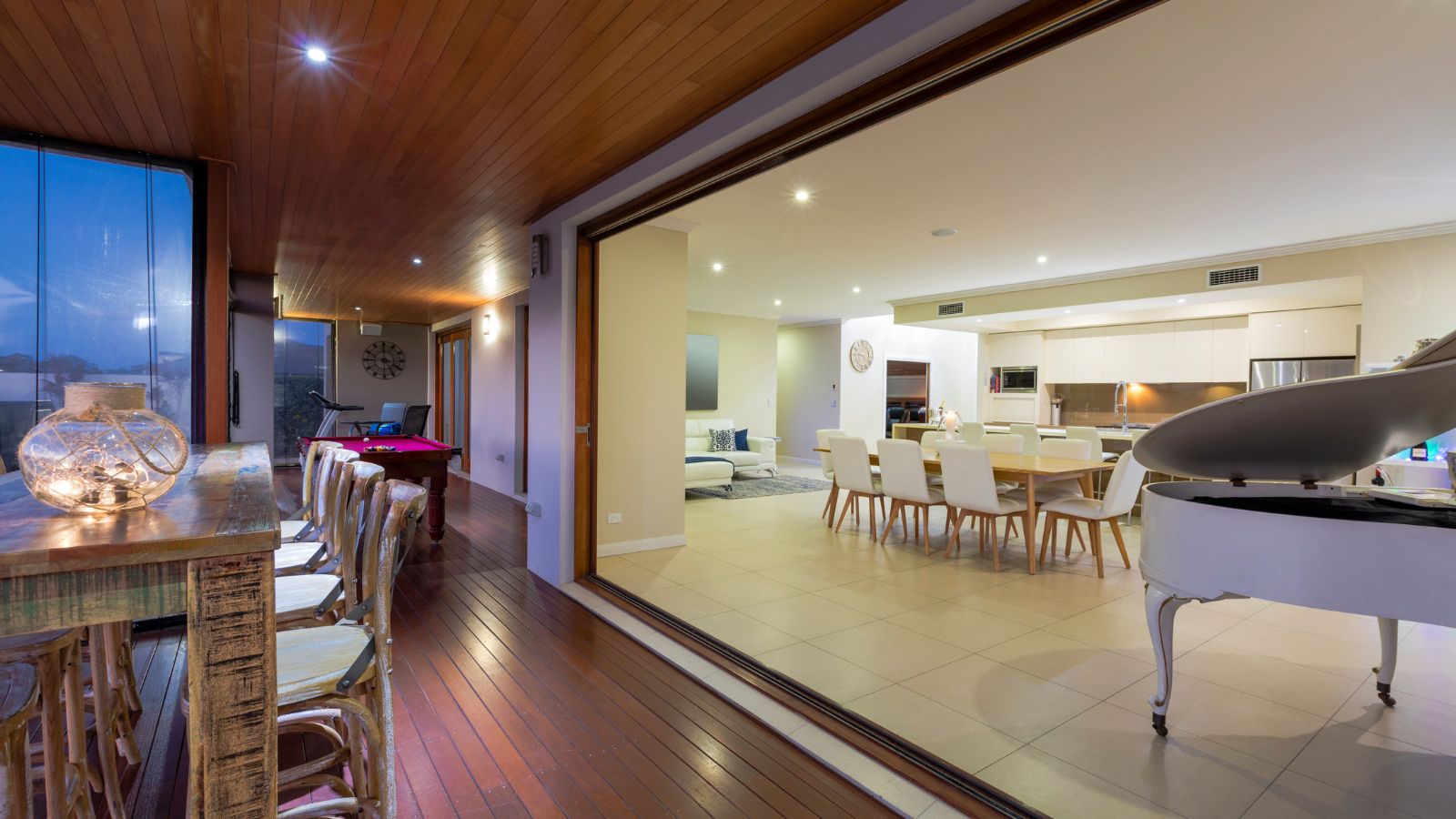 Setting the Scene: Designing a Cohesive Style
Once your half wall is up, it's time for the enjoyable part – decorating and designing! Here are tips for creating a cohesive and harmonious style between the kitchen and living room.
Unify With Color
Tie the spaces together through strategic color choices.
Choose one bold tone as an accent in both rooms. This creates a visual link.
Use the same neutral wall color in both spaces for flow. Add texture with different sheens.
Echo kitchen colors in living room textiles – try throw pillows, rugs, and window treatments.
Vary Textures and Materials
While keeping color cohesive, vary textures and materials between rooms.
If the kitchen uses glossy cabinetry, try rough wood shelving on the half wall.
Balance sleek granite kitchen counters with textured area rugs in the living room.
Incorporate both rooms' metals and wood within the half wall itself.
Style the Half Wall Itself
Use the half wall as a showcase for your style.
Make it a gallery wall with framed photos and art.
Line with rows of trendy succulents or air plants.
Add floating rustic wood shelves with ceramic vases.
Mount sconces and brackets for an architectural appearance.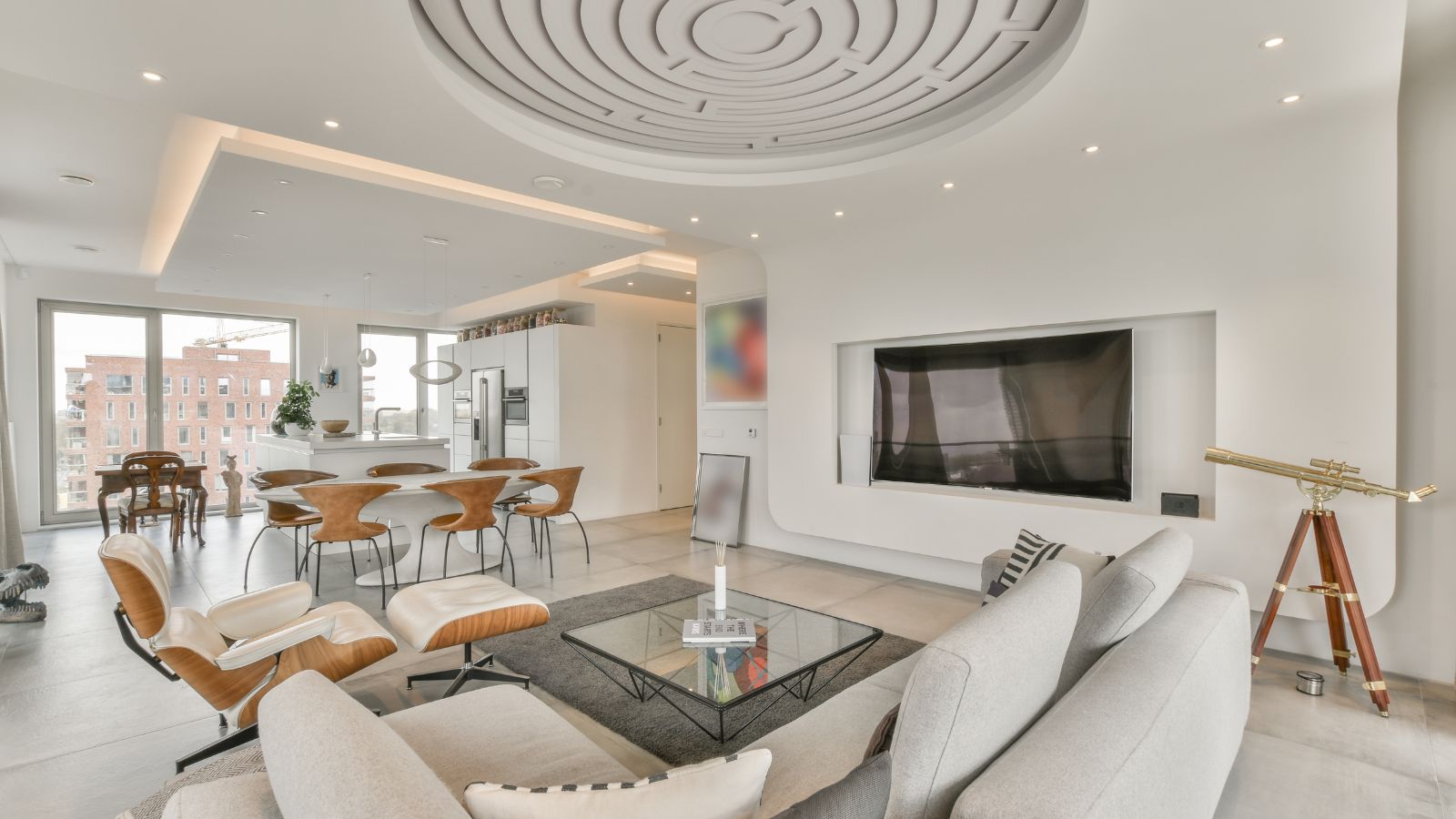 Seasonal Touches
Rotate decor seasonally to refresh your space.
Drape string lights along the top for sparkle during the holidays.
Display fresh flower arrangements from your garden in the spring.
Accent with warm colors and natural textures during autumn.
In summer, highlight beachy blues and greens.
Practical Tips for Installation, Maintenance, and Noise Reduction
We've covered the fun stylistic stuff. Now, let's get into some practical tips and tricks.
Installation: DIY or Hire Out?
You can install a basic drywall half-wall as a DIY project to save on labor costs. But for substantial changes, professional help is a safer bet.
Consider hiring a contractor for:
Moving wiring, ductwork, or plumbing.
Structural changes like removing walls or adding skylights.
New laminate counters require seamless installation.
DIY projects better left to homeowners include:
Painting, decorating, and furnishing the finished half wall.
Installing pre-fabricated cabinets and floating shelves.
Minor electrical like new light fixtures and switches.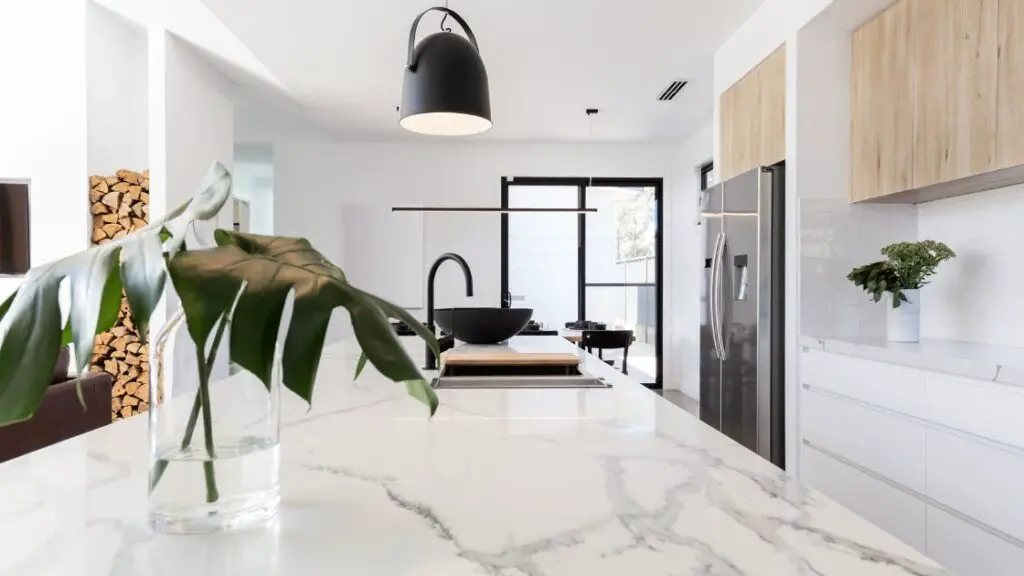 Maintenance and Cleaning Must
Regular upkeep keeps your half wall looking its best. Follow these care tips:
Dust shelves weekly and clean any wall decor.
Disinfect granite countertops after food prep.
Use mild dish soap and water to spot-clean painted walls monthly.
Avoid harsh chemicals on delicate surfaces like wallpaper or textiles.
Immediately clean spills on surfaces like tile, stone, and wood to avoid stains.
Noise Reduction Strategies
Half walls allow some sound to bleed between rooms. Try these tips to increase privacy:
Add acoustic insulation inside the half wall itself.
Hang noise-absorbing tapestries or curtains on the half wall.
Arrange furniture like bookcases to block sound between rooms.
Install thick carpet and rugs to muffle noise.
Play ambient soft music to mask unwanted sounds.
Real Life Half Wall Success Stories
If you're still seeking inspiration, check out these beautiful real-world kitchen and living room half-walls.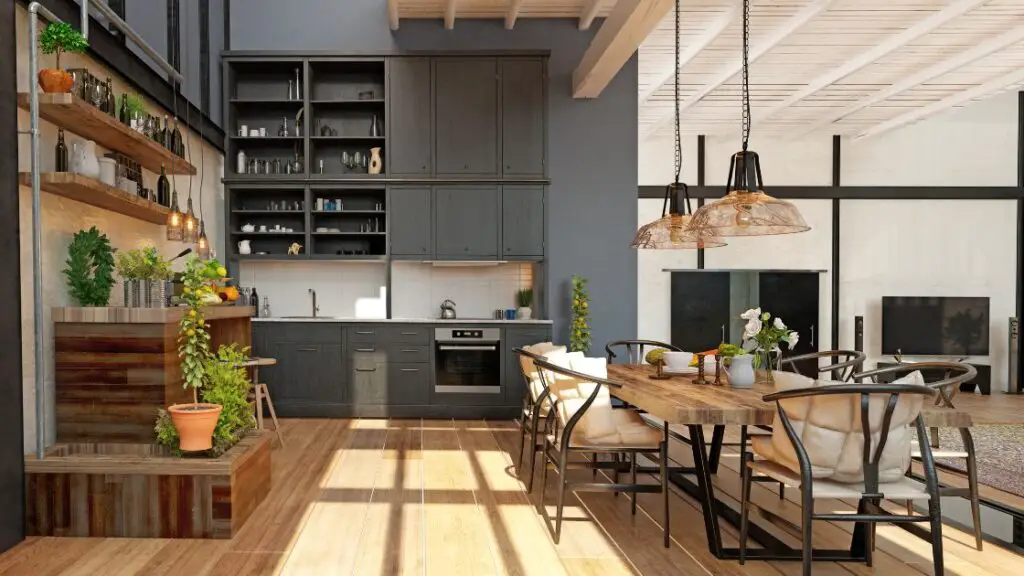 Rustic Farmhouse
This home embraced natural wood on the half wall to effortlessly blend rustic dining and living spaces. The brick floor extends from the kitchen to the living room under the fence to unify the areas.
Modern Industrial
Exposed brick, steel beams, and concrete link this lofty kitchen to the living room, while the black half-wall and glass railing maintain separation.
Rustic Industrial
Mismatched wood planking adds warmth to this industrial space – note how the wood of the half wall and kitchen shelving blend seamlessly. Black pipe rails unify the look.
Coastal Cottage
This breezy kitchen half-wall uses white shiplap planking for the perfect beachy feel. Pops of ocean blue connect the kitchen to the living room palette.
Wrap Up
There you have it – everything you need to know to design, build, and decorate the perfect half wall between your kitchen and living room. With an ideal blend of division and unity, half walls let you enjoy the perks of open-concept living with just the right amount of separation.
I hope this post sparked plenty of ideas for your home. Don't be afraid to get creative with storage, greenery, lighting, and decor details. The half wall offers so many possibilities!