As a woodworker and DIY enthusiast, I always seek ways to spruce up my workshop and garage space. The walls offer a great canvas to add visual interest, reflect my style, and make the space functional and inspiring. After years of testing different colors and techniques in my garage, I've learned a few tips and tricks for choosing garage wall colors. Follow this guide to pick the perfect hues for your space.
Why Color Matters in the Garage
Paint color significantly impacts the vibe and functionality of the garage. A suitable color scheme can liven up the space, make it more inviting, and optimize lighting conditions. Here are some key benefits of choosing colors strategically:
Color influences mood and energy. Bold, bright colors like red or yellow can energize a space and inspire creativity. Cooler hues like blue and green promote concentration and precision for detail-oriented tasks.
Expands or shrinks space: Light, neutral colors can make a garage feel more open and airy. Darker shades have a cozy, cocooning effect that provides an intimate workshop feel.
Provides visual interest: Adding color to your garage walls breaks up the monotony and gives you a pleasant backdrop. Accent walls, multi-tone schemes, and handpainted details all add personality.
Enhances lighting: Lighter colors reflect and amplify natural light, while darker hues absorb light. Consider your garage's light conditions when selecting a color palette.
No matter the size or purpose of your garage, the paint color can significantly impact the space. Get creative and choose colors that energize and inspire you.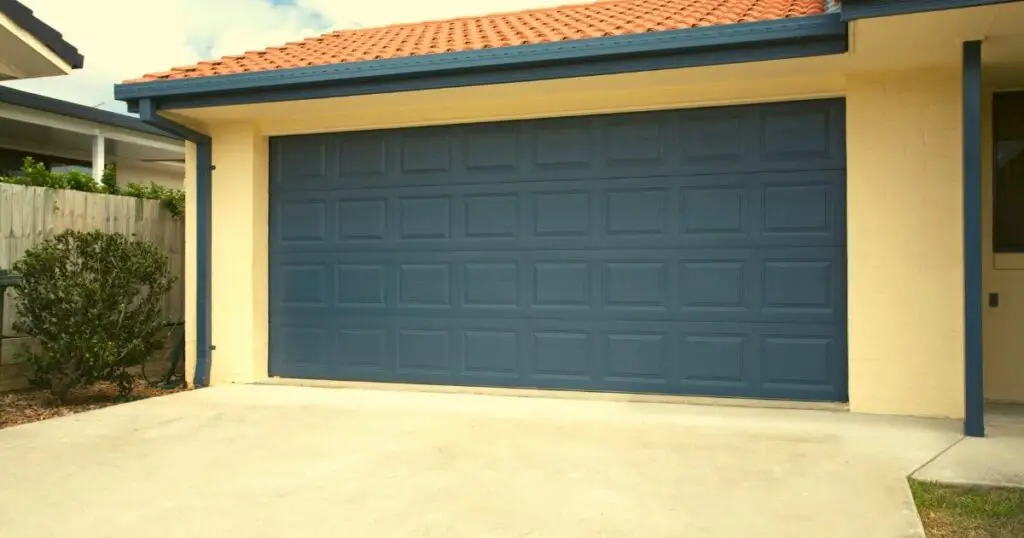 Determining Your Garage's Purpose
Before choosing any colors, think about how you primarily use your garage. Is it a woodshop, mechanic's workspace, storage zone, gym, or a combination? The garage's main functions should guide your color selection.
Garages for Working and Building
Choose colors that promote focus and precision if you use your garage as a workshop for woodworking, metalwork, auto repair, or similar hands-on hobbies. Cooler tones, like steely grays, deep blues, or forest greens, help concentration by having a calming effect. Neutral beige or tan colors also recede, keeping the attention on your projects.
Paint the upper walls a lighter color and use a darker shade below chair-rail height for a two-tone look that defines workspaces. Boldly painted floor markings or guidelines keep everything neatly organized.
Garages for Storage
Visibility and lighting are critical in garages primarily used for storage. Lighter neutrals like white, cream, or light gray help contents stay illuminated and easy to find. Consider adding brightly colored zones, lines, or grids to label and restrict different storage sections.
If your stored items are prone to collecting dust, choose finishes with a subtle sheen. Eggshell and satin sheens add durable low glare.
Multipurpose Garages
Use multiple neutral colors to define each space if your garage serves multiple purposes, such as a workspace, storage area, or parking zone. Paint tool benches and worktables in contrasting hues from the wall to make them stand out.
Paint one brightly colored accent wall to create a focal point and kid-friendly creative area. Then, paint the remaining walls black or charcoal for a bold but minimalist look. The varied color zones will help visually organize the garage.
Popular Garage Wall Color Schemes
Once you've determined your garage's primary functions, it's time to explore the color possibilities! Here are some of my favorite professional garage color combinations:
Crisp White and Gray
This classic color combo keeps things clean, bright, and straightforward. All-white walls feel spacious and airy, while gray baseboards, workbenches, and cabinetry add definition. The neutral palette allows color from storage bins, tools, vehicles, and other garage elements.
Accent with pops of color like fire-engine red toolboxes or cobalt blue rolling carts. Varying the white and gray tones (warm, cool, light, and dark) also adds subtle visual texture.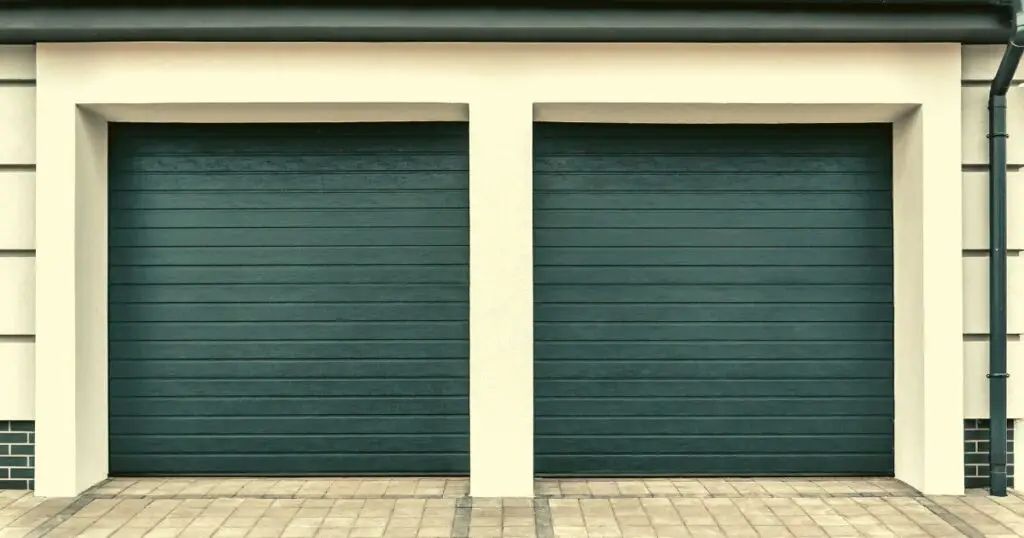 Brick Red and Black
For a bold, industrial look, brick, red, and black garage walls complement vintage and modern spaces. The dark color palette prioritizes lighting – incorporate plenty of task lighting and firm overhead bulbs.
For a two-tone scheme, paint the upper walls black and the bottom half brick red. Define workstations with checkerboard red and black squares on the floor.
Sage Green and Natural Wood
Earthy sage green garage walls evoke the outdoors and pair beautifully with natural wood accents. Stained cedar plank walls or a reclaimed wood worktable pop against the organic backdrop.
Paint the upper walls a light olive green. Use a deeper forest green below the chair rail and on built-in shelving for a rich envelope of color. Consider a tree mural or nature scene for the focal accent wall.
Robin's Egg Blue and Galvanized Metal
Forin's egg blue walls are soothing and cheery. G for a coastal-inspired garagealvanized sheet metal introduces an industrial edge and pairs well with the blue hue.
Paint the upper walls a soft sky blue and the lower divisions a deeper indigo. Incorporate galvanized panels on the accent wall for rustic texture or install a galvanized tin ceiling. Use light blue floor paint to designate parking spots or work areas.
Sunshine Yellow and Charcoal
Sunshine yellow makes this garage color scheme bright and lively. Grounding charcoal gray provides an earthy, cozy contrast. The combo keeps the space feeling fun and focused.
Use gray on lower walls and built-ins to create a solid foundation. Upper walls and accents in yellow add energizing pops of color. Consider a yellow and gray checkerboard floor or a sunshine mural on the back wall.
Factoring in Natural Lighting
The amount and quality of natural light your garage receives will affect how paint colors appear. Here are some tips:
North-facing garages with low natural light can handle deeper, bolder hues without appearing too dark and cavelike. Go for richer shades.
South or west-facing garages get abundant sunshine. Bright colors will intensify even more when hit with direct light. Stick to light and medium color tones.
Garages with small windows or skylights have limited lighting. Lighter wall colors help brighten up the space indirectly.
Use sheens strategically – eggshell and satin finishes add a subtle glow, while glossy paint will create reflections.
Test your color samples at different times of day. Colors look most accurate when viewed under the same type of lighting in your garage. This helps avoid surprises once the final coats are applied.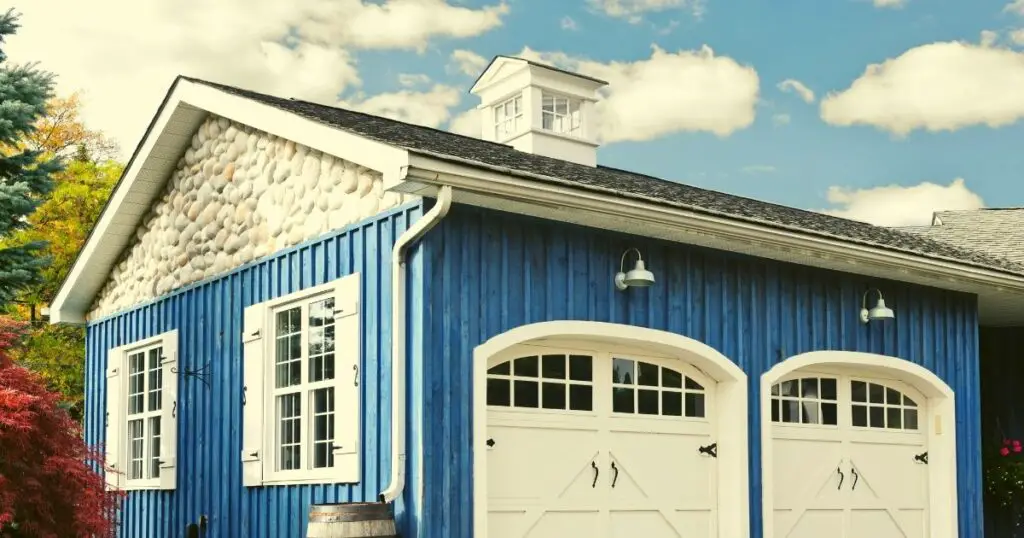 Achieving Long-Lasting, Low-Maintenance Walls
Once you've settled on the perfect garage wall color scheme, proper prep and application ensure it will withstand wear and tear. Follow these pro tips when prepping walls and applying paint:
Prep Steps for Success
Clean surfaces thoroughly. Use a TSP substitute to remove all grease and grime so the paint adheres well. If needed, rinse with a pressure washer.
Sand glossy walls with 120-150 grit sandpaper to rough the surface and improve adhesion.
Fill any cracks and holes with spackling paste or wood filler and allow to dry completely.
Lightly sand final repairs, then wipe away dust with a tack cloth.
Paint Like a Pro
Opt for satin, eggshell, or semi-gloss sheens – they are easy to clean and touch up.
Apply two coats for full-color saturation and coverage. Allow proper drying time between coats.
Use high-quality latex paint explicitly designed for garages and basements. Look for mold/mildew resistance.
Maintain painted walls by immediately cleaning spills and stains when they occur.
With proper prep work and a high-quality paint product, your garage walls will look freshly painted for years before needing a refresh. Proper maintenance also helps maintain that just-painted look.
Infusing Personality Through Paint Techniques
Beyond just choosing paint colors, I like to use fun techniques to make my garage walls pop. Here are some of my favorite ideas:
Bold stripes: Use masking tape to create vertical or horizontal lines in contrasting colors. They instantly transform dull walls into dynamic ones.
Faux brick or stone: For an urban look, use textured roller paint and stencils to create the illusion of brick, stacked stone, or tile.
Ambient lighting: Outline the garage's edges with rope lights or LED strips to cast a glow and highlight displayed items.
Geometric patterns: Jazz floors and walls with chevron, diamond, or triangular designs. They add great visual texture.
Typography: Use accent walls to stencil custom monograms, meaningful words, or motivational quotes. Your garage can showcase your personality!
Chalkboard paint: Use this to turn a wall section into a chalkboard for leaving notes, plans, and measurements visible. Use colorful chalk to make it pop.
Don't limit yourself to plain painted walls – the options for infusing color, texture, and personal flair are endless. Get creative with paint techniques to personalize the space entirely.
Embracing Your Garage's Potential
Your garage has so much potential to be a functional, inspiring, and energizing space. Strategic use of color, proper prep and painting, and creative enhancements transform plain walls into the backbone of your ideal workspace or creative zone.
Start by determining your garage's primary purpose and activities. Choose colors that promote the focus, energy, and visibility needed to maximize usefulness. Factor in natural lighting conditions when fine-tuning your palette. And don't forget to add personal touches like murals, lighting, or designs to make your mark.
With this guide's tips, you're ready to give your garage walls a new look that supports your unique needs and style. So grab those paint swatches and brushes – it's time to revamp your space and unlock its full potential. Feel free to reach out if you need any other woodworking, construction, or DIY advice! I'm always happy to help fellow garage space enthusiasts.