Hey friends! Angela here, popping in with some fresh décor inspo. If you've been following my home renovations, you know our little 1910s bungalow has been a labor of love. Between tiling, floor refinishing, and repainting every room, we've slowly transformed this place into our dream home. But is one space still left on the upgrade list? The kitchen – specifically our worn oak cabinets concealing banged-up old doors.
While I adore the charm of original wood detailing, these sad cabinets were beyond a fresh coat of paint. But simultaneously, a total custom cabinet replacement felt financially out of reach. Cue my deep dive into the magical world of cabinet refacing! I was thrilled to uncover this budget-friendly makeover method that completely transforms your cabinetry.
Through my research, I realized cabinet refacing offers the best of all worlds – a completely new look without the waste or cost of replacing your current cabinets. I wanted to share everything I've learned about the refacing process, from materials to cost considerations. Whether your goal is a contemporary matte black kitchen or warm wood finishes, read on for a comprehensive guide to remodeling success!
Understanding Kitchen Cabinet Refacing
Let's start with the basics – what is cabinet refacing anyway? In a nutshell, refacing is when you resurface your current cabinet boxes and doors with new veneers and hardware. Rather than obliterating your cabinets, the underlying structures remain intact while getting upgraded aesthetics.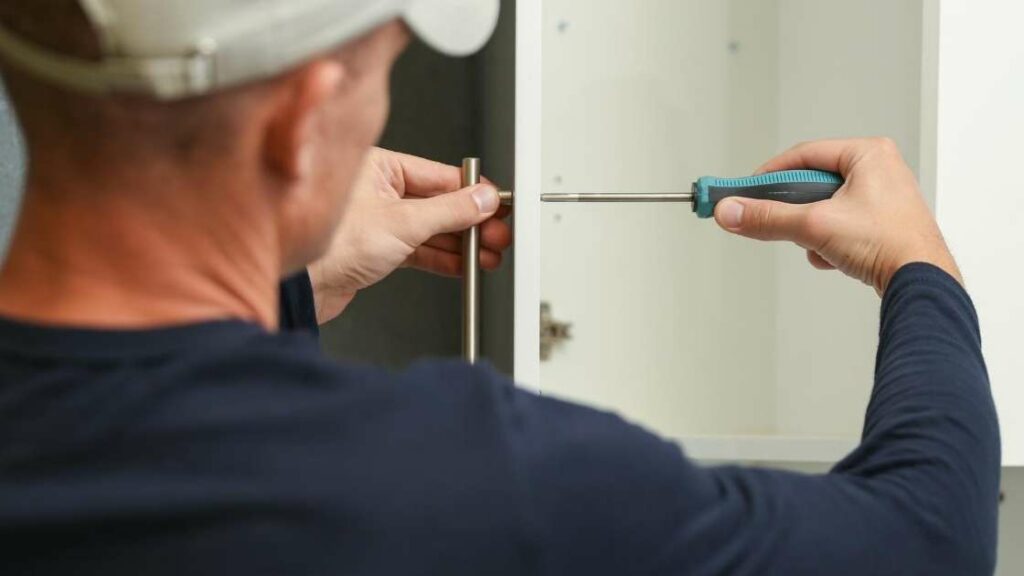 The Refacing Process Step-By-Step
The refacing workflow typically goes like this:
Remove all existing cabinet doors, drawers, and hardware
Thoroughly clean cabinet box surfaces
Measure and cut new veneer panels to size
Adhere veneers over cabinet box sides, faces, and fronts
Install new cabinet doors and drawer fronts
Add updated hardware like knobs, pulls, and hinges
Finish with trim pieces and molding
It's essentially a kitchen facelift – like getting new cabinets without the heavy demolition! Refacing can utilize natural wood veneers, laminates, PVC, or other materials adhered over your existing framework. Let's explore the popular options…
Common Refacing Materials
Wood veneers – Thin sheets of natural wood adhered to cabinet surfaces. Provides a warm, high-end look. Maple, oak, cherry, and walnut are typical wood veneer varieties.
Laminate – Low-maintenance and budget-friendly. Made from resin-coated paper fused to a plywood backing. Available in hundreds of colors and patterns resembling wood, stone, metal, and more!
PVC – A durable plastic material was gaining popularity for its affordable pricing. It feels and looks like wood while resisting moisture and scratches.
Thermofoil – A thin vinyl layer adhered to medium-density fiberboard (MDF). Provides consistent finish across door and cabinet surfaces.
No matter your preferred material, refacing offers design flexibility and sustainability compared to cabinet replacement. Let's explore when refacing is the right choice for your kitchen…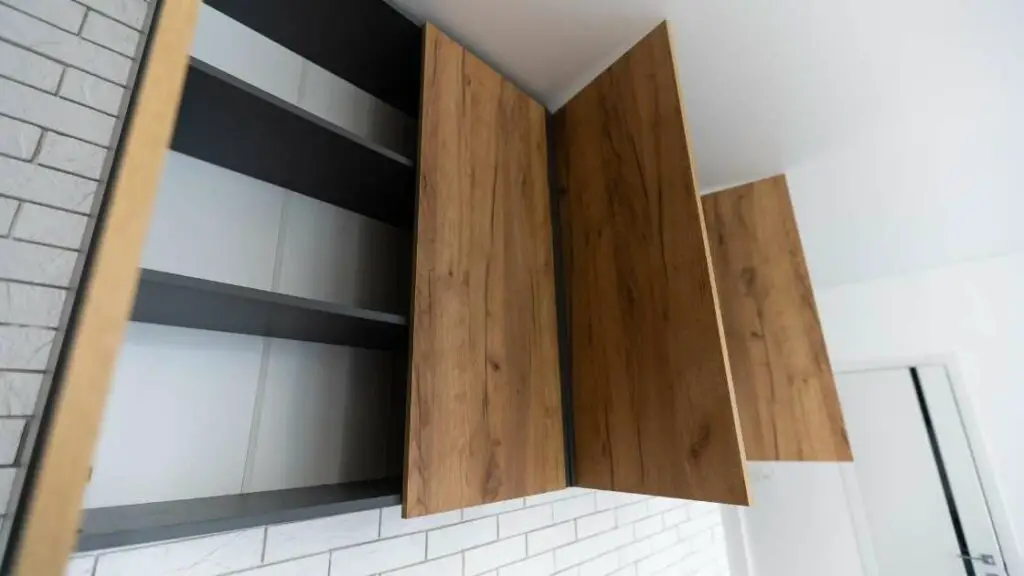 When to Consider Refacing Your Kitchen Cabinets
How do you know if your cabinets are primed for a makeover? Refacing is ideal if the overall cabinet layout/footprint works for your space, but the surfaces and style feel dated. Signs your existing cabinets have good "bones":
Cabinet Boxes Are Sturdy
Doors open and close smoothly
Surfaces are free of significant dents, damage, or detachment
Cabinet interiors are clean and functional
Layout Meets Your Needs
Ample storage space
Sufficient countertop workspace
Logical workflow between cabinets
Minor repairs like tightening hinges or patching holes can address minor issues before refacing. However, problems like sagging cabinets or mold growth indicate replacement might be the better route.
An experienced contractor can assess your cabinets' refacing potential during a site visit. I'd recommend an in-person evaluation before proceeding with any project. Their expert eye helps ensure your desired renovation is feasible, preventing unexpected issues.
Now, let's explore the exciting part – selecting finishes and hardware to reinvent your space!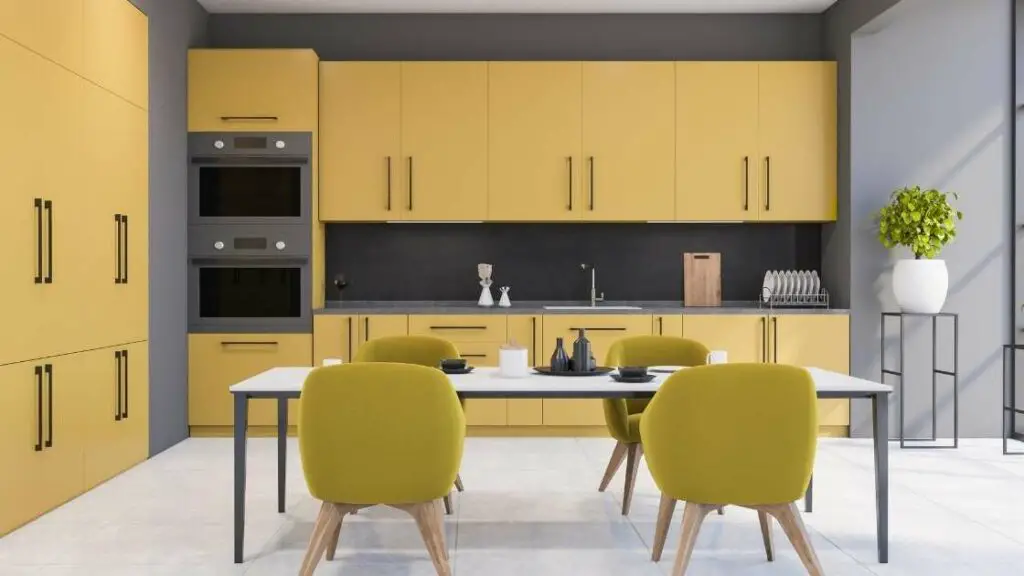 Design Options and Material Choices for Refacing
The possibilities are endless when refacing your outdated oak or cherry cabinets. Whether you love the warmth of natural wood or prefer low-maintenance laminates, there's an option to match your taste and lifestyle.
On-Trend Styles
Here are some of my favorite current looks:
Modern matte black – A dramatic twist on contemporary design, black refacing adds stylish sophistication. Pair with brass accents for an elegant contrast.
Two-toned cabinets – Mix and match colors on the upper and lower cabinets for dimension. Try navy blue lowers with crisp white uppers.
Woodgrain textures – Bring nature indoors by highlighting the unique grain patterns in wood veneers. Opt for a rich walnut or weathered driftwood aesthetic.
Shaker style – A versatile classic combining recessed cabinet fronts with visible corner blocks. Choose crisp white for a farmhouse vibe or soft blues for a coastal cottage.
The key is selecting a style aligning with your home's overall aesthetic – traditional, modern, cottage, industrial, etc. Refacing provides flexibility to reinvent your look while working within your existing cabinet layout.
Hardware: The Finishing Touch
Don't underestimate the transformative power of cabinet hardware! Swapping outdated brass knobs for modern matte black pulls can instantly give your kitchen a fresh feeling. Some tips on choosing hardware:
Match finishes – Keep hinges, pulls, and knobs cohesive by selecting the same finish. Oil-rubbed bronze, satin nickel, antique brass, and matte black are famous.
Consider size – Oversized hardware makes a bold statement. For a more classic look, size down knobs and pulls.
Combine knobs and pulls – Use knobs on drawers and pulls on doors to add visual interest through contrasting shapes.
Take your time perusing options – hardware is the jewelry of your kitchen!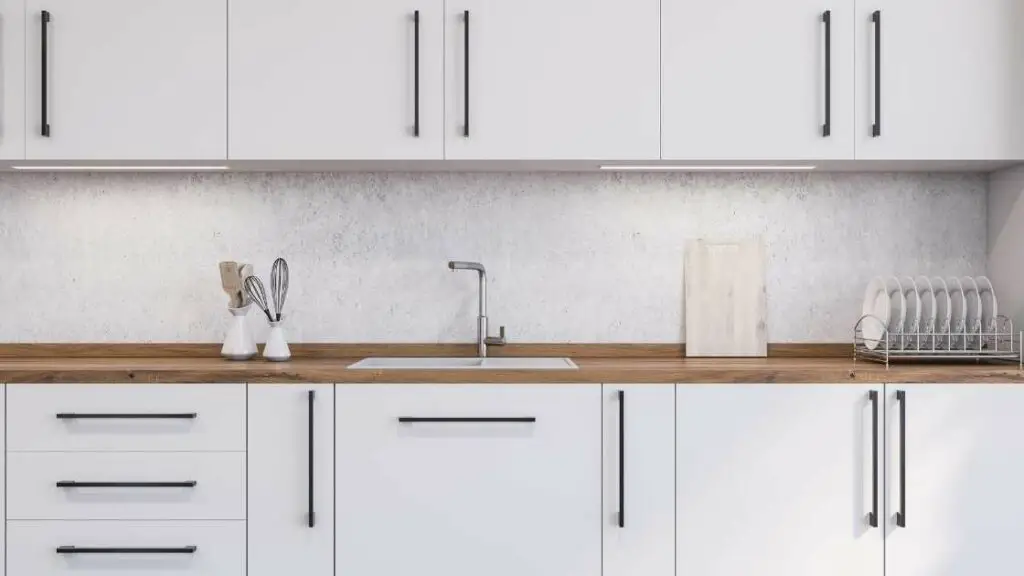 The Refacing Process Step-by-Step
Are you convinced refacing can reboot your outdated oak cabinets? Here's an inside look at how the renovation unfolds:
Prep Your Kitchen
Clear countertops and empty cabinets, and remove furniture or décor from the workspace. Patch holes, clean surfaces, fill cracks and address repairs before installation. Having an uncluttered, clean space makes for a smooth project flow.
Measure Precisely
Precision is vital for a seamless result. Experts will thoroughly measure existing cabinet dimensions, recording sizes of doors, drawers, and boxes. For DIY projects, measure the actual frame opening rather than the door size for accuracy. Don't forget to account for hinge clearance, too!
Install New Veneers
With measurements complete, new veneer panels are cut to size and ready for installation. Workers remove old doors, then thoroughly clean boxes and apply adhesive. Veneers are affixed to cabinet sides and faces, aligned carefully at corners to seamlessly join.
Hang Doors and Drawers
The finishing touches come together as newly refaced cabinet boxes get outfitted with fresh doors and drawers. Hinges are mounted in precise alignment to ensure proper fit and operation. Drawers slide smoothly into place, completing the reconstructed cabinetry.
Add Moldings and Hardware
Molding and trim refinish the veneered edges for a polished look. Finally, updated hardware like knobs and pulls get installed throughout the kitchen, adding that "wow!" factor to your completed renovation.
With some patience and attention to detail, you can DIY the process. But for best results without the stress, consider hiring a professional.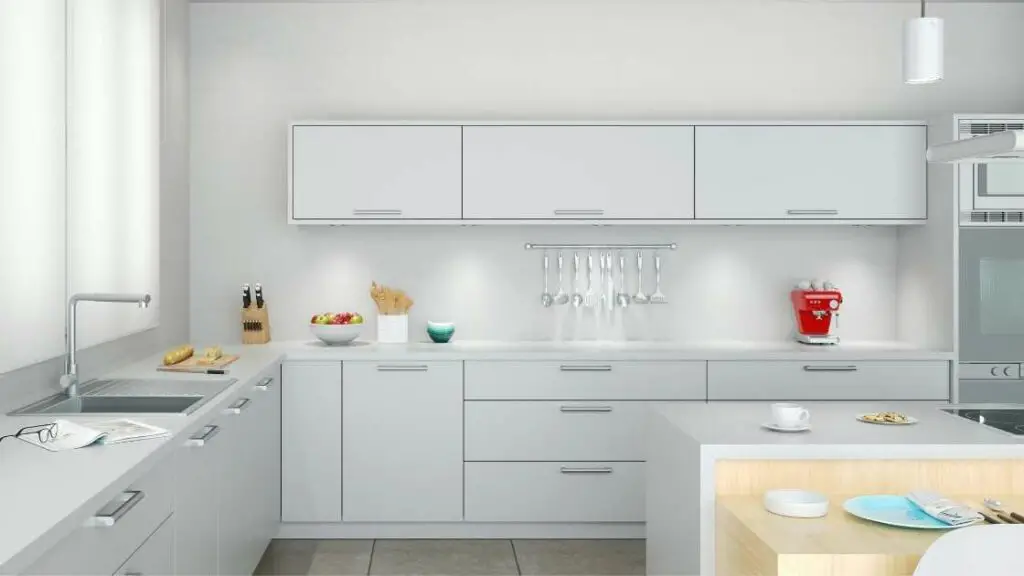 DIY vs. Professional Kitchen Cabinet Refacing
Is refacing something you can tackle solo or better left to the experts? Here's my take on the DIY vs pro debate:
DIY Refacing Pros
Affordable option if you have the tools and skills
Total control over the project timeline/process
Opportunity to add personal touches
DIY Refacing Cons
Time intensive – expect the project to take 2-3x as long
Potential for expensive mistakes if proper techniques aren't followed
Physical demands of demolition and installation
Hiring A Pro Pros
The project was completed quickly and efficiently
Experienced installers ensure quality results
Warranties provide peace of mind
Hiring A Pro Cons
Added project costs for labor and contractor fees
The schedule depends on contractor availability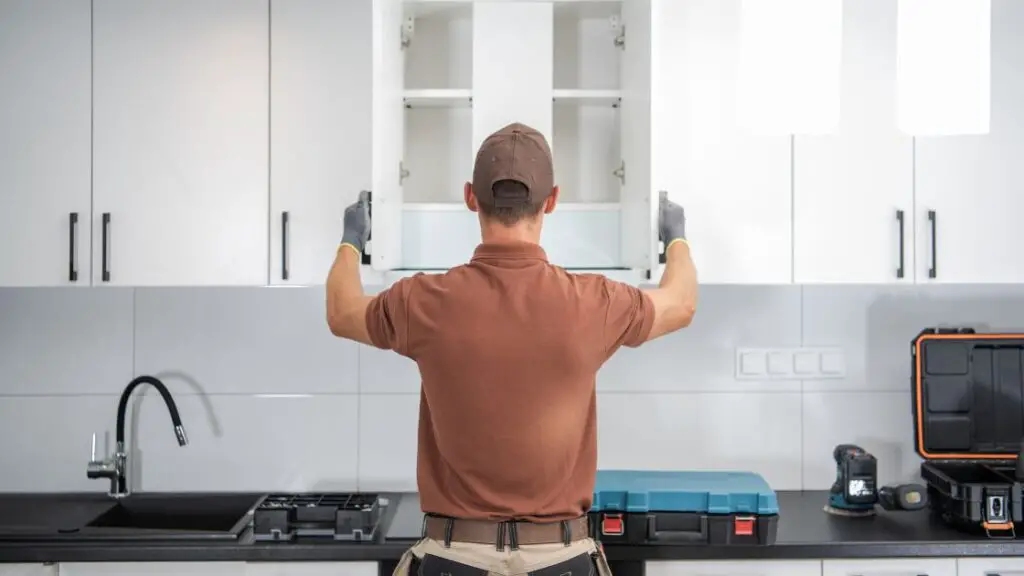 For me, the choice was clear – the time savings and contractor expertise made professional refacing worthwhile. I spent enough long weekends on previous DIY projects – our kitchen deserved to be headache-free! Here are some tips for finding the right pro:
Check reviews/ratings on sites like Houzz or Yelp. Pay attention to recent feedback.
Verify licensing and insurance. This protects you in case of damages or liability concerns.
Ask about their refacing experience. Look for cabinet-specific contractors rather than generic handpersons.
Get quotes from 2-3 pros to compare pricing and services.
See past project examples to evaluate their quality of work.
Investing in a qualified local contractor brought invaluable peace of mind and free time!
Cost Considerations for Your Refacing Project
Of course, cost plays a vital role in any renovation decision. Let's break down budgeting for your refacing project:
DIY Refacing Cost Factors
Tools and equipment – table saw, nail gun, clamps, etc.
Materials like veneers, boards, and adhesives
New hardware, doors, and drawer fronts
Your investment of time and physical effort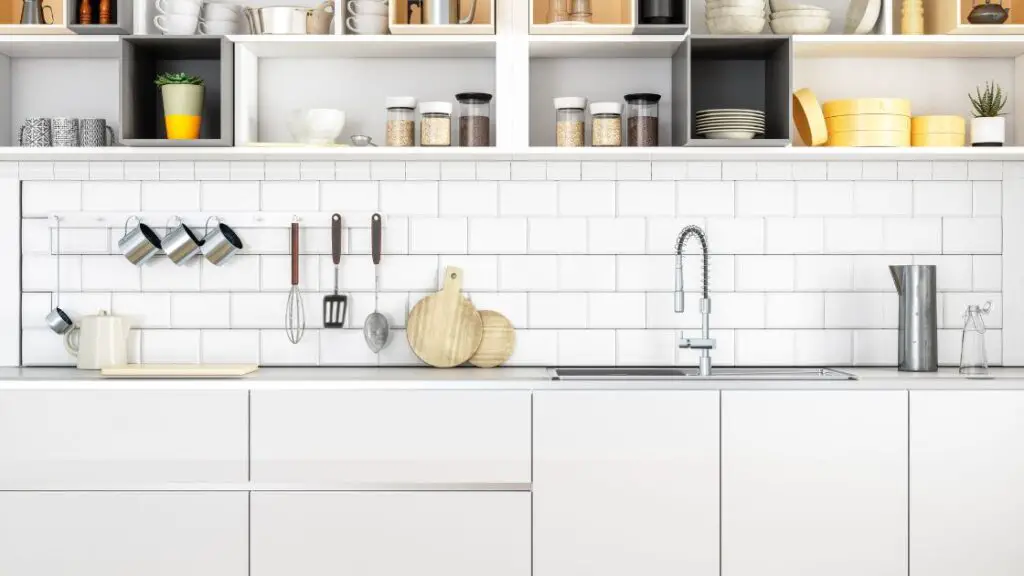 I budgeted $3,000-$5,000 in materials/tools for my small DIY kitchen. Larger and more complex projects can easily reach $10,000 or beyond in expenses.
Professional Refacing Cost Considerations
Size of your kitchen (number of cabinets)
Choice of materials – wood veneer, laminate, PVC, etc.
Specialty finishes like glazed or distressed techniques
Cost of new doors, drawer fronts, and hardware
Contractor labor fees
The average pro refacing cost ranges from $5,000-$15,000+. Our modest 14-cabinet kitchen was $9,500, including installation. Luxury materials like walnut veneer or leaded glass antique cabinet doors can drive prices toward the higher end.
Regardless of budget, opting for quality materials that stand the test of time is wise. This prevents needing updates after just a few years. Think of it as a cost-per-use – a 15-year lifespan spreads the impact over time.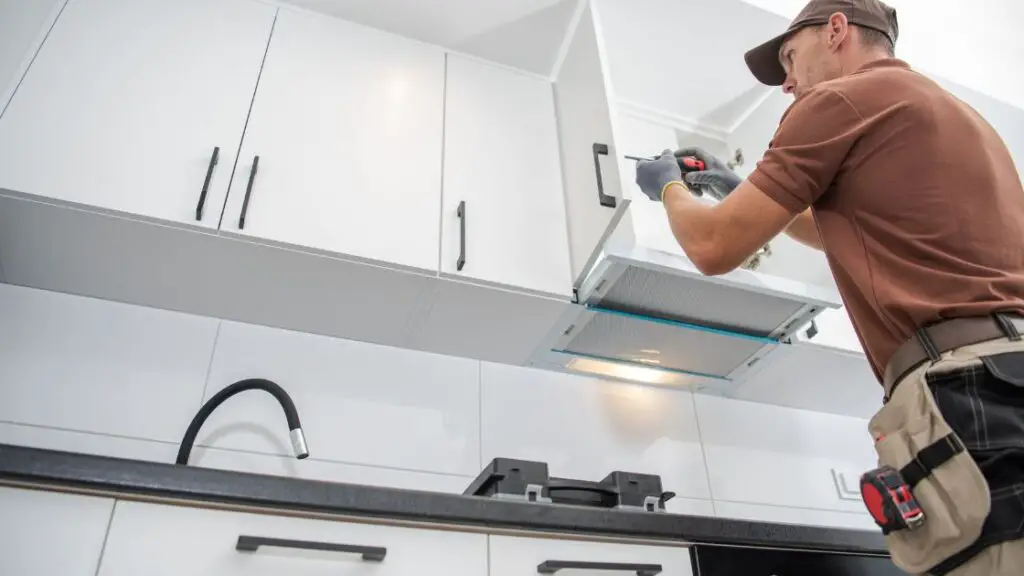 Caring for Your Refaced Cabinets
You did it! With your gleaming new refaced cabinets, you'll want to keep them looking fresh as long as possible. Here are my top care and maintenance tips:
Use soft cloths and gentle cleaners. Avoid abrasive sponges or chemicals that could scratch surfaces.
Immediately wipe spills – especially oils that can penetrate and stain wood veneers.
Open/close doors and drawers gently. Refrain from slamming or applying excessive force.
Inspect hinges, pulls, and hardware. Tighten or replace loose components promptly.
Consider touch-up kits for minor damages. Use wood filler markers to disguise scratches and chips.
Replace heavily damaged doors/drawers. Refacing the entire cabinet is advisable if wear is extensive.
Ask manufacturers about warranty support. Many offer 5-10 years of protection.
The small habits of frequent gentle cleaning and damage prevention go far in sustaining your investment!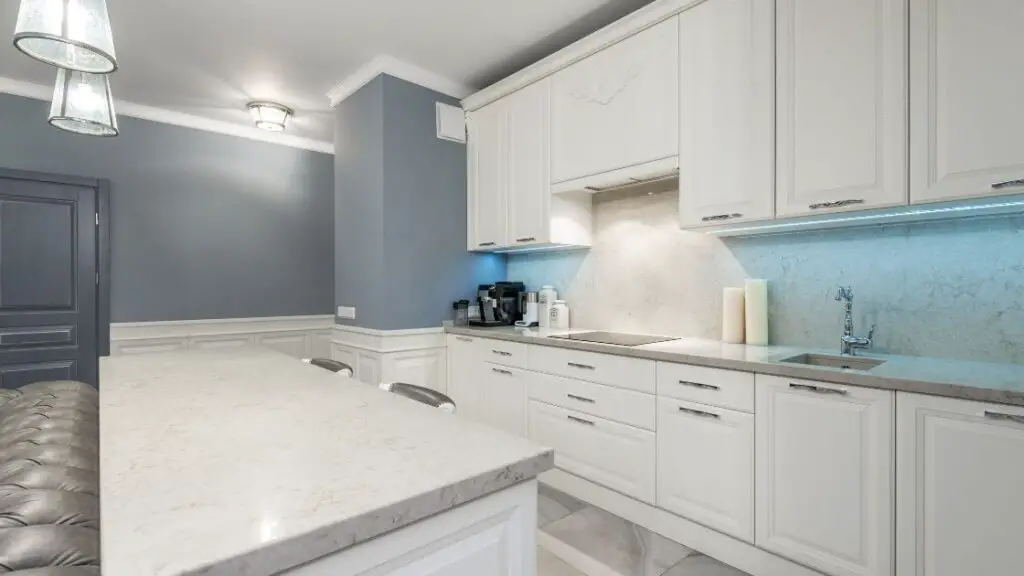 Why Refacing is An Eco-Friendly Choice
Beyond its design flexibility, refacing offers sustainability benefits over total cabinet replacement:
Reduced landfill waste since existing cabinet boxes are retained and repurposed rather than discarded.
Conserves natural resources otherwise used to manufacture and transport new cabinets.
Lower carbon emissions with less production, packaging, and shipping of materials.
Energy savings from reusing existing cabinet structures vs. starting from scratch.
When selecting materials, consider eco-friendly options like formaldehyde-free wood veneers or insulation made from recycled paper. While refacing is inherently greener than replacing, opting for sustainable materials takes its impact even further.
So there you have it – everything you need to pursue an eco-chic kitchen refresh! This guide gave you inspiration and insights into the fabulous potential of cabinet refacing. As you look around your home and ponder updates, consider the possibilities. With some creativity and know-how, you can reinvent spaces and express your unique style while cherishing our shared home – this planet.