Hey friends! I'm so excited to dive into today's post, which is all about upgrading your upper kitchen cabinets. I don't know about you, but the upper cabinets in my home have always been a source of frustration. No matter how organized I try to be, things always end up a jumbled mess behind those upper cabinet doors, not to mention those dark, dusty corners that I can never keep clean!
It was finally time for an upgrade – not just to gain more storage space and functionality but to give my kitchen a fresh look. Join me as I walk through everything I learned during my recent kitchen reno adventures! Here's what we'll cover:
Assessing your current kitchen cabinet setup
Understanding the benefits of upgrading your uppers
Key design factors to consider
Getting strategic with storage solutions
Lighting ideas to shed some light
Budget and timeline tips
Professional installation vs. DIY
Care and maintenance must-knows
Let's get started!
Taking Stock: Assess Your Current Kitchen Cabinet Setup
Before we dive into the fun stuff like pretty hardware and trendy paint colors, we need to take inventory of your existing kitchen cabinet situation. Grab a notebook and pen, and let's investigate: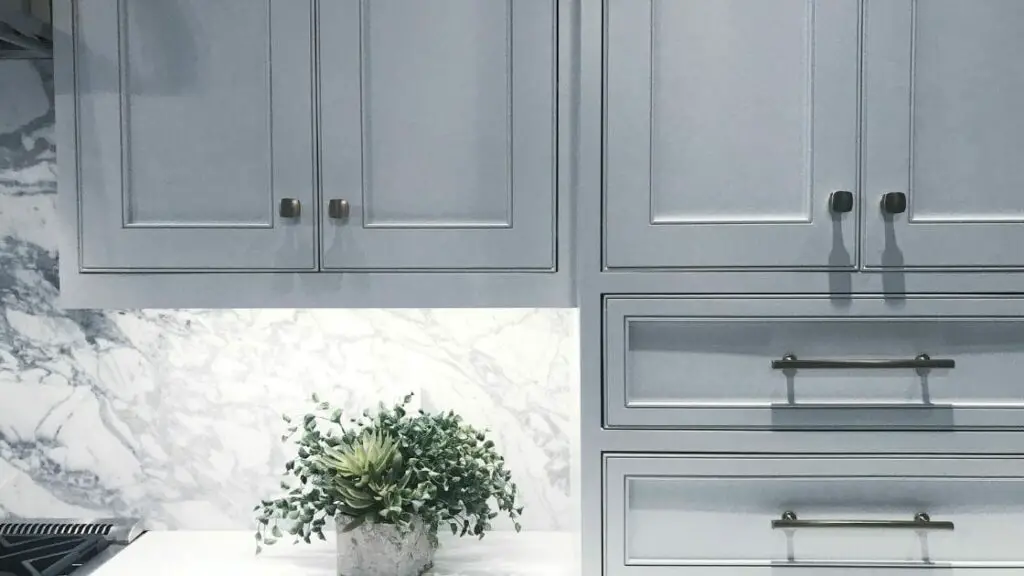 Take count: Start by simply counting how many upper cabinets you currently have. This includes specialty storage like glass front, open shelving, or angled corner cabinets.
Size matters: Next, measure the existing cabinet dimensions – height, width, and depth. This info will come in handy later when selecting new cabinets.
Materials: Note what materials your current cabinets are made of. Most likely, you'll see laminate, wood, or thermofoil. The material affects longevity, price, and style.
Hardware: Don't forget to jot down notes about your existing hardware! Take pics of the knobs, pulls, and hinges. Reusing or matching hardware can save money.
Wear and tear: Inspect closely for any damages, stains, or signs of wear. Issues like sagging doors, peeling laminate, or broken hinges will impact your replacement needs.
Layout: Sketch your current kitchen layout with cabinets in place. Annotate with any problem areas or dead space.
Design scheme: What's the existing kitchen decor theme? Traditional, modern, contemporary? The cabinet style should complement this.
Lighting: Make notes on illumination above and below cabinets. Proper lighting makes a tremendous functional difference!
Okay, that was a lot of info to gather. But having all these details will make planning your kitchen upgrade smooth sailing!
Why Upgrade? Reap the Benefits
Once you've done your homework on your current upper cabinet situation, let's talk about why upgrading can be so beneficial:
Maximize every inch: In my tiny kitchen, extra storage space is worth its weight in gold. New cabinets maximize vertical storage with tall heights, stackable units, and pull-down shelving.
Enhance the aesthetic: Even if your cabinets are functional, old and dated ones can change your kitchen's appearance. New cabinet fronts, hardware, and a fresh coat of paint do wonders.
Increase functionality: Remove wasted space and organizational headaches by incorporating intelligent storage solutions in your new design. Think lazy susans, utensil dividers, vertical dividers, and more.
Brighten it up: More light = a happier kitchen! Swapping old cabinets for new glass-front designs or adding lighting expands the light in the space.
When it comes to return on investment for kitchen upgrades, you really can't go wrong with new upper cabinets. They make a huge visual impact without the hassle or price tag of a total gut renovation.
Design Decisions: Choose What's Best for Your Kitchen
The options may seem endless when it comes to selecting new kitchen cabinets. But keeping your specific kitchen and lifestyle needs in mind helps narrow things down. Ask yourself: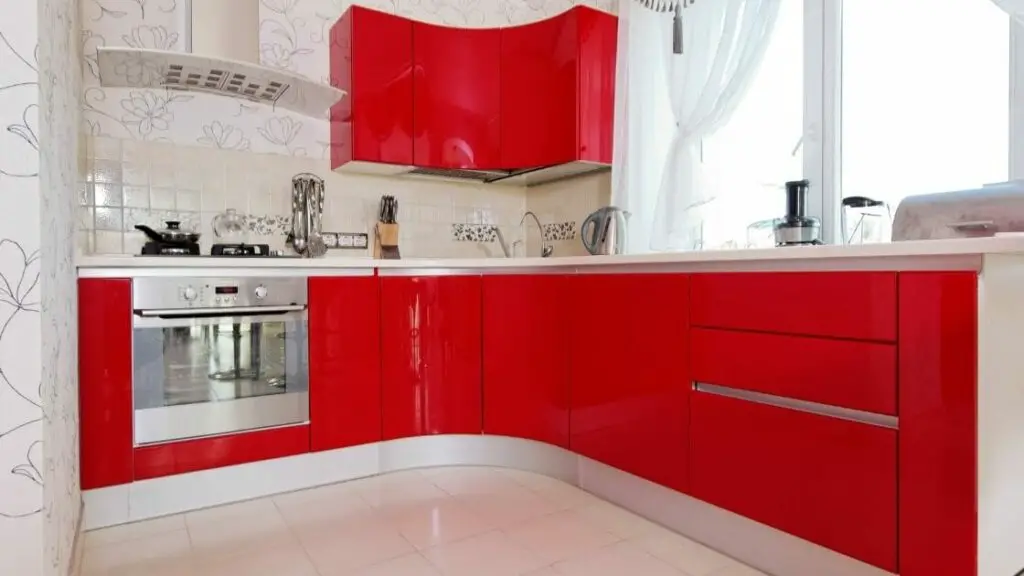 What's your preferred cabinet door style?
The cabinet door style makes the most significant impact on your kitchen's overall look and feel. Consider:
Shaker: A versatile, classic choice for modern and traditional kitchens. Clean, simple lines that always stay in style.
Slab: The sleek, minimalist look of slab cabinetry creates a super modern vibe. Durable thermofoil or laminate options provide a budget-friendly alternative to pricier wood.
Glass-front: Elegant glass-front cabinets provide open visibility while protecting your treasures inside. Mix with solid doors or use glass uppers only.
Inset: Also referred to as full overlay, inset cabinet doors sit flush within the cabinet face for a seamless, built-in look—an excellent choice for traditional kitchens.
Which finish fits the decor?
The color, finish, and sheen of your cabinets dramatically affect the kitchen aesthetic. Consider:
Painted: Painted cabinetry provides limitless color options. Satin and semi-gloss finishes are durable and reflect light well. Distressed painted cabinets add vintage flair.
Stained: For a natural wood look, stain your cabinets in hues from ebony to driftwood. Protect with a clear coat in matte or satin.
Thermofoil & laminate: Affordable thermofoil and laminate cabinets provide many color options, from solids to woodgrains to patterns—easy-care wipeable finish.
Glossy lacquer: Lacquered cabinets provide an authentic glossy finish that reflects light beautifully. Best for contemporary or modern kitchens. Requires gentle care.
What organizational solutions will maximize function?
Beyond just looks your kitchen cabinets must work for your lifestyle and storage needs. Look for design elements like:
Adjustable shelving: Flexible adjustable shelves let you customize storage as needs change. Great for oddly sized items.
Pull-out cabinets: Maximize reach cabinet spaces with pull-out shelves and trays. Perfect for storing pots, pans, and small appliances.
Drawer dividers: Keep contents organized and easy to find with cutlery, utensil, and spice dividers for drawers. DIY or purchase ready-made.
Lazy Susans: The turning carousel design provides easy access to everything in the hard-to-reach corner cabinet.
Wastebasket cabinets: Make recycling and composting ultra convenient by dedicating a base cabinet for waste separation bins.
Keep obsessing over these details until you have your dream kitchen storage configured! You'll be so glad you did.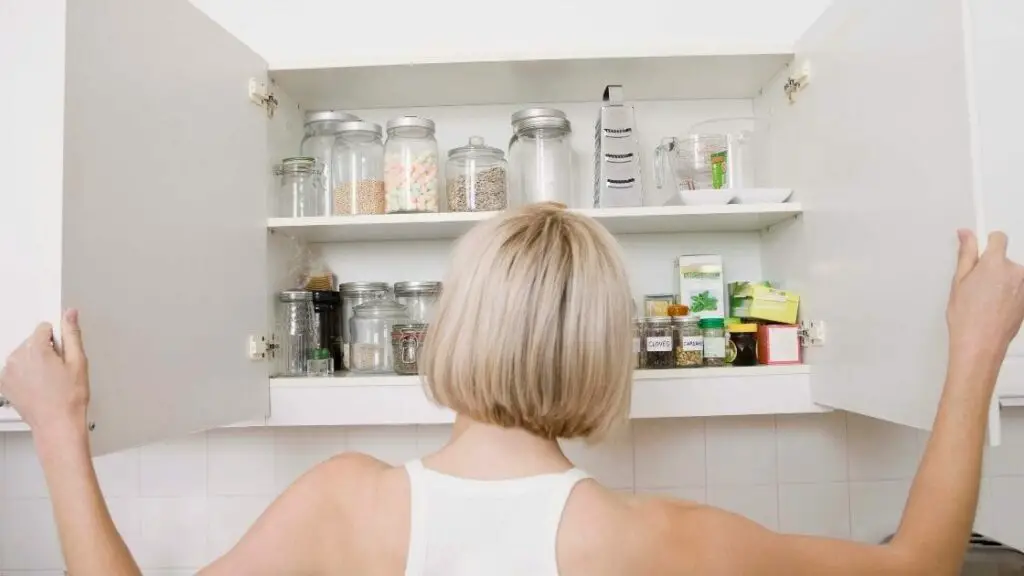 Get Strategic With Your Kitchen Cabinet Storage Solutions
Since we're already talking clever storage solutions – let's go a bit deeper on ways to maximize your new upper cabinets truly:
Vertical storage is your friend
Too often, we waste all the vertical real estate in our uppers by stacking everything on the bottom shelf. Bring unused vertical space to life with the following:
Pull-down shelving: Retractable pull-down shelves are a genius for accessing the back of the cabinet without crawling inside. Install at multiple heights to customize.
Tiered drawers: Stacked narrow drawers maximize vertical space and keep items organized and visible. Great for spices, packets, or sealed ingredients.
Tray dividers: Use vertical walls to neatly stack trays, cutting boards, baking sheets, and lids upright. Stop playing the teetering tower game!
Interior organizers: Add removable internal cabinet organizers to stack, hang, and organize everything from pans to cleaning supplies.
With all that usable vertical space, you'll finally see (and use!) everything stored in those mysterious upper cabinets.
Section off with cabinet dividers
Nothing aggravates me more than having pots bang into my glassware and snacks spill everywhere in my uppers. Thankfully, cabinet organizers and dividers fix these problems by sectioning off cabinet space.
Adjustable dividers allow you to customize spaces to fit any size item. Great for dishes, Tupperware, and unusual-shaped items.
Sliding dividers make accessing items in the back a breeze. Simply slide sections aside to reach what you need.
Peg dividers and racks help separate and organize lids, cutting boards, baking sheets, and more.
Dividers seriously minimize cabinet chaos and make finding anything you need a cinch. They're cheap but make a substantial functional difference. Worth it!
Enhance Task Lighting Under Upper Cabinets
Have you ever struggled to see what you're doing under the upper cabinets due to shadows and darkness? Proper under-cabinet lighting solves these issues and makes prepping, cooking, and cleaning much easier and safer.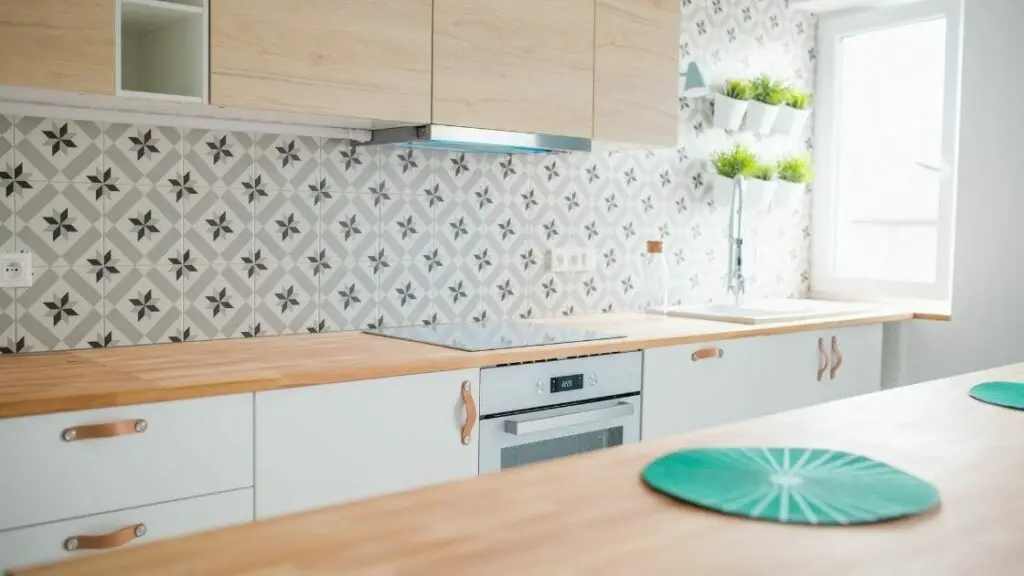 LED lighting has revolutionized under cabinet light options:
LED puck lights are affordable, energy-efficient, and easy to install. Place at regular intervals under the cabinet.
LED strips and bars give even and consistent lighting across the entire underside of cabinets—link strips together for a seamless look.
Battery-operated LED lights are perfect if you don't have electrical outlets installed under your uppers. Peel and stick – no wiring required!
Remote-controlled color-changing LEDs allow you to change the mood from bright task lighting to soft accent lighting. Fun for parties!
Don't forget the task lighting!
Focus light right where you need it most with task lighting.
Swivel lighting can be aimed and adjusted to illuminate task areas like the sink or stove.
Cabinet lighting attached inside specific cabinets helps illuminate contents when you open the door.
Under cabinet lighting positioned over task areas provides ideal illumination without shadows.
With the proper lighting, prep, and cook like a Food Network chef! No more one eye shut, face two inches from the cutting board chopping.
Set Your Budget and Timeline for a Streamlined Cabinet Upgrade
All these fantastic cabinet upgrade options have your wheels spinning. Now comes the not-so-fun logistical parts: creating a budget and project timeline. But a little planning up front makes the installation smooth and successful.
Budget factors to keep in mind:
$8000-$15,000 is average for a significant kitchen cabinet upgrade, but cost fluctuates widely based on factors like:
Materials: Opting for solid wood over laminate/thermofoil adds cost, as does imported materials like bamboo.
Size and scope: Larger cabinets plus extras like integrated lighting will increase the budget.
Labor: DIY saves on work but can require more time and skill. Professional installation costs more but ensures quality.
Location: Geographic region significantly affects labor cost ranges. Get 3+ professional quotes.
Give yourself a budget cushion of 10-15% for unexpected issues during kitchen remodels. Trust me, they always do!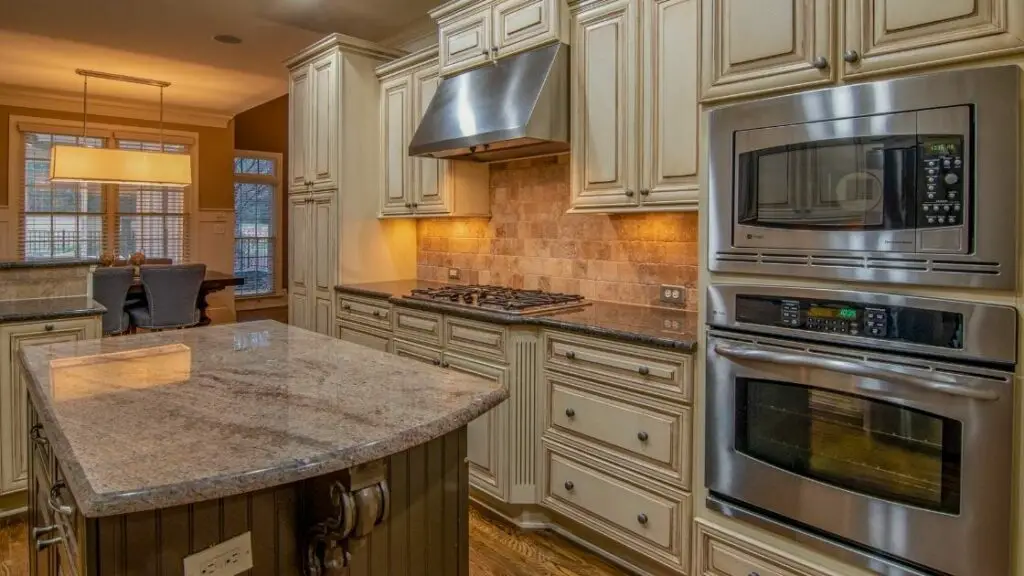 Make a project timeline:
Tackling a kitchen upgrade without a solid timeline is a recipe for chaos. Try this workflow to keep the reno train on track:
6-8 weeks before:
Finalize cabinet selection and purchase
Schedule professional installation if not DIY
Plan temporary kitchen setup
2-3 weeks before:
Remove old cabinets safely
Prepare the kitchen for installation
Have new cabinets delivered
Installation day(s):
New uppers installed
Make any needed adjustments
Begin using the new kitchen!
1-2 weeks after:
Install lighting, organizers, etc
Purchase accessories and decor
Enjoy the finished kitchen!
Having target dates keeps the project moving briskly and ensures you have what's needed at each stage. Plus, who doesn't love crossing tasks off their timeline? Extremely satisfying!
Hiring a Pro Vs. DIY Installation
Installing brand-new kitchen cabinets is a BIG job. You have two options – calling a professional installer or taking the DIY route. How do you choose? Ask yourself:
Pro installation pros:
Save time: Professionals work far faster than DIYers. They can complete complex jobs in 1-2 days rather than weeks.
Ensure quality: Experienced installers have specialized skills and knowledge for a quality, lasting finished product.
Handle problems: Professionals can quickly troubleshoot and solve any unexpected installation issues.
DIY pros:
Save money: DIY installation costs a fraction compared to pro rates of $50-$100 per hour.
Customize: Complete control over every step of the process and final look. Make it your own.
Learn new skills: You'll learn carpentry, tiling, lighting, and more skills that translate to future projects.
Assess your budget, skills, and time allowance to decide if professional or DIY makes the most sense for your kitchen upgrade. Either way, make sure to collect detailed information on proper installation techniques.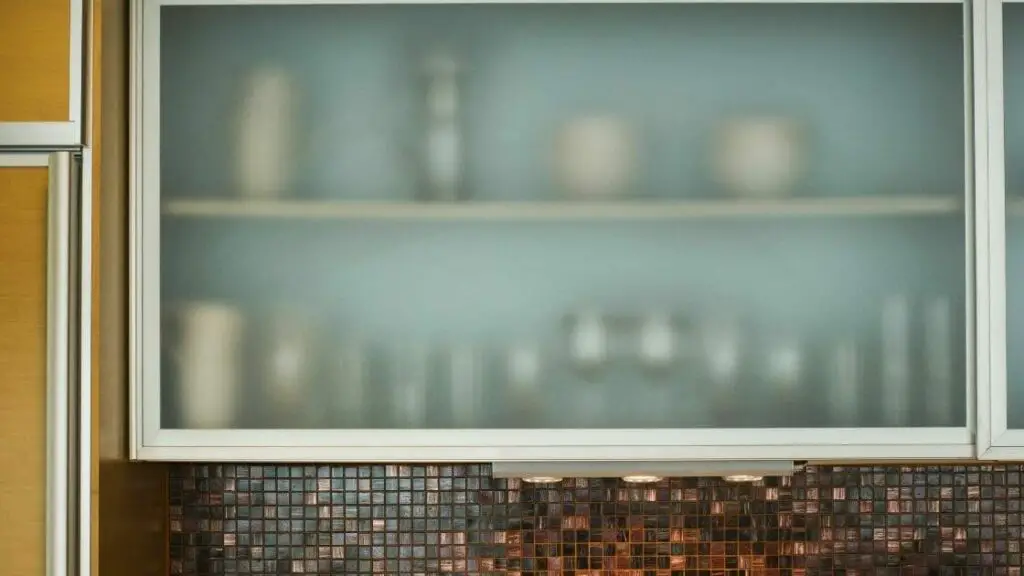 Master Proper Cabinet Installation Techniques
Whether prepping for seamless professional installation or going the DIY route, understanding proper cabinet installation techniques helps ensure kitchen success.
Professional precision: measuring & fitting
The hallmark of quality professional cabinet installation is meticulous attention to measurements and fit. Signs of a pro include:
Laser precise measuring for cutouts around pipes, outlets, and other obstacles.
Leveled mounting brackets to ensure cabinets mount flush and even on uneven walls.
She secured drilled stud points for the strongest anchoring into the wall framing.
Scribe cutting for flawless fit against uneven walls and floors.
Plumb alignments for perpendicular side-by-side hanging and perfect corners.
While DIY installs may not achieve this level of precision, understanding these pro tips can help maximize the fit and finish of your cabinets.
Rock solid anchoring
All the measuring and cutting perfection means nothing if your new cabinets aren't anchored adequately into studs and anchored together.
Professional anchoring involves:
Finding and marking studs for the most vital screw points to support cabinet weight.
Leveling mounting rails to compensate for uneven walls.
Pre-drilling holes in studs to prevent cracking and splitting.
Staggering screws evenly across rails to distribute weight.
Securing adjacent cabinets together through side gables for stability.
For DIYers, investing in a stud finder and quality drill bits helps get screw points right. Take it slow and double-check your anchors – no one wants a crashing cabinet!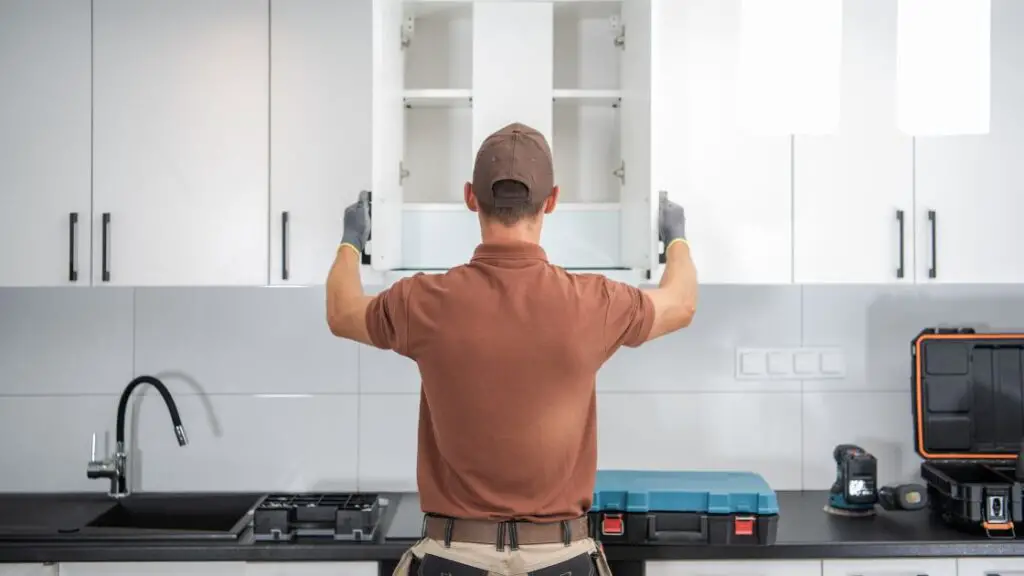 DIY Tips: Install Cabinets Like a Pro
If you're feeling up to the challenge of DIY installation, listen up! I'm sharing my best tips for ensuring your cabinet installation goes smoothly from start to finish:
Start with the right tools
Grab this essential toolkit:
Stud finder to locate screw points
Carpenter's level for checking plumb alignments
Electric drill and bits for pilot holes
Screwdriver set for drives and cabinet hardware
Marking pencil for scribing cut lines
Utility knife for scribing and cutting laminate
Safety gear – glasses, ear protection, knee pads
Proper tools are a must for safe DIY installation success. Don't cut corners here.
Follow a precise installation sequence
Patience and following logical steps prevent mistakes and rework. Stick to this order:
1. Unpack cabinets and confirm you have all the pieces
2. Mark plumb lines for cabinet positions on walls
3. Mount corner cabinets first, anchoring firmly to studs
4. Hang adjacent cabinets, securing them together through side gables
5. Use shims beneath cabinets to level and close gaps
6. Attach countertops to mounted cabinets
7. Install interior organizing features and hardware
8. Seal around edges and touch up as needed
Take breaks to prevent rushing! Rushing always leads to mistakes and accidents.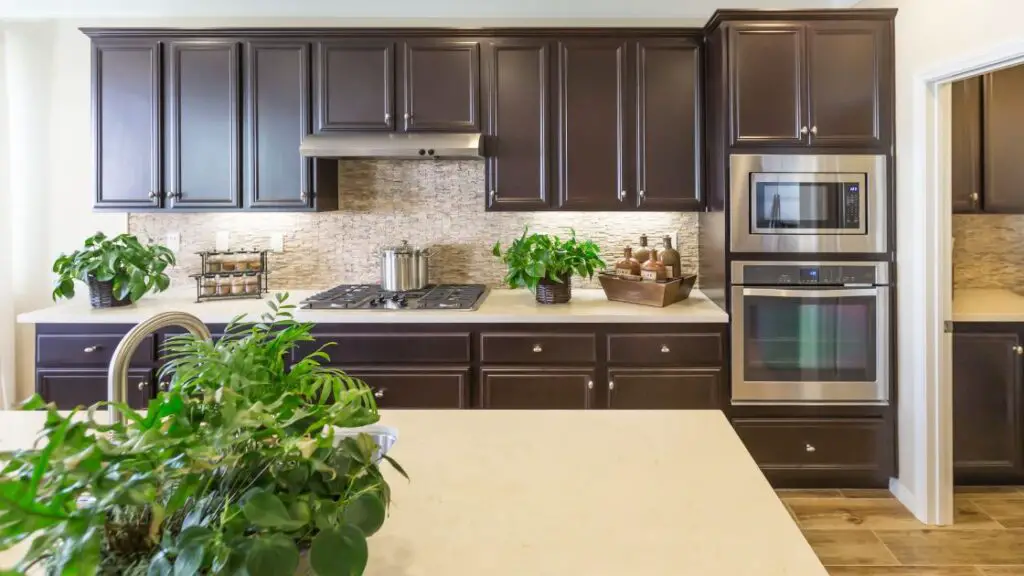 Cleaning and Caring for Your New Kitchen Cabinets
You did it! The new kitchen cabinets are installed, and you admire your gorgeous upgraded space. But the work isn't completely done yet. Like any investment, your new cabinets require proper care and cleaning to protect them and keep them looking fresh.
Use the right products.
Specific cleaners can damage or discolor cabinet surfaces. Follow material guidelines:
Wood cabinets: Use mild dish soap and water. Avoid harsh cleaners that dry out natural wood.
Laminate cabinets: For tough stains, use diluted white vinegar and water. Rinse with clean water after cleaning.
Thermofoil cabinets: Use mild dish soap and warm water. Never use abrasive scrubbers or cleaners that dull the finish.
Glass cabinets: Use a glass cleaner with an ammonia-free formula. Avoid drips onto cabinet frames.
Establish a regular cleaning routine
Here is the continuation:
Regular, gentle cleaning keeps cabinets looking like new for longer. Follow these best practices:
Clean spills promptly to prevent staining, especially on wood surfaces.
Use microfiber cloths that are gentle on surfaces. Paper towels can scratch.
Clean doors and fronts at least once a week using suitable cleaners for the material. Get into corners and crevices.
Dust cabinet tops and insides periodically using a soft brush or microfiber duster to prevent grease buildup.
Inspect hinges and hardware monthly. Tighten any loose screws promptly to prevent sagging.
Consider glass treatments like Rain-X to make glass cabinet cleanup even more accessible.
Reapply protectants annually, like wood polish or laminate wax, to protect and nourish surfaces.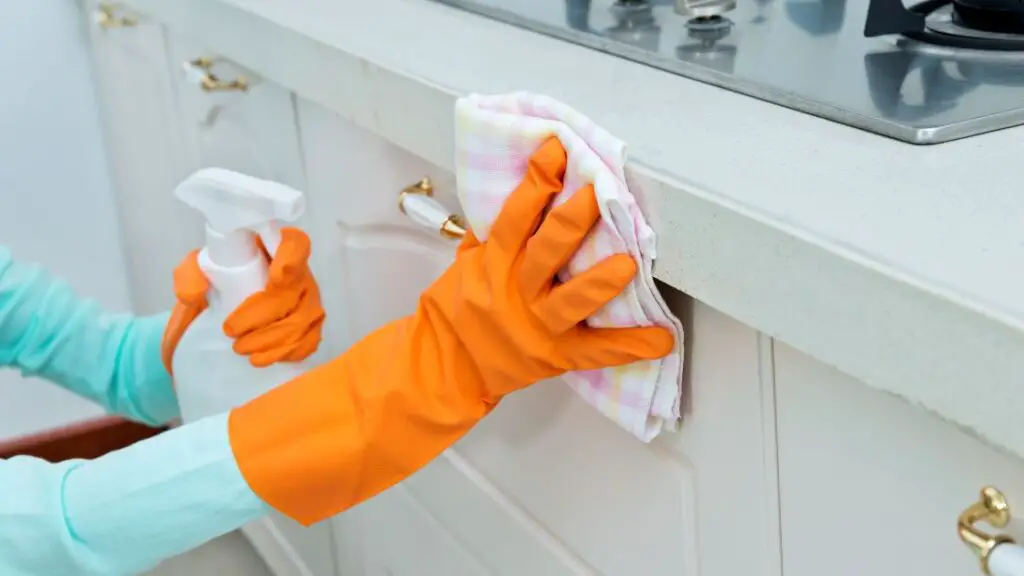 Consistency is vital for maintaining your cabinet's appearance and function. Add reminders to your calendar to stay on top of cleaning routines.
FAQs: Your Cabinet Upgrade Questions, Answered
We are nearing the end of our kitchen cabinet upgrade journey! To wrap up, here are answers to some of the most frequently asked questions about upgrading kitchen uppers:
How long do new cabinets last?
With proper installation and care, you can expect 15-20 years from quality cabinets before needing replacement. Choosing durable materials like wood, thermofoil, or reinforced laminate extends longevity.
Should I buy cabinets online or at a home improvement store?
For better selection and affordable prices, purchase cabinets online through retailers like Wayfair or Lowe's. Visit showrooms to get a feel for quality.
What should I budget for a 6-8 cabinet upgrade?
For a significant but not complete kitchen overhaul, plan to budget $6000-$8000. Prices increase for solid wood, custom sizing, hardware upgrades, or integrated lighting features.
Should I install new uppers before or after the countertops?
Install cabinets first before countertops for the most straightforward installation process. This allows countertops to be custom-cut and installed securely against new cabinets.
These cabinet upgrade basics help you tackle your kitchen refresh confidently. Don't be afraid to take it one step at a time – the results are worth it. Let me know if you have any other kitchen renovation questions. Happy upgrading!