Hey friends! If you want to upgrade your kitchen floors without breaking the bank, you've come to the right place. I'm Amanda, and floors are my thing. As an interior designer based in New York City, I've worked on all kitchen makeovers ranging from funky lofts to classic brownstones.
Over the years, I've learned a thing or two about finding budget-friendly flooring that looks amazing and lasts a long time. In this post, we'll explore your kitchen flooring needs and budget and find the best options to get that fresh new look you want – even on a budget. Let's dive in!
Consider Your Kitchen Flooring Needs
Before picking any floor, it's critical to think about how you use your kitchen and what your needs are. High traffic? Are you prone to spills from little ones or big gatherings? Want something durable yet dazzling?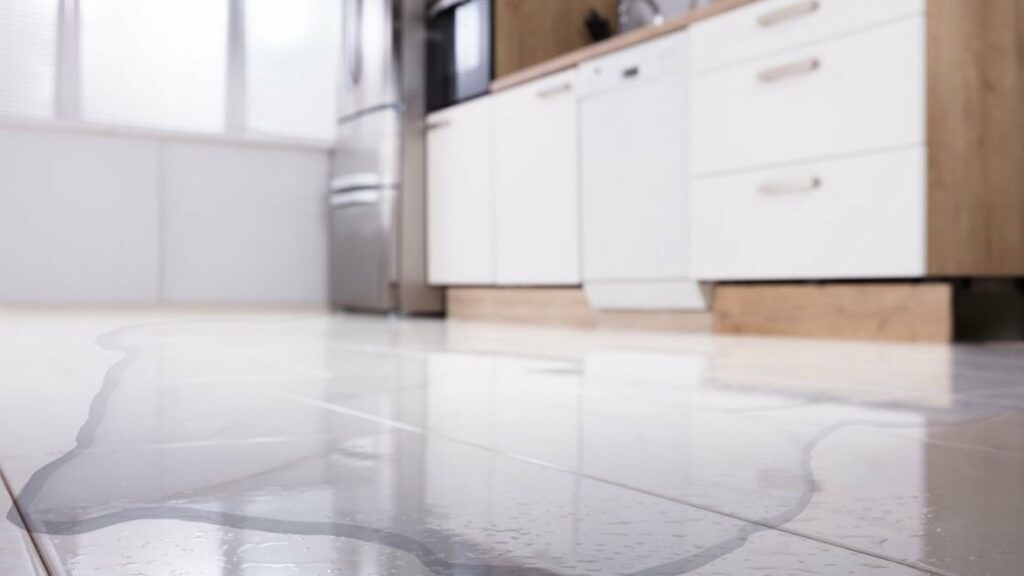 Here are some flooring considerations as you start your search:
Durability: Kitchens have a lot of traffic not only from people but also from shifting appliances, chairs, dropped pots, and pans. Look for floors that can withstand daily wear and tear.
Spill resistance: From boiling pots of pasta water to slippery olive oil, kitchens see a lot of spills. Choose a floor that's non-porous and easy to wipe clean.
Comfort underfoot: You'll be standing in this space for hours prepping, cooking, and baking. Make sure the flooring is gentle on your feet and back.
Moisture resistance: With all those spills and steamy pots, moisture resistance is a must. This prevents warping or damage.
Style: While durability comes first, you still want a floor that aligns with your kitchen design. Choose something that reflects your taste.
Ease of installation: Opt for an accessible floating floor or peel-and-stick tiles rather than a complicated glue-down job. DIY FTW!
Once you know your needs, you can narrow down your options. I'll share the best budget-friendly flooring choices in just a bit. But first, let's tackle the budget.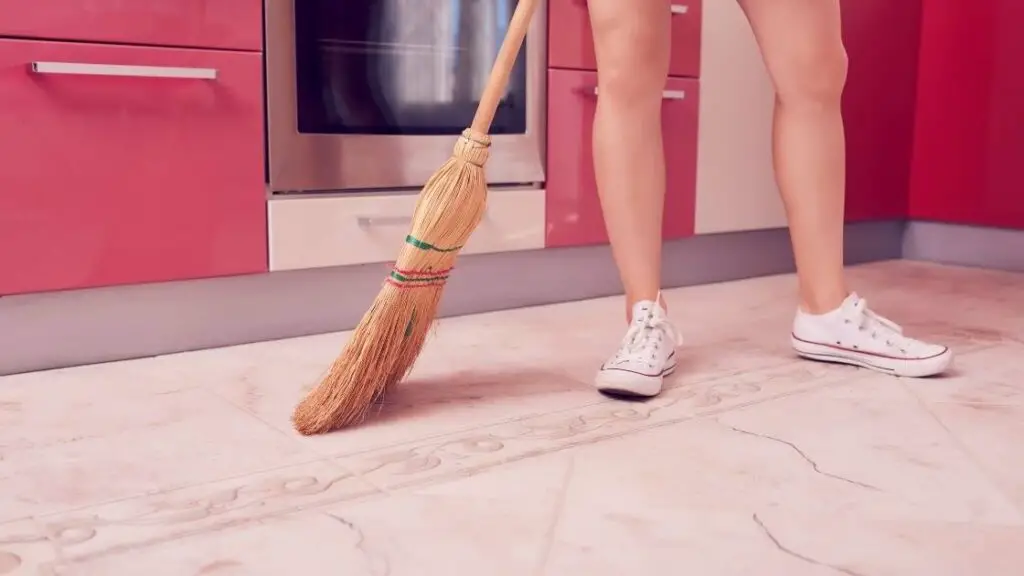 Assessing Your Flooring Budget
Setting a realistic budget is crucial for any kitchen revamp. When it comes to floors, here are three tips:
1. Allocate 10-15% of your total kitchen reno budget for flooring.
This is just a guideline, but it ensures you don't blow your entire budget on the floor alone. If your total kitchen reno budget is $15K, aim for $1,500-$2,250 for the floors.
2. Factor in materials, labor, and prep work costs.
The flooring itself is just one part of the equation. Make sure to account for expenses like:
Removal and disposal of old floors
Leveling or repairing the subfloor
Adhesives, underlayments, moldings
Professional installation costs (if not DIYing)
3. Consider long-term costs.
How durable is the flooring? Will it need frequent repairs or replacement? Opt for long-lasting materials even if the upfront cost is a bit higher. Protect your investment.
Okay, now that we have our flooring budget, let's compare options!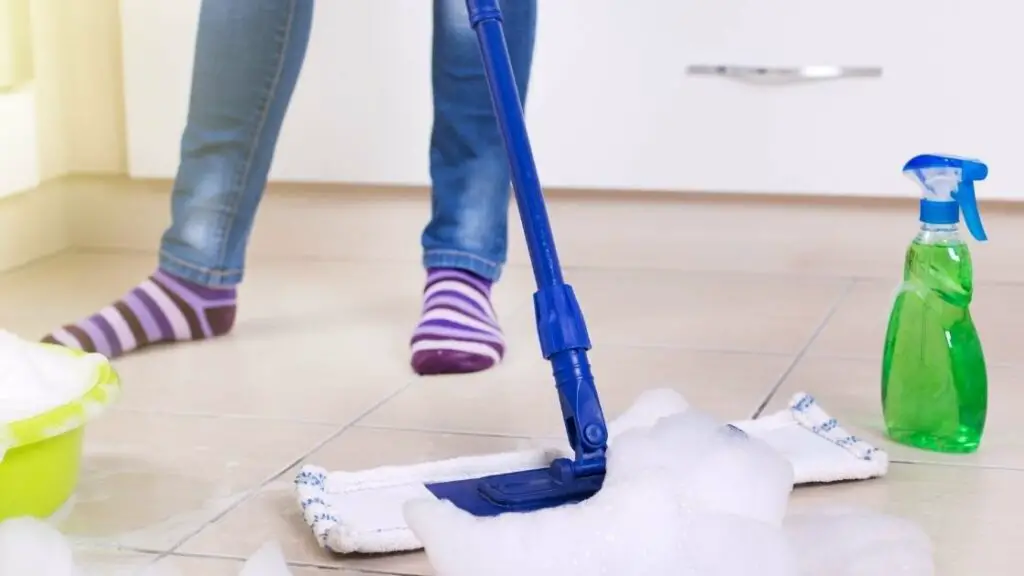 Budget-Friendly Kitchen Flooring Options
Prepare for some seriously gorgeous floors that won't demolish your bank account. Here are my top picks:
1. Sheet Vinyl
Let's start with an often-overlooked option: sheet vinyl. We've come a long way from grandma's gaudy floral vinyl!
Pros:
Budget-friendly at $2-5 per square foot
Wide variety of patterns – wood plank, tile, stone looks
Easy DIY installation with few seams
Durable and water-resistant
Cons:
It is not as cushiony underfoot as other materials
Seams may be visible, significantly lighter colors
Can scuff or tear over time
Bottom line: If you want an affordable, low-maintenance floor, sheet vinyl is fantastic. Go for a stone or wood-look pattern.
2. Vinyl Tile
Similar to sheet vinyl, vinyl tile has gone glam in recent years. Modern prints mimic everything from Travertine to stained concrete.
Pros:
Inexpensive at $1-4 per square foot
Super easy DIY installation – just peel and stick!
Waterproof and kid/pet friendly
Tile format creates fun patterns
Cons:
Not as durable for heavy traffic
Tile edges may lift over time
It can show scuffs and scratches
The skinny: Vinyl tile adds flair without the headaches of grouting. Mix and match shapes and textures.
3. Laminate Flooring
Laminate flooring has evolved lightyears beyond the 1940s standard. Today's options look deceptively like natural wood.
The good:
Affordable, starting around $1 per square foot
Easy DIY floating floor installation
Excellent durability for the cost
Massive variety of wood-look options
The not-so:
Not suitable for moist areas like bathrooms
Can scratch or ding if not properly sealed
It looks artificial up close
The bottom line: Laminate is a versatile budget choice. Just avoid excessive moisture.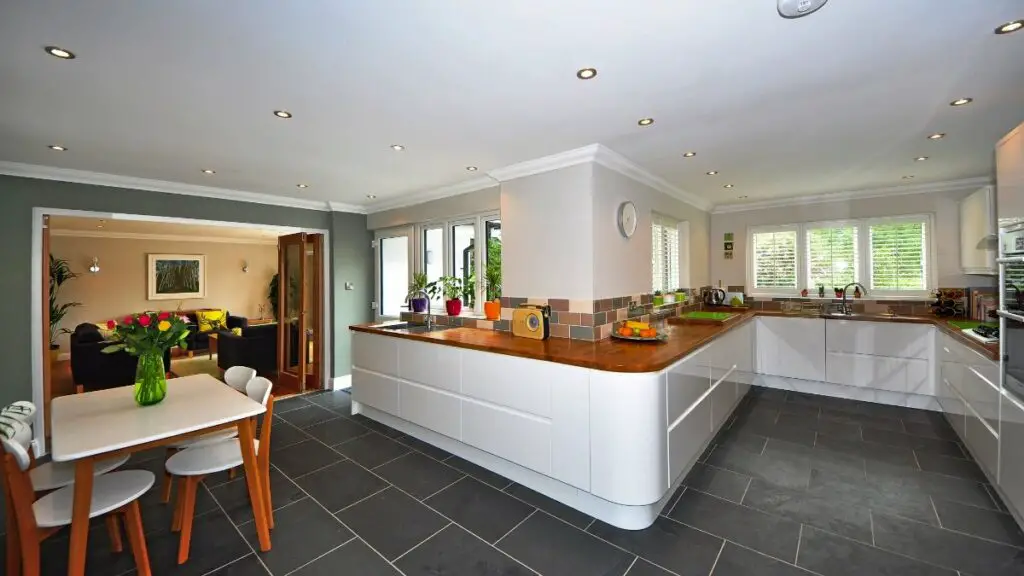 4. Ceramic or Porcelain Tile
Let's move on to classic kitchen tiles, which bring pattern and color to floors.
Why ceramic or porcelain:
Starts around $2 per square foot
Highly durable to high traffic
Super easy to clean
Sleek contemporary vibe
Considerations:
Hard underfoot for extended periods
Grout needs sealing to prevent stains
Professional installation is best for complicated layouts
My advice: Use large format tiles and low-contrast grout for a seamless look. Shop sales for deals on the tile!
5. Concrete Floor
For an edgy, industrial look, polished concrete is a cost-effective choice.
Positives:
As low as $2 per square foot
Highly durable for heavy usage
It has an artisan, one-of-a-kind vibe
Can be stained, painted, etched for ornamentation
Drawbacks:
Requires professional installation for perfect finish
It can be cold underfoot without radiant heat
Needs annual sealing to avoid stains
The bottom line: Concrete offers a sleek, modern look on a budget. Warm it up with area rugs!
DIY Installation Tips
Looking to save more dough by installing your new floors yourself? Here are my top tips:
Choose a beginner-friendly floor. Click-together laminate or peel-and-stick vinyl makes DIY a breeze. Stay away from complicated tile layouts.
Gather the right tools. You'll need safety gear, a circular saw, spacers, a pull bar, and more. See the store for a material-specific tool checklist.
Read the instructions! I know, it's so dull. But read them thoroughly, start to finish, before placing the first tile.
Start in the right spot. Begin installation along the longest wall for the most accessible alignment.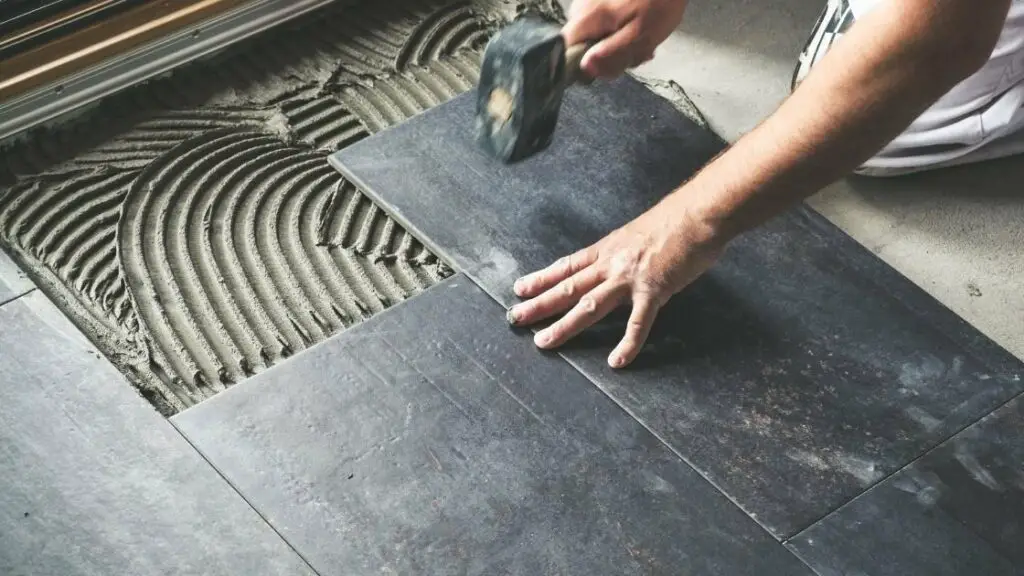 Take your time. There's no rush. Working carefully results in a floor that looks professionally installed.
Use painter's tape. Tape off tricky areas, like the edges of your final row, to avoid adhesive mess.
And the most important tip? Have fun! Pour yourself a glass of wine and put on your favorite tunes. DIYing your floor is deeply satisfying.
Maintaining Your Fabulous New Floor
You did the work picking the perfect budget floor for your home. Now, keep that baby looking beautiful with simple care:
Sweep, mop, and vacuum regularly to prevent dirt buildup.
Immediately wipe up spills, drips, and excess water to avoid damage.
Apply floor protector pads under heavy furniture to prevent scratches.
Avoid skittering appliances by applying stoppers under the legs and wheels.
For tile and grout, use a sealant and follow instructions carefully.
Check the manufacturer's care guidelines and use recommended cleaners. Harsh chemicals can ruin that shiny new surface!
A little TLC goes a long way in keeping your floors gorgeous for years.
Final Thoughts: Loving Your New Kitchen Floors
Well, those are my tried-and-true tips for choosing budget-friendly floors that impress. Always keep your specific needs and kitchen usage in mind when deciding. And don't be afraid to get creative mixing materials, colors, and patterns. It's your kitchen – make it distinctly YOU.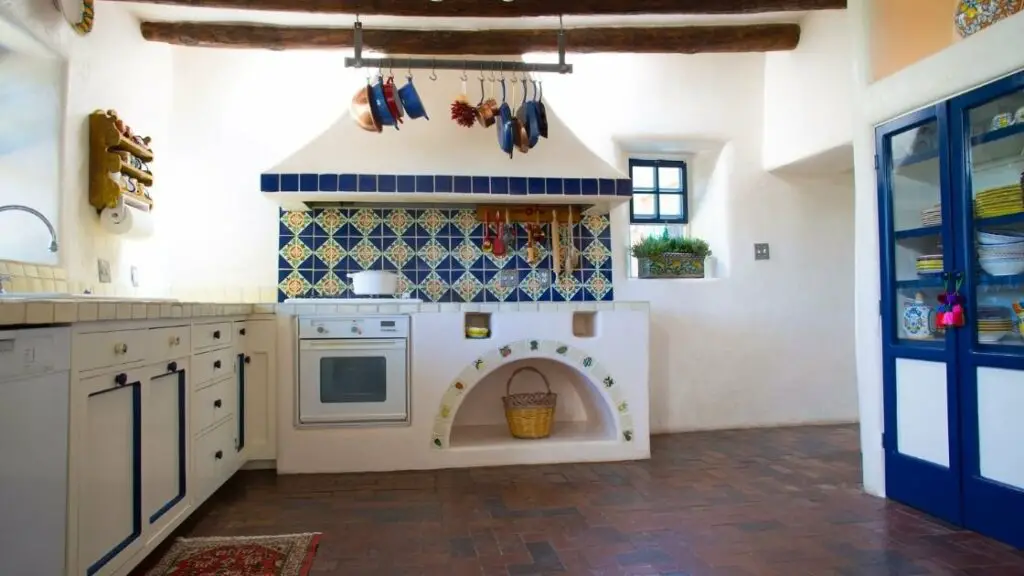 I hope this was helpful whether you're a seasoned renovator or dipping your toes into your first makeover. Share your tips and flooring stories below – I'd love to hear about your adventures in kitchen land!
Now, excuse me while I stare adoringly at my kitchen floors. There's just something so satisfying about choosing the perfect floor to suit your lifestyle. It makes the kitchen YOU.
Happy strolling on your new floors!
Amanda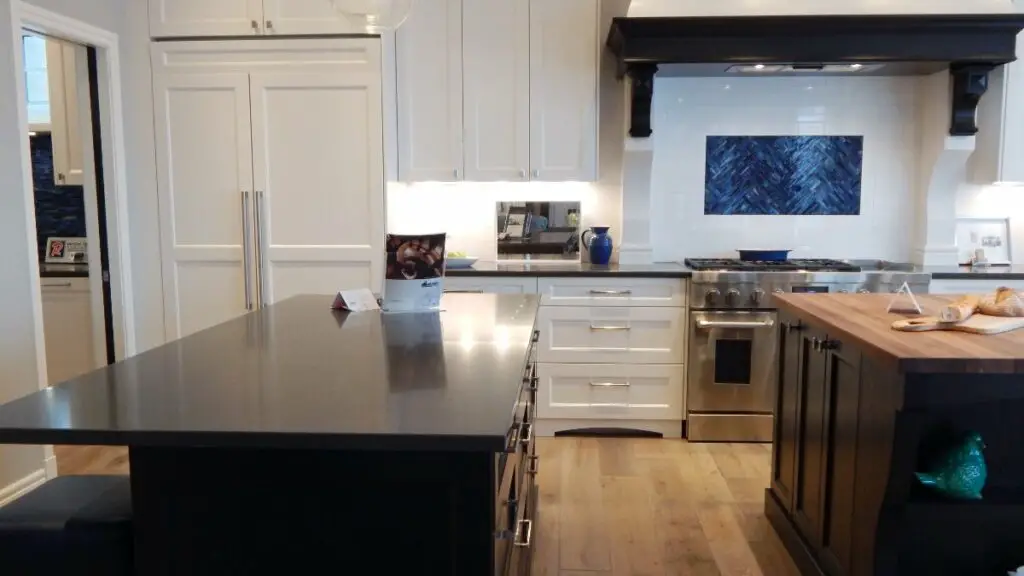 FAQs
Still, have some Q's about budget kitchen floors? Here are answers to some common questions:
What is the most affordable kitchen flooring overall?
It depends on your kitchen size and layout, but generally, vinyl tile and sheet vinyl provide the most budget flooring on a square foot basis, starting around $1-5 per square foot installed.
What are inexpensive options that mimic wood floors?
Laminate is an affordable option under $2 per square foot that mimics the look of natural wood very convincingly. Certain luxury vinyl tiles and planks also look wonderfully wood-like while costing less than genuine hardwood floors.
Can you recommend budget-friendly flooring for a kitchen with kids and pets?
For high-traffic kitchens, sheet vinyl is highly durable, seamless, and easy to clean – ideal for busy family kitchens. Vinyl tile is another excellent choice as it's waterproof and easy to swap out if damaged.
I have a small galley kitchen. What flooring would you suggest?
Small kitchens appear larger with light, plain floors that blend seamlessly together. For a tiny kitchen, I recommend sheet vinyl in a stone or wood grain pattern using large tiles or planks to create an airy, open look.
Are concrete floors affordable for the average homeowner?
Depending on your location, you can have bare concrete floors installed for as low as $2-4 per square foot. Add colorants, stains, or scoring patterns for more decorative options while being budget-friendly. An epoxy coating will also protect the concrete.
Where can I find good sales on flooring materials?
Big box home improvement stores will often run sales, especially seasonally or around holidays. Check their circulars online. Discount flooring outlets and Habitat for Humanity ReStores also offer discounted leftover materials and discontinued styles. Sign up for stores' email newsletters to receive sale announcements, too.