As a woodworker and DIY enthusiast living in Chicago, I'm always fascinated by unique architectural styles and their origins. One style that has captivated me is the iconic Saltbox House. With their sloped roofs and charming asymmetry, saltbox houses are an essential part of America's architectural heritage. But where exactly are these beautiful colonial homes most popular?
In this blog post, we'll explore the history, geography, and preservation of these traditional homes. Grab your toolbelt, and let's dive in!
A Brief History of Saltbox Houses
To understand where saltbox houses are most popular today, we must first understand their origins. Saltbox homes are a classic example of Colonial American architecture, tracing their roots back to 17th-century New England.
What is a Saltbox House?
A saltbox house is defined by its signature asymmetrical gabled roof that slopes down sharply from the back to the front of the house. This created a larger space upstairs in the back and a shorter space in the front, optimized for storage and living quarters, respectively.
Other key features include:
Clapboard or wooden shingle siding
Central brick chimney
Multi-paned, double-hung windows
Timber framing accents inside
The saltbox shape lent itself perfectly to Colonial winters. The angled roof allowed heavy snow to easily slide off, while the large back area was ideal for stockpiling firewood and supplies from the elements.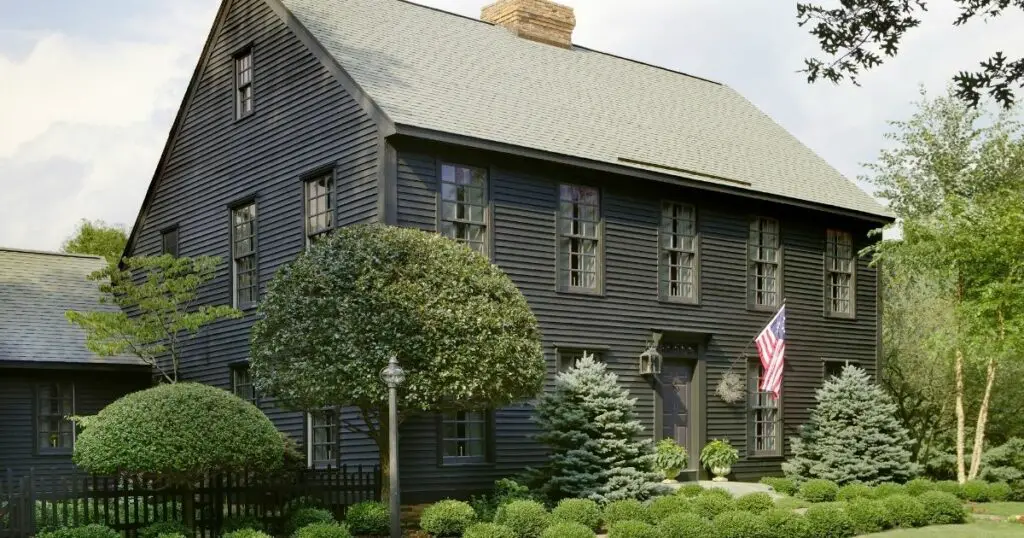 Why "Saltbox"?
Saltboxes first emerged in New England in the 1600s. Their practicality and affordability made them a popular choice for early American settlers and farmers. Most examples today date from the 17th and 18th centuries.
When Did They Become Popular?
The name's origins are uncertain, but these homes were thought to resemble the wooden boxes used to store salt in colonial times. Hence, the nickname "saltbox" stuck for this economical, no-frills architectural style.
So now that we understand where they came from, where exactly are these colonial saltbox homes still standing today?
Hotspots for Saltbox Houses
Given their New England origins, it's no surprise that saltbox homes remain most highly concentrated in this region of the U.S. Specifically, the states with the greatest numbers of surviving saltboxes are:
Connecticut
With its rich colonial history and rugged landscape, Connecticut boasts some of the best-preserved saltbox house examples. Historic homes can be found scattered across quiet country towns and villages. Some noteworthy destinations include:
Guilford, CT: Features the historic Thomas Griswold House, built in 1673 with classic saltbox architecture. Guilford has strict preservation rules, maintaining the charm of colonial times.
Lebanon, CT: Home to many 18th-century saltboxes, such as the Jonathan Trumbull House, built in 1735. Trumbull was the only colonial governor loyal to the British during the Revolution.
Wethersfield, CT: Claims to have the oldest continuously occupied home in Connecticut – the Capt. John Marsh House was built in 1660! Other saltbox homes date back to the mid-1600s as well.
Massachusetts
As the heart of the original New England colonies, it's natural that Massachusetts is peppered with historic saltbox homes. From prominent museums to hidden architectural gems, highlights include:
Boston: The city's historic North End and Beacon Hill neighborhoods feature stately and modest saltbox homes from the 17th and 18th centuries.
Salem: Famed for its witch trials, Salem also boasts some incredibly well-preserved saltbox homes. The most iconic is the House of Seven Gables, built in 1668 and now a museum.
Plymouth: Saltbox houses dot the landscape in Plymouth, including the oldest – the circa 1650 Richard Sparrow House. Pilgrim Hall Museum is also housed in an impressive saltbox built in 1754.
Rhode Island
Small but mighty, Rhode Island possesses some of the country's best examples of early colonial architecture. The most noteworthy include:
Newport: A seaside resort town peppered with saltbox architectural gems. Homes like the 1659 Hazards House and 1739 Mumford House are now popular tourist attractions.
Providence: Although many originals were destroyed in fires, Providence's East Side has some surviving 18th-century saltbox houses. The Nightingale-Brown House, built in 1792, is one of the neighborhood's oldest.
South County: Quieter rural regions like Little Compton and Tiverton have some of the oldest and most untouched saltbox farmhouses from the 17th century.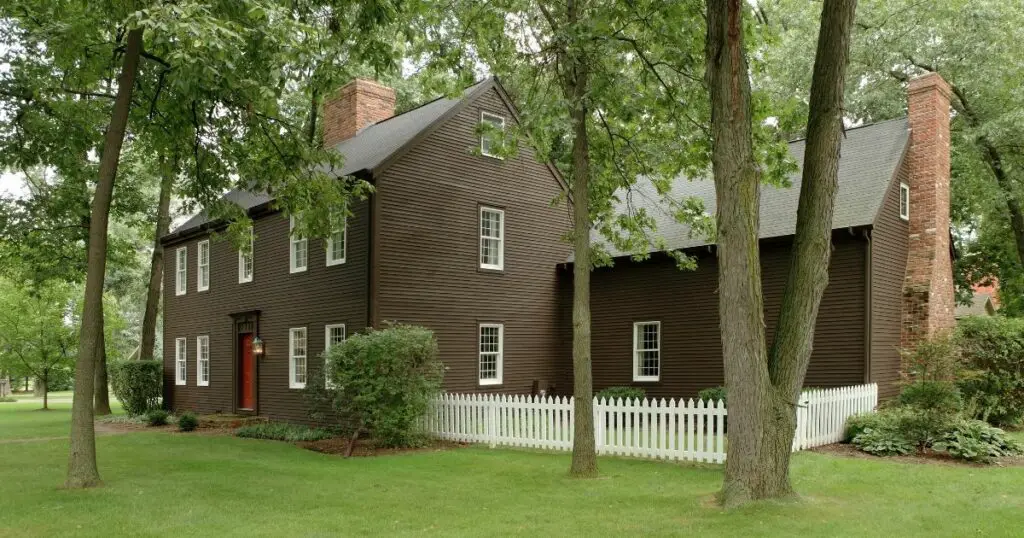 Beyond New England…
While saltbox homes originated in New England, their versatile, practical design also made them famous in other northern colonies with harsh winters and abundant snowfall. Regions where you can still spot traditional saltboxes include:
The Mid-Atlantic: Scattered saltbox homes can be found in New York, New Jersey, Pennsylvania and beyond. More isolated examples were built by early settlers throughout frontier countries.
The Maritimes: Parts of Eastern Canada, like Nova Scotia, New Brunswick, and Prince Edward Island, also have saltbox homes built by Loyalists and New England settlers.
The Midwest: Due to later settlement, there are fewer vintage saltboxes in the Midwestern states. But, architectural revivals have brought about more modern interpretations.
While the highest density of early saltboxes is concentrated in New England, their architectural DNA has spread far and wide across North America!
Preserving Saltbox History
Part of what makes saltbox homes so unique is their age and historical significance. Many have been carefully preserved over centuries, acting as landmarks and living history for their communities.
Historic House Museums
Some of the oldest saltbox homes have been converted into museums. These give visitors an interactive glimpse into daily colonial life:
Winslow House (Marshfield, MA): Built in 1699, it's the oldest continually occupied saltbox in the country! The interior is restored to its original 1704 state.
Sarah Whitman Hooker House (West Hartford, CT): Dating to 1690, this house features demonstrations by costumed interpreters about activities like open-hearth cooking, gardening, and more.
Fitch House (East Haddam, CT): Transformed into a museum in 1947, the 1685 Saltbox provides hands-on colonial activities for school groups and kids.
Historic Districts
Entire neighborhoods of saltbox homes have been preserved through historic districts. Local ordinances protect their architectural integrity by regulating any additions or exterior changes. Well-known examples include:
Beacon Hill (Boston, MA): This neighborhood adjacent to the State House is known for stately red brick saltbox row houses from the 18th and 19th centuries.
Historic Deerfield (Deerfield, MA): An entire village dating back to the 1700s with many restored saltbox homes. A major tourist attraction today.
East Hampton Village (NY): A tony Hamptons coastal community featuring impressive timber-framed saltbox mansions from the 17th and 18th centuries.
Heritage Tourism
Beyond museums and historic districts, saltbox houses have become popular heritage tourism attractions. Architecture tours often incorporate both famous and lesser-known examples.
Some organizations offering saltbox-focused tours include:
Newport Historical Society (Newport, RI): Walking tours spotlight the colonial architecture of landmarks like the White Horse Tavern, built circa 1652.
Sail Salem (Salem, MA): Themed tours explore Salem's maritime heritage and historic homes, including the grand Custom House built in 1819.
Redcoat Tours (Boston, MA): Costumed guides lead groups along the Freedom Trail, highlighting Boston's early history and saltbox homes.
Saltbox houses tell an essential story about the origins of America. Thanks to dedicated preservation efforts, we can continue to admire and learn from these architectural time capsules for generations.
Modernizing a Saltbox – Tips & Inspiration!
Saltbox homes may date back centuries, but that doesn't mean they can't be updated for 21st-century life. The key is balancing modern renovations with respect for the home's original colonial character.
As a woodworker and DIYer, I love seeing how owners adapt these vintage homes. Here are some tips and inspiration for sensitively modernizing an antique saltbox house:
Blending Old and New
Many homeowners face the challenge of incorporating more open, contemporary floorplans into a modestly sized colonial interior. Some creative solutions include:
Knocking down non-load-bearing walls to open the floorplan while maintaining the original footprint.
Adding skylights and additional windows to brighten dark interior spaces in a minimally intrusive way.
Using glass partitions, pocket doors, and furniture placement to define rooms rather than permanent walls.
Mixing colonial architectural elements like exposed beams and wide plank floors with sleek, modern finishes and accessories.
High-Tech + Historic
It's possible to integrate tech-friendly features without disrupting a saltbox's historic charm:
Conceal audio-visual wiring and components to reduce visual clutter.
Install frosted glass cabinet fronts to allow light to pass through to hidden shelving.
Use historically sympathetic window casings, moldings, and baseboards to hide low-voltage lighting strips.
Place smart home hubs and internet routers in closets or discreet locations to keep things tidy.
Eco-Friendly Updates
With their thick timber bones, saltboxes are great candidates for energy-saving upgrades:
Maximize insulation in walls and attics to improve efficiency – essential for those drafty old homes!
Upgrade to triple-glazed windows that retain heat yet mimic colonial aesthetics.
Incorporate solar panels on rear-facing roof surfaces to generate electricity discretely.
Repurpose original wide plank wooden floors rather than replacing them – sustainable and full of character!
Creative Storage Hacks
Lacking closets and other modern storage amenities, saltbox owners get resourceful:
Build custom cabinetry and shelving into the distinctive sloped walls on the upper floor.
Convert an attic knee wall space to built-in drawers and cubbies.
Add inconspicuous rolling barn doors to hide modern pantry additions.
Use furniture like benches, ottomans, and lift-top coffee tables to add discreet storage space.
With some imagination and respect for tradition, saltbox homes can adapt remarkably well to contemporary living. It's inspiring to see historic homes preserved AND actively enjoyed by owners today!
The Enduring Charm of Saltbox Architecture
Saltbox houses hold a special place in America's architectural history. But what exactly accounts for their enduring popularity and charm?
They're a Symbol of Heritage
With their quaint sloped roofs and rustic clapboard siding, saltbox homes practically scream "historic New England!" They represent a vital link back to America's frontier past and the values of early settlers.
They Valorize Simplicity
The saltbox embodies Yankee values of practicality and simplicity. Their efficient design maximized livable space while eliminating unnecessary frills. Those ideals still resonate in our modern times.
They Have Unique Character
Beyond their distinctive shape, all saltboxes are different. The asymmetry and handcrafted imperfections give each saltbox home tons of idiosyncratic character you won't find in cookie-cutter construction.
They Promote Sustainability
With their quality materials and solid bones, saltbox homes were built to last generations. Preserving and adapting them today is the ultimate environmentally-friendly choice.
They're Highly Photogenic
With their slanted rooflines and rustic architectural details, saltbox homes make great subjects for paintings, photos, and films!
They Foster Community
Restoring and maintaining historic saltbox homes often becomes a collaborative community affair. Neighbors bond over shared history and a collective sense of place.
Clearly, saltbox houses appeal to our nostalgia, values, and aesthetics on many levels. They're a distinctive part of the American architectural DNA – a tradition I hope we continue to preserve for centuries to come!