Hey friends! Angela here from Home Décor Chat, coffee in hand and ready to dive into today's interior design topic. Lately, I've been getting a lot of questions about using runner rugs on staircases. Can it be done? Should it be done? What options work best? I'm excited to share everything I've learned about stair runners, including tips for styling, safety, and even a little DIY installation if you're feeling handy!
An Intro to Stunning Stair Runners
Let's start with a little Runner Rug 101. A stair runner is an elongated rug explicitly designed to adorn a staircase. They instantly add a touch of style while providing some practical safety benefits. I love how a stair runner can help define a staircase, turning an often overlooked functional space into a beautiful design feature.
Stair runners have been used for centuries to protect valuable carpet and wood while allowing heavy foot traffic. In the past, they were considered more functional than fashionable. However, nowadays, so many gorgeous designs are available that you can turn your staircase into a work of art!
The options for stair runners are endless, from traditional floral Persian rugs to modern geometric patterns. You can play with different colors, textures, and materials like wool, cotton, sisal, or polyester. Whether your style skews classic or contemporary, there's a stair runner to match. Let's explore why they make such a stylish and innovative addition to any staircase.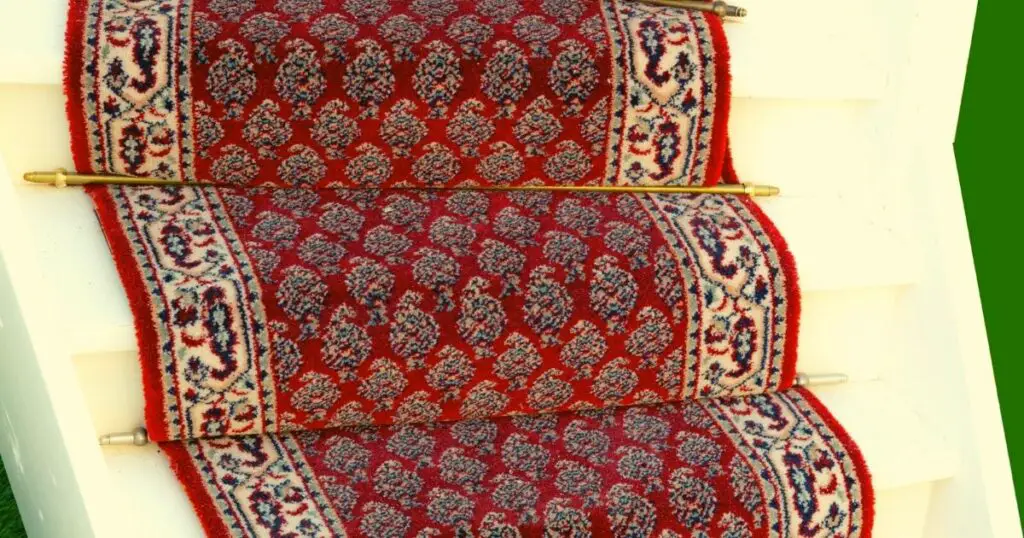 3 Key Benefits of Using a Runner Rug on Stairs
1. Safety First with Slip-Resistance
One of the biggest perks of a stair runner is the added traction it provides. This is key for stair safety! Proper materials and installation ensure your footing doesn't slip while climbing up and down.
Look for low-pile, tightly woven options without busy patterns that could trip you up. Jute, seagrass, sisal, and indoor-outdoor rugs work great. Rubber backing or carpet tape adds extra non-slip grip, too. If you have little ones or elderly family members using the stairs, a runner rug brings peace of mind.
2. Muffle Sounds with Cushioned Comfort
Going up and down the stairs multiple times daily can wear down your feet. Give them a break with a soft, cushioned runner rug! Not only is it gentler underfoot, but it also helps absorb noise. This is especially handy for apartments or homes with creaky stairs.
Medium to high-pile rugs with synthetic, wool or blended fibers work best to reduce footsteps. Check the rug's density rating – a higher one is better for noise dampening. A carpet with extra padding is a bonus!
3. Bring Beauty and Style to Your Staircase
Lastly, nothing elevates a staircase quite like a runner rug. Your design choices can infuse the space with color, texture, and personality. Play with patterns, materials, and shapes to complement your style.
For a contemporary look, try an abstract geometric runner in bold hues. Or, for old-world charm, try a vintage Persian-style floral rug. The options are truly endless – get creative and make it your own! Your staircase will go from drab to fab.
Which Runner Rug Materials Are Best for Stairs?
Now that we've covered the benefits let's dive into which materials work best for stair runners. Certain fabrics hold up better than others regarding durability and stain resistance. Here's a quick primer on the most common options:
Natural Fibers
Wool is highly durable, soft underfoot, and resists dirt, spills, and wear and tear, but is pricey.
Jute is an affordable, eco-friendly option, though less cushy. Withstands heavy traffic but stains easily.
Silk – Luxurious and soft but too delicate for stairs. Best left to living spaces.
Cotton – Provides good traction and comfort, though not incredibly durable. Stains easily.
Sisal – Very durable, stain-resistant, and eco-friendly but scratchy under bare feet.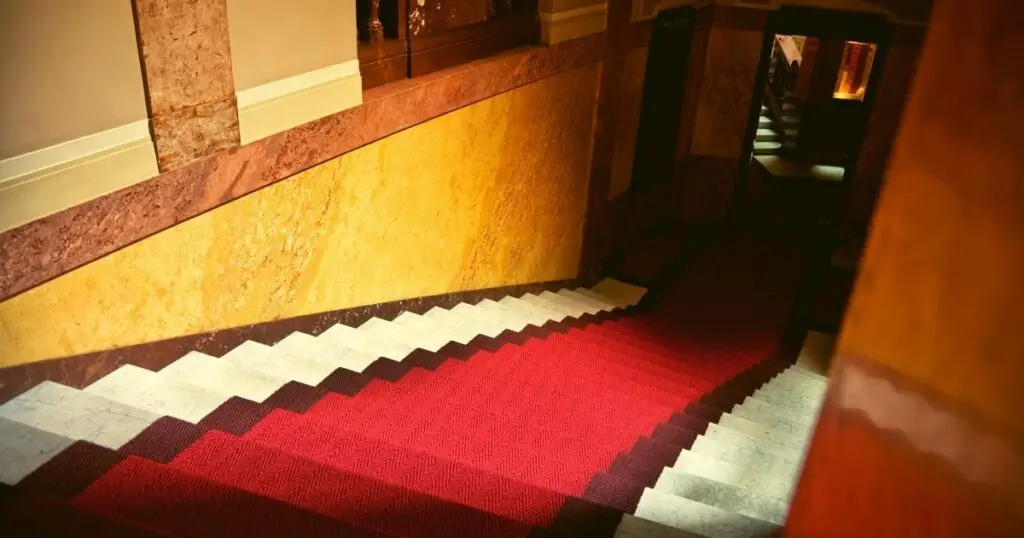 Synthetic Fibers
Nylon – A very durable, stain-resistant, and budget-friendly option, though not the softest.
Polyester offers similar benefits as nylon, though it tends to pill with heavy traffic. It's still very affordable.
Polypropylene – Extremely durable, easy to clean, and resistant to fading, though it does not have a luxurious feel.
Acrylic – Provides cushioning through pills quickly. It's affordable but could be more durable.
Measuring Your Stairs for a Perfect Fit
Before selecting and installing your stair runner, measuring correctly for a flawless fit is crucial. Here are the key measurements you'll need:
1. Tread Width – The tread width is the step's surface depth from front to back. Measure each tread at its widest point.
2. Riser Height – The riser height is the vertical space between each step. Measure from the top of each tread down to the next.
3. Length – To determine the length, add the tread depths, riser heights, and a few extra inches as a buffer.
Be sure to bust out your tape measure! Jot down the measurements for each step in a notebook. This information will ensure you get a runner sized just right for your stairs.
As a general rule, the rug should cover the entire length of the staircase and extend about an inch from the nose of each step. This will ensure that there are no gaps or tripping hazards.
Customization Options for a Bespoke Runner Rug
Another thing I love about stair runners is all the possibilities for customization. Size, shape, materials, color, pattern – the options are endless for designing a stair runner that's uniquely you. Here are some ideas to get your creative juices flowing:
• Pattern play – From chevron to oriental designs, patterns provide dynamic visual interest. Get inspired by your favorite rug looks and apply them to a stair runner.
• Color psychology – Use color intentionally, like energizing red on downward stairs or soothing blue for upward ascension. Get creative!
• Monogram magic – For a personalized touch, monogram the ends of your stair runner with your last initial or family name.
• Unique shape – Customize the form with semicircle ends or tapered edges for curved or spiral stairs. Measuring carefully is vital!
• Mix and match – Layer a patterned runner over carpet or hardwood for an eclectic look. Complementary colors and textures work well.
When ordering a custom runner, provide your measurements and design inspiration to ensure it's tailored to your stairs and style.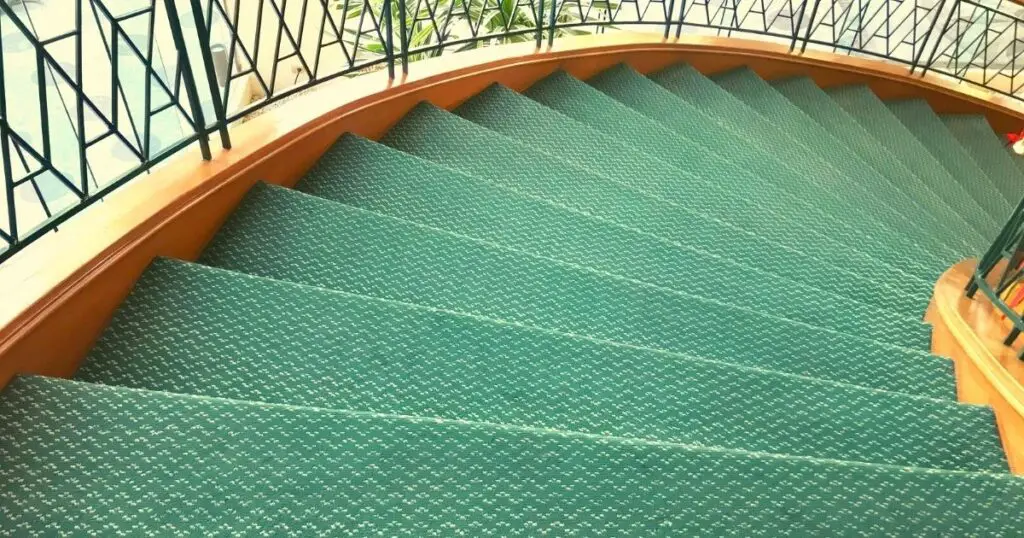 DIY Installation Tips and Tricks
Installation may seem daunting, but it's very DIY-friendly with some handy tips! Be sure to check the manufacturer's instructions for specific guidance. Here's an overview of the process:
1. Prep the surface – Vacuum and clean the stairs thoroughly. Fill any holes or cracks for a smooth surface.
2. Cut and install tack strips – Measure and cut tack strips to fit each step edge using a utility knife. Nail them into place with a hammer.
3. Apply adhesive – Use a carpet tape gun or trowel to apply a uniform layer of glue onto the surface and tack strips (or adhesive strips).
4. Position the rug – Roll out your stair runner and cut it to fit if needed. Carefully align it on the stairs with edges on the tack strips.
5. Smooth and secure – Use a smoothing tool or hands to press the rug firmly into the adhesive backing. Secure edges with finishing nails.
6. Trim edges – Once the rug is dry, use scissors to trim any excess material so the edges lie flat.
And voila, you have a professionally installed stair runner! The whole process takes 2-3 hours. Let the adhesive fully cure overnight before use.
Maintaining Your Staircase Beauty
Proper care and cleaning are The finishing touches for keeping your stair runner looking fabulous. Here are my top tips:
Vacuum frequently using a wand attachment to get into crevices.
Spot clean spills immediately with carpet cleaner and a damp cloth.
Professionally steam clean every year or two to revitalize fibers.
Flip occasionally to distribute wear if the runner is reversible evenly.
Inspect regularly for loose edges, fraying, or worn spots that need repair.
Consider professional re-stretching every 4-5 years to maintain an even surface.
Proper maintenance allows your stair runner to last 5-10 years or longer!
Safety Considerations for Stair Runners
Stair runners provide traction, so safety should be prioritized during selection and installation. Here are a few tips:
Opt for low-pile, tight-weave rugs under 1/2 inch thick. Avoid busy patterns.
Use a rug pad and adhesive strips to secure the runner flat to the stairs. No bumps!
Ensure padding extends under the rug and over stair edges for an even surface.
Trim edges carefully so they lie flush with no loose corners to catch toes on.
Add non-slip tape on stairs and rug backing for extra traction and adhesion.
Properly installing a stair runner ensures many years of safe and stylish function!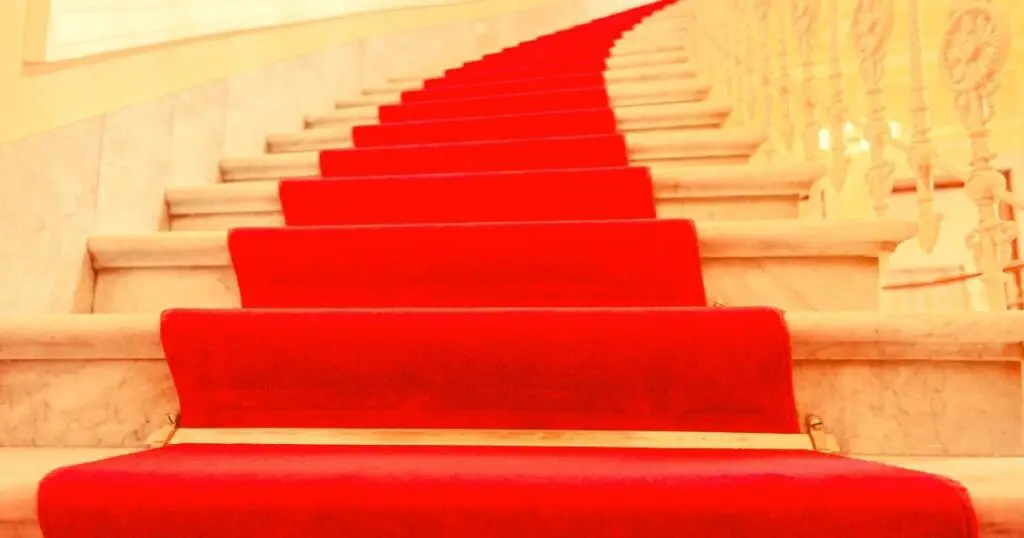 Budgeting for Your Staircase Makeover
Giving your stairs a fresh look doesn't have to bust the budget. Here are some tips for affordably accessorizing with a stair runner:
Take advantage of sales and use coupons from home retailer's websites for the best deals.
Sort by low-to-high price when browsing online rug retailers to find great deals.
Check discount retailers like TJ Maxx, Marshall's, or Ollie's for discounted in-stock options under $100.
Search Etsy or eBay for secondhand vintage finds at half the price – ensure proper dimensions.
You can use painter's tape and a DIY stencil to create a faux custom runner on the stairs as a budget option.
Install it yourself, following an online tutorial, to save on labor. Most DIYers report under $100 in material costs.
With savvy shopping and creative DIY skills, you can give your stairs a custom-designed look for less!
Transform Your Staircase with a Runner Rug
As you can see, stair runners offer many style and safety benefits! With the proper preparation and materials, adding this functional accent piece can take your staircase from drab to fab. Have fun creating a design that reflects your style – the options are endless.
These tips will give you the confidence to take on this easy DIY project. Just think how great it will feel to look at – and walk up and down – those beautiful new stairs! Let me know if you have any other questions about stair runners. I'm always happy to help!
FAQ
Can any rug work as a stair runner?
Yes, technically, but low-pile, durable rugs work best to ensure safety and avoid tripping. Also, ensure the rug's dimensions fit your stairs when laid vertically. Stick to lightweight, tightly woven fabrics like jute, seagrass, or kilim rugs.
How long do stair runner rugs typically last?
A quality stair runner rug can last 5- 10 years with proper care and maintenance. Wool and polypropylene last the longest, while silk and cotton degrade faster in high-traffic areas. Rotate annually and promptly clean stains to maximize longevity.
What size should I purchase for carpet stair treads?
Measure the width and length of each step's tread and add them together to get the complete dimensions. For width, measure the carpeted step top. For size, measure horizontally from nosing to nosing. Add 8-10 inches to the overall length as a safety buffer.