Hey friends! If you're considering renovating your kitchen, one of the most significant decisions you'll make is choosing your cabinetry. Kitchen cabinets can make up a considerable chunk of your total reno budget, so you want to understand all the factors influencing the cost.
In this post, I'll walk you through a detailed breakdown of what impacts kitchen cabinets price. I'll cover all the nitty gritty details – from materials and quality to custom designs and labor. I aim to give you a realistic picture of what to expect and plenty of budget-saving tips!
An Introduction to Kitchen Cabinet Costs
When I renovated my own 1910s bungalow kitchen on a tight budget, cabinets were my most significant expense. But they're also one of the most critical investments in a kitchen remodel since they're such a focal point.
The cost of your cabinets will depend on four key factors:
Materials and quality: Hardwoods like oak and maple are premium options, while budgets might opt for MDF or plywood.
Size of kitchen and cabinet coverage: The total linear feet of cabinets and the number of wall and base cabinets will increase the price.
Customization and design: Unique storage solutions, specialty cabinets, and custom craftsmanship add cost.
Type of cabinets: Stock, semi-custom, or fully custom-made.
I'll break down how each element contributes to the final price tag. Let's start by diving into materials and quality!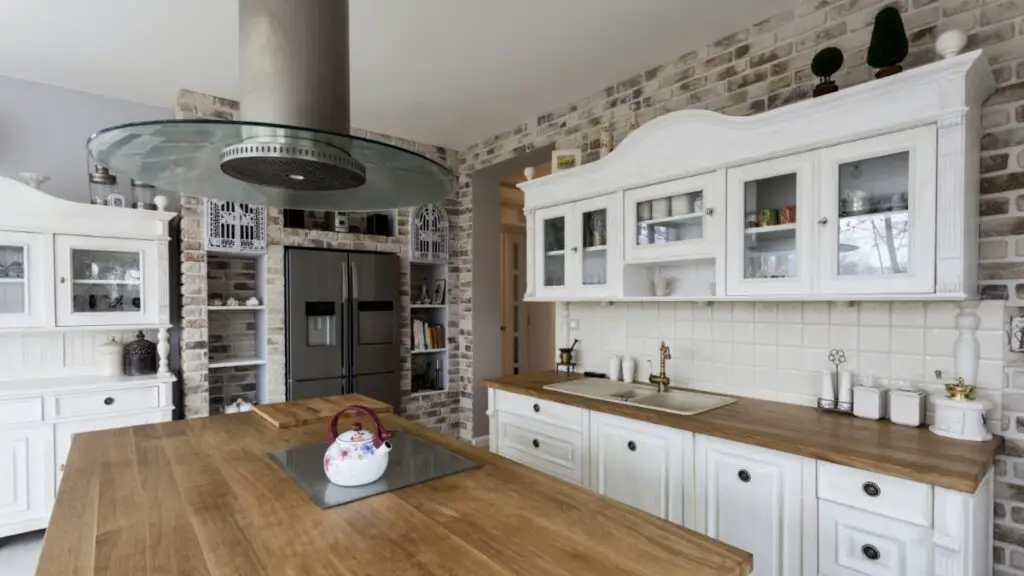 Factors Influencing Kitchen Cabinet Costs
Materials and Quality
The materials your cabinets are constructed from, along with the level of quality and craftsmanship, make a significant impact on price. Here are some of the most common options:
Hardwood – Made from natural wood species like oak, maple, hickory, and cherry, hardwood cabinets offer unmatched beauty and durability. But they come at a premium price, averaging $6,000 to $12,000 for a 10×10 kitchen.
MDF – Short for medium-density fiberboard, MDF is an engineered wood product made by pressing wood fibers and resin together. MDF cabinets provide a nice uniform look and solid feel at a more affordable cost of $3,000 to $6,000 for an average kitchen.
Plywood – Constructed from thin sheets of wood veneer glued together, plywood offers durability and stability. Plywood cabinets range from $4,000 to $8,000 for a 10×10 space.
Laminate – Laminate cabinets consist of a laminate surface layer adhered over a substrate of MDF or plywood. A budget-friendly option at $2,000 to $5,000, but less durable than solid wood.
Thermofoil – With a vinyl foil layer wrapped around an MDF or wood substrate, thermofoil cabinets are affordable at $3,000 to $6,000. Easy to clean but can be prone to damage.
Custom – Want something truly one-of-a-kind? Custom cabinets built to your specifications can utilize any material you desire – but come at a premium of $8,000 to $15,000 or more.
The quality of construction and hardware makes a difference, too. Opt for dovetail joinery, soft-close hinges, and durable finishes for cabinets that will last.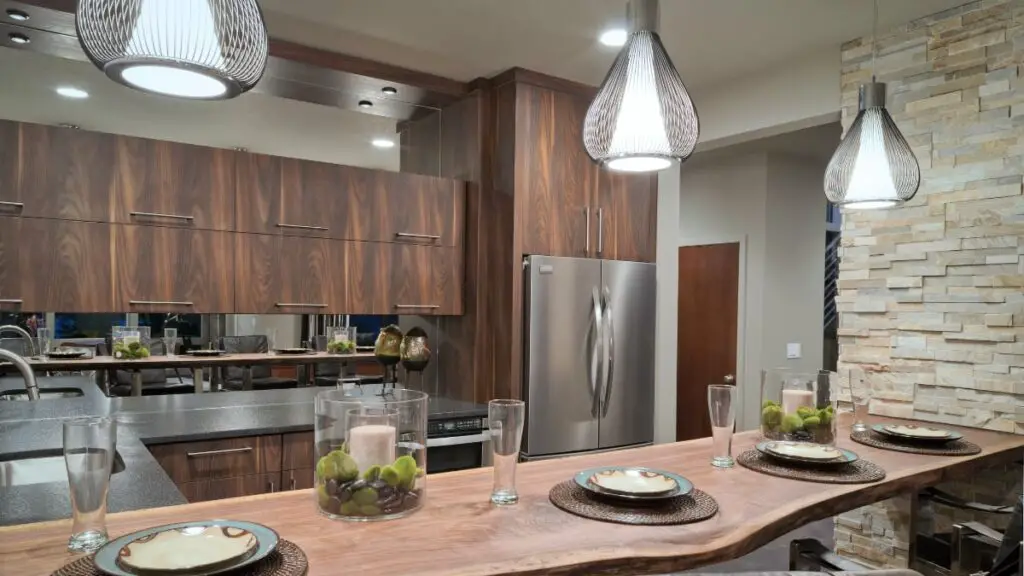 Size of the Kitchen and Cabinet Coverage
The physical size of your kitchen and how much wall space you need to cover with cabinets will impact the price. Consider:
Linear feet – Measure your kitchen's perimeter to determine the total linear feet needed. More cabinetry equals higher cost.
Upper cabinets – Wall cabinets add storage but also add expense. Evaluate your needs.
Lower cabinets – You'll likely want base cabinets for countertop workspace, storage, and appliances.
Complete remodel – Removing existing cabinets and replacing flooring, countertops, fixtures, and new cabinetry increases project scope.
Take measurements and map out your ideal layout to estimate how much cabinetry you require. Smaller kitchens need less than spacious gourmet spaces.
Customization and Design Complexity
Personalized design features, specialty cabinetry, and custom artistry will increase costs.
Unique designs – Want a specific cabinet style or finish to match your home's character? Going custom gets pricey.
Custom features – Pull-out shelves, lazy susans, glass fronts, and other specialty additions boost the cost.
Specialty cabinets – Appliance garages, desk cabinets, window seats, or other custom elements are an investment.
Hardware – Fancy molded knobs and pulls, soft-close mechanisms, and other high-end hardware increase price.
Intricate details – Hand-painted finishes, intricate carvings, and other details require specialized craftsmanship.
Custom cabinetry allows you to realize your dream kitchen if you value high-end design over cost savings.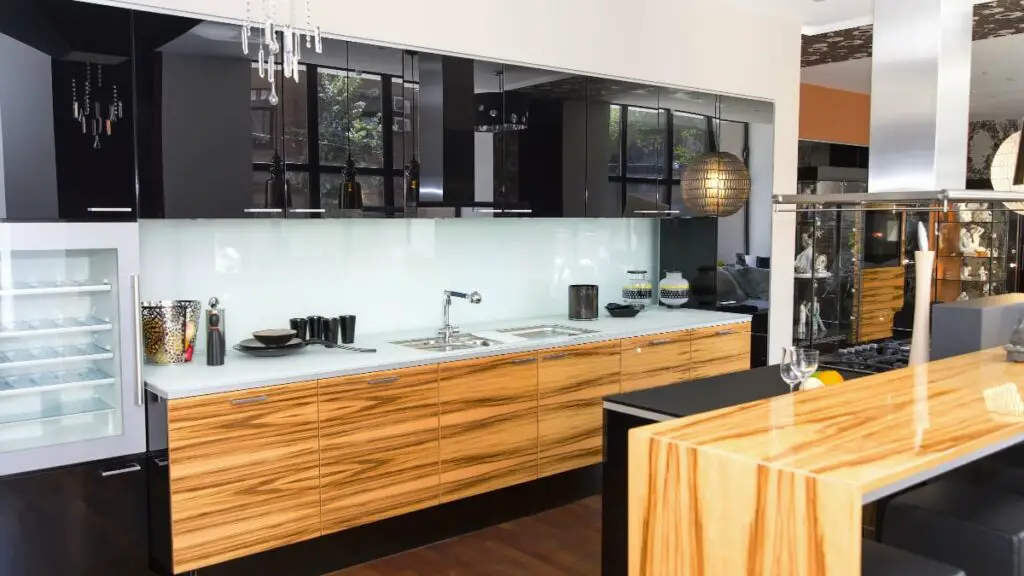 Types of Cabinets
Now, let's explore the differences between stock, semi-custom, and fully custom cabinet types.
Stock Cabinets
Stock cabinets are pre-fabricated in standard sizes to be affordable and quickly installed.
Pre-Made – Manufactured in bulk and kept in stock for fast turnaround. Limited to standard dimensions.
Basic styles – Minimal decorative options kept simple to lower costs.
Quick installation – Assembled from boxed components. Easier for DIY.
Cost – Typically $60 to $120 per linear foot. The most budget-friendly cabinet option.
The downside is that there needs to be more room for customization beyond basic door styles and colors. But stock cabinetry works well for smaller kitchens like mine!
Semi-Custom Cabinets
For more flexibility, semi-custom cabinets are made-to-order with some size and design options.
Adjustable sizing – Available in more sizes to better fit your specific layout.
Mix and match – Select door styles and finishes for different cabinets.
Designer options – More choices for decorative treatments compared to stock.
Cost – Ranges from $120 to $200 per linear foot. A middle-ground option between stock and custom.
With longer lead times, semi-custom isn't as readily available. The installation process also tends to be more complex. But you gain more personalized design capabilities.
Custom Cabinets
Seeking a truly bespoke, one-of-a-kind look? Fully customized cabinetry is the solution.
Tailored fit – Built from scratch to your exact kitchen's specifications.
Unique designs – Any door style, finish, and decorative detail you desire!
Premium materials – Built with the highest-quality solid hardwoods and craftsmanship.
Cost – From $200 to $500+ per linear foot. Maximum customization for a premium.
Along with the highest cost, custom cabinet projects also take more time. From design to production to tricky installation, expect the process to stretch over months. The results are well worth it for many homeowners.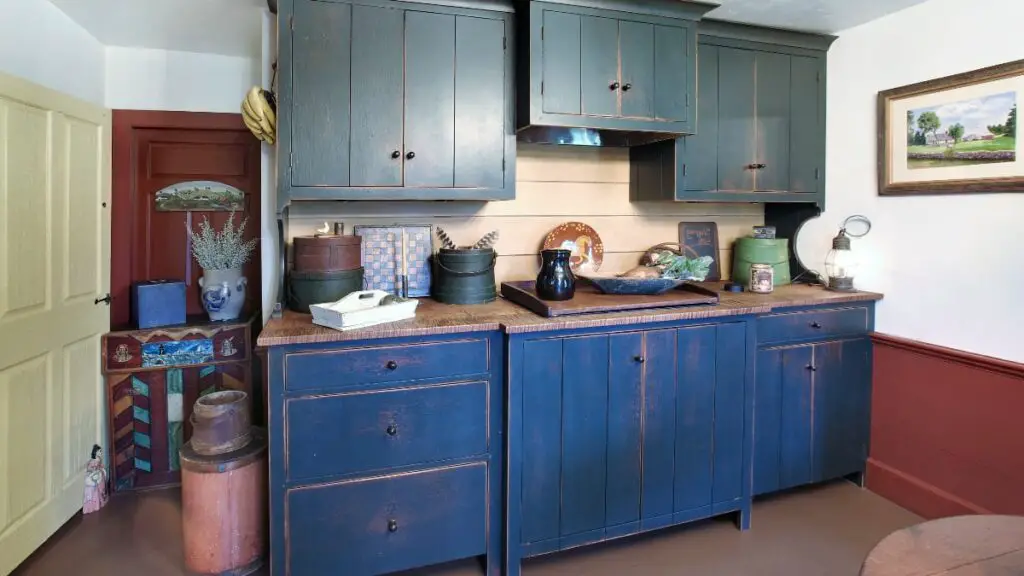 Labor Costs and Installation
Installing kitchen cabinets can be a tricky process – especially for custom designs. You'll need to account for professional labor in your budget or be prepared to take on the DIY challenge!
Here are the main factors affecting installation costs:
Professional installation – Expect to pay $10,000 to $20,000 for a complete professional installation on an average kitchen.
DIY cabinet installation – Doing it yourself can save thousands but requires carpentry skills, time, and patience. Budget $3,000 to $10,000.
Hiring a contractor – For those wanting professional results without the high cost of full service, hiring an experienced contractor is a middle ground at about $5,000 to $15,000.
Per-hour labor rates – Labor costs for installation range from $25 to $75 per hour or more, depending on your location and the job's complexity.
Flat rate – Some contractors may charge a fixed price for the entire installation. This can be to your advantage for simple stock cabinet installs.
Timeline – Even professionals need days to weeks to install a kitchen's worth of cabinetry fully. Factor this into your plans.
Securing a quality installation ensures your cabinets function and look their best while avoiding mistakes. Don't underestimate this step!
Additional Costs to Consider
Beyond the cabinets, a kitchen renovation includes many additional components that add cost. Make sure to account for:
Countertops
Your countertop material, along with demolition and installation, impacts the budget.
Granite – Elegant and durable but expensive at $40 to $100 per square foot installed. Requires heavy-duty cabinet support.
Quartz – At $40 to $80 per square foot, it resists stains and scratches with less maintenance.
Laminate – Affordable at $15 to 30 per square foot but more manageable to damage. DIY-friendly.
Installation – From $5 to $25 per square foot depending on material and complexity.
Evaluate options like butcher block, concrete, or tile to match your cabinets. Don't overlook this significant line item!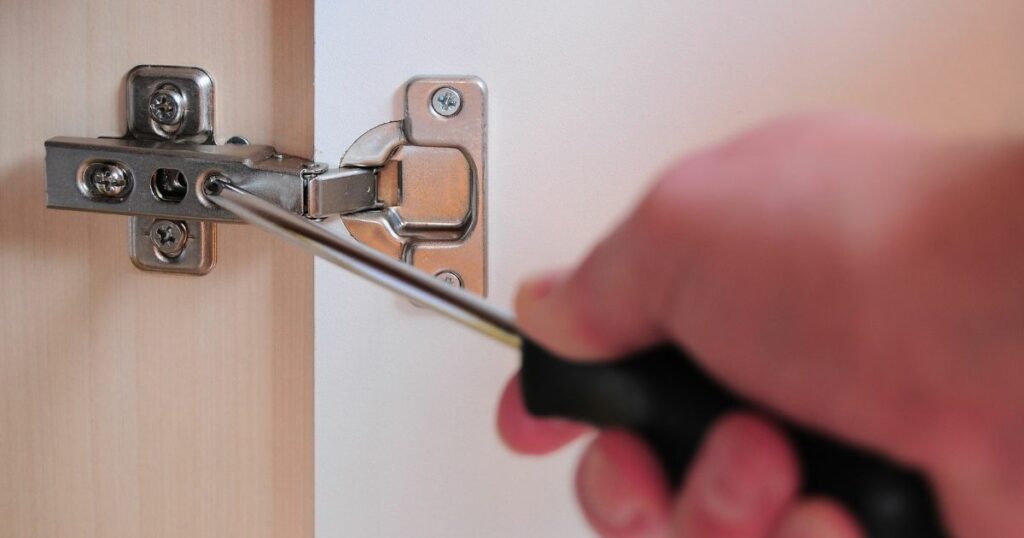 Hardware and Accessories
Dress up your cabinets with functional and decorative hardware. Remember to budget for:
Knobs and pulls – Allow $5 to $20 apiece, depending on your selected style and material.
Soft-close mechanisms – Reduce slamming with smooth-acting hinges at around $20 to $50 per pair.
Organizational accessories – Roll-out trays, tilt-out bins, lazy susans, and more run $20 to $100 each.
While not strictly necessary, the correct hardware makes a significant decorative impact and improves functionality.
Finishing and Painting
Refinish or recolor existing cabinets or professionally spray new cabinets for a custom look.
Stain – Penetrating stains in various opacities cost $10 to $30 per gallon. Achieves a rich wood look.
Paint – A fresh coat of cabinet paint costs $20 to $50 per gallon. Requires extensive prep.
Finish options – Consider durable clear coats like polyurethane or lacquer at $10 to $30 per gallon.
Color choices – The sky's the limit for cabinet colors! Just be sure to coordinate with your counters and floors.
You can save by refinishing cabinets yourself. But for a flawless factory-like finish on all cabinet surfaces, hire a professional.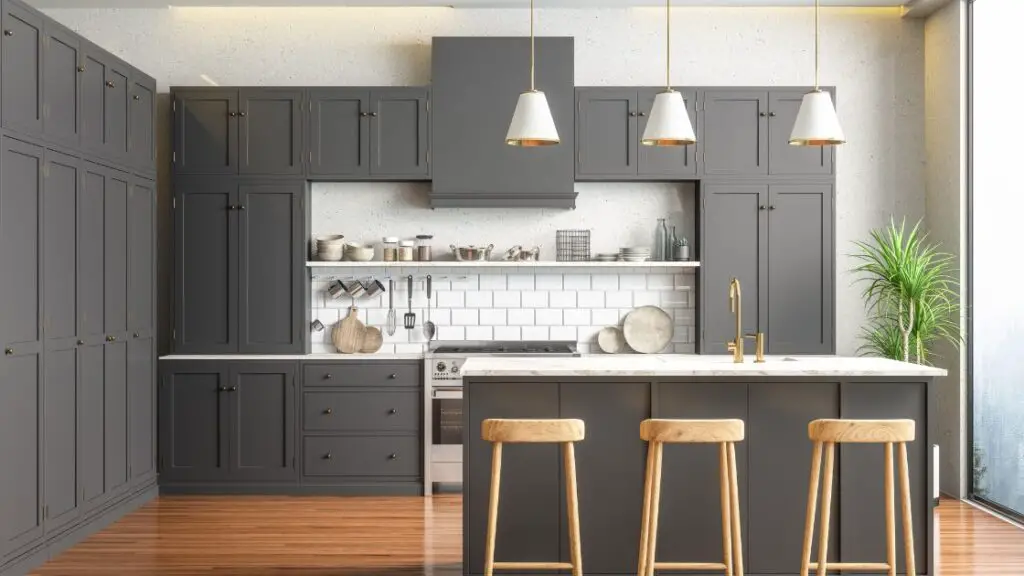 Removing Old Cabinets
If replacing existing cabinets, you must budget for safe removal and disposal.
Disposal fees – Dump fees for cabinet demolition waste typically range from $50 to $200, depending on volume.
Recycling – Some removal companies recycle cabinets, saving landfill space for a small fee.
Labor – Cabinet demolition and disposal pro removal service costs around $200 to $500.
DIY demolition is an option but must be done carefully to avoid damaging walls or floors. Wear proper safety gear, too!
Average Cost Estimates
Let's examine typical price ranges based on popular kitchen cabinet options.
By Cabinet Type
Stock cabinets – $2,000 to $7,000
Semi-custom cabinets – $7,000 to $14,000
Custom cabinets – $15,000 to $50,000+
Costs By Material
MDF cabinets – $3,000 to $6,000
Plywood cabinets – $4,000 to $8,000
Wood (oak, maple, etc.) cabinets – $6,000 to $12,000
Laminate cabinets – $2,000 to $5,000
Thermofoil cabinets – $3,000 to $6,000
By Kitchen Size
Small kitchen (50 sq ft) – $5,000 to $15,000
Medium kitchen (100 sq ft) – $10,000 to $35,000
Large kitchen (150+ sq ft) – $15,000 to $50,000+
As you can see, kitchen cabinet costs encompass a wide range depending on your space's materials, customization, and size.
Ways to Save on Kitchen Cabinet Costs
If your dream kitchen remodel exceeds your budget, all hope is still possible! Here are some insider tips to cut costs:
Set a realistic budget upfront and prioritize must-have features. Stay disciplined!
Compare bids from at least three contractors. Negotiate pricing and payment terms.
Check for cabinet sales, overstocks, and discontinued styles that offer significant discounts.
Research local cabinet suppliers that sell wholesale directly to contractors and consumers.
Assemble stock cabinets yourself. Most come with detailed instructions and don't require complex joinery skills.
Consider refacing existing cabinet boxes rather than a total replacement to save big.
Time your project for seasonal sales like Memorial Day, July 4th, and Labor Day when cabinet dealers offer promotions.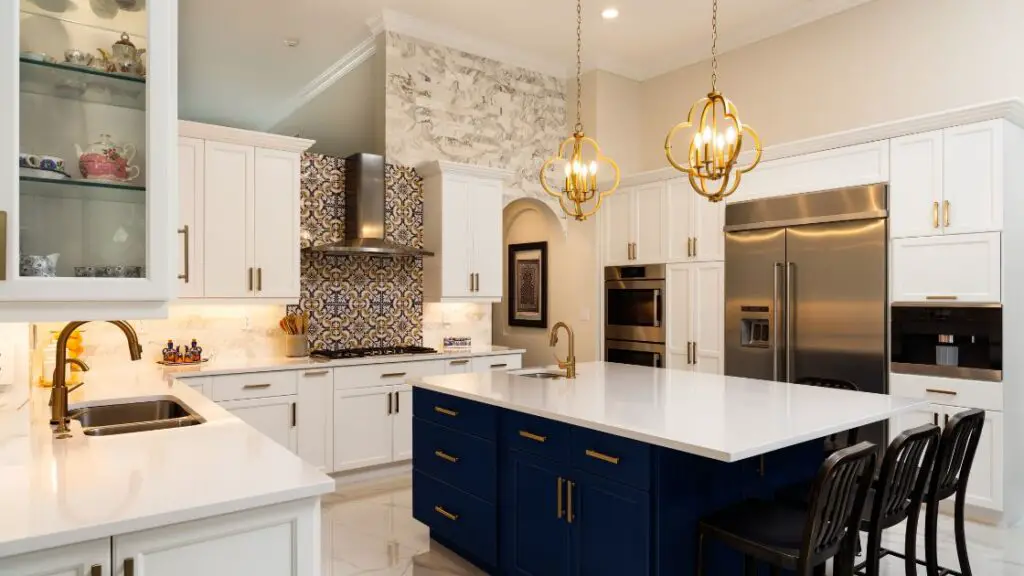 With careful planning and savvy cost-cutting techniques, you can cut thousands off your cabinetry investment while achieving a gorgeous new kitchen. It just takes extra research and diligence. Trust me, the effort pays off!
Conclusion
I hope this comprehensive guide gives you a better understanding of the myriad factors determining kitchen cabinets' final cost.
While cheaper isn't always better for long-lasting quality, there are still plenty of ways to work within your budget to get the look you covet.
The key is first arming yourself with all the details to make informed decisions. Don't get sucked into spending more than you can afford or settling for less than you deserve.
With strategic planning and design choices, even modest kitchens on a tight budget can look a million bucks! Stay tuned to the blog, friends, for more money-saving renovation tips and DIY project inspiration.
Now, I'd love to hear from you – what's your biggest question when budgeting for kitchen cabinets in your remodel? Let's chat in the comments!
Frequently Asked Questions About Kitchen Cabinet Costs
Here are answers to some of the most common queries I receive about the cost of installing new kitchen cabinets:
How much do new kitchen cabinets cost?
The average cost to install new kitchen cabinets ranges from $2,000 to $14,000, with most homeowners spending $3,000 to $8,000. Custom cabinetry can be $15,000 to $50,000 or more. The exact cost depends on factors like materials, quality, size of the space, and customization.
What is the most affordable kitchen cabinet material?
Laminate and thermofoil cabinets offer the most budget-friendly options at around $2,000 to $6,000 for an average 10×10 kitchen. Wood options like oak and maple cost more but provide higher quality and durability.
Should I buy stock, semi-custom, or custom cabinets?
Stock cabinets are the most affordable at $60 to $120 per linear foot. Semi-custom offers more flexibility at $120 to $200 per linear foot. Fully custom costs $200 to $500+ per linear foot but allows unlimited customization.
Is it cheaper to install kitchen cabinets myself?
DIY installation can save thousands but requires carpentry skills. Expect to spend $3,000 to $10,000 on materials plus weeks of labor for an average kitchen. Hiring a pro typically costs $10,000 to $20,000.
Can I reface my existing cabinets instead of replacing them?
Yes, refacing with new doors, drawer fronts, and hardware costs about 50% less than total replacement. Refinished cabinets give a fresh facelift for $2,000 to $4,000.
When is the best time to buy kitchen cabinets?
Aim for seasonal sales around Memorial Day, July 4th, and Labor Day when cabinet dealers offer promotions. Also, check for the most significant discounts for year-end closeouts and inventory clearing sales.
How long does it take to install kitchen cabinets?
The installation process typically takes several days to a few weeks, depending on the scope of work. Custom or tricky layouts require more time. Discuss timeframes with your contractor upfront.