Hey friends! If you're thinking about remodeling your kitchen, one of your most significant decisions is choosing your cabinets. As a home decor blogger who just finished my kitchen reno, I learned first-hand how cabinet costs can make or break your budget.
This post will explain everything you need about kitchen cabinet options, materials, design factors, installation, etc. I'll share real-life tips on avoiding budget pitfalls and ending up with the gorgeous, functional kitchen of your dreams. Let's dive in!
Demystifying Your Kitchen Cabinet Choices
When I started researching cabinets, I quickly realized there were many options – who knew cabinets were so complicated!? Here's a handy overview of the three main types: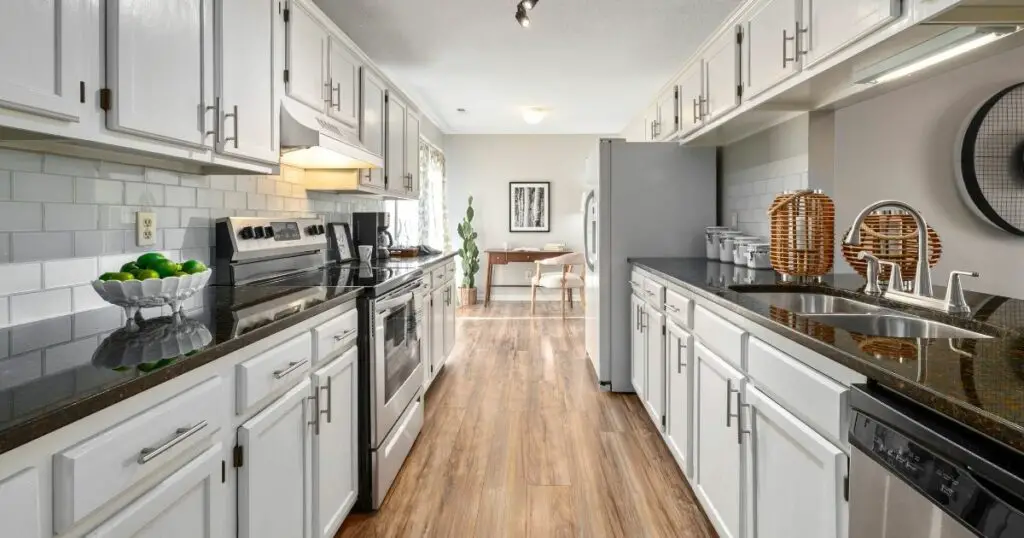 Stock Cabinets: The Budget-Friendly Standard
Stock cabinets are the way to go if you're looking for an affordable option. These ready-made cabinets are mass-produced for a streamlined installation.
The pros: Stock cabinets are super budget-friendly, starting around $60 per linear foot. They're quick and easy to install, too. Most home improvement stores keep them in stock for fast turnaround.
The cons: Limited size and finish options mean stock cabinets may not work for unique kitchens. The quality is lower, too.
For small or straightforward kitchens, the convenience of stock cabinets can outweigh the lack of customization. But for anything more complex, it's worth looking at…
Semi-Custom Cabinets: The Middle Ground
As the name implies, semi-custom splits the difference between stock and fully custom. These are made-to-order based on some customized options.
The pros: More sizes, finishes, and layouts to fit your space. The materials are higher-end than stock, too. Expect to pay $150-300 per linear foot.
The cons: The options aren't unlimited like custom. And lead times can be 6-8 weeks.
If you want more personalization without the price tag of full custom, semi-custom is a great compromise.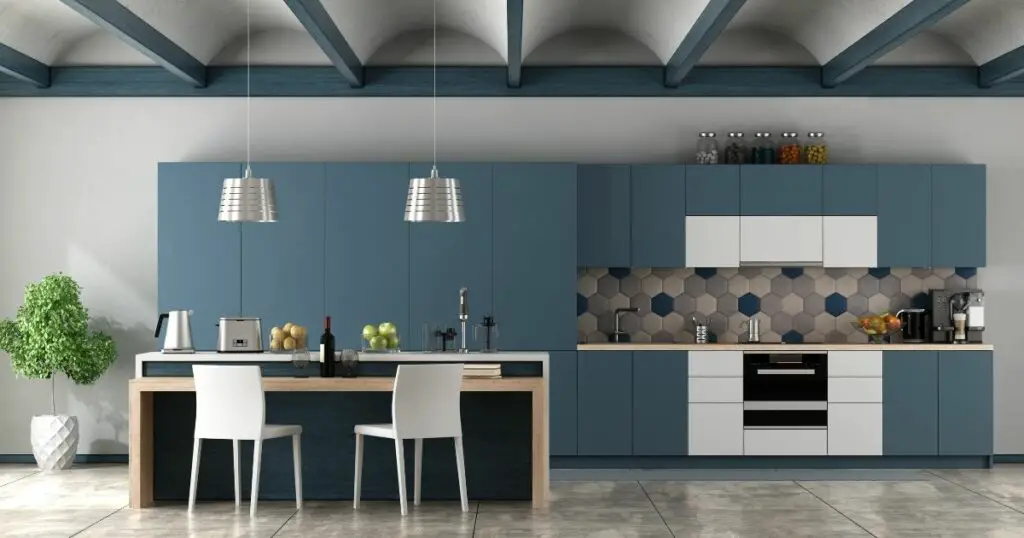 Custom Cabinets: Bespoke Cabinetry
Nothing beats fully customized cabinets tailored to your space for the ultimate dream kitchen.
The pros: Any size, finish, or feature – the sky's the limit! Made from top-notch materials to last a lifetime.
The cons: That quality comes at a cost of $300-600 per linear foot. Lead times stretch to 8-12 weeks, too.
Custom cabinets are an investment, but they can't be beaten if you're renovating your forever home!
Now that you know the main options, let's explore what goes into these cabinets. Starting with…
How Materials Impact Cost
The material you choose for cabinet boxes and fronts significantly affects the budget. Let's compare the pros and cons of standard options: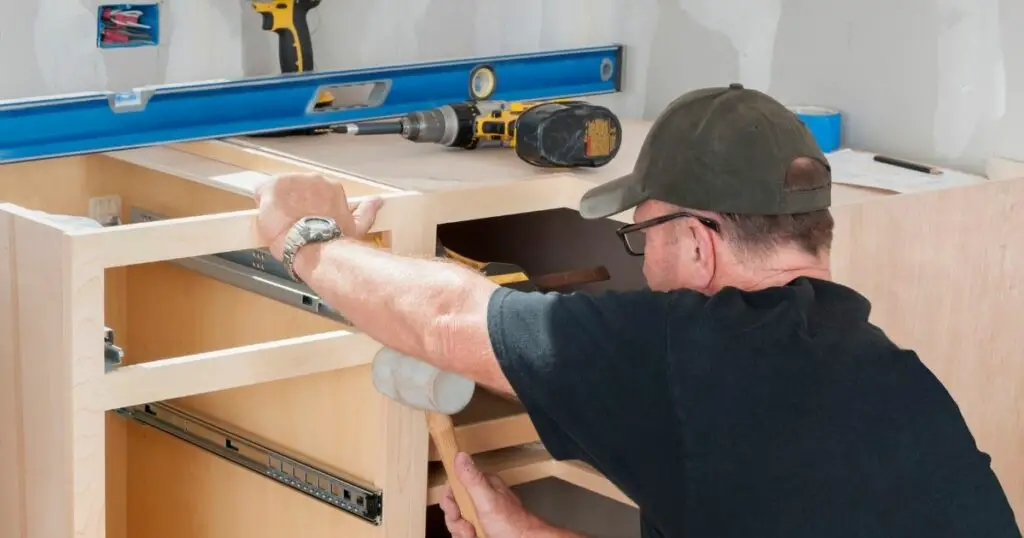 Wood: A Timeless Choice
Nothing beats the richness and warmth of natural wood. Let's look at a few favored species:
Oak: This classic option works with any style, from modern to farmhouse. Expect to pay $60-120 per linear foot.
Cherry: The reddish-brown hue and fine grain make cherry a luxurious yet timeless choice. Budget $70-150 per linear foot.
Maple: My favorite for contemporary kitchens, thanks to its light color and smooth grain. Falls in the $50-100 per linear foot range.
All three kinds of wood are durable, though cherry and maple edge out oak. Bottom line: opting for natural wood will cost more, but it adds character that spans decades.
Laminate: Budget-Friendly Faux Wood
If your budget is tight, laminate cabinets provide the look of wood for less. Here's the deal:
Laminate uses a plastic-coated surface to mimic wood grain. Think $30-70 per linear foot.
The benefit is enormous cost savings. But durability suffers – laminate is prone to chipping and fading.
Laminate works well for rentals or short-term homes. But for longevity, let's look at two other options…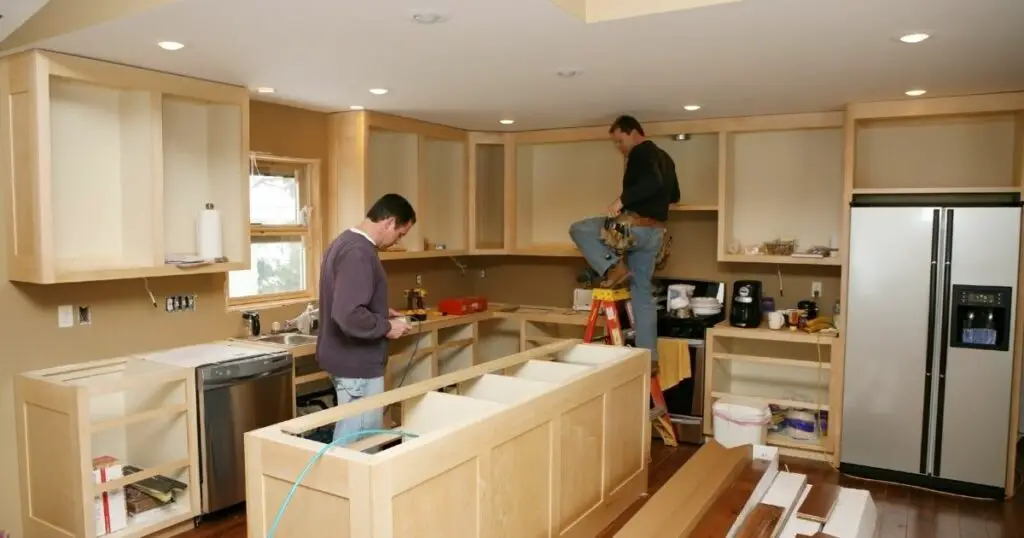 Thermofoil & Melamine: Innovative Durability
These cabinet surfaces are made using thermally fused plastic or melamine resin. Here's how they compare:
Thermofoil is molded into detailed woodgrain patterns. Expect to pay $70-120 per linear foot.
Melamine fuses paper with resins to create a mar-resistant surface for $50-90 per linear foot.
Both offer a more realistic look than laminate. And they're much more scratch and stain-resistant. For affordable durability, they strike an outstanding balance.
Design Factors That Impact Price
Beyond materials, the design details you choose also affect the price. Get ready to bring your Pinterest board to life!
Door Styles Set the Tone
A kitchen's style starts with the cabinet doors. Popular options include:
Shaker: A versatile classic combining clean lines and simplicity. Expect to pay $6,000-12,000 for a 10×10 kitchen.
Flat panel: The modern, sleek choice thanks to the smooth, plain door fronts. Budget $7,000-14,000 for 10×10.
Raised panel: Complement traditional kitchens with dimensional, recessed panel doors. They fall in the $8,000-16,000 range for 10×10.
Mixing styles can make a unique statement, too. Just remember – intricate door details will increase costs.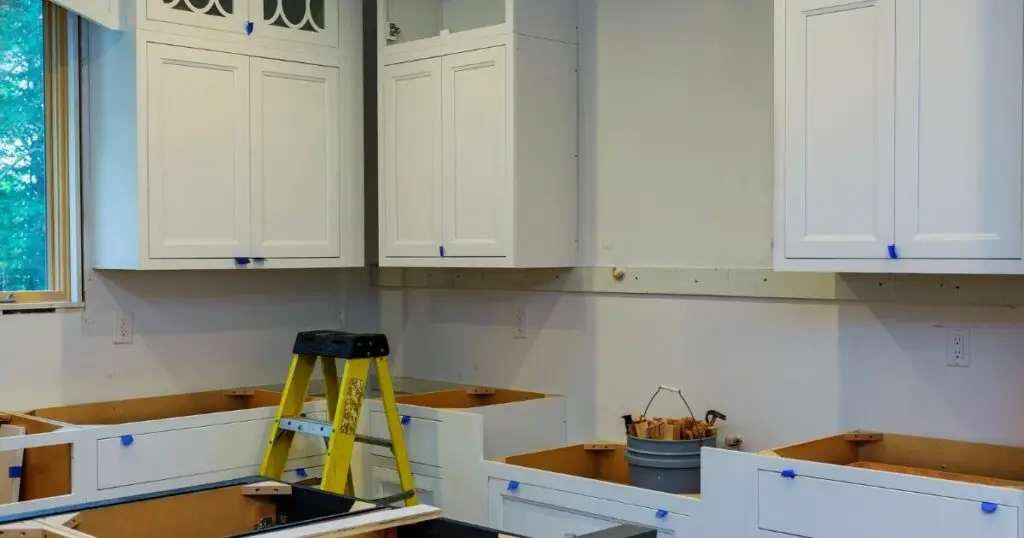 Finish and color to Set the Mood
The right finish and color palette can completely transform the look and feel of your space. Here are inspiring options with estimated costs for a 10×10 kitchen:
Painted: Available in any color, painted cabinets start around $3,000-6,000.
Stained: Show off wood's natural beauty with transparent stain for $4,000-8,000.
Glazed: A tinted topcoat creates depth and dimension around $5,000-10,000.
Paint offers the most flexibility, while stain and glaze emphasize woodgrain. Choose what best suits your style!
Hardware: The Finishing Touch
Finally, your chosen hardware puts that last little punch of personality into your design. Typical costs for a 10×10 kitchen:
Knobs: A simple yet versatile option starting around $200-500.
Pulls: For a modern look, budget $300-700 for handles instead of knobs.
Hinges: Upgrade to soft-close hinges for $100-300.
Don't forget – you'll need handles or knobs for each drawer and door. But the proper hardware makes all the difference!
Installation and Labor Costs
Once you've designed your dream cabinets, it's time to move from fantasy to reality! Here are some tips for the installation process: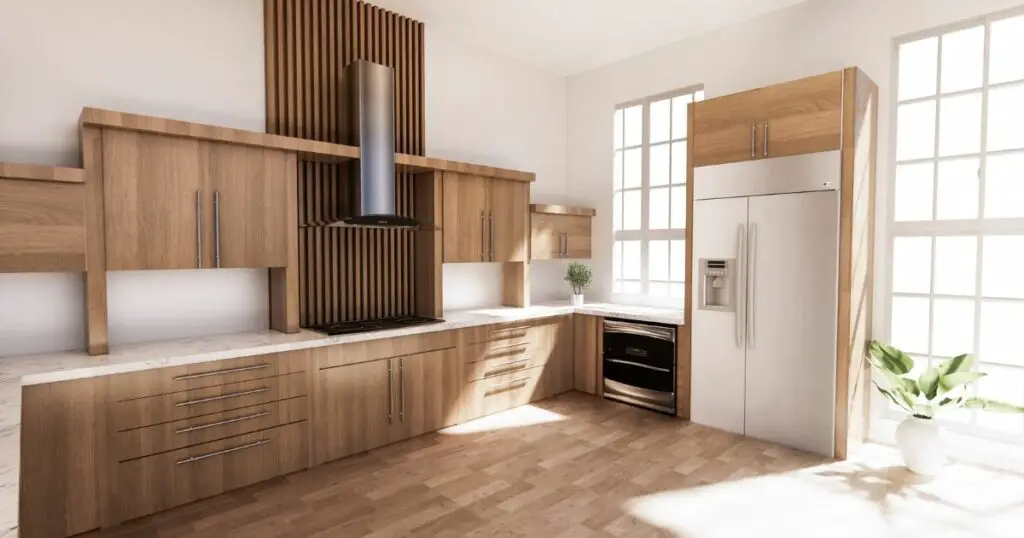 Hiring a Contractor vs. DIY
Installing kitchen cabinets is a challenging task. Here's the cost breakdown:
Depending on kitchen size, expect to spend $10,000-20,000 or more for professional installation.
If you want to DIY, prepare to spend $6,000-12,000 – not including tools and supplies.
Professional installation has clear advantages, including saving your sanity! But if your budget is tight, DIY is doable with proper planning.
Be sure to get all necessary permits and follow local building codes. And take your time – there's no rush when you want quality results.
Factors Impacting Labor Costs
Whether you DIY or hire a pro, a few factors impact labor costs:
Installer's experience: Top talent costs more for a reason, with hourly rates from $50-150.
Project scope: Larger, more complex projects take more time and expertise. Expect to pay $2,000-5,000 or more.
Location: Like everything, labor costs more in some markets. Get multiple quotes to compare.
Ask potential contractors about their rates and scope of work to determine the right fit and pricing for your project.
Additional Costs to Account For
Your shiny new cabinets are just one piece of the kitchen puzzle. Be sure to budget for: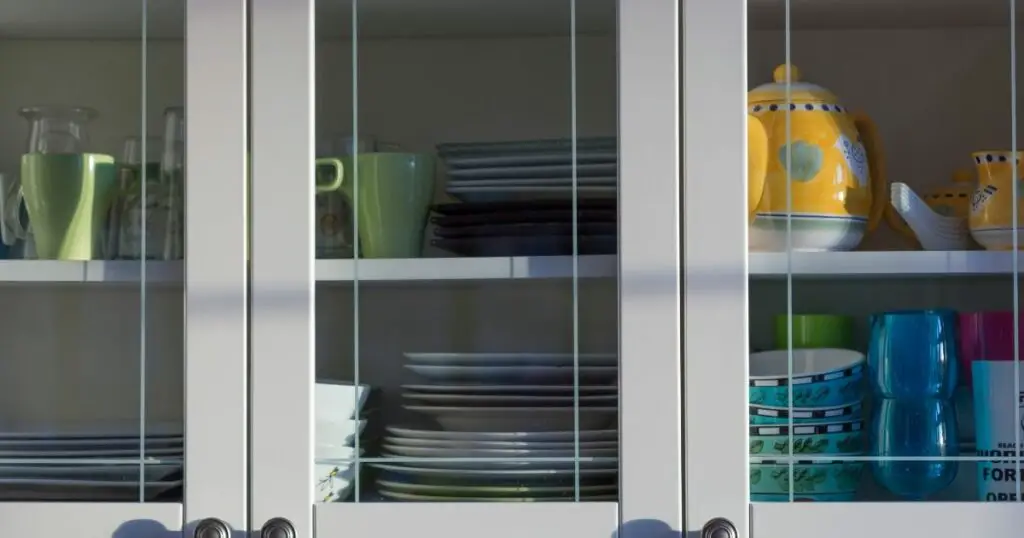 Countertops That Complement Your Cabinets
Countertops need to functionally and visually complement your cabinetry. Popular options include:
Granite: Natural stone that brings elegance for $20-50 per square foot.
Quartz: Offers granite appeal for $15-30 per square foot installed.
Laminate: Most budget-friendly at $5-20 per square foot.
Take material samples home to test pairings with your cabinets. This decision is too big to rush!
Backsplash: The Finishing Touch
For a pulled-together look, a backsplash is a must in my book. Options include:
Tile: Easy to install and customize for $5-20 per square foot.
Glass: A contemporary option starting around $20-50 per square foot installed.
Stone: Natural material that elegantly matches countertops for $30-50 per square foot.
Mixing materials can make a unique style statement, too. Have fun with your options!
Appliances: Function Meets Form
Budgeting another $5,000-15,000 for appliances ensures your kitchen will function as flawlessly as it looks. Integrated appliances that blend with cabinetry create a streamlined aesthetic.
Prioritize performance first, then look for models that complement your design in finish and hardware. This helps stretch your budget further.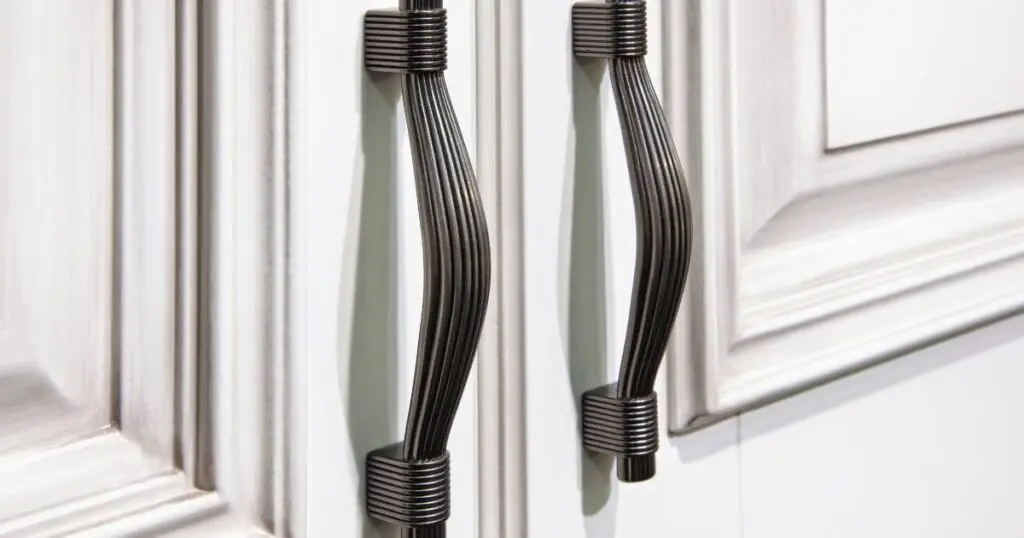 Setting a Realistic Cabinet Budget
Now that we've looked at the myriad of options, here are tips for budgeting it all:
Start with accurate measurements. Precise dimensions make a considerable difference in estimating costs accurately.
Understand cost allocation. Cabinets account for 30-70% of total kitchen remodel costs.
Factor in all elements. Don't just budget for cabinets in isolation – include all materials, labor, appliances, etc.
Add a buffer. Unexpected issues always crop up, so pad your budget by 10-15% just in case.
Take advantage of sales and deals. Finding discounts on cabinets can make achieving your dream kitchen possible.
With realistic expectations set, you're primed for cabinet success. Let's finish up with some keys for smooth planning.
Choosing Your Cabinetry Team
The right kitchen design team makes all the difference. Here are my top tips:
Find references. Ask friends, neighbors, and realtors for referrals – firsthand praise is priceless!
Vet portfolios. Any reputable pro will share past project examples so you can judge skills and style.
Interview contractors. Get quotes from 3-5 potential cabinet installers before deciding. Ask lots of questions!
Consider design services. An expert designer can help steer you through the dizzying options – often worth the cost.
Trust your gut. You'll work closely with your team, so ensure you have an easy, collaborative rapport.
With careful planning and communication, your cabinetry team can turn the kitchen of your dreams into a beautiful reality!
The Takeaway on Kitchen Cabinet Costs
You have everything you need to set a realistic, thorough kitchen cabinet budget there. The key is understanding your options, setting priorities, and choosing professionals to bring it all to life.
I hope this overview helps you feel energized, informed, and confident to create the kitchen you've always imagined within your budget. Now, get dreaming and designing!