Hey friends! If you're anything like me, you know the struggle of choosing the perfect countertop with your beautiful new white kitchen cabinets. I've been there – agonizing over all the options, from materials to colors to edges – wanting to find something that looks gorgeous and fits your lifestyle.
Well, after recently completing a kitchen reno in my 1910s bungalow (which I can't wait to give you a full tour of soon!), I learned a lot about pairing countertops with white cabinetry. Today, I'm sharing my tips so you can avoid headaches and confidently choose a countertop that reflects your style. Get ready to gather inspiration and ideas for your dream white kitchen!
Why White Cabinets Are So Versatile
White kitchen cabinets are a classic choice because they're so darn versatile. Crisp white cabinetry provides a neutral backdrop that works with any color scheme or aesthetic. You can style white cabinets from ultra-modern to cozy farmhouses and everything in between.
Another perk of white cabinets is they visually open up smaller kitchens, making the space feel light and airy. So, if you're working with a galley kitchen like me, white cabinets are a surefire way to maximize the space's look and feel.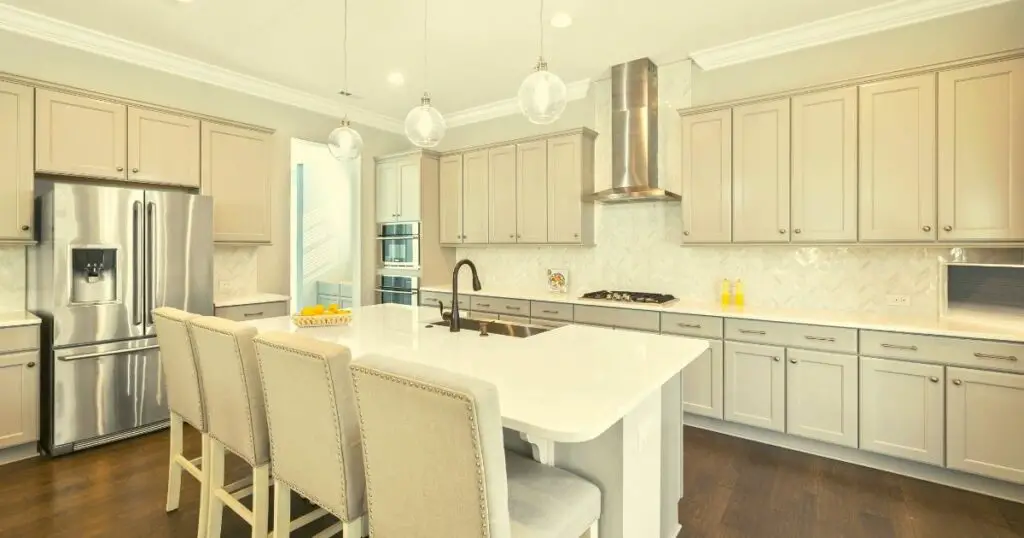 Bottom line: It's hard to go wrong with white kitchen cabinets. But the key is choosing a countertop that complements them just right. Let's dig into how to make that decision by considering materials, colors, lifestyle, and budget.
Key Factors to Choosing Your Countertop Material
Picking the right countertop to go with your white cabinets means taking a few important things into account:
Durability
You'll be prepping, cooking, cleaning, and gathering in the kitchen daily, so durability is necessary. Consider the material's resistance to stains, scratches, chips, and heat.
Popular, durable options are:
Quartz – Made from natural stone and resin, quartz combines the look of granite with more resilience. It is nearly scratch- and stain-proof.
Granite is a high-end natural stone that can withstand years of use. Avoid very light granites, which show every fingerprint.
Laminate – Affordable and super durable, laminate has improved greatly beyond a dated reputation. Just avoid glossy laminates, which show imperfections.
Ease of Maintenance
We all probably want low-maintenance countertops. Some materials are more prone to etching and stains and need frequent sealing.
Quartz and granite require virtually no maintenance beyond wiping with a damp cloth. Meanwhile, materials like butcher block and marble are high maintenance to keep them looking pristine.
When comparing options, assess how much time you realistically want to dedicate to countertop cleaning and upkeep.
Budget
Of course, cost is a significant factor in choosing new countertops. Prices can range from $20 to $200 per square foot. Having a budget in mind will help narrow the options.
Here's an overview of the cost of popular countertop materials:
Low-End ($20-50 sq/ft) – Laminate, tile
Mid-Range ($50-100 sq/ft) – Quartz, butcher block
High-End ($100-200 sq/ft) – Granite, marble, recycled glass
There are always ways to get the high-end look you want for less, which I'll cover more in a bit!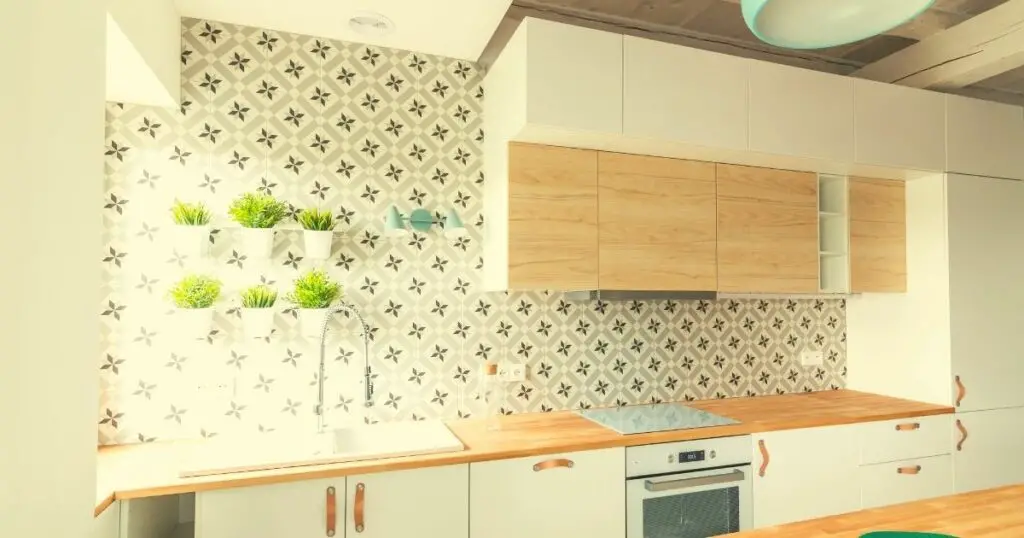 Style + Aesthetic
This is where your taste comes in! Consider the look and feel you want for your white kitchen and countertops.
Do you want a seamless, clean look with your countertop material matching the white cabinets? Or would you prefer to contrast with a bold countertop as a focal point?
Think about patterns, textures, and colors most appealing to your style. Browse sites like Houzz and Pinterest for inspiration. I'll share the trendiest options later!
Lifestyle Habits + Usage
Selecting a countertop suited to your household's kitchen use is essential. For avid home cooks and bakers, durability and heat resistance are likely top concerns. If messes happen frequently in your busy kitchen, an easy-clean material without grout lines will save your sanity!
On the other hand, if you use your kitchen lightly, the look you love may trump practical factors. Just consider any potential limitations so there are no surprises down the road.
Countertop Materials to Consider for White Cabinets
Now that we've covered the key considerations let's dig into some of the most popular countertop materials paired with white kitchen cabinets:
Granite Countertops
Granite is a go-to choice because it's gorgeous. The natural stone comes in many colors and patterns, from dramatic, bold granite to more subtle neutral hues.
Pros:
Timeless, luxury look
Extremely durable and heat-resistant
Easy maintenance
Potential Cons:
Higher price point
Can stain if sealed improperly
Avoid very light colors that stain easily
Recommendation: White cabinets allow you to choose any granite pattern. For a seamless look, opt for whites and grays. Bold colors like red, black, or blue make a statement.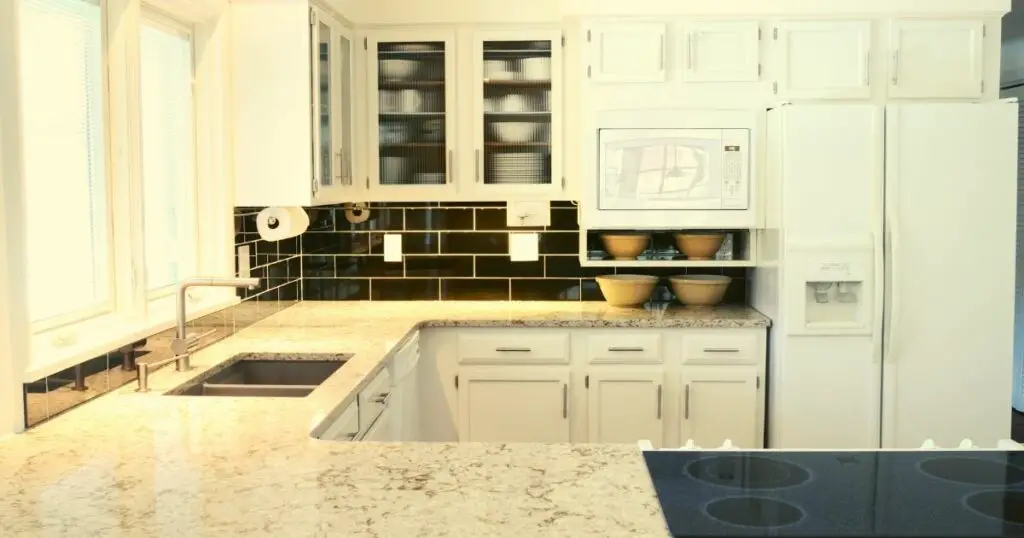 Quartz Countertops
As I mentioned, quartz has gained significant popularity because it shares granite's beauty but with even more perks. The artificial material comprises ground quartz, polymers, and resin for an elegant, consistent look.
Pros:
Highly durable and scratch-resistant
Stain, mold, mildew, and bacteria resistant
maintenance-free
Wide range of colors and patterns
Cons:
Higher price tag than laminate
Recommendation: Quartz is perfect for white cabinets because you can select a matching white or gray for a streamlined look. Or go bold with a colorful quartz!
Marble Countertops
With its distinctive veining, marble undoubtedly makes a glamorous statement. But it does require more maintenance than other options.
Pros:
Luxurious, eye-catching visual appeal
Available in a range of colors, including whites
Cons:
It has a delicate surface prone to staining, etching, and cracking
Needs frequent sealing
Recommendation: Proceed with caution with marble. Opt for lower-traffic areas and be diligent with sealing and cleaning. It could be better for messy cooks!
Butcher Block Countertops
Butcher block offers a warm, natural look. While stone is more hardy than stone, it provides an excellent budget-friendly option.
Pros:
Inviting wood visual
Budget-friendly cost
Easily repairable
Cons:
Prone to scratches and stains
It needs frequent oiling to avoid drying out
Recommendation: Opt for a lighter wood species like maple, which picks up less staining. Use butcher block for accent areas like kitchen islands. Use cutting boards and trivets to prevent direct heat and knife exposure.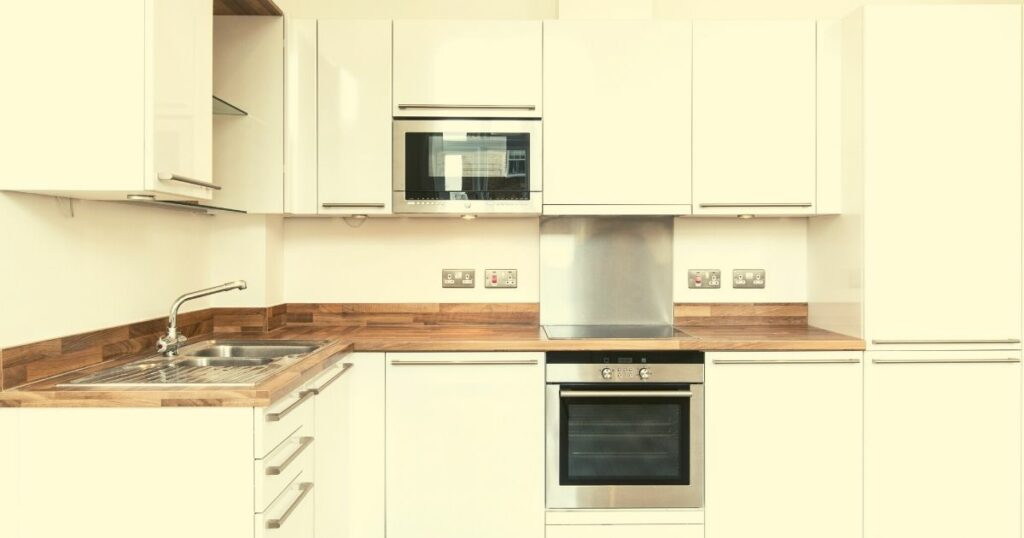 Laminate Countertops
Laminate gets a bad rap as a dated material, but modern laminates have come a long way! Affordable, durable, and available in unlimited colors and patterns, laminate counters deserve a second look.
Pros:
Most budget-friendly option
Highly durable and scratch-resistant
Easy maintenance
Ideal for rental or resale
Cons:
Not seamless appearance
Avoid glossy laminate that shows scratches
Recommendation: Matte laminate pairs beautifully with white cabinets for a cohesive, classic look on a budget. It also adds vibrance in non-neutral colors!
Recycled Glass Countertops
For the sustainability-minded, recycled glass offers a gorgeous green countertop option. Glass pieces are mixed with cement or epoxy resin to create a unique mosaic or aggregate design.
Pros:
Made from recycled materials
Highly durable and scratch-resistant
Stain and heat-resistant
Vibrant, one-of-a-kind visual
Cons:
Higher price point
Glass pieces can be sharp if not smoothed properly
Recommendation: The speckled, shimmery look nicely complements the white cabinets. It's also environmentally friendly and adds artful flair!
Tile Countertops
Like backsplashes, tile provides an eye-catching and budget-friendly countertop solution. The variety of shapes, colors, and patterns allows unlimited customization.
Pros:
Budget-friendly option
Easy to install DIY option
Vast design possibilities
Cons:
Not as durable as stone
Grout needs sealing
Not seamless appearance
My recommendation is to have fun designing geometric, eclectic patterns! Use extensive and darker grout lines to hide imperfections in busy kitchens.
On-Trend Countertop Colors for White Cabinets
When it comes to color, you have many directions you can go with white cabinets. Stick with a neutral palette for a calm, seamless look, or go bold with an unexpected pop of color! Here are some of the hottest options right now:
Neutral Tones
Soft white, cream, or greige quartz or granite – Matches white cabinets for an expansive, airy look.
Gray quartz or soapstone – Adds subtle contrast for a trendy modern kitchen.
Black granite or quartz – Striking drama perfect for modern or industrial
Bold Pops of Color
Navy blue quartz – For a nautical vibe or contemporary edge
Emerald green quartz – Jewel-toned for an elegant, inviting kitchen
Yellow quartz or laminate – Cheery and optimistic for cottage charm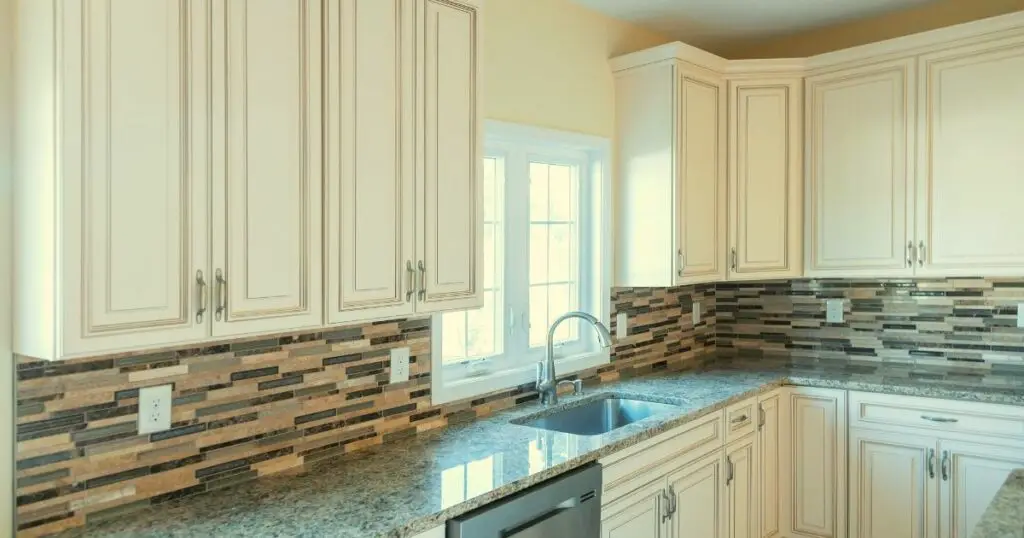 Natural Wood Tones
Light oak or maple butcher block – Warm and homey rustic style
Rich walnut butcher block – Sophisticated mid-century modern flair
DIY Faux Finishes
Concrete effect with gray stained wood or laminate
Weathered finish on wood or laminate using paint and glaze
Bold painted ombre laminate for a fun, whimsical look
Don't be afraid to get creative and make a bold statement with your counters! The versatility of white cabinets gives you lots of styling flexibility.
Important Counter Design Finishing Touches
A few final design details will take your countertops from basic to beautiful:
Select the Right Counter Edges
Edge profiles play a significant role in counter appearance. Choose a minimal square or rounded edge for a sleek contemporary look, or ornate with an elegant ogee edge.
Edges also impact durability and cleaning. Rounded edges prevent cracking and chipping, while more minor edge details can trap crumbs and liquids.
Incorporate a Backsplash
Continuing your countertop material up the wall as a backsplash creates a streamlined, finished look. Alternatively, you can pick a different backsplash material, like tile, for eye-catching contrast.
Coordinate backsplash color with the counters to expand the space visually. Accent with metallic details like in my kitchen makeover!
Visualizer Tools to Try Your Design
One of the most helpful parts of my kitchen renovation was using 3D design apps to visualize different countertop materials. These apps allowed me to mix and match options until I found my perfect combo!
Here are a few easy kitchen visualizer tools I recommend checking out:
Home Depot Kitchen Planner – Build your kitchen online with countertop and cabinet options
RoomSketcher – Create floor plans and add finishing selections
Havenly Interior Design App – Upload room photos and overlay materials
Paint visualizer apps (ColorSnap Visualizer, Paint My Place) – Use images to sample paint/material colors
These tools help take the guesswork out of finalizing your choices! Once you have some favorites, order free physical samples from manufacturers. Nothing beats seeing the slabs and materials in person before purchasing.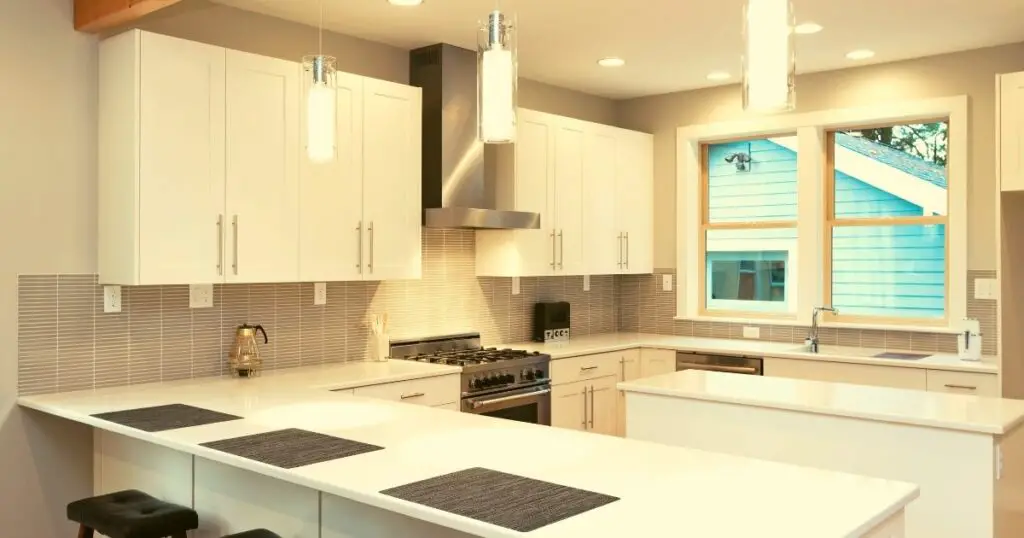 Turning Your Design into a Reality!
Once you've selected the perfect countertop for your white kitchen, it's time to turn the dream into a reality! Here are a few tips for the final steps:
Prep Like a Pro for Installation
Clear countertops and clean surfaces
Remove existing counters if doing an overlay (have supports ready)
Turn off electricity/gas/water connections as needed
Pick an Experienced Countertop Installer
Ask for referrals and verify examples of past work
Confirm they have experience with your chosen material (primarily for hand-cut materials like natural stone)
Discuss specific cutting, seaming, and edging needs
Handle and Care for Your New Counters with Love
Allow any adhesives and grout to cure before use fully
Follow manufacturer instructions for cleaning and sealing
Use cutting boards, trivets, and appliances gently
Don't drop heavy items which can crack surfaces
Enjoy your beautiful new white kitchen! May it bring you joy and many happy gatherings around the table.
Let me know if you have any other questions! I'm happy to help with your countertop selection process. Here's to perfectly styled and functional kitchens.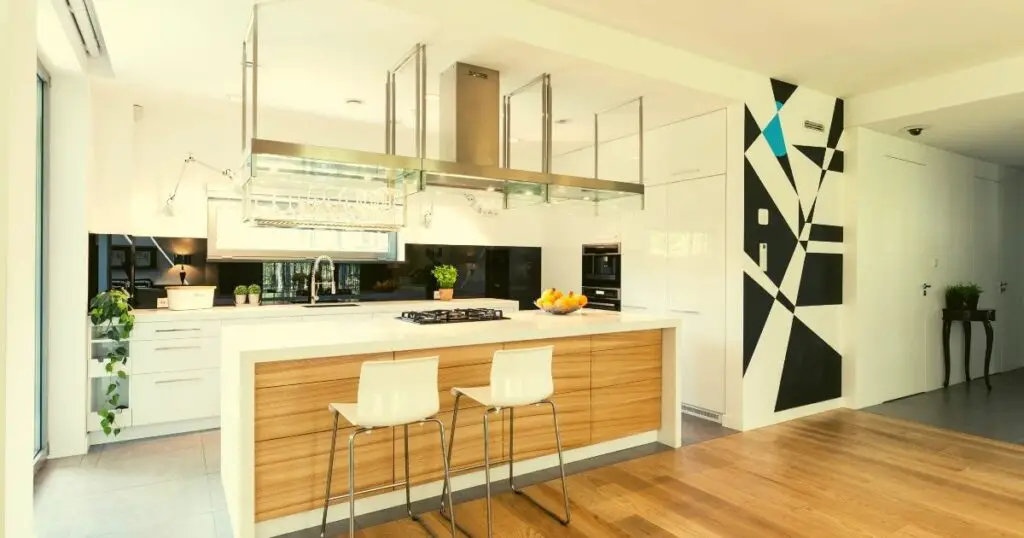 FAQs: Countertop Selection for White Kitchen Cabinets
Still, have some lingering questions on choosing the right kitchen countertop to go with your white cabinets? Here are answers to some of the most common questions:
What countertop colors look best with white cabinets?
While personal preference rules, popular options are white quartz or granite, gray tones, black, navy, and wood tones, neutrals expand the space, while pops of color add drama!
What is the most cost-effective countertop for white cabinets?
Laminate is the most budget-friendly at $20-50 per square foot installed, followed by tile at $40-100 per square foot. But even higher-end materials like quartz can be cost-effective in the long term.
What finish for countertops is best for hiding scratches and stains?
Matte or honed finishes hide imperfections better than glossy finishes. Small, busy patterns, like speckles or veins, also disguise marks better than solid colors. Darker colors, like black, gray, and brown, show less wear over time than light colors.
Should I match or contrast my countertops with white cabinets?
This depends on your style goals! Matching white countertops expands the space, while contrasting colors make the counters a focal point. You can also mix and check materials, like a white quartz perimeter and a butcher-block island.
Which countertops work best for avid home bakers and cooks?
Frequent kitchen use requires maximum durability and heat resistance. Look for rigid, non-porous materials like granite, quartz, or porcelain. Butcher block and laminate won't hold up as well.
How do I know if a specific countertop material matches my lifestyle?
Consider how much maintenance you will handle, budget constraints, and priorities like aesthetics vs. durability. Weigh the benefits and potential drawbacks of your habits. For example, beautiful natural stone may not suit messy cooks prone to stains.
I hope these tips help steer you toward the perfect countertop for your white kitchen cabinets. Let that inspiration guide you to a space you'll love coming home to daily.