Y'all, I'm back with another decor chat, and today, we're diving into one of my favorite design combos: black and white!
From graphic modern spaces to vintage-inspired elegance, black and white never fails to make a stylish statement. This classic color pairing just oozes sophistication and suits nearly any aesthetic.
In the world of interior design, black and white is truly timeless. It transcends fleeting trends and fads, ensuring your space retains its chic character for years. Talk about a win-win!
Now, let's chat about all things black and white bathroom ideas to inspire your next reno or decor refresh. Grab your coffee and settle in, friends!
The Striking Sophistication of Black and White
I'm a sucker for a good backstory, so let's take a moment to appreciate what makes the black-and-white color scheme so darn captivating.
As the visual embodiment of light and dark, black and white make one powerful duo. The contrast is bold yet elegant. Each color calls attention to the other, creating a harmony between opposites.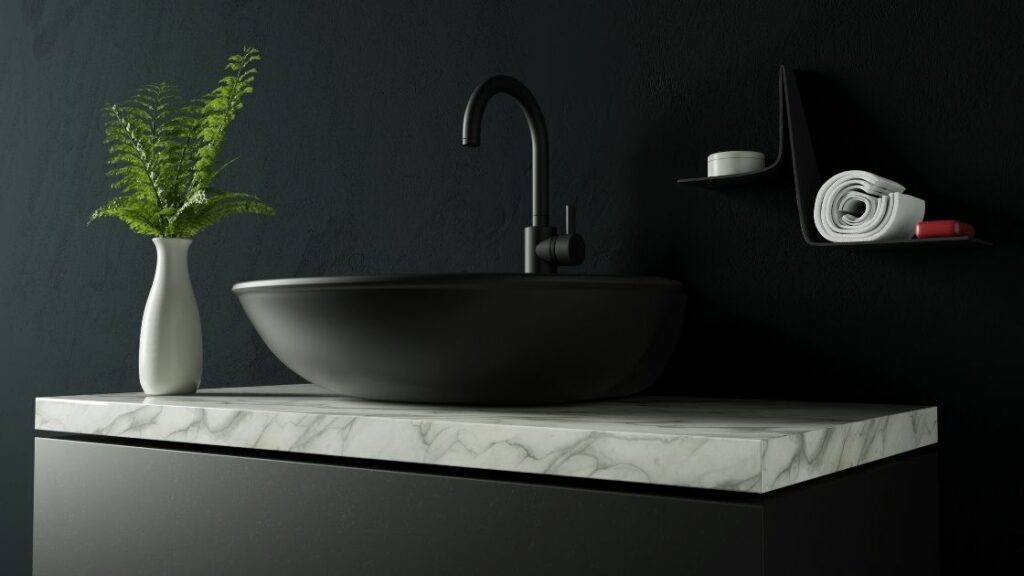 Just look at these moody black walls playing off bright white tilework. The yin-yang effect is so stinkin' pretty!
Regarding color psychology, black and white each bring their vibes.
White evokes purity, freshness, and simplicity. It illuminates a space, making it feel more open and airy. Black, on the other hand, represents depth and luxury. It adds a cozy ambiance and makes everything feel more polished.
Together, these two titans provide the perfect balance of light and dark.
Now let's see how this translates into chic real-world bathroom inspiration, shall we?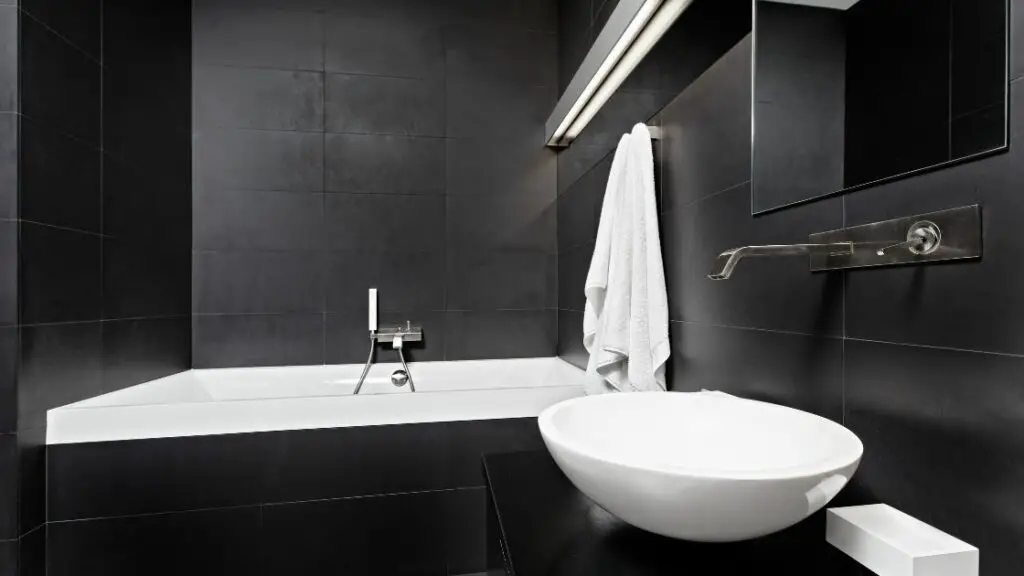 Channeling Chic Vintage Vibes
If you want to give your bathroom a dose of old-world elegance, black and white is the perfect vehicle.
A black clawfoot tub serves serious vintage vibes, especially with ornate white tilework. I'm picturing a decadent hotel bathroom from the early 1900s. swoon
Accent the space with vintage touches like sconces, framed botanical prints, and a plush monogrammed bath mat for a posh personalized touch.
Don't be afraid to mix finishes like oil-rubbed bronze, brass, and glossy black for an eclectic twist. The key is making sure each piece complements the classic color scheme.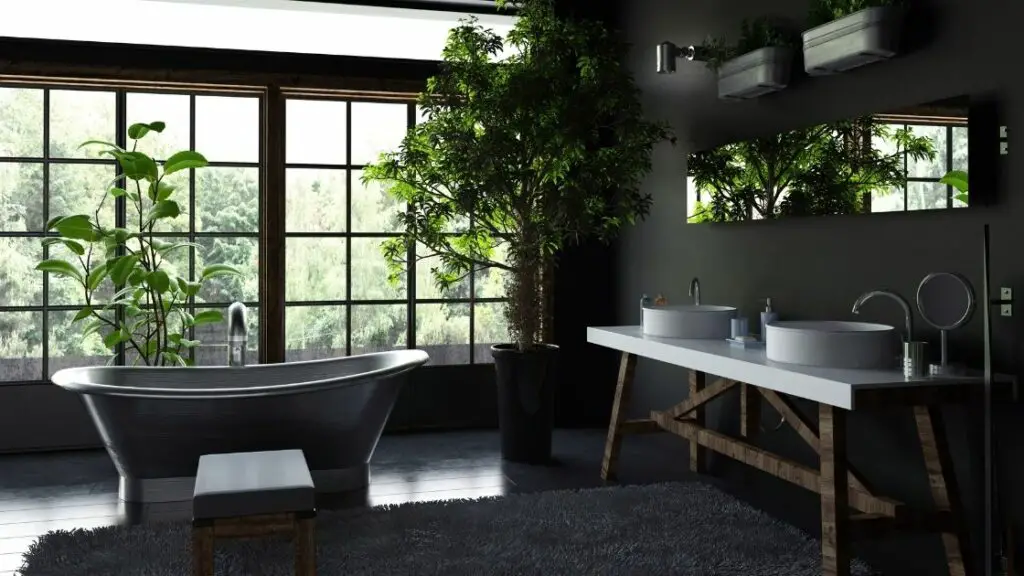 Modern & Minimalist
For a clean, contemporary look, keep the space sparse and spotlight bold black-and-white contrasts.
A sleek black vanity pops against bright white walls, while graphic square tilework makes a modern statement underfoot.
I especially love how black fixtures and trim provide sharp punctuation against the pale backdrop. The dimmable lights are a clever touch for setting the mood.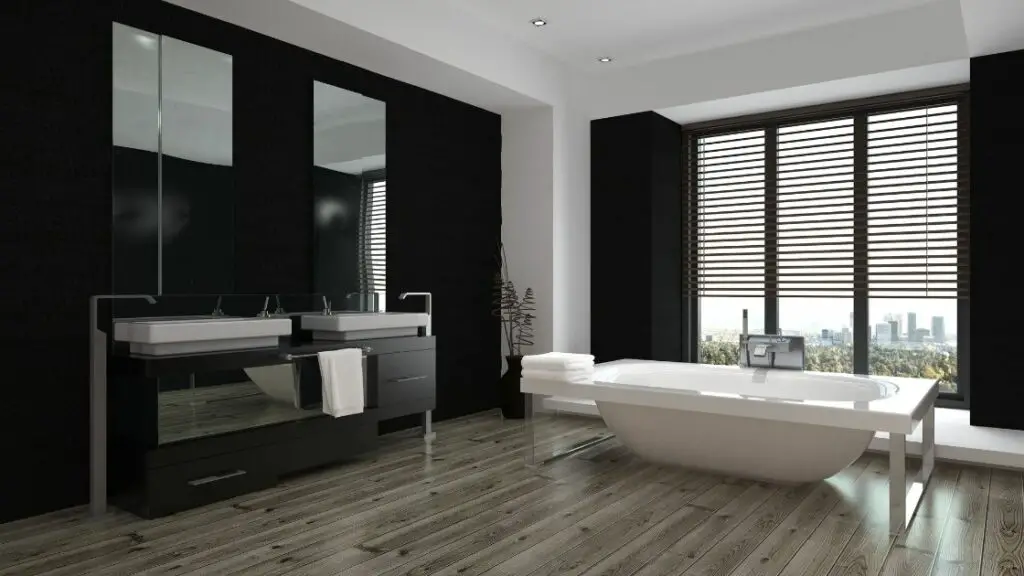 Minimal artwork, a simple mirror, and sharp-lined accessories like the tissue box maintain the modern minimalist aesthetic.
This look is all about showcasing the beauty of black and white through thoughtful, intentional design choices. Let the colors shine!
Masculine With an Industrial Edge
Gents, this one's for you. Give your bathroom a healthy dose of rugged, masculine style with an industrial vibe.
Exposed pipes, concrete, and wood elements inject a raw, unfinished look. Touches of black bring definition, while white walls keep things airy.
I'd style this space with black cage lighting, a concrete vessel sink, and vintage accents like the mirror and towel rack.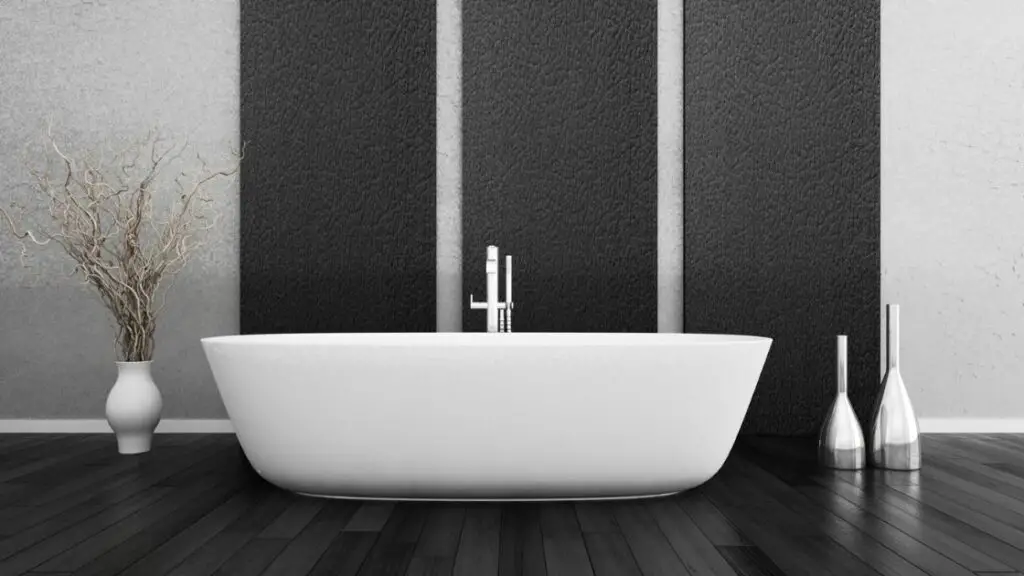 Don't forget the little details like black soap and toothbrush holders! They make a significant impact.
For dudes with more refined taste, swap the cage lights for black sconces and add a ceramic sink. Concrete flooring is also optional. The industrial edge remains, just a bit more elevated.
Pretty & Playful Boho
My fellow free spirits, this one's right up your alley! Infuse your black and white bathroom with a laidback boho vibe.
Incorporate natural elements like rattan, wood, greenery, and stone to complement the graphic black-and-white palette.
I'd start by painting the walls ceiling, and trim a bright, clean white. This creates an airy foundation for the darker accents.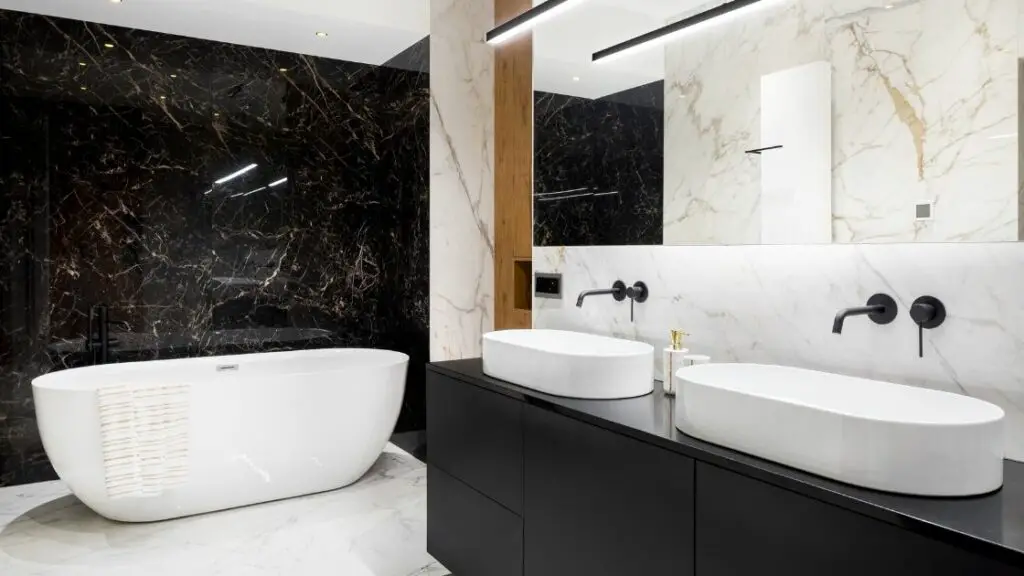 Next, bring in black fixtures, hardware, and accessories for punctuation. A black clawfoot tub makes a fabulous centerpiece.
Finally, weave in boho details like the rattan shelf, hanging plants, woven accessories, and antique mirrors. Don't forget fun black-and-white patterns on towels, rugs, and shower curtains!
The overall effect is casual yet still polished – a perfect mix of modern farmhouse meets urban oasis.
Sophisticated Glam
Darling, for high-drama elegance, you simply must incorporate glamorous black and white finishes.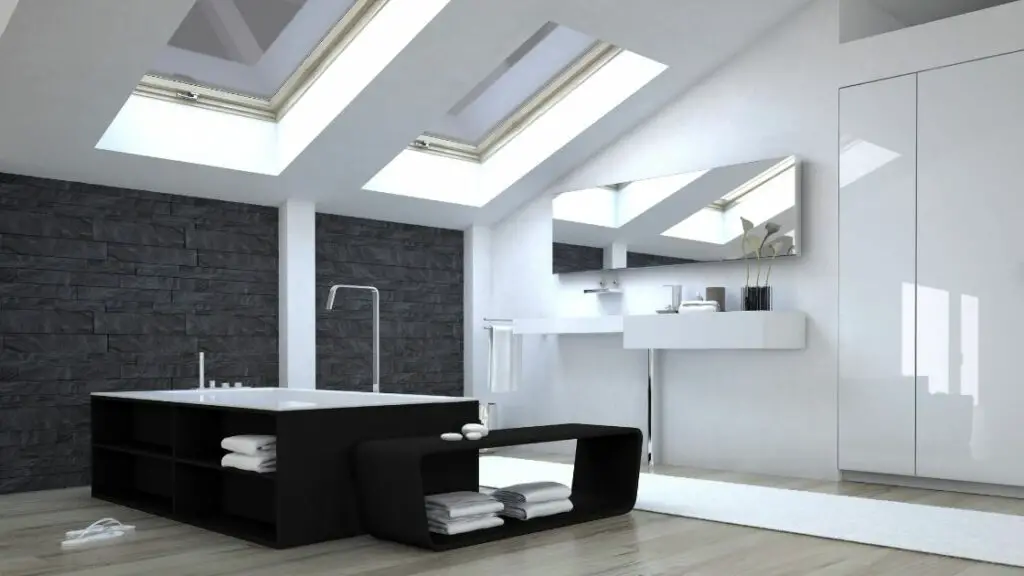 I envision a statement floor pattern, marble surfaces, glossy lacquered cabinetry, and metallic details throughout.
A Hollywood-style vanity lined with lightbulbs takes center stage, surrounded by luxury black and white tilework.
The dark walls beautifully complement the crisp white tub, sink, and toilet fixtures. Don't forget the furry black bathmat for some added luxury!
I'd finish this glamorous space with a sparkling chandelier, a gilded mirror frame, and fresh white flowers. Lush!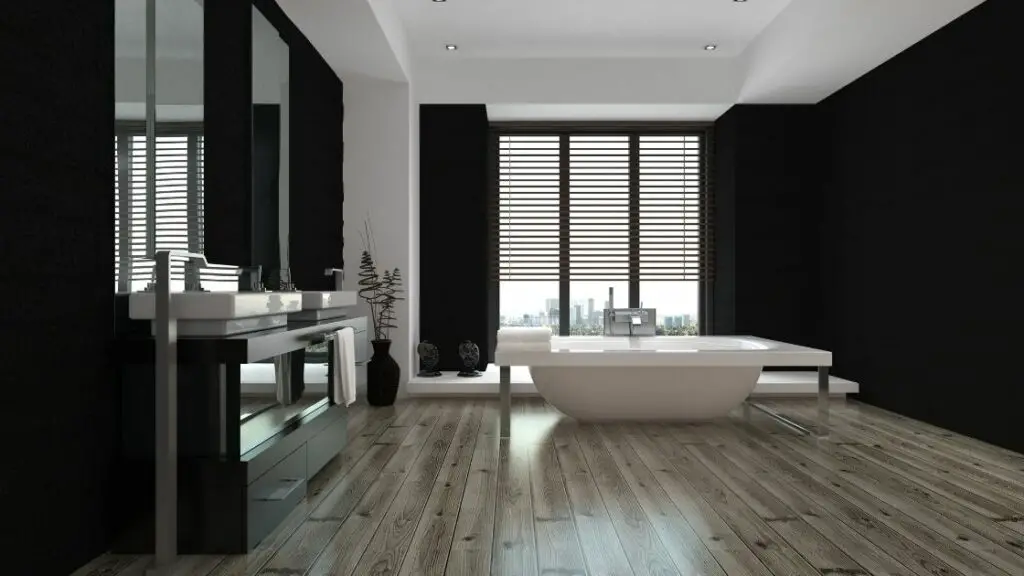 Designing with Contrast & Balance
Now that we've gushed over gorgeous real-world inspiration let's chat about styling strategy.
It all comes down to working with contrast and balance. This not only creates visual interest but also brings harmony to your black-and-white design.
Contrast is Key
Contrast is what makes the black-and-white color scheme pop! Playing elements of light and dark against each other grabs attention and delights the eye.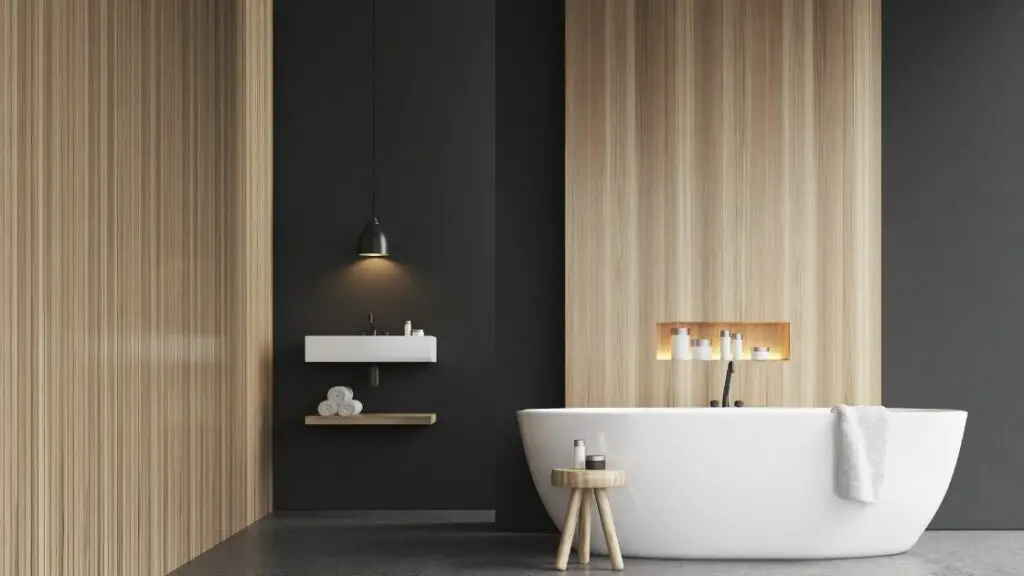 Use contrast to highlight features like the tub, vanity, or flooring. For example, a crisp white tub draws the eye against a dark tiled wall.
Contrast can also add depth and dimension. Layering black and white materials with different textures creates visual intrigue.
Just take a peek at this bathroom…the high-gloss tile contrasts beautifully with the matte stone vessel sink.
Find Your Balance
Balancing the amount of black and white is crucial for creating a cohesive look.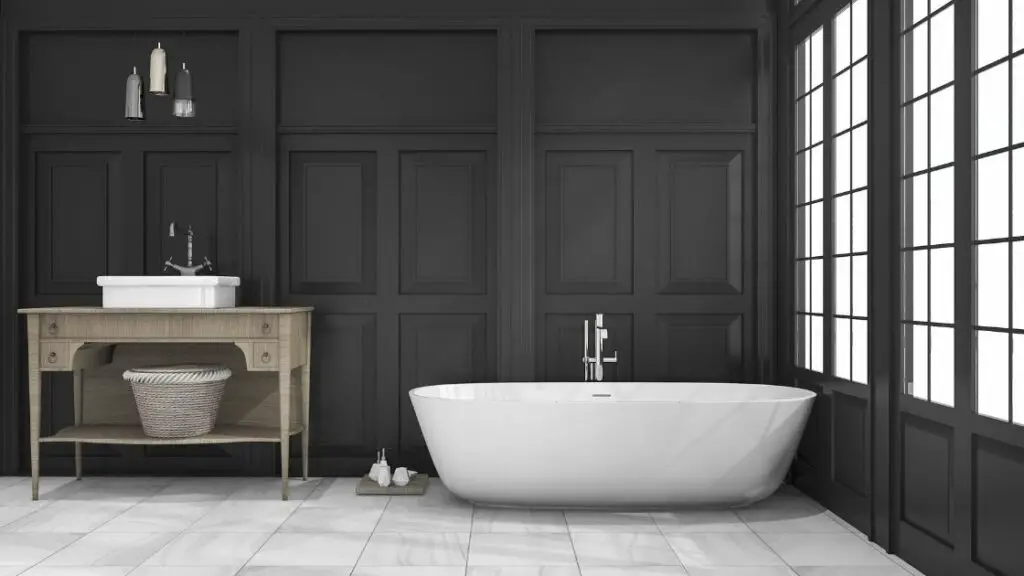 Generally, aim for a 70/30 ratio – either 70% white with 30% black accents or vice versa. This ensures neither color overwhelms the other.
However, don't be afraid to play with different ratios and distributions to find what works for your space.
Below are some handy tips for striking that perfect black-and-white balance:
Use white on larger structural surfaces like walls, floors, and ceilings to open up the space
Incorporate black through accents and details like trim, fixtures, and decor
Layer lighter and darker tones of the same color (i.e., charcoal with black)
Repeat black and white patterns throughout the space for consistency
Allow "pops" of black and white to complement additional colors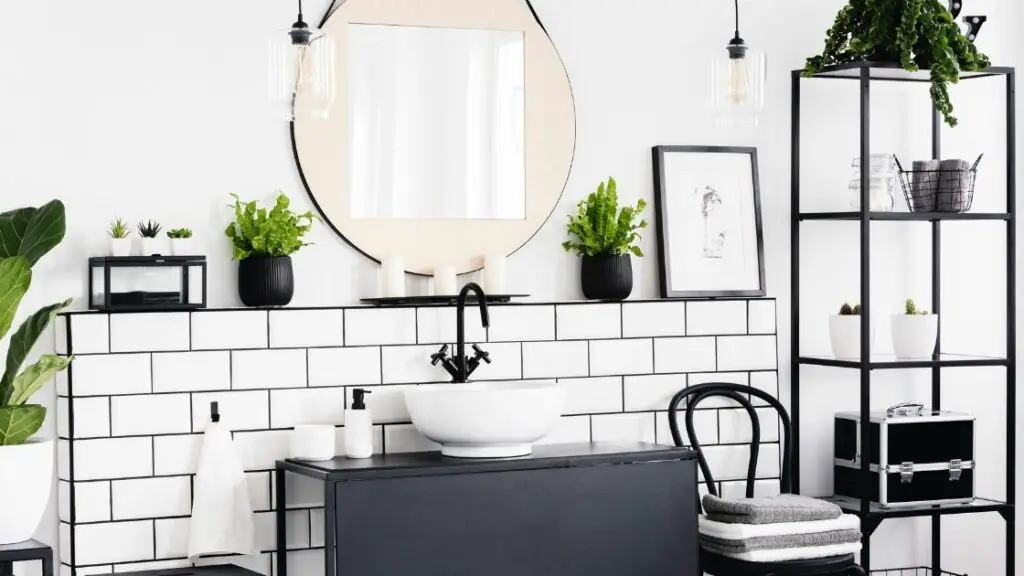 Decorating Your Black & White Bathroom
Okay, it's time for the fun stuff! Let's run through ideas for decking out your black-and-white bathroom in style.
Floor & Wall Treatments
Flooring and walls offer massive potential for chic black-and-white designs. Here are some fabulous options:
Tile Patterns – From classic checkerboards to modern mosaics, black and white tile in any pattern immediately elevates your space. Play with different shapes and layouts.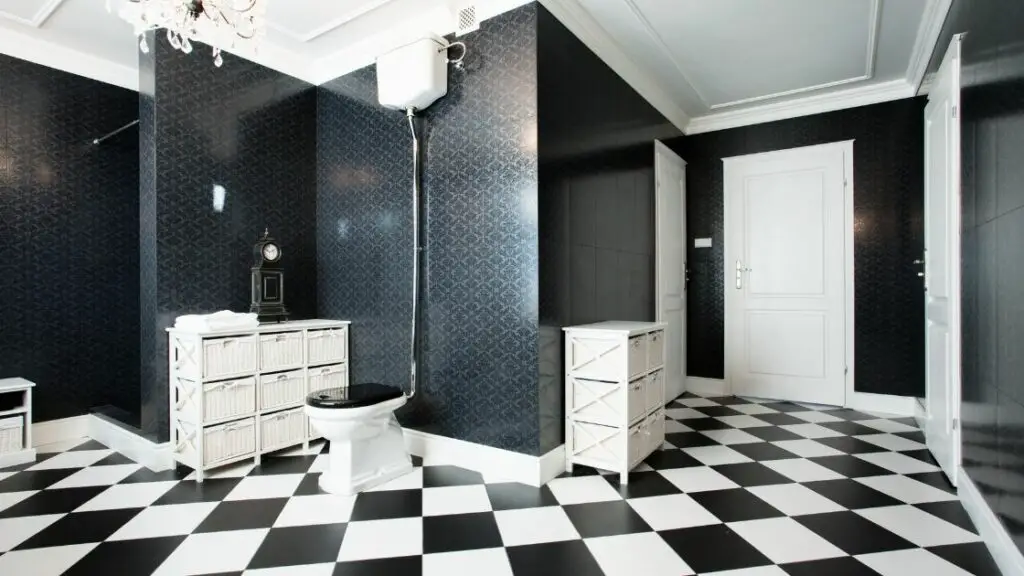 Wainscoting – Crisp white wainscoting adds a traditional touch against black walls. Use high-gloss paint to mirror the tiles.
Wallpaper – Make a bold statement with black and white floral, geometric, or abstract wallpaper on a single accent wall.
Paint – Opt for high contrast with black walls and white trims or vice versa. Consider a black ceiling for drama!
Wood Flooring – Weathered wood injects warmth and texture. For contrast, stain it ebony black and finish with high-gloss poly.
Get creative with combinations! Black and white tile walls matched with wood-look vinyl flooring? Yes, please!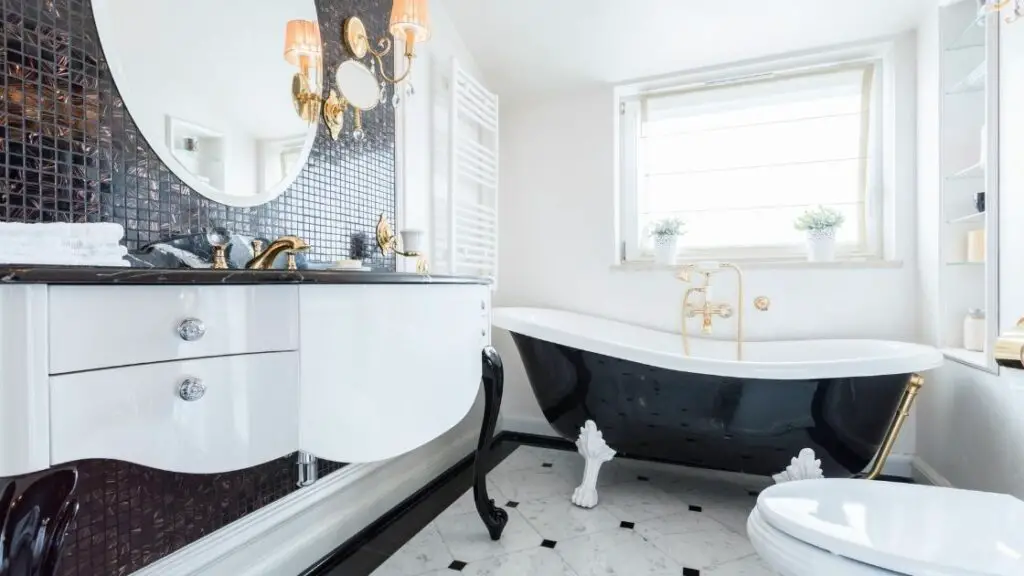 Fixtures & Finishes
From faucets to bathtubs, select fixtures and finishes that enhance your black-and-white vibe:
Plumbing – For a modern look, choose matte black fixtures. Polished chrome has a more traditional, elegant feel.
Sinks – A glossy white vessel sink pops against a black vanity countertop. Or vice versa!
Cabinetry – White cabinets keep things fresh and light. Charcoal cabinets offer a bold twist.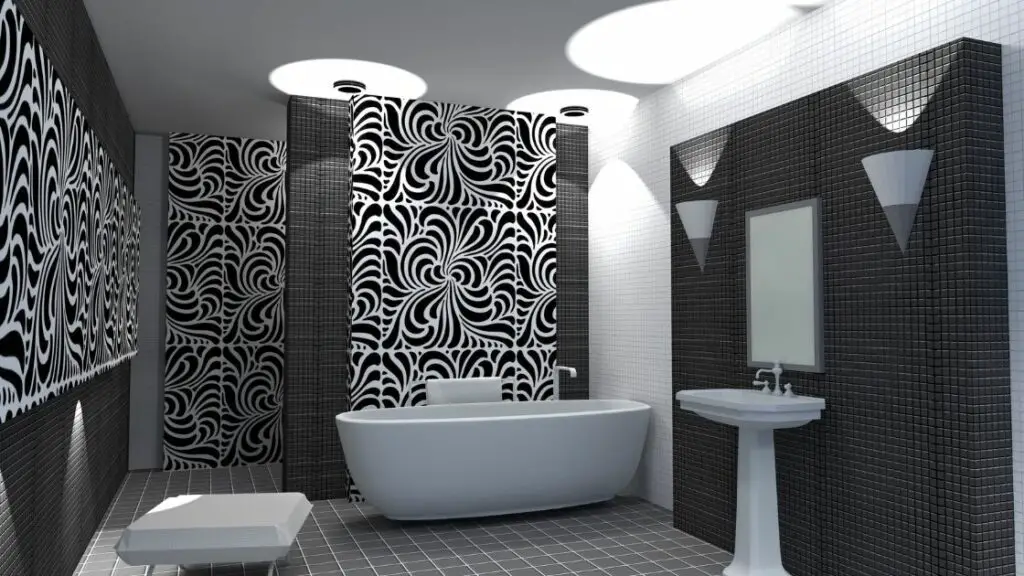 Bathtubs – Make a statement with a freestanding black clawfoot tub or modern white soaker tub.
Don't forget the little details like black cabinet hardware and toilet paper holders. It's all about that finishing touch!
Accessories & Art
It's time to have fun with the finishing accessories! Source or DIY pieces that complement your color scheme.
Textiles – Incorporate black and white patterns on shower curtains, towels, rugs, and bath mats.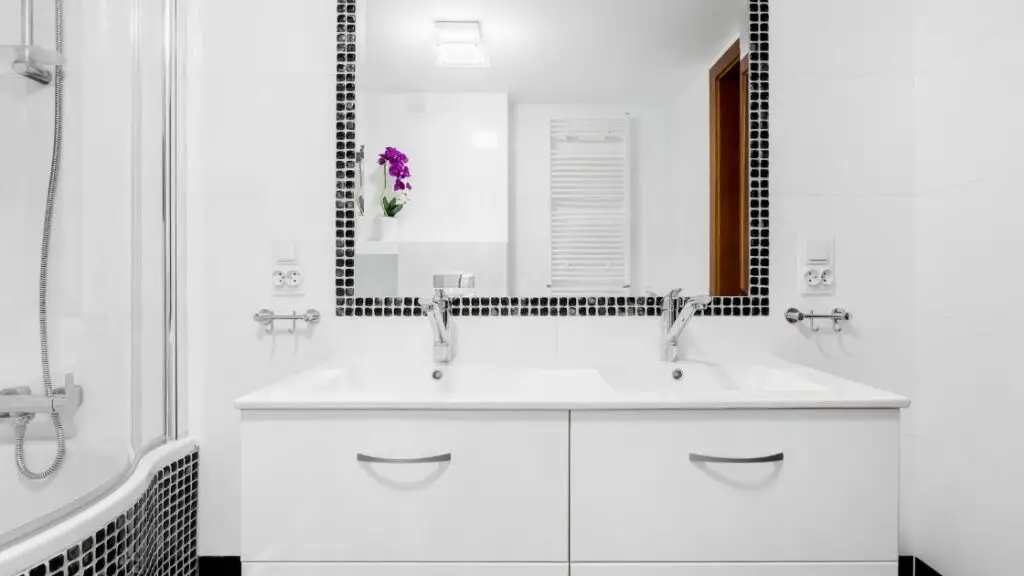 Art – Black and white photography, framed prints, and wall art look fantastic.
Decor – Candles, flower arrangements, and ceramic pieces in black, white, or metallic add a special touch.
Mirrors – An oversized rectangular mirror matches modern aesthetics. An ornate antique mirror exudes vintage appeal.
Storage – Woven baskets and bins hold essentials in style. Hooks on the back of doors are great for hanging towels or robes.
Tip: Look for accessories and decor secondhand! I love giving cast-off items a new purpose.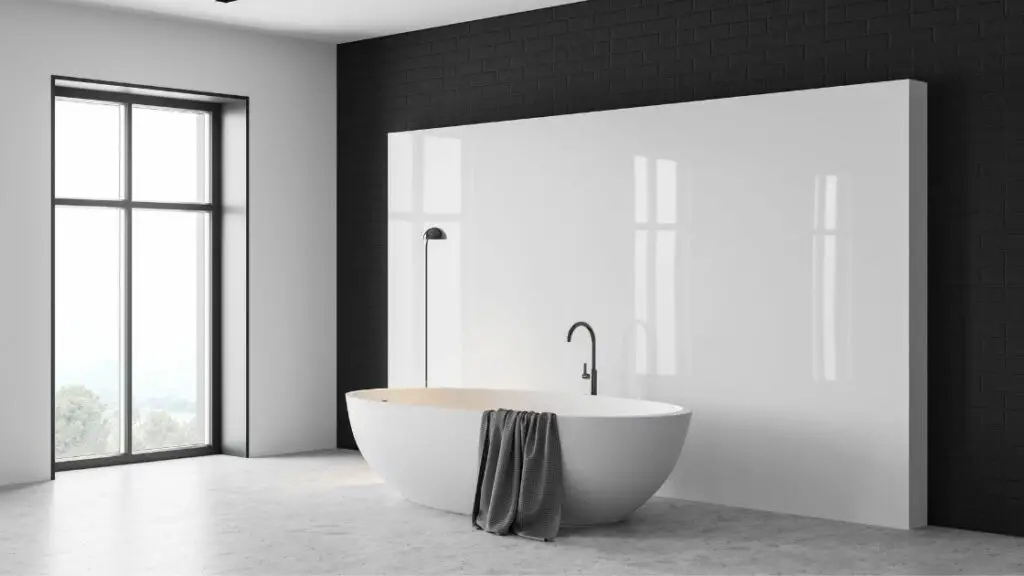 Lighting Your Black & White Bathroom
Let there be light, darlings! Carefully chosen illumination takes your bathroom from "meh" to marvelous.
Natural Light – Maximize sunlight by keeping windows unobstructed and using reflective surfaces like mirrors.
Ambient Lighting – Candlelight or wall sconces create mood lighting. Dimmable fixtures allow you to set the perfect vibe.
Task Lighting – Place ample lighting around the vanity for grooming. Undercabinet lights are perfect!
Fixtures – Opt for black, white, or metallic finishes that complement your decor. Brass and gold add a glam touch.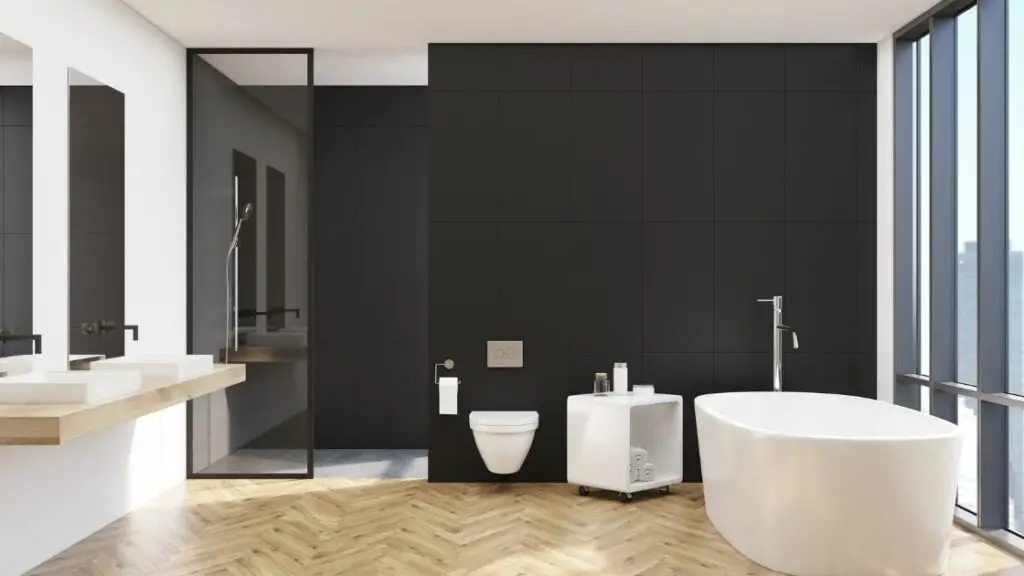 Bulbs – Use soft white bulbs and frosted covers for flattering illumination.
Contrast – Use light and shadow to highlight specific features, like a black sconce above a white marble sink.
Bathrooms are intimate spaces where we start and end each day. Make sure yours is a well-lit oasis!
Elevating Small Black & White Bathrooms
For petite bathrooms, black-and-white color schemes can feel incredibly bold. But have no fear, I've got you covered!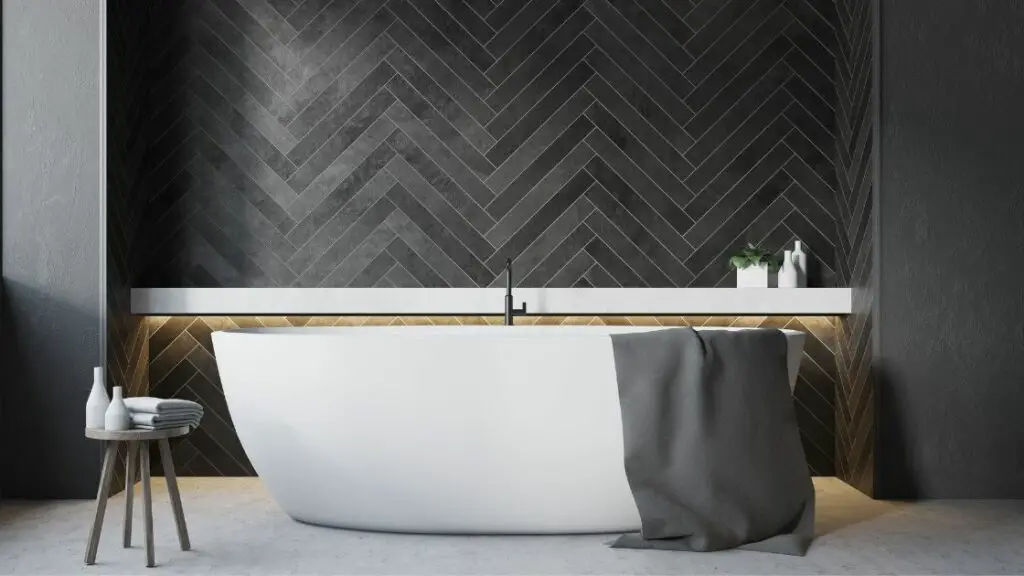 Here are my top tips for maximizing your small black-and-white bathroom:
Use white as the dominant color for an airy, open-look
Incorporate black through accents vs. large surfaces
Include reflective materials like glossy tile, metal, and mirrors to enhance light
Create vertical storage with floating shelves, cabinets, and towel racks
Choose streamlined multifunctional furniture and small fixtures
Maintain a minimalist, decluttered look to avoid overwhelm
And remember – small changes make a significant visual impact! Little touches like black drawer pulls, soap dispensers, and art prints add up.
Keeping Your Black & White Bathroom Sparkling
Let's chat about bathroom maintenance, shall we? After all, cleanliness is next to…cleanliness.
Here are my top tips for keeping your black-and-white sanctuary looking its best:
Establish a regular cleaning routine to stay on top of surfaces and grout
Use gentle, non-abrasive cleaners formulated for bathrooms
Immediately wipe up spills and splashes to prevent stains
Re-seal grout every 1 to 2 years to protect it from mildew and discoloration
Replace bathmats, towels, and shower curtains frequently
Choose durable, easy-to-clean materials like ceramic, porcelain and metal
Prevent soap scum buildup with a squeegee and bathroom fan
I know, I know, cleaning is not glamorous. But trust me, it's crucial for maintaining your design vision and investment!
Conclusion: Craft Your Perfect Black & White Bathroom
Well, there you have it, friends! Everything you need to craft a showstopping black and white bathroom.
I hope you feel pumped and inspired to try this timeless color scheme in your own space.
Remember – the beauty of black and white decor lies in its versatility. Use my tips as helpful guidelines, but ultimately, make choices that match your style.
Your home tells a story about you. So embrace your creativity, get your hands dirty, and design a bathroom that makes you smile each morning!