Hey friends! If you're like me, you may struggle with keeping your small closet organized. I live in a cute but cozy 1910s bungalow, so I don't have a massive walk-in closet. But that doesn't mean I will sacrifice style or efficiency because space is limited!
Over the years, I've picked up plenty of tips and tricks for maximizing every inch of my petite closet. From assessing my needs to personalizing the space, I've got affordable solutions that help me find what I need quickly while keeping clutter at bay.
So grab your tape measure and notepad – we're about to Marie Kondo the heck out of your tiny closet! I'll share my best ideas for editing your wardrobe, adding storage, and infusing your flair. Let's do this on a budget and make the most of what we've got!
Why Organize Your Small Closet?
I know, I know – organizing sounds like a chore. But there are so many benefits to an orderly, efficient closet that make it worthwhile. Here are just a few reasons to invest some time into taming your small space: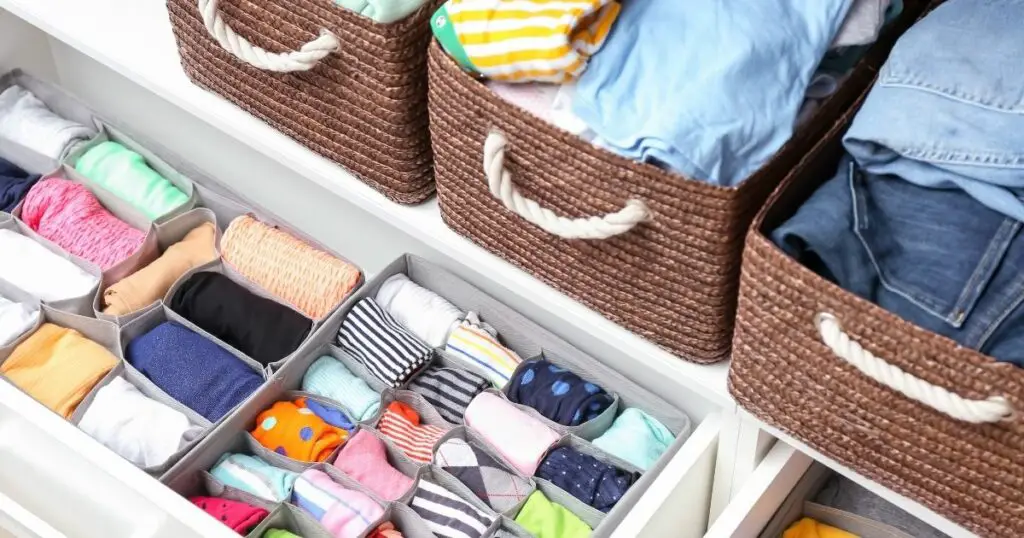 Easier Access to Your Items
When everything has a designated spot, you won't waste precious morning minutes tearing your closet apart trying to find matching shoes. Quickly locating what you need is a clutch when you're getting ready quickly!
More Room for Your Stuff
Editing and rearranging your existing pieces can work wonders for maximizing every square inch. Suddenly, you'll find yourself with room for purchases you need – rather than cramming in details just for the sake of it.
Reduce Stress & Clutter
A messy closet overwhelms the mind and soul! When you open the door to a soothing, tidy space each day, it just feels so good. There's something to be said for the joy of organization.
Get Creative with Storage Solutions
Organizing on a budget encourages you to access your crafty side. With imagination, you can upcycle flea market finds into custom storage that shows off your style!
Okay, now that I've convinced you it's worthwhile, let's dive into the organizing process from start to finish. I'll share plenty of tips to make it fun and affordable!
Assess Your Space
It's critical to start by understanding the parameters of your closet and identifying your specific storage needs. This prep work makes shopping for solutions and optimizing the layout much more accessible.
Take Measurements
Grab a tape measure and jot down your total closet space's length, width, and height. Don't forget to note any existing permanent fixtures like rods, shelves, or lights. Consider peculiarities like sloped ceilings or awkward corner nooks that impact storage.
Catalog Your Current Items
Take inventory of every last piece currently living in your closet, from clothing to shoes to accessories. Consider the number of items in each category as you make a list. For instance, do you have more shirts than pants or scarves than you could wear in a lifetime?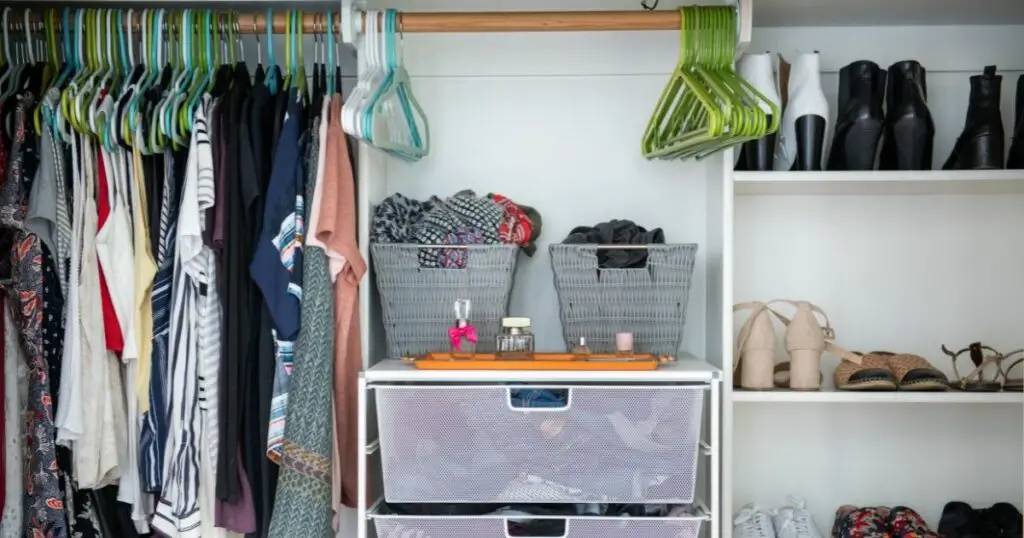 Identify Your Needs
Now that you see what you're working with determine your ideal storage scenario. How much hanging space do you need for dresses versus foldable shelf space for sweaters? Are there specialty spaces needed for suits, costumes, or sports equipment? Maximizing every inch requires planning your dream layout!
Set Your Budget
Don't let a tight budget discourage you – some of the best organizational solutions are inexpensive, if not free! Prioritize essentials that offer the most bang for your buck.
Invest in Shelving First
The suitable shelving unit tailored to your space significantly impacts at a relatively low cost. Focus your dollars here, whether you opt for a basic bookcase or a modular closet system.
Scope Out Second-Hand Scores
Never underestimate the organizing power of a thoughtful thrift store purchase! From baskets to storage cubes, you can upcycle flea market finds into custom pieces.
Take Advantage of Freebies
Creativity turns household items like jelly jars, crates, and shoe boxes into storage heroes. If you host a garage sale, ask friends for unwanted organizational containers they're also ready to part with.
Wait on Closet Upgrades
Big-ticket additions like built-in shelving or new lighting can wait! Focus first on quick fixes and removable accessories. You can constantly reassess and save up for custom closet additions.
Now that we've gotten prepped let's organize this beast! Roll up those sleeves, and let's do this.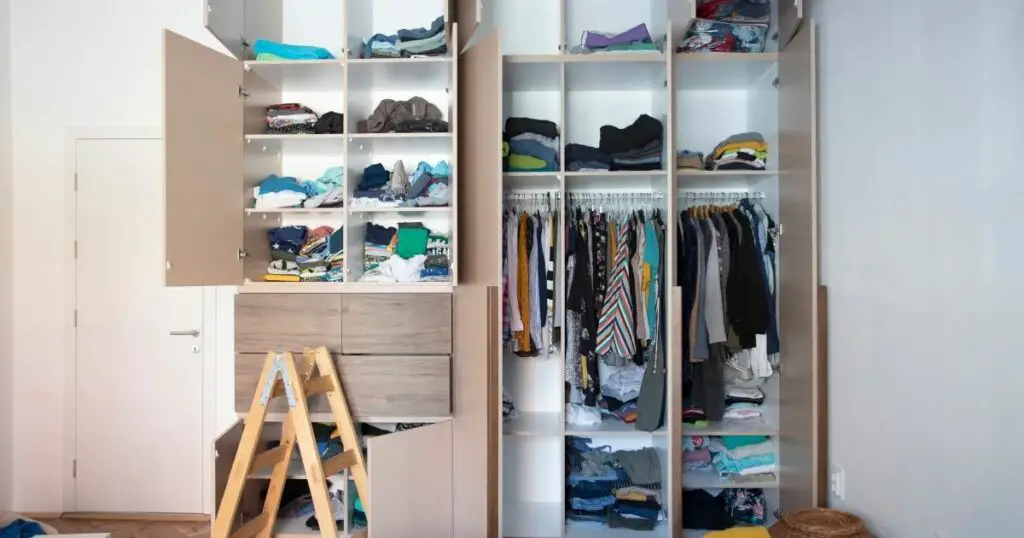 Edit Your Current Wardrobe
An organized space starts with an edited wardrobe! Be ruthless and pour yourself a glass of wine because this process requires tough love. You'll thank me later!
Categorize Your Clothes
Separate every clothing item into stacks by type – tops, bottoms, dresses, etc. Seeing how many you have in each category makes it obvious what's overcrowding your space. This was a severe wake-up call that I owned too many dresses!
Assess Each Piece
Now, be honest about whether you should keep or purge each item. Ask yourself:
When was the last time I wore this? You likely don't need it if it's been longer than a year.
Does this still fit? If not, donate it so someone else can love it.
What's the quality? Toss anything with stains, tears, or beyond repair.
How many do I need? Keep your favorite 1-2 pieces of each style rather than duplicates.
Purge the Unneeded
Immediately remove the purge piles from your closet once you've made your keep or purge verdicts! Having them lingering will just lead to second-guessing. Donate, consign, and trash whatever you can bear to part with.
Try a "Capsule" Wardrobe
If you're still left with more than fits comfortably, consider embracing the capsule wardrobe trend. This involves keeping only essential mix-and-match basics that make endless outfits. Limit yourself to 30-40 high-quality, timeless pieces that all coordinate. You'll be shocked what a little black dress and crew neck tee can transform into!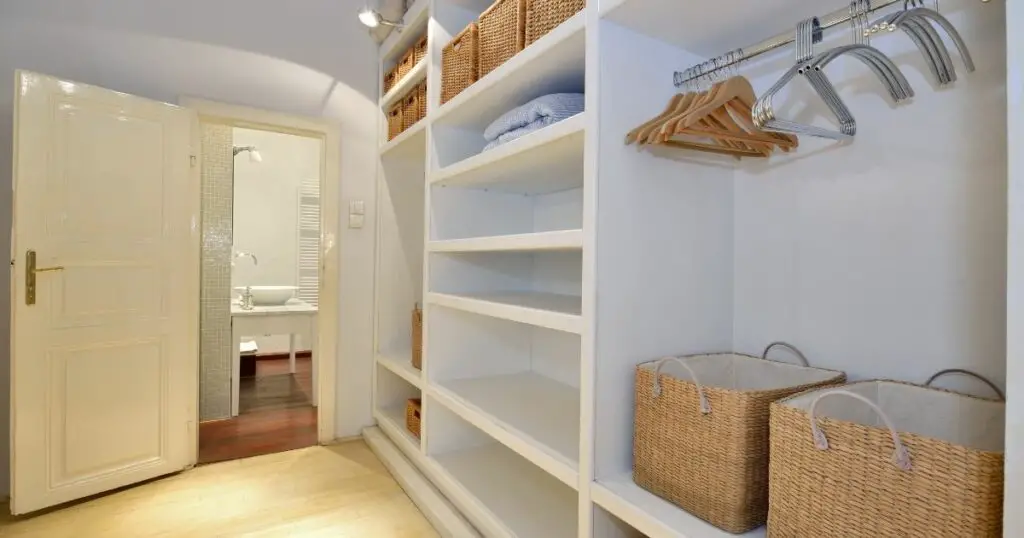 Install Shelving & Storage
The right organizing tools explicitly tailored to your space make all the difference! Here are my favorite products that maximize every inch without breaking the bank.
Entryway Closet Storage
Turn that door into storage real estate! An S-hook tension rod is perfect for hanging coats, robes, and bags. For the ground, use a narrow shoe rack to neatly store kicks and slippers.
Double Your Hanging Space
Double hanging rods are genius – you can find kits at any home improvement store! Install one below your current rod to double your hanging capacity without eating floor space.
Slim, Velvet Hangers
The bulk of traditional hangers eat up space. Slim velvet ones hold the same amount of clothes in way less room. Use them for pieces prone to slipping, too!
Repurpose Furniture
Give a second life to that old dresser collecting dust in your garage. Use the drawers for folded clothes and tops of the piece for displaying accessories. The same goes for bookshelves – so versatile!
DIY Storage Crates
My favorite weekend project is transforming old shipping crates from the flea market into custom closet storage with a coat of paint. Use them to stash sweaters, jeans, or anything you want!
With the right mix of store-bought and upcycled organizing tools, you can achieve a custom closet tailored to your needs and style – all on a budget. Don't be afraid to get creative!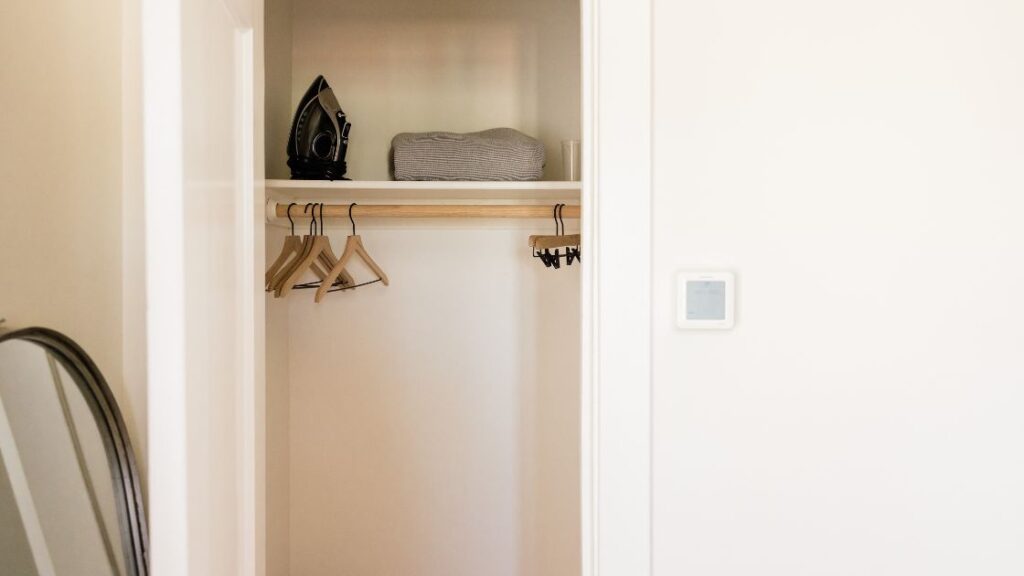 Maximize Vertical Space
You need to make the most of every bit of vertical real estate in a small closet. Here are my top tips for taking storage to the ceiling!
Shelf Brackets & Boards
Shelf brackets with boards make adding a shelf above your closet rod easy without remodeling. Use it to store bulky items like purses or spare bed linens.
Hanging Shoe Organizers
Buy a few over-the-door shoe organizers and hang them on the interior side of your closet door. Use the mesh pockets for shoes, accessories, toiletries, you name it!
Wall-Mounted Tool Rails
Tool rails can be mounted vertically to hold folded garments and accessories. Pop on some S-hooks, and you have a budget custom closet expansion!
Don't neglect those precious inches between the rod and the ceiling. A little creativity pays off with way more space for all your stuff!
Infuse Your Style
An organized space should still feel like YOU! Here are some of my favorite ways to infuse personality into your newly tamed closet.
Paint or Wallpaper Accent Wall
Make a blank wall pop by adding an accent color or fun wallpaper print! I found a tremendous removable peel-and-stick wallpaper to switch up the look.
Vibrant Storage Bins
Clear plastic bins work for storage, but colorful fabric cubes add flair. Use different patterns and textures to contain your other categories.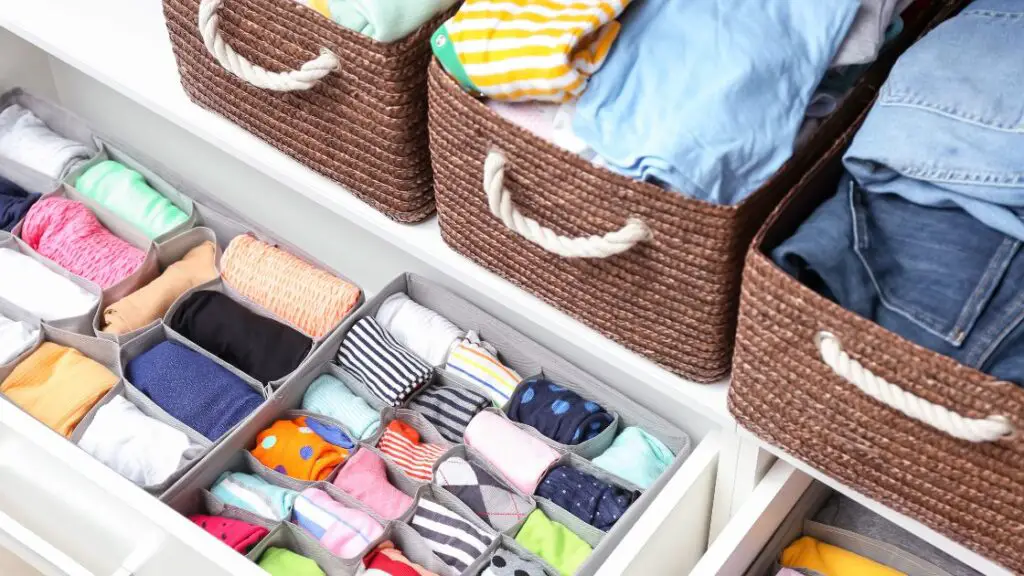 Meaningful Accessories
Inject your spirit and style into the space with meaningful accessories. I like to hang guitars, my vintage wedding veil, old family photos – anything that brings me joy!
Fun Lighting Statement
The overhead lighting is bleh. Swap it out for something that showcases your personality! Vintage pendants, a chandelier made of beads – get creative with the lighting.
DIY Art Gallery Wall
Turn a blank wall into an art showcase! Use a mix of frames in different sizes to display inspiring quotes, your children's art, or magazine pages – anything you love.
A thoughtfully decorated closet shouldn't just be functional but make you smile each morning as you pick your outfit. Add little touches that spark joy and represent your flair.
Maintain the Organization
Don't let your hours of hard organizing work go to waste! Maintaining the order is just as essential. Here are some habits to make it last.
Assign Everything A Home
The secret to a constantly organized closet is having a designated spot for every item to return to. Make sure every piece has a place – this streamlines daunting tasks like putting away laundry.
Deal With Clutter Right Away
When you undress, immediately hang up or place clothes into their assigned hampers. Don't let rogue clothes pile up to create future chaos! Deal with clutter as it crops up before it snowballs.
Purge Regularly
Reassess the contents of your closet every season. As your style evolves and new pieces come in, purge no longer-needed essays. A yearly deep cleanse keeps the clutter from creeping back in!
Adjust The System As Needed
Be willing to tweak your system if something isn't working. For instance, if you can never find your black heels, consider moving them to a more accessible spot. Adapt to make your life easier.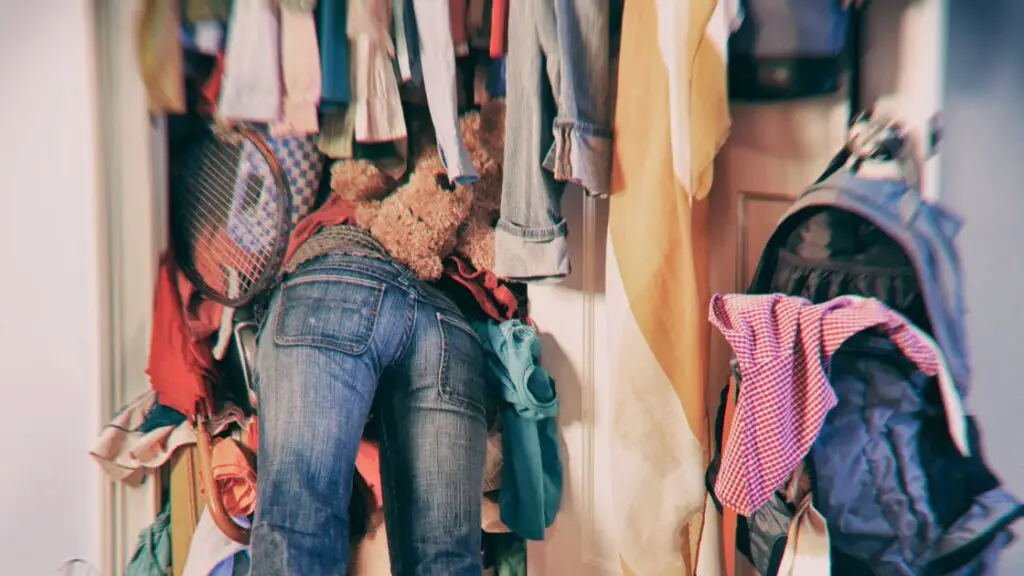 Staying on top of your newly organized space doesn't have to be a chore. Following a few habits will ensure you always open the door to serenity and style!
Wrapping Up
I hope this post has gotten your wheels spinning with ideas for your minuscule but mighty closet! The story's moral is not to let petite square footage deter you from your dream organized sanctuary.
You can maximize every inch of space with some strategic planning, budget-friendly finds, and a dose of creativity. Focus on the essentials, make the most of vertical real estate, and infuse the area with flair.
Most importantly – don't let the maintenance slide! Keep your spaceship-shaped with habits like constant editing and seasonal purges. I promise once you get a handle on the clutter, you'll reap the benefits of a clear mind and happy heart.