Kitchen renovations are exciting but can also be daunting, especially when choosing materials and finishes that will stand the test of time. As an interior designer who has helped countless clients overhaul their kitchens, I'm here to make a case for one of my all-time favorite combinations: white countertops and cabinets.
Not only is white a timeless choice, but it also provides a gorgeous, clean backdrop that allows you to get creative with other design elements in your space. Keep reading for a deep dive into everything you need to know about embracing this dynamic duo. I'll cover the pros, the options, and tips for pulling off a beautiful white kitchen.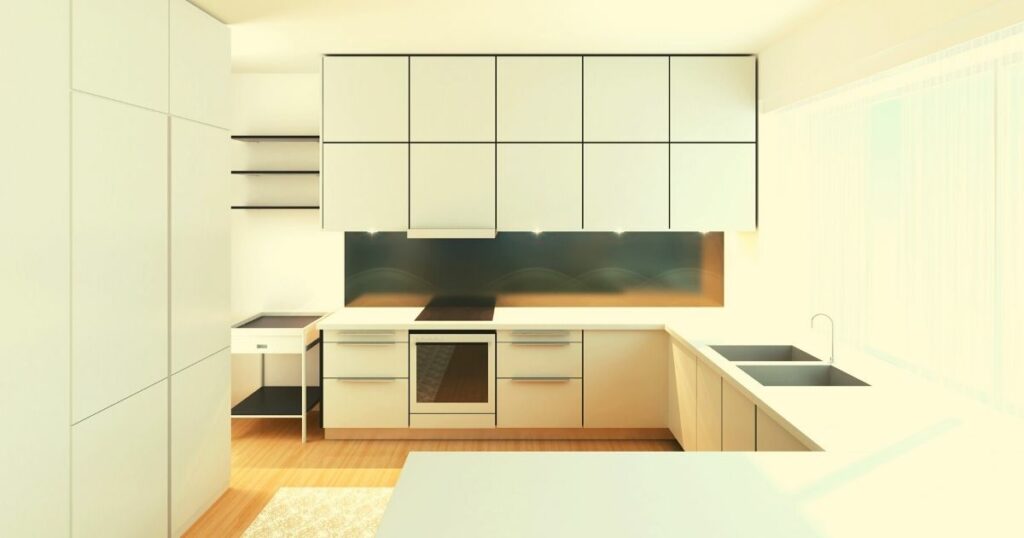 Why White Reigns Supreme
There's a reason white kitchen cabinets and countertops have maintained popularity for so long. Here are just a few of the benefits this classic color combo offers:
White brightens up any space. Its reflective properties bounce light around, making kitchens more open and airy. This effect is especially noticeable in smaller or darker rooms.
Provides a clean slate. Crisp white surfaces serve as a neutral canvas, allowing bolder pops of color, materials, or hardware finishes to stand out.
White encourages cleaning. Because white shows everything, this quality can motivate people to keep countertops tidy and organized. A freshly cleaned white kitchen looks so pristine!
Matches any style. From modern farmhouses to contemporary, white kitchens effortlessly align with today's most popular design aesthetics.
Increases resale value. White countertops and cabinets are attractive to a wide range of buyers. So, if you ever decide to list your home, this timeless combo adds an edge.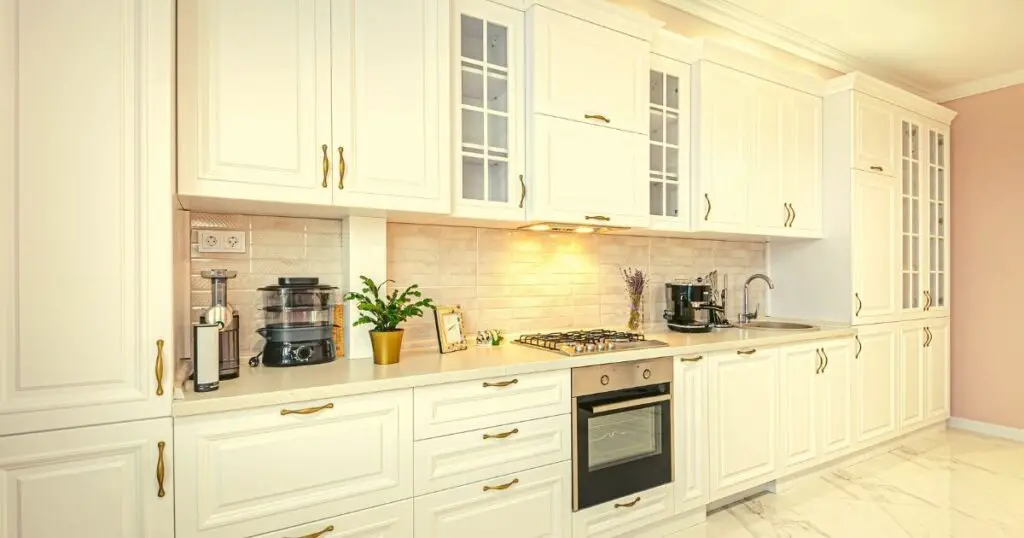 Pick the Perfect White Countertops
Once you've decided to hop on the white countertop train, it's time to pick the suitable material and hue for your space. Here are some of the most popular options to consider:
Quartz
If you love the look of natural stone but want something more consistent and low-maintenance, quartz is a perfect choice. Made from crushed stone and resin, these countertops are available in various whites.
Pros:
Extremely durable
Easy to clean
Resists stains and etching
It won't need frequent sealing like natural stone
Long-lasting; unlikely to crack or scratch
Cons:
Less unique than natural stone (repeating patterns)
Higher price point than laminate
Marble
Marble can't be beaten for unparalleled elegance and a luxurious feel. Like Carrara, gentle veining in white marble adds depth and sophistication.
Pros:
Gorgeous, unique veining patterns
Heat resistant
Classic, timeless material
Cons:
Easily etched by acids (citrus, wine, etc)
Needs frequent sealing
On the pricier side
Granite
Another natural stone, granite, is ideal if you prefer speckled or subtle veining over the dramatic veins of marble. The range of light granites – from crisp whites to warmer ivories – is terrific.
Pros:
Adds value and luxury to a home
Extremely durable
Resistant to heat
Cons:
Also prone to etching and staining
Needs regular sealing
A porous surface makes it higher maintenance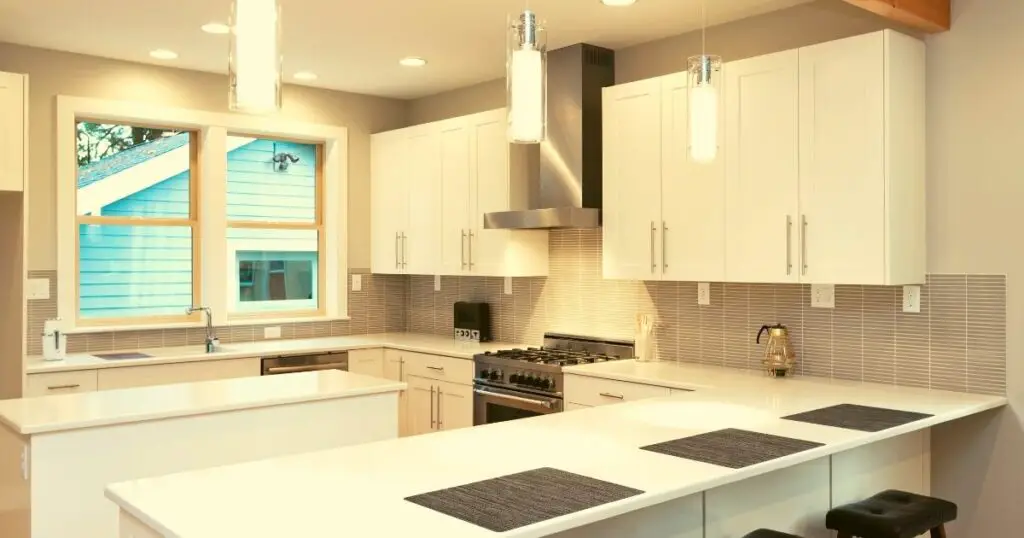 Laminate
If budget is a factor, laminate provides an affordable way to get the white countertop look. It is even available in matte finishes that mimic higher-end materials.
Pros:
Most budget-friendly option
Huge range of colors, finishes, and patterns
Easy installation
Just as hygienic as pricier materials
Cons:
Durability issues – prone to chipping, scratching, and damage from heat
"It can seem obviously""fake" upon close inspection.
Solid Surface
Solid surface materials like Corian provide a sleek, seamless look in contemporary kitchens. The acrylic-based material is also easy to clean and durable.
Pros:
Customizable – can be thermoformed into integrated sinks, etc.
Resists stains and burns
It offers a modern, minimalist look
Cons:
On the pricier end
Can scratch or scuff over time
Limited color selection compared to stone
Complementary Cabinet Colors
Once your countertops are decided, it's time to choose a cabinet color. While white on white is a foolproof combo, don't hesitate to make a statement by varying the tones. Here are some of my favorite pairings:
Crisp Bright White
Match bright white cabinets to your countertops for a clean, airy look. Different sheens (matte cabinets + glossy quartz) add just enough contrast.
Warm Antique White
Soften a bright countertop with cabinets painted in a slightly warmer antique white. The variation creates depth without deviating too far from the monochromatic scheme.
For serious drama, go for high contrast with navy blue cabinets against bright white countertops. Accent with brass hardware for a nautical vibe.
Natural Wood Tones
Bring in natural wood cabinets to complement marble or granite countertops. The pairing feels organic while still keeping the overall palette light.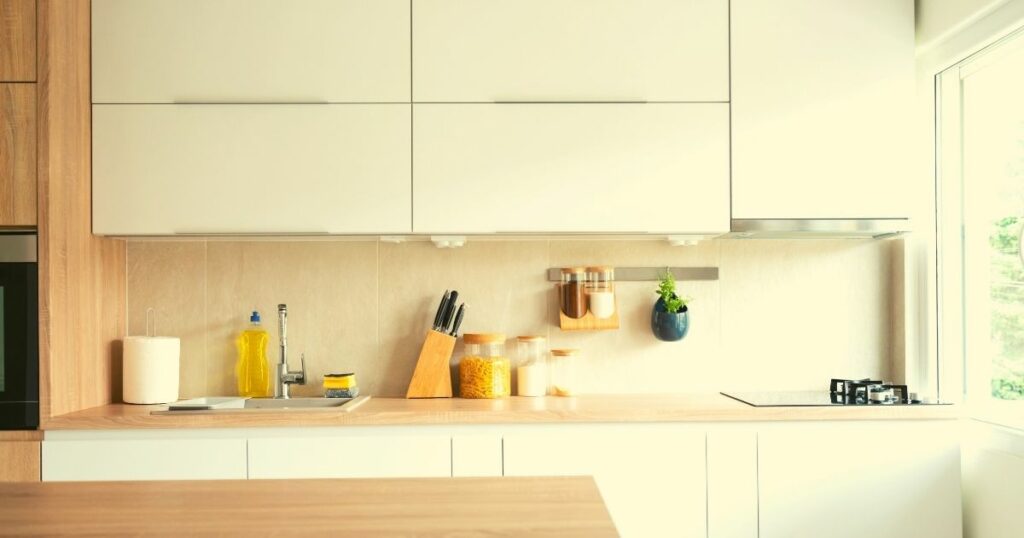 Design Details to Consider
Beyond the countertop and cabinet colors, don't overlook the importance of "finishing touches" in tying your whole white kitchen together:
Backsplash
If desired, the backsplash is prime real estate for injecting color, texture, or pattern. Options like:
Subway tile
Marble, travertine, or granite slabs
Moroccan fish scale tile
Handmade ceramic tile
Unexpected materials like penny tiles, mirrors, or pebbles
All work beautifully against white.
Hardware
Hardware offers another chance to enhance your chosen style, whether it's sleek modern pulls in matte black, vintage-inspired brass knobs, or even funky patterned handles.
Don't be afraid to mismatch finishes, like pairing brass hardware with black countertop supports for an eclectic vibe.
Lighting
Beyond the task lighting essential for food prep safety, don't underestimate the power of lighting accents to make a kitchen pop.
Pendants instantly create visual interest over islands or peninsulas, while accent lighting attractively illuminates display areas.
Large statement chandeliers are a surefire way to wow guests if your space allows.
Preserving the White Kitchen Look
I'm sure you've heard the standard concern:""white kitchens show every speck of dirt!" And yes, they genuinely do. But with some care and maintenance, keeping your white surfaces looking freshly finished is not hard. Here are my top tips: "I'm sure you've heard the standard concern: "white kitchens show every speck of dirt!" And yes, they genuinely do. But with some care and maintenance, keeping your white surfaces looking freshly finished is not hard. Here are my top tips:
Clean up spills ASAP. Don't let stains set.
Seal natural stone yearly. Adds protection from etching or discoloration.
Use cutting boards. Protect countertops from knife damage.
Install the backsplash properly. Caulk all edges to prevent water ingress and damage.
Consider satin finishes. They hide fingerprints and water spots better than high-gloss.
Wipe cabinets down weekly. Use a damp microfiber cloth to remove grease buildup.
Use cabinet liners. It helps protect interiors and absorb spills.
Style Inspiration for White Kitchens
If you need a bit more persuasion to take the plunge with white countertops and cabinets, here are a few of my favorite examples of this look executed across various aesthetics:
Farmhouse Chic
The quintessential farmhouse style feels right at home with white kitchen cabinetry. Mixing painted wood finishes with a marble-look quartz island keeps the look light and airy while adding organic texture.
Warm wooden accent walls, antique-inspired hardware, and rustic pendant lighting balance out the brightness.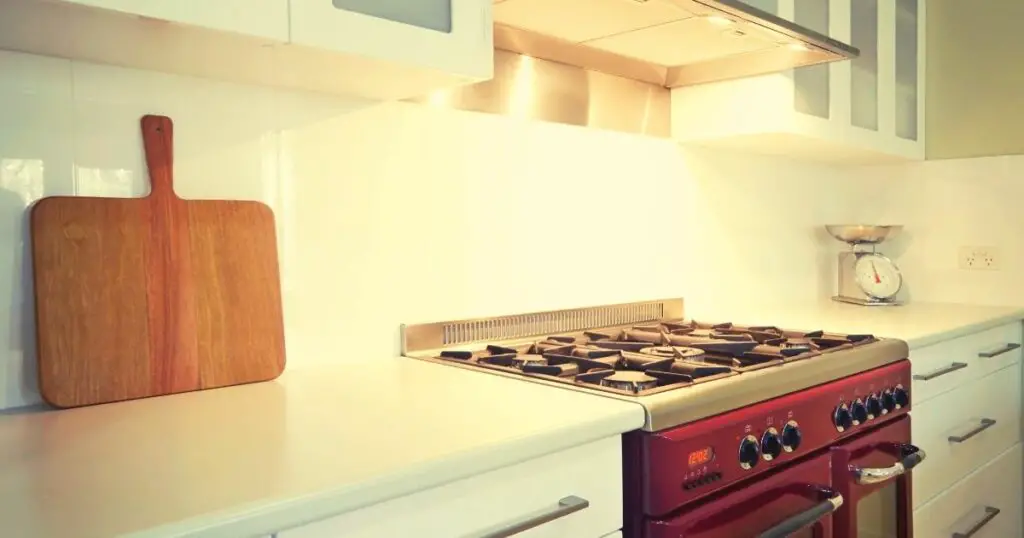 Combine crisp white cabinetry with sleek quartz countertops for a pared-back Scandinavian vibe. Touches of wood add warmth, while metallic accents inject subtle sophistication.
This look emphasizes clean lines, neutral colors, and minimal ornamentation. It allows the textures and grains of natural materials to shine.
Modern Glamour
To make a bold statement, embrace luxe accents like gold fixtures, marble slab surfaces, and glass cabinet inserts.
Rich green velvet bar stools, a showstopping crystal chandelier, and dramatic lighting take this bright white kitchen to the next level of luxury.
Industrial Edge
The industrial look comes alive against a white backdrop. Try open shelving, exposed pipes or vents, and mix-and-match metals for an eclectic vibe.
Concrete countertops provide a gritty contrast, while vintage touches like a repurposed cart add character.
Final Thoughts on the Timeless White Kitchen
Hopefully, you're feeling inspired rather than intimidated by the prospect of a white-on-white kitchen revamp. As you plan your space, remember:
Tap into white's powers to open up and illuminate rooms.
Choose countertop materials that fit your budget and priorities.
Play with cabinet colors and finishes to add dimension.
Maximize details like backsplashes, hardware, and lighting.
Blend styles like modern, farmhouse, or industrial based on your tastes.
Implement cleaning habits to maintain a crisp, freshly painted look.
A kitchen should reflect the people who cook, eat, and gather there. With endless options for personalizing white countertops and cabinets, embrace this classic but adaptable look as your unique space's stylish, low-maintenance backbone.