Hey folks, Amanda here! Nothing quite like a well-lit space to lift your mood and make your home feel warm and welcoming. And attics, with their cozy nooks and exciting possibilities, deserve some love in the lighting department, too.
In my decade-long career as an interior designer in New York, I've worked on my fair share of attic makeovers. With the right lighting design, these often underutilized spaces can be transformed into studios or home offices.
In this post, we'll explore creative attic lighting ideas that will turn even the dimest attic into a bright, livable space you'll want to spend time in. Grab a cup of coffee, and let's get started!
Understanding the Unique Challenges of Attic Lighting
Attics come with specific quirks that make lighting them a bit tricky. Here are some factors to keep in mind:
Sloped ceilings – Attics often have those characteristic A-frame sloped ceilings. Recessed lighting may need to be fixed here, and fixtures must be mounted appropriately.
Limited space – Attics tend to be cramped. Bulky lighting fixtures will only make it feel more claustrophobic.
Ventilation issues – Heat and humidity can build up. Look for lighting designed for covered outdoor spaces, which are made to handle moisture.
Natural light access – Skylights may let in some sun, but attics are often dark, so artificial lighting must compensate for this.
Thinking through these constraints will help you choose appropriate lighting for an attic. Now, let's move on to assessing your needs.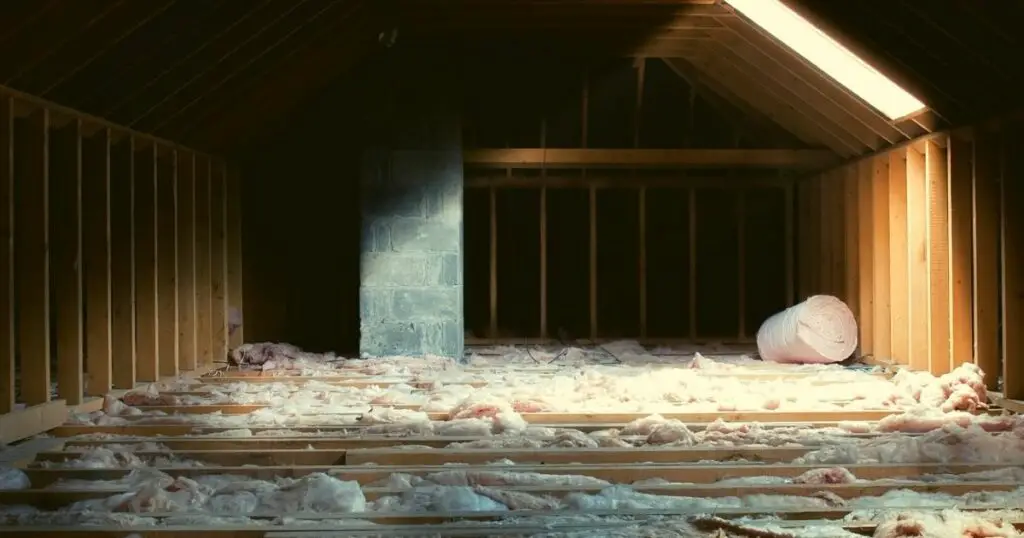 Determining Your Attic's Lighting Needs
Like any good interior design project, you want to start by identifying how you plan to use the space. Here are some questions to ask yourself:
Will it be a lounge area for reading? If so, focus on ambient lighting.
Is it a workspace or craft room? Task lighting takes priority then.
Using it for storage? Layer ambient and accent lighting.
Do you want to highlight architectural details? Try accent lighting.
Is it a kid's playroom? Make sure lighting is safe and durable.
Will you occasionally host guests there? Opt for adjustable and dimmable fixtures.
Thinking through the functionality will determine if you need:
Ambient lighting – general, overall illumination
Task lighting – focused beams for specific activities
Accent lighting – highlights critical areas/features
No need to stick to just one type either. Layering all three creates depth and visual interest!
Now, let's look at some attic-friendly fixtures for each lighting type.
Ambient Lighting Options for Attics
Ambient lighting makes the attic space airy, bright, and welcoming. Here are some great options:
Recessed Lighting
Recessed can lights are a classic choice. They're discreet yet highly effective. Mini-recessed lights work incredibly well for sloped attic ceilings. For efficiency, go with LEDs.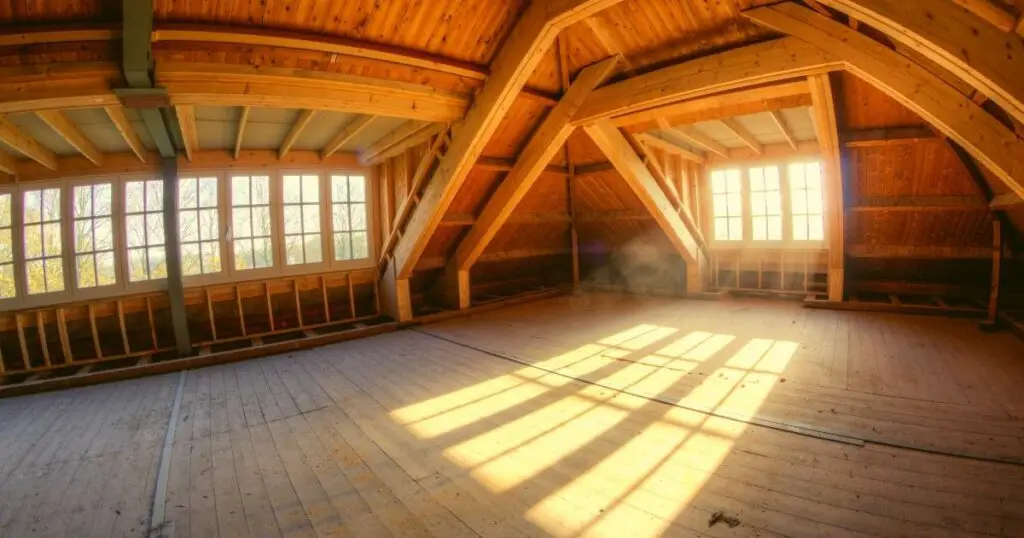 Flush Mount Fixtures
As the name suggests, these sleek fixtures mount directly into the ceiling. They distribute light evenly throughout the space and are great for low-clearance attics.
Pendant Lights
Pendant lights dangling from the apex of the ceiling add a cozy feel. Opt for modern naked-bulb pendants for an industrial vibe. Or try fabric lampshades for a boho-chic look.
Track Lighting
Adjustable heads allow track lighting to be directed freely for maximum flexibility. Use them to define separate activity zones, such as reading nooks, office areas, etc.
Wall Sconces
Sconces mounted on the side walls and rafters can throw light across the room. Use uplights or downlights as needed. This will help build ambiance and character.
Take your pick from these options to bathe your attic in beautiful, even light!
Task Lighting for Maximum Functionality
Let's shift our focus to task lighting that will help you carry out specific activities in your attic without straining your eyes.
Swing Arm Wall Lamps
Mounted on the wall near your seating area, these direct illumination precisely where you need it, like over an armchair. Allows hands-free use.
Desk or Table Lamps
Place them on your work table or reading desk to concentrate light on your tasks. Choose adjustable lamps to position the light just right.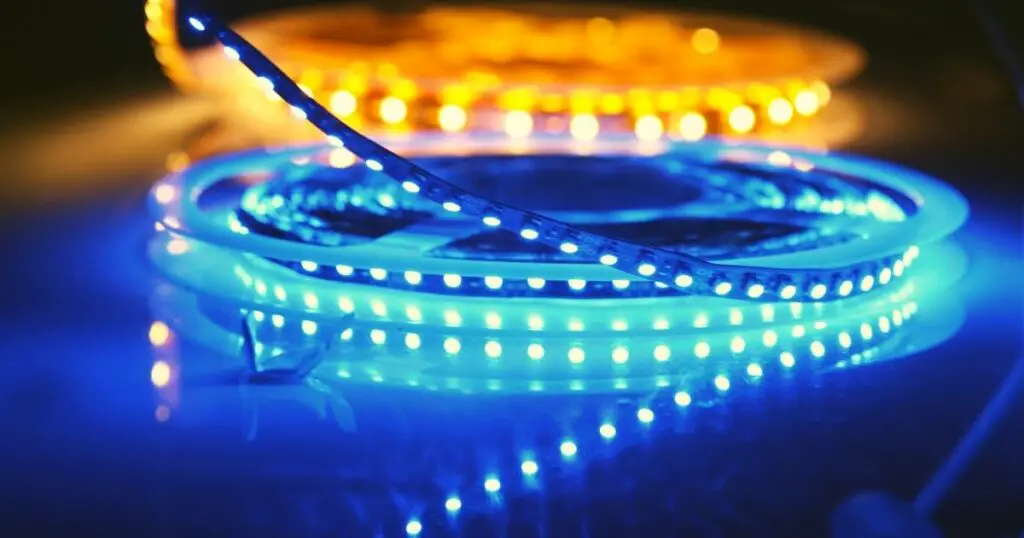 Under Counter Lights
Hidden strip lighting under counters or shelves provides excellent task illumination. Perfect for kitchenettes or craft tables.
Floor Lamps
Freestanding floor lamps with articulating arms can be adjusted to illuminate your current task. Choose modern styles that take up minimal floor space.
Track Lighting
I have already praised track lighting's flexibility. It can be used to accent as well as provide task lighting. Use it near workbenches or desktops.
Your attic can accommodate any project with the right portable and adjustable task lighting!
Accent Lighting to Add Drama
It's time to highlight the best features of your attic with strategic accent lighting. Use it creatively to add depth, drama, and personality to the space.
Picture Lights
Narrow-beam picture lights, wired or battery-powered, draw the eye to artwork, architectural details, or collections on display.
Track Lighting
Once again, flexible track lighting shines here. You can spotlight sloped ceilings, ornamental trusses, wall niches, or whatever else catches your fancy!
Cabinet Lighting
Use LED cabinet lights or strips to illuminate the contents of glass-front cabinets, shelves, or bookcases. This is so much better than tricky interior lighting.
Wall Sconces
Sconces focused on specific wall areas, such as dormer windows and columns, can beautifully highlight architectural details. Uplights work great.
Accent Tables
Small tables beside furnishings fitted with lamps can provide accent lighting. Try matching the lamp style to the furniture.
Even a simple attic can feel unique and polished with strategic accent lighting. Have fun highlighting its best features!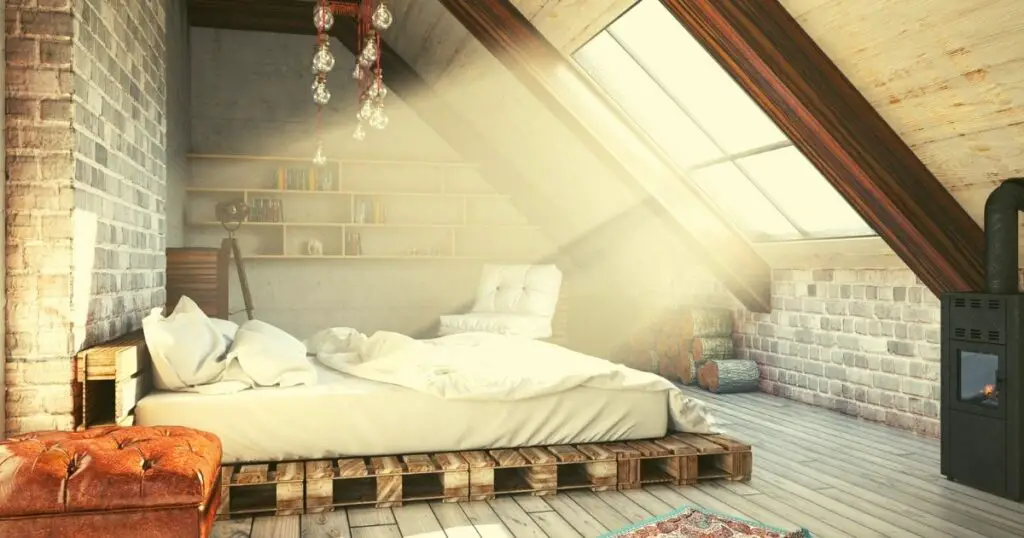 Making the Most of Natural Light in Attics
Despite limited windows and skylights, we can maximize natural light in attics through intelligent design. Take these approaches:
Skylights and Solatubes
To let sunlight in, open the roof with skylights and solar tubes. Diffusers prevent glare and evenly distribute light. Roof windows also work.
Light-Colored Finishes
Paint walls, ceilings, and even floors a pale neutral color to reflect and diffuse natural light. Similarly, incorporate light-hued furnishings.
Mirrored Surfaces
Hang mirrors strategically near windows to amplify incoming sunlight and make spaces feel more sunlit and expansive.
Reflective Decor
Incorporate metal, glass, or acrylic furnishing accents to grab daylight and bounce it around the room.
Sheer Window Treatments
Enable light to filter through with breezy sheer curtains or lightweight blinds in light hues. It still provides privacy!
You can flood even the darkest attic with natural light with a few adjustments! Supplement with energy-efficient artificial lighting as needed.
Choosing the Right Fixtures for Your Attic
Picking lighting fixtures tailored to your attic's unique specifications is critical for creating a well-lit space. Here are some tips:
For angled ceilings, opt for flush mounts, pendant lights, sconces, or track lighting.
In low-clearance attics, pick low-profile fixtures that won't dangle too low.
For ventilation, choose damp-rated fixtures made for covered outdoor areas.
In unfinished attics, look for industrial-style naked bulb fixtures.
For smaller attics, scale down the fixture sizes so they don't overwhelm the space.
Near cabinets and shelving, install recessed strip lighting to illuminate indirectly.
To maximize versatility, go for track lights, rails, and adjustable fixtures.
Take measurements and thoroughly evaluate your options before settling on the perfect attic lighting. Mix and match different kinds of fixtures for visual interest.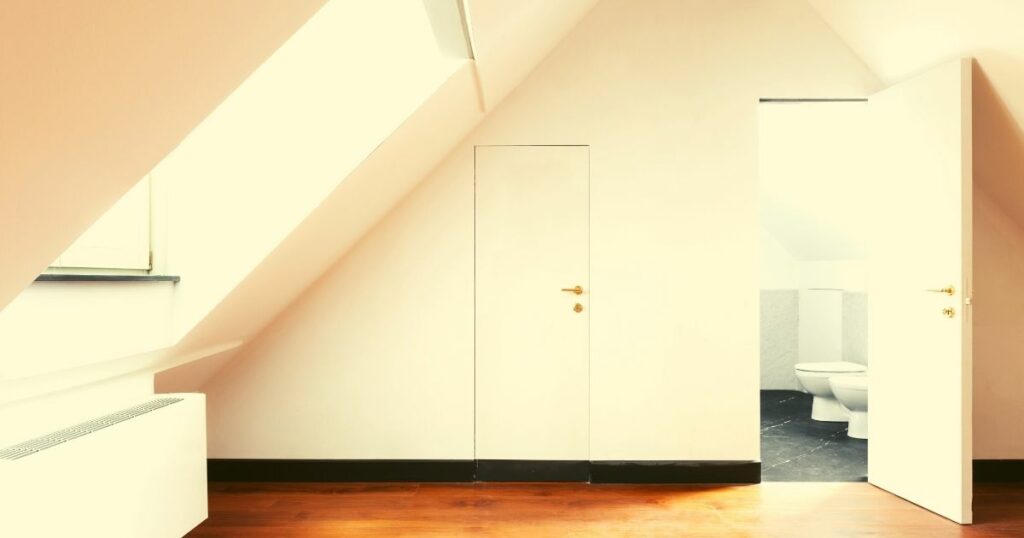 Incorporating Creative Light Sources
Beyond standard fixtures, infuse personality into your attic lighting with these creative touches:
String Lights
There is nothing like dreamy string lights to transform a space. Outline architectural features or drape them over open rafters for a whimsical feel.
Festoon Lighting
Take inspiration from outdoor cafe lighting and install festoon lights with visible bulbs for an intimate, lived-in vibe.
Vintage-Style Filament Bulbs
For an industrial edge, use Edison bulbs, carbon filament bulbs, or G40 globe lights in pendants or exposed fixtures.
Table and Floor Lamps
Inject eclectic flair with vintage table and floor lamps. Play with different shapes, materials, and lampshades.
Sculptural Candle-Style Fixtures
Contemporary candle-wall sconces, chandeliers, and pendants add an artsy ambiance. Try them in multiples.
Lighting is like jewelry for your home! Have fun layering these eye-catching light elements.
Lighting Ideas to Maximize Attic Storage
Many attics double up as storage spaces. Make it easier to find stuff with these clever lighting ideas:
Under Shelf/Cabinet Lighting
Install LED strip lighting to illuminate the contents of shelves, cabinets, cupboards, or bookcases. Choose adjustable brightness.
Freestanding Lamps
Movable floor lamps or table lamps allow flexibility. Place near the area you need to rummage through.
Step Lights
LED step lights are handy for illuminating attic stairs. Add motion sensors for automatic activation.
Closet Lighting
Interior closet lights help locate stored clothes and items. Door-activated or motion-sensing lights are convenient.
Pathway Lighting
Line attic pathways with low-level LED guide lights to create a visible route to your storage areas and prevent tripping.
Strategic storage lighting lets you fetch things from even the messiest, most packed attic!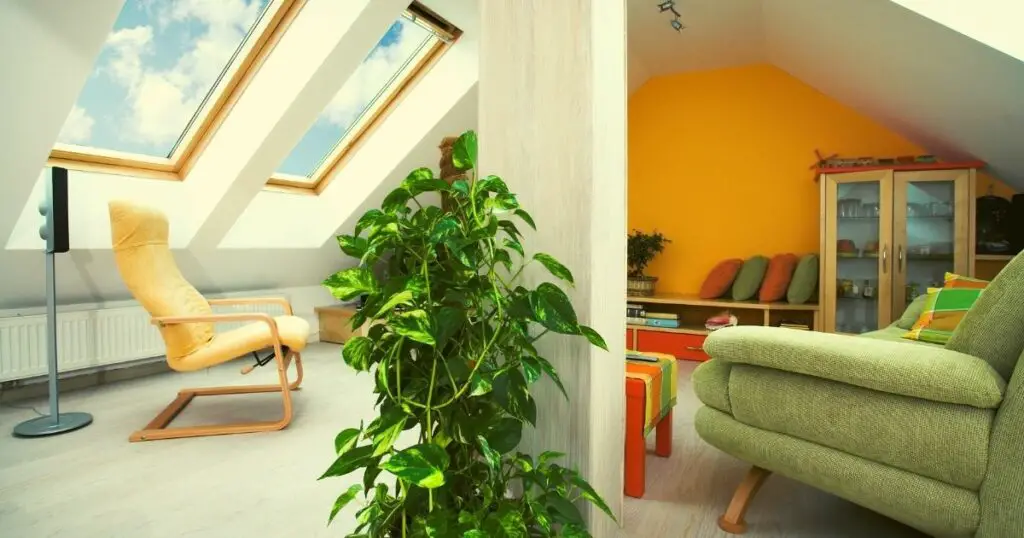 Tips for Attic Lighting Safety
Attics can present some safety considerations. Follow these tips:
Have a licensed electrician install new wiring and lighting to ensure it's up to code.
Opt for modern, cool lighting like LEDs instead of heat-generating incandescent bulbs to prevent fire risks.
Choose fixtures explicitly made for direct contact with insulation to prevent melting issues.
Using battery-powered or low-voltage fixtures for lighting attic stairs to minimize tripping hazards.
If the attic is used as a play area, the lighting must be out of reach of the kids. Either hang the LED strip lighting high or place it out of reach.
Ensure all lighting is properly mounted into wood joists and rafters to prevent collapse.
With common sense precautions, your attic lighting can be perfectly safe for the entire family!
Smart Lighting for Next-Level Attic Spaces
Take your attic into the 21st century with cutting-edge innovative lighting systems:
Smart Switches and Dimmers
Smart switches allow you to control attic lights via smartphone, even when away from home. Set schedules, scenes, and more!
Smart Bulbs
Intelligent bulbs like Philips Hue can be remotely controlled to change color and brightness. Fun for parties or movie nights!
Voice Control Integration
Sync your attic lighting with Alexa, Siri, or Google Assistant for hands-free voice control. You'll never fumble for switches again!
Motion Sensors
Install motion detector lighting in precarious attic stairs or passageways. Lights activate automatically when you pass through.
Lighting Apps
Specialized apps like Philips Hue or LIFX let you control smart lighting from your phone. Try them out!
Embrace intelligent lighting technology to transform your attic from basic to futuristic! It's easier than ever to install.
Tying It All Together with Cohesive Decor
Don't forget the decor details that complement your attic's lighting scheme:
Decorative Lampshades
Pick lampshades that match your decor style – drum shades for modern spaces, empire for traditional, etc. Customize with trims.
Artful Sconces
Choose sconces with exciting shapes, materials, and designs to enhance your theme. For a truly unique look, go for wall sconces that double as art!
Coordinated Metal Finishes
Maintaining the same metal finishes across fixtures, accessories, and furnishings for a pulled-together look.
Lighting as Focal Point
Make a dramatic pendant light or chandelier the visual focal point. Let it inform the rest of your design.
DIY Lampshades
Make custom lampshades from wallpaper, fabric, ribbons, or even dried flowers for one-of-a-kind lighting.
Your attic lighting should blend seamlessly with the rest of your decor. So get creative and have fun designing your dream space!
To Sum It Up…
Phew, that was quite an epic attic lighting journey! Here are the key takeaways:
Evaluate attic-specific factors like sloped ceilings and ventilation when choosing lighting.
Carefully assess how you plan to use the space and pick lighting suited for the purpose.
Blend ambient, task, and accent lighting to create ambiance and functionality.
Maximize natural light with skylights, reflective surfaces, and pale hues.
Opt for attic-appropriate fixtures that are low profile, adjustable, and damp-rated.
Infuse character with string lights, vintage bulbs, and creative lampshades.
Use bright lighting for next-level control and convenience.
Finally, tie everything together with decor that enhances your lighting.
With the right lighting strategy, your attic can be inviting, highly functional, and uniquely you. So don't hide up there in the dark anymore! Try out these brilliant ideas and watch your attic transform before your eyes.
Let me know if you have any other attic lighting dilemmas. I'm always happy to chat more about illuminating these often-overlooked spaces!