Hey friends! Angela here from Home Decor Chat with an illuminating post about attic lighting. As someone living in a century-old home with a spacious attic ripe for a makeover, I've spent my fair share of time puzzling over how to light this often-overlooked space. Proper illumination is crucial for transforming your attic into a functional and fabulous room. But with sloped ceilings, odd angles, and limited natural light, attics can present some unique lighting challenges. Read on for my tips to help you design the perfect lighting plan for your loft Oasis!
Understanding the Lay of the Land
Step one is assessing the existing layout and architectural details when embarking on an attic lighting quest. This will determine the lighting possibilities for your space.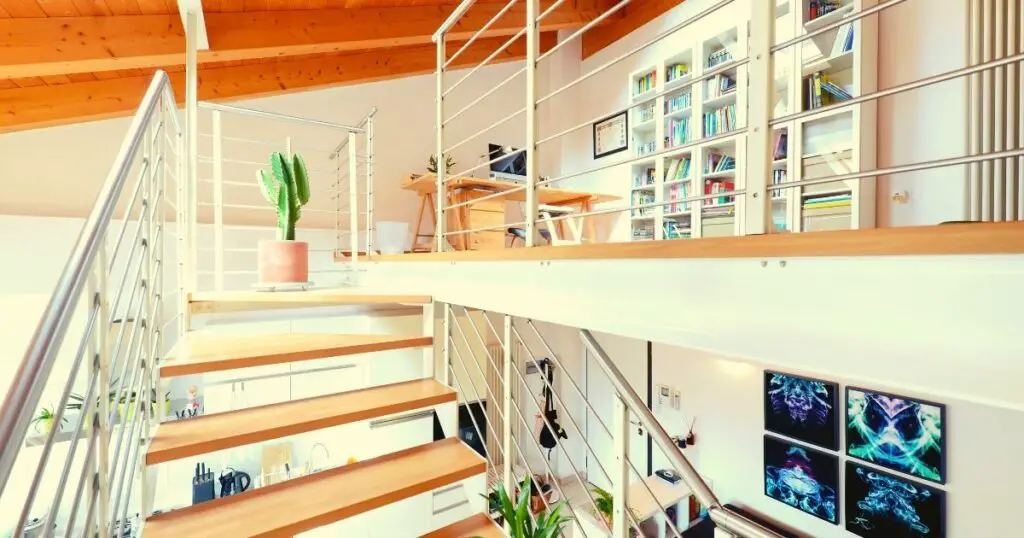 Taking Measurements
Grab a tape measure and notebook to jot down the attic's key dimensions. This includes the length, width, and ceiling height at its lowest and highest points. Account for any ductwork, vents, or other obstructions in the usable square footage. Knowing your attic's overall size and shape will help guide appropriate lighting choices.
My attic's length and width are roughly 20 feet by 10 feet. But the ceiling height ranges dramatically from 6 feet at the sides to 12 feet at the center peak! This ceiling variance allows for some fun lighting layers.
Scoping Out Special Features
Take stock of architectural characteristics like dormers, exposed beams, or trusses. Make a note of windows or skylights welcoming that magical natural light. These particular traits impact the aesthetics and illumination of your space.
My attic has two petite gable windows at either end and a nearly floor-to-ceiling dormer window straight ahead. While the small windows don't provide ample light, the large dormer floods the center attic with sunshine. I knew this differential in natural light would allow me to get creative with the artificial lighting design.
Zoning In On Purpose
Before selecting any fixtures, consider how you want to use your attic. An attic lounge, home office, or kid's playroom have different lighting needs. Consider when the space will typically be occupied and what activities will occur there. This will dictate the correct lighting functionality.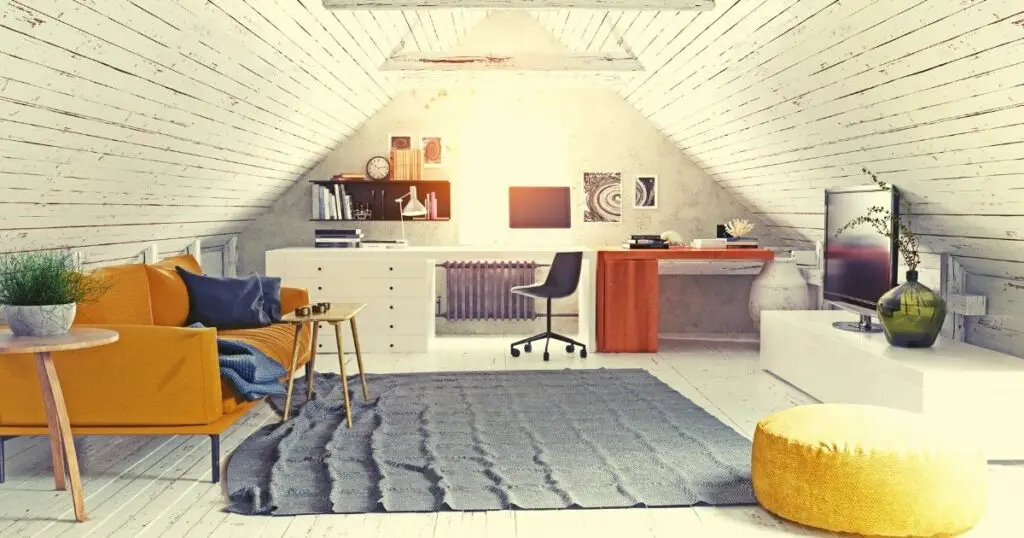 My attic is a part-time living area where I can read, work on my blog, or do crafts on weekends and evenings. This called for a multifunctional approach: ambient lighting for general illumination and task lighting at my work-nook. The ability to adjust brightness settings for day versus night was also crucial.
Styling Your Space With Lighting Layers
With the layout and purpose determined, it's time for the fun part – picking the light fixtures! When designing your attic's lighting scheme, think in terms of layers. Combine different fixture types and placements tailored to your needs and style.
Finding The Foundation With Ambient Lighting
Ambient lighting forms the base layer of illumination in a space. It provides overall or "general" lighting to perform basic activities. Installing LED panels or recessed ceiling lights are great ambient options for attics.
I chose simple round LED ceiling fixtures scattered throughout the center of my attic to create a bright yet cozy foundation. The panels are energy-efficient and cast a clean, even glow. Their low profile blends nicely with the sloped ceiling.
Adding Some Focus With Task Lighting
Now it's time to amp things up with task lighting! Task lights offer concentrated illumination for reading, working, or playing games. They reduce eye strain while boosting visibility and productivity.
For my blogger work-nook, I installed an articulating swing arm sconce. This casts a beam of light directly on my laptop without glaring in my eyes. I also added a slender table lamp beside my comfy reading chair in the dormer nook. The adjustable swing arm and dimmer switch allow me to modify the lighting.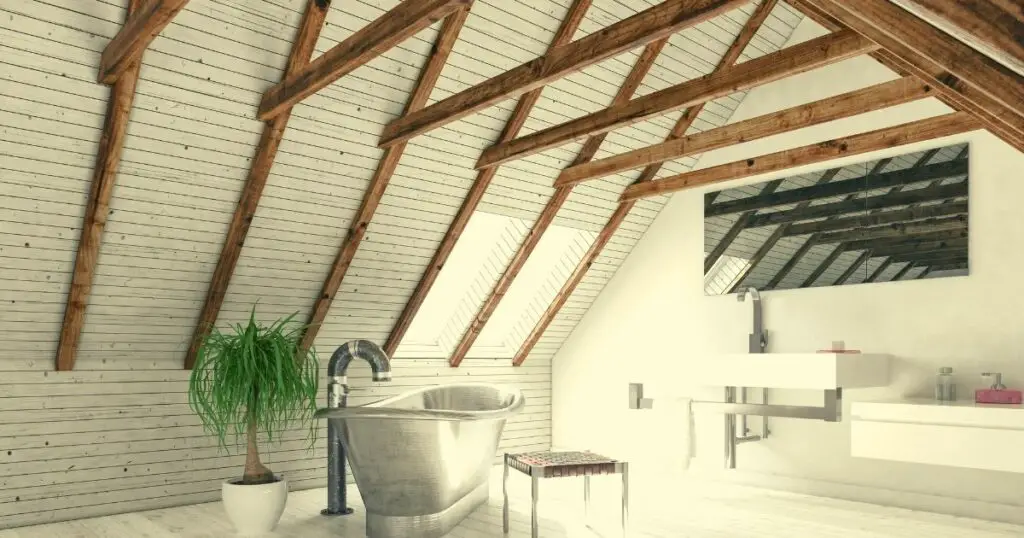 Bringing In Some Sparkle With Accent Lighting
Accent lighting puts the finishing touch on your attic. It creates visual interest by drawing attention to architectural details or decor. Spotlights, track lighting, or specialty fixtures like a chandelier can provide gorgeous accent lighting.
I chose mini recessed spotlights to accentuate the sloped ceilings and expose the charming wood beams in my attic. The narrow beam disperses a gentle pool of light, adding depth and dimension. Accent up-lighting also spotlights the large metal vent – transforming a functional eyesore into an industrial-chic decorative feature!
Mixing and Matching For Personal Style
Don't be afraid to mix fixture designs for a collected, curated look when layering your lighting. My eclectic blend of modern LED panels, vintage pendant lamps, and antique library sconces reflects my style. The variety of shapes, finishes, and eras adds character and visual intrigue.
Have fun playing with different fixture styles and placements until you find the perfect light recipe for your attic. There's no single formula – your unique lighting collage should shine as brightly as your personality!
Location, Location, Location
Finding ideal spots to install fabulous new fixtures is critical for lighting success. Follow these guiding principles for placement, keeping safety and proper wiring in mind.
Mounting Ceiling Fixtures
Overhead lighting is ideal for dispersing ambient illumination throughout your attic. Just ensure the fixtures are correctly secured and positioned.
For low ceilings, flush or semi-flush mount lights keep things streamlined.
Recessed cans are great for attics with more generous headroom – angle them to light specific zones.
Hire a professional electrician if wiring new overhead fixtures from scratch.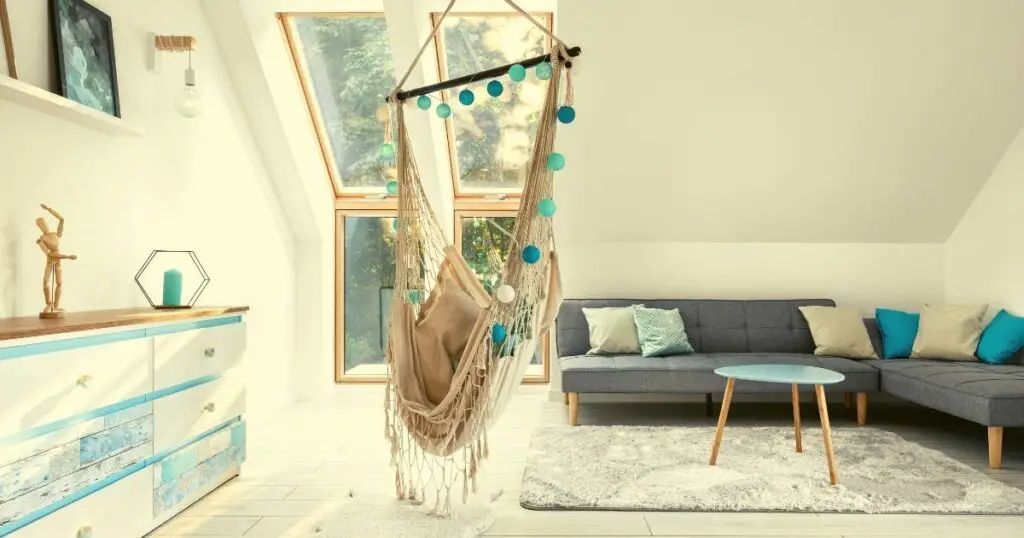 Hanging Out With Wall Lighting
Wall fixtures conserve floor space and create cozy pools of light. For attics, wall sconces and swing arms are handy.
Place sconces strategically near seating areas or workspaces for ambiance and task lighting.
Swing arm lamps allow flexible directional lighting when mounted above desks or tables.
Slim, horizontal fixtures work well on narrow attic walls, while vertical styles suit peaked gables.
Have Some Fun With Portables
The possibilities for portable fixtures- floor lamps, table lamps, string lights- are endless! These amp up the ambiance and can be moved wherever needed.
Floor lamps with directional heads provide ample, adjustable task lighting.
Table lamps are ideal for small desks, nooks, and beds.
String lights instantly inject a playful, dreamy vibe – drape them across beams, walls, or ceilings.
Smarten Up With Tech
Installing bright lighting offers next-level convenience and efficiency through remote app controls. Perfect for hard-to-reach attic spaces!
Smart bulbs allow voice-activated, color-changing illumination – score!
Preset customized scenes for an ambient glow, task illumination, or accenting.
Scheduling and dimming controls help save energy when not occupying the attic.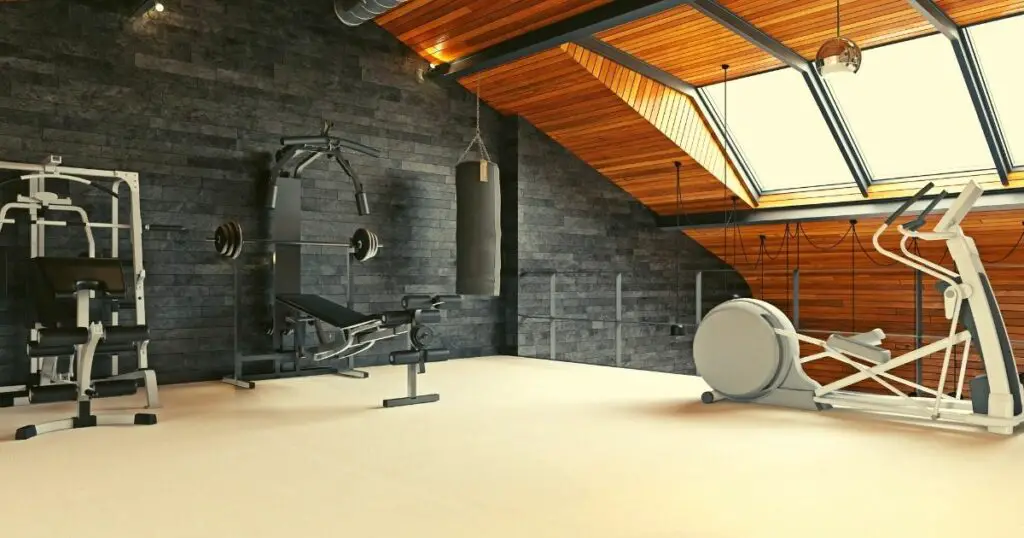 Get creative and highlight those sloped ceilings and architectural trusses! Now comes the best part – soaking up the glowing ambiance of your newly illuminated attic. Lounging with my favorite novel in the dormer daybed, writing blog posts at my cozy work nook, or hosting friends for movie nights – the lighting possibilities are truly endless. Don't forget those cool string lights for an Instagram-worthy attic hangout space!
Wishing you lots of bright ideas and happy illuminating! Over and out from my attic oasis.
Bonus Tips
Incorporate mirrors or reflective metallic finishes to bounce more light around.
Warm 2700-3000K color temperature bulbs give off an inviting attic glow.
Choose sufficient lumens (brightness level) for day and night needs.
Diffusers soften harsh lighting – try frosted bulbs or lampshades.
Maximize natural light with skylights and consider solar tube lights.
Hire a professional lighting designer for extremely complex attic projects.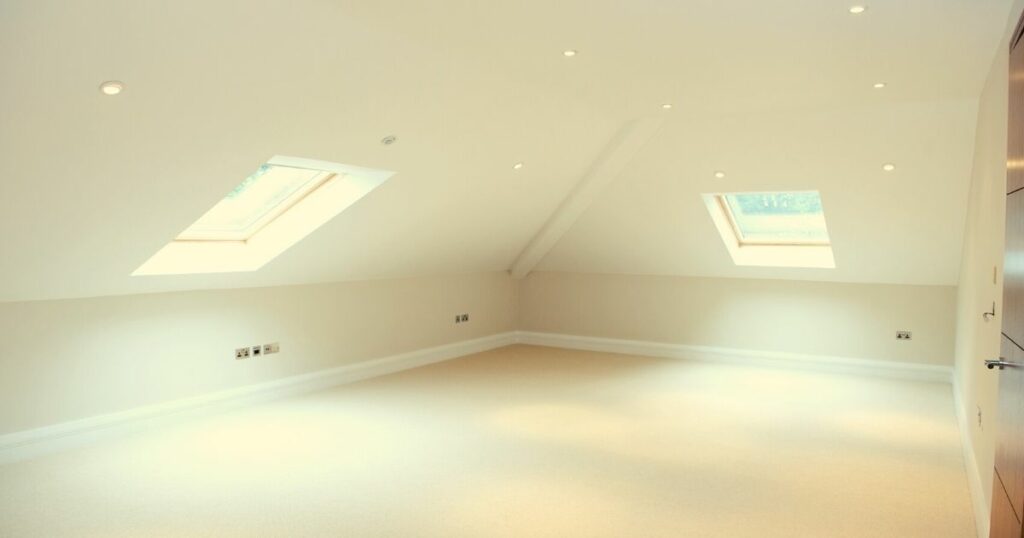 Let Your Light Shine!
Lighting your attic might seem daunting, but if you take it step-by-step, you'll be successful. Start by evaluating your space, identifying your goals, and gathering inspiration. Mix and match different fixture styles while considering placement for optimal illumination and ambiance. Adhere to electrical and building codes, then flaunt your fabulous attic sanctuary!
Are you full of light bulb moments? Share your attic lighting tips and tricks below. I'd love to hear your bright ideas! I wish you smooth sailing through all your home improvement projects.