As an interior designer and dog lover living in Charlotte, North Carolina, I know firsthand how challenging it can be to keep our homes organized – especially our bathrooms! Between multiple people sharing a space, accumulating toiletries, limited storage, and trying to maintain a clean, decluttered look, it's easy for our bathrooms to become messy catchalls.
But having an organized bathroom doesn't have to be complicated! With creativity and forethought, plenty of clever storage solutions can transform even the tiniest bath into a spa-like oasis. Read on for my 11 favorite ideas to make organizing your bathroom an absolute breeze!
Understanding the Bathroom Storage Dynamics
Before diving into specific organizing ideas, it helps to understand some of the shared storage challenges in bathrooms:
Toiletries Galore: Between makeup, skincare, hair products, and more, our toiletries can quickly get out of control if not properly corralled.
Lack of Storage Space: Many bathrooms, especially in older homes, need more cabinet and drawer space.
Moisture and Mildew: The humid environment can damage items if not stored properly.
Multiple Users: When multiple people share a bathroom, finding space for everyone's articles can be tricky.
With those challenges in mind, let's explore solutions! I've compiled my 11 favorite storage ideas to maximize every inch of your bathroom.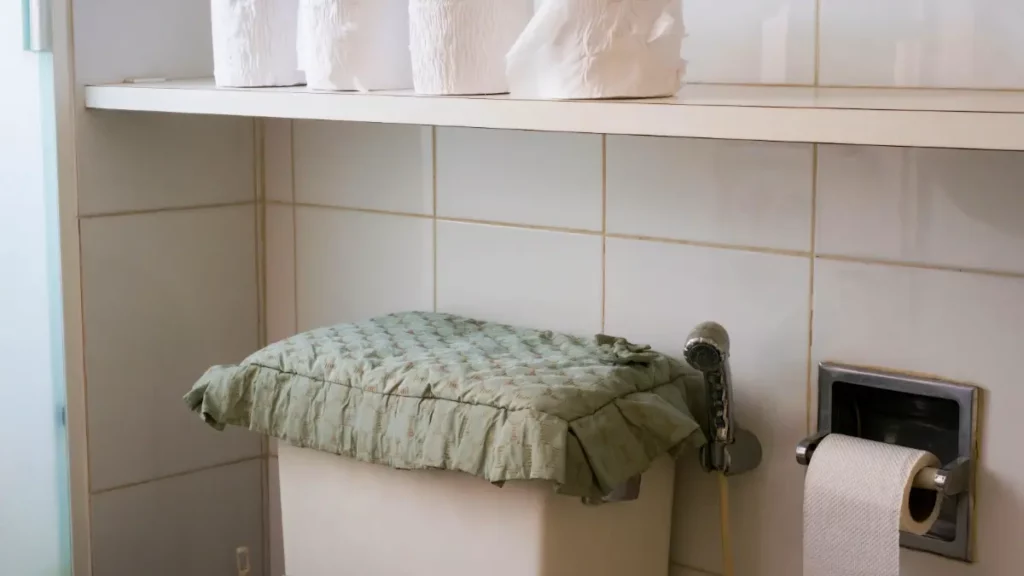 Over-the-Door Storage
Over-the-door storage is one of my favorite bathroom organizing hacks. Install hooks, shelves, or storage caddies on the back of your bathroom or linen closet door to create more space for towels, toiletries, and hair tools.
Benefits:
Maximizes unused space
Easy to install
Provides quick access to frequently used items
The back of the door is prime real estate that often goes overlooked! Install hooks, shelves, or organizers over the entrance to neatly store:
Towels
Toiletries, such as cotton swabs, hair products, and toiletries kits
Hair tools, like curling and flat irons
I love the simple chrome hooks from Organize It for hanging multiple towels. Check out clever over-the-door caddies by Zenna Home and SimpleHouseware for toiletries and hair tools.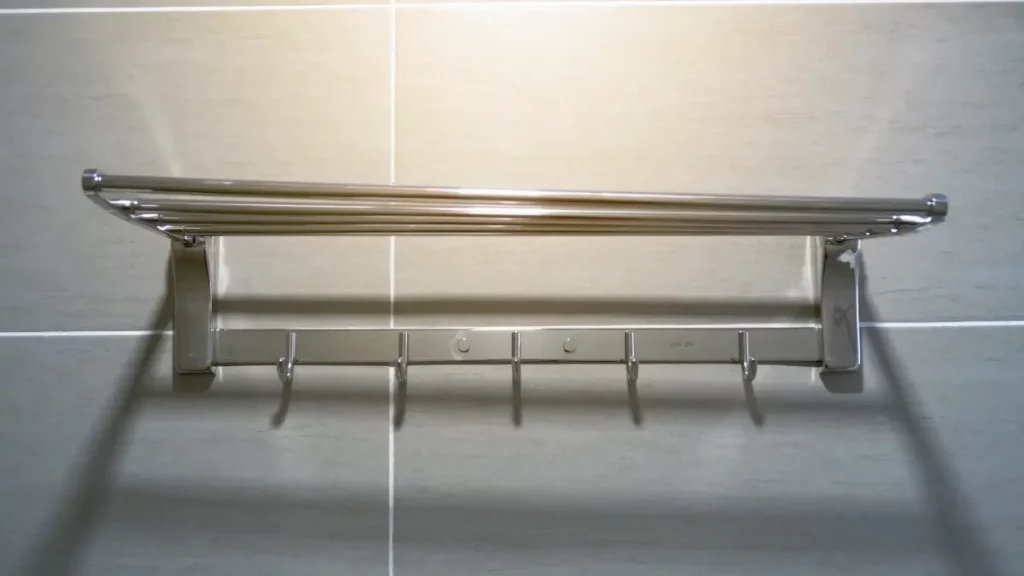 Floating Shelves
Floating shelves are a gorgeous way to add open, airy storage to your bathroom without overcrowding. Mount these adjustable shelves anywhere on your wall to hold daily-use items or decorative pieces.
Benefits:
Fully adjustable based on your height preferences
Space-saving and airy-looking
It can be customized in size, depth, and finish
Floating shelves are a flexible way to add storage without the bulk of full cabinets. Use them to display attractively:
Decorative items like candles, plants, or artwork
Daily use toiletries, such as soap, lotion, and toothbrush holders
Neatly folded washcloths and hand towels
For a clean, modern look, try the Sauder floating shelves. Or go with a rustic wood shelf like this one from Wallscapes. Install at your ideal height and style as you wish!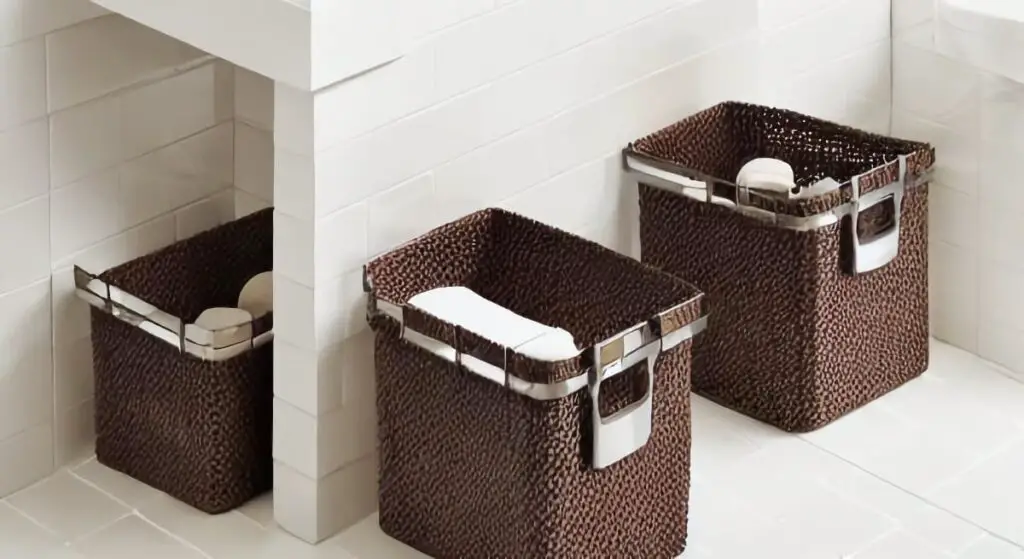 Magnetic Cosmetic Boards
Get crafty with a DIY magnetic board to keep your beauty supplies organized yet visible. Or opt for a ready-made one to mount on your wall—either way, it keeps your makeup, brushes, and more right at your fingertips.
Benefits:
Fun DIY project possibility
Keeps makeup visible and accessible
Get creative with your DIY magnetic board for storing beauty items. Simply attach a sheet of magnetic primer to a piece of wood or other surface, then cover it with your choice of fabric. Use it to organize:
Makeup brushes and tools
Cotton balls, swabs, and other toiletries
Hair clips, ties, and accessories
Need to get into DIY? Companies like Three Posts sell ready-made magnetic boards explicitly designed for cosmetics storage.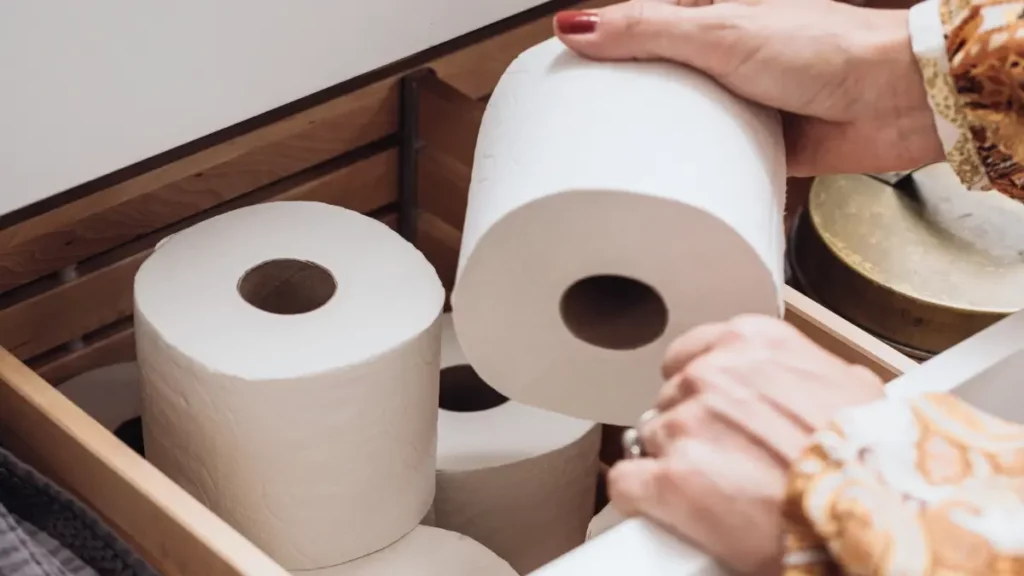 Ladder Storage
Ladder shelves lend a rustic or modern vibe while providing excellent real estate storage. Lean one against any bare wall to drape towels, hang baskets, or display toiletries in style.
Benefits:
Adds vintage or modern flair
Multi-use functionality
A ladder shelf leans perfectly against the wall when unused, providing easy access to stored items. Try using one to:
Neatly drape folded washcloths and towels
Hang baskets for extra toiletries
Tuck away cleaning supplies or bath toys
Ladders crafted from wood, metal, or even PVC pipes work beautifully. I especially like this industrial pipe ladder from Graceliv for a modern touch.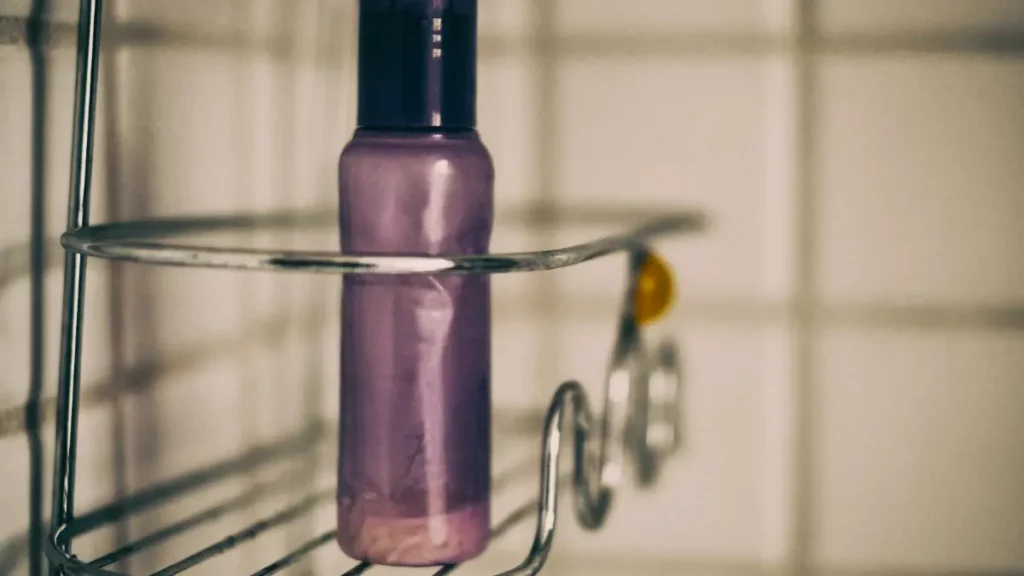 Tiered Trays
Stacked trays instantly add height and visible organization to bathroom counters. Spinning organizer trays are ideal for holding daily-use makeup and jewelry.
Benefits:
Maximizes vertical counter space
Easily customized to your needs
Tiered trays are ideal for keeping your most-reached items organized yet visible. Use spinning organizer trays for:
Daily makeup, skincare, or dental products
Hair accessories like scrunchies, headbands, or barrettes
Jewelry such as rings, earrings, and wristlets
Acrylic cosmetic organizers work well for cosmetics, while pretty ceramic or wood trays nicely corral jewelry. The possibilities are endless when stacking and styling!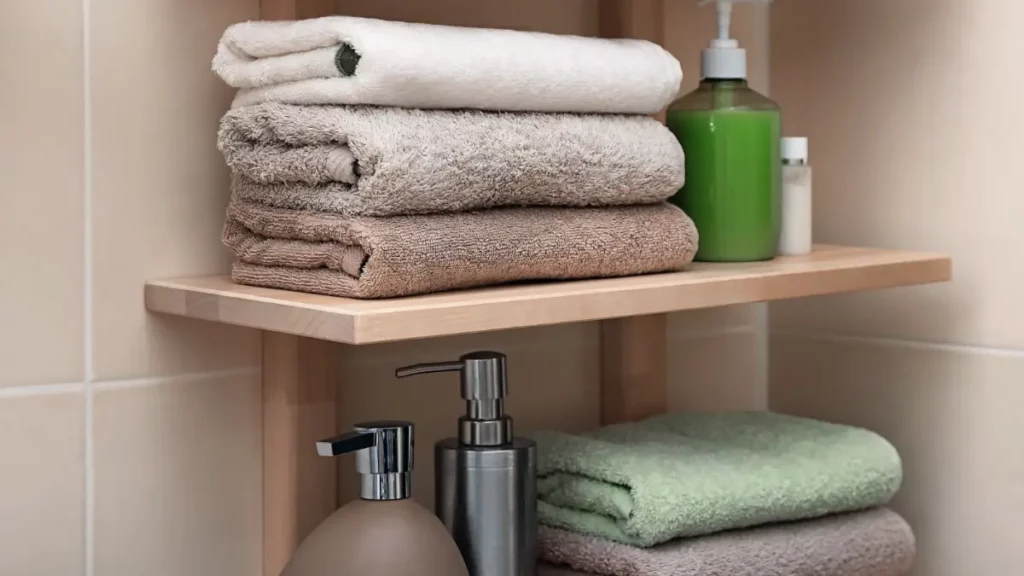 Maximizing Cabinet and Drawer Space
Now, let's dive into ideas for making the most of your bathroom's existing cabinet and drawer storage. Even if you're dealing with a tiny vanity, there are ways to maximize every inch!
Pull-Out Under Sink Organizers
Don't let that hollow space under your bathroom sink go to waste! Install pull-out organizers to neatly arrange hair tools, cleaning supplies, and backup toiletries.
Benefits:
Make use of dead space
Improve access to items in the back
Many bathroom vanities have ample under-sink space that ends up well-spent. Add pull-out organizers to arrange neatly:
Hair tools and styling products
Cleaning supplies like sponges and detergent
Extra toiletries and backup supplies
Slide-out trays, drawer organizers, and tiered pull-out bins work wonderfully. Take measurements to find an optimal fit for your plumbing.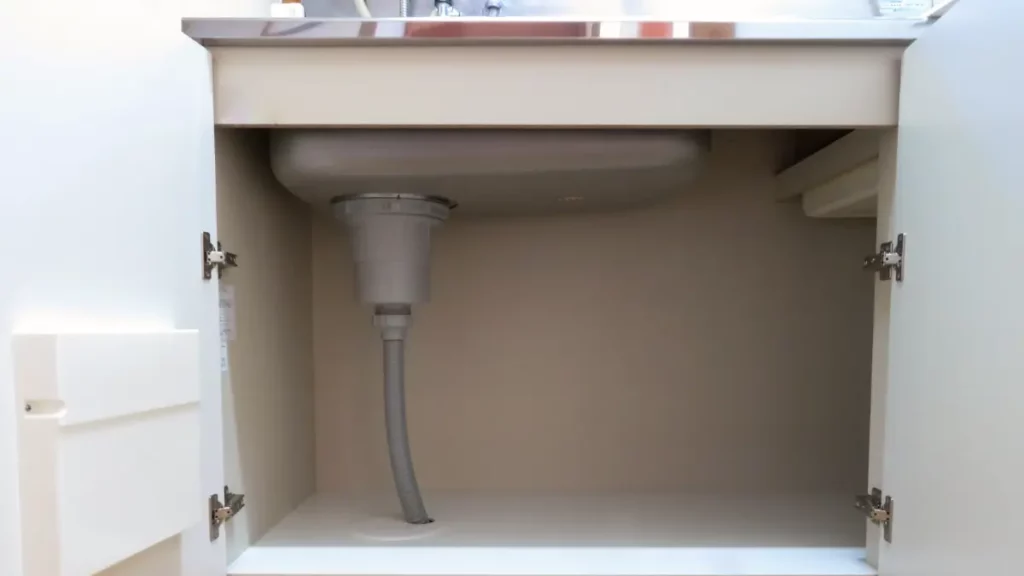 Mason Jar Storage
Upcycle mason jars into bathroom storage with vintage farmhouse charm. Group them for toothbrushes, cotton balls, makeup brushes, and other small necessities.
Benefits:
A sustainable way to repurpose jars
Visually appealing for bath décor
Reuse mason jars to store small necessities like cleverly
Cotton balls, swabs, and makeup sponges
Toothbrushes and pastes
Makeup brushes
Hair ties and accessories
Depending on your aesthetic, neatly lining the jars or creatively clustering them can look chic. Add chalkboard labels if desired.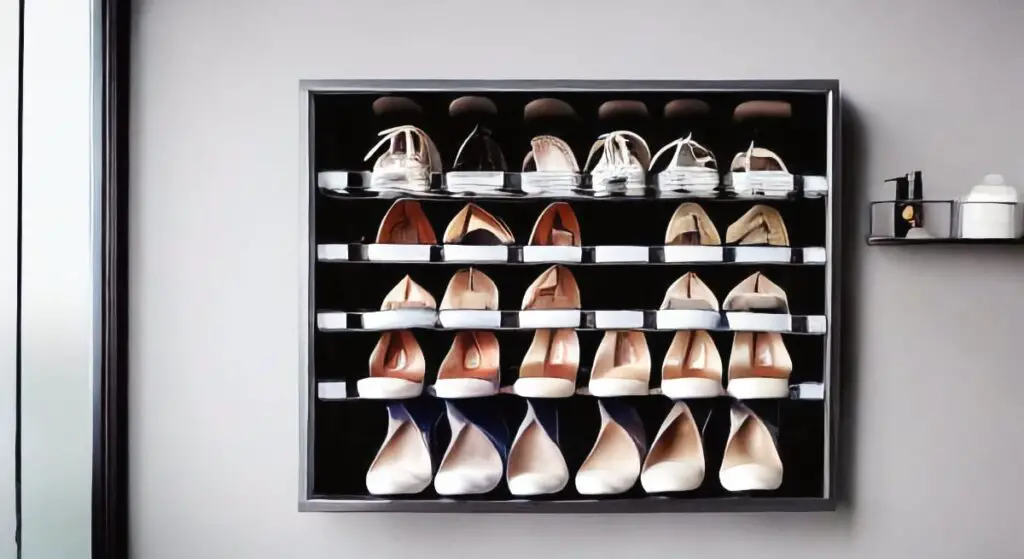 Wall-Mounted Baskets
Free up counter space by mounting woven, metal, or bamboo baskets to your bathroom walls. Use them to hold rolled towels, toiletries, plants, and other essentials.
Benefits:
Keep counters clutter-free
Easy access to items
Stylish accent piece depending on the material
Baskets screwed into the wall or mounted on rails are perfect for tucking away:
Rolled-up towels and washcloths
Extra soaps, lotions, and toiletries
Small bathroom plants or decor
Options range from woven seagrass to metal wire to bamboo—pick whichever suits your style. I'm currently loving these woven water hyacinth storage baskets.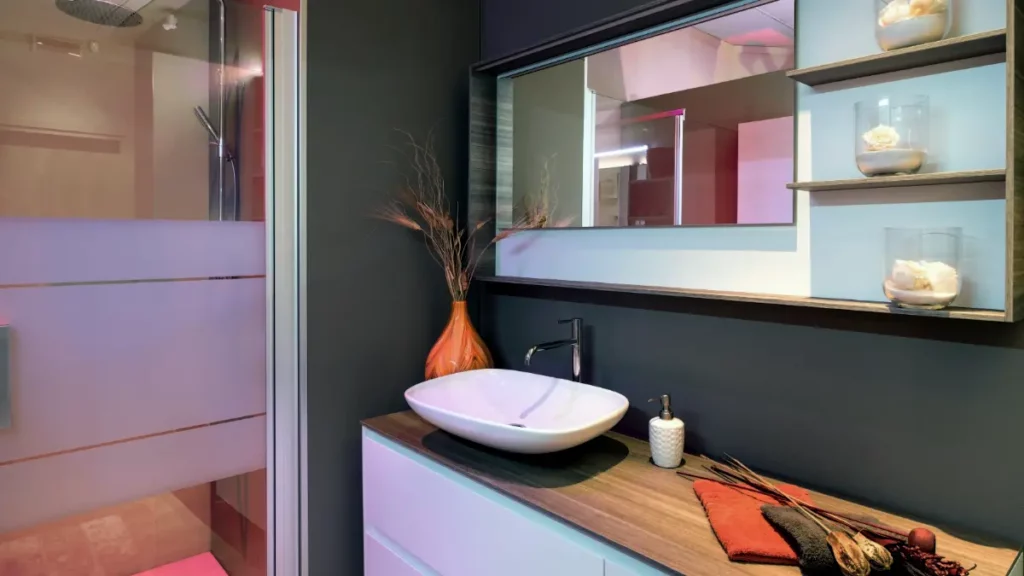 Behind-the-Mirror Storage
Take advantage of the hidden space behind your bathroom mirror with a medicine cabinet or built-in shelving. Tuck away anything you want out of sight but still easily accessible.
Benefits:
Concealed storage that doesn't take up space
Easy access to items
Take advantage of the area behind your mirror by installing:
A cabinet-style medicine chest
Mirrors with built-in shelving or cubbies
Use the hidden storage area to tuck away extra toiletries, first aid supplies, or bathroom cleaning tools. It's also an excellent spot for stowing "private" items you want out of sight.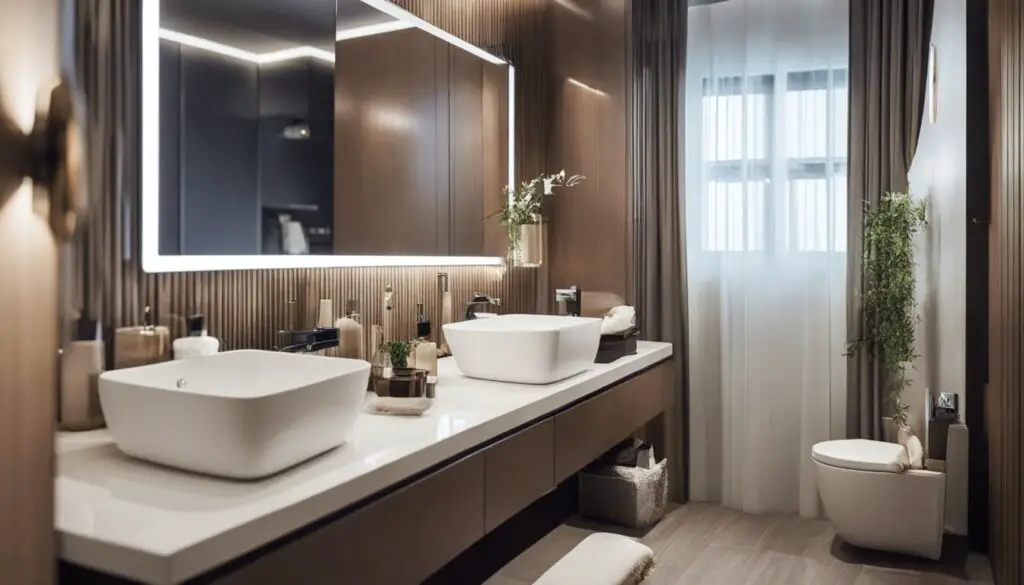 Rolling Cart Organizer
Take advantage of the hidden space behind your bathroom mirror with a medicine cabinet or built-in shelving. Tuck away anything you want out of sight but still easily accessible.
Benefits:
Provides flexible, movable storage
Easily tucked out of the way when not needed
A rolling cart on wheels can effortlessly be moved in or out of the bathroom as needed. Use one to hold:
Backup toilet paper and paper towels
Extra towels or washcloths
Hair tools that don't need to stay on your vanity
Kid's bath toys or shower supplies
Simply roll the cart into a corner or small area when not needed. I love the slim profile of this LuxeDecor bath cart!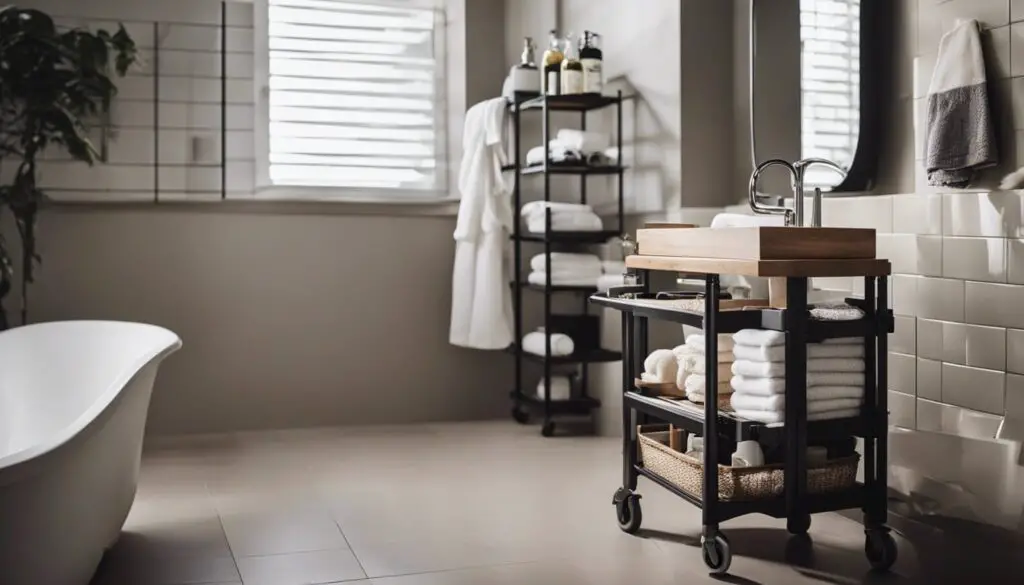 Creative Touches and Display Ideas
Lastly, don't forget the value of aesthetically styling and displaying your towels, toiletries, and other bathroom essentials. These creative ideas help add decorator flair while keeping things neat and accessible.
Over-the-Tank Toilet Paper Holder
Bring storage to the toilet with a caddy atop your tank. Keep extra rolls and supplies at arm's reach without occupying floor space.
Benefits:
Makes use of otherwise unusable space
Easy installation that takes just minutes
Bring storage to the toilet by placing a caddy on your tank. These are ideal for stashing necessities like:
Backup toilet paper rolls
Extra toiletries and supplies
Air fresheners or sanitizing wipes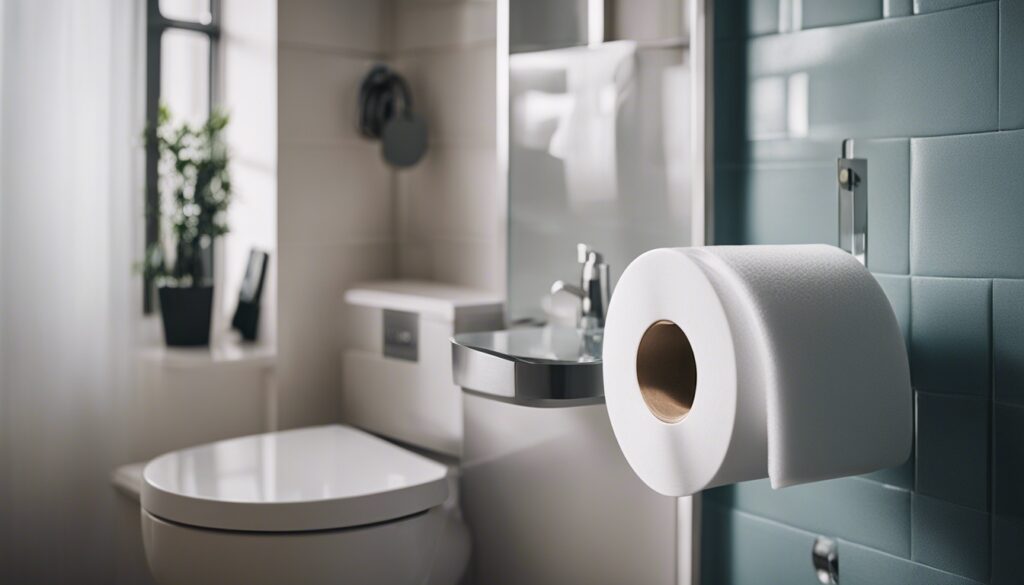 Simple human products and mDesign both make space-saving bamboo over-tank storage caddies. Place whatever you need quick access to while on the throne!
Get Creative with Bathroom Storage Solutions
I hope these ideas have your wheels spinning with ways to add storage to your bathroom—no matter how big or small the space! Creativity and elbow grease allow you to transform even the most disorganized bathroom into a spa-like oasis.
Remember, storage solutions don't have to be boring. Have fun with baskets, trays, and other decorative containers to add style while keeping necessities handy. And take time to assess your space and habits to understand what and where you need storage most.