Hey friends! It's Amanda here, back with another dose of home decor inspiration. I know how tricky it can be to decorate a space when you're working with a limited budget. We all wish we could give our homes a dreamy Pinterest-worthy makeover, but reality often demands we get creative with minor changes.
Nowhere is this more evident than in the bathroom. As essential as it is, the bathroom usually sits on the back burner for decor upgrades. After all, guests don't see it as often as the living room or kitchen. But here's the thing — your bathroom still deserves some design love! And just because funds are tight doesn't mean you can't spruce it up.
So brew coffee and grab a pen because I share ten creative ways to decorate your bathroom on a budget. I promise these ideas go beyond basic bathroom necessities. Let's have some fun putting your personality into the space!
Repurpose and Upcycle
One of my favorite budget decor techniques is repurposing everyday household items creatively. You can often give forgotten things a new lease on life with a bit of imagination! Here are some upcycling ideas for the bathroom: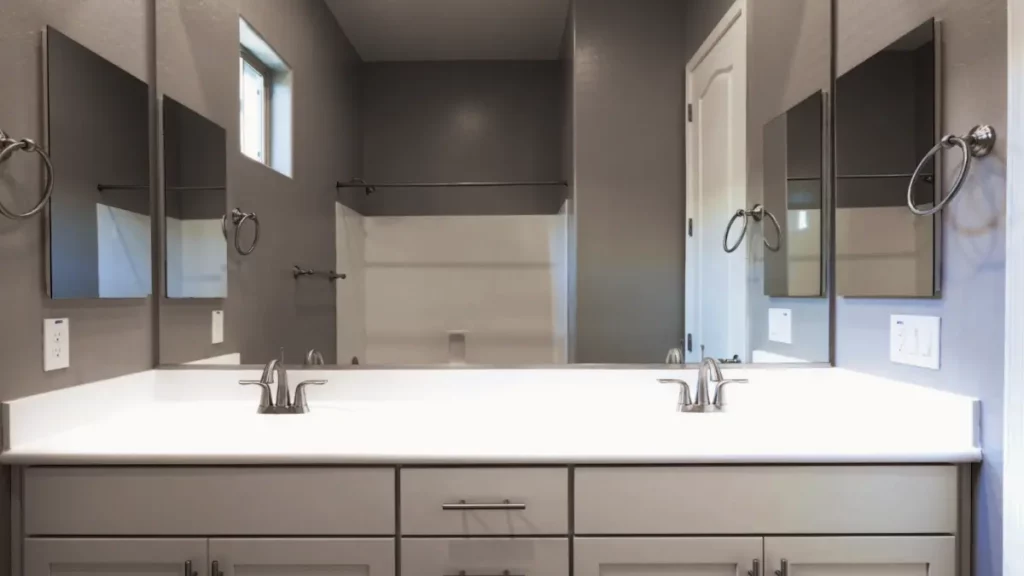 Use old mason jars for storage or as toothbrush holders. Those mason jars gathering dust in your pantry can be perfect for holding cotton balls, Q-tips, and makeup brushes in your bathroom. You can turn them into soap dispensers or fill them with Epsom salts for a relaxing DIY bath experience.
Refurbish an old wooden ladder as a towel rack or shelf. A vintage ladder placed against the wall makes an artsy towel rack. Or you can lay it horizontally as a narrow shelf for rolled-up washcloths, candles, and other bathroom essentials.
Convert wooden crates or old drawers into under-sink storage. Stack wooden boxes or install a retro chest of drawers under your sink to corral all the items like cleaners and extra toilet paper rolls. Paint or stencil them to coordinate with your decor.
The options are endless when looking at old items with a "how can I use this in my bathroom" perspective. It takes a little elbow grease, but transforming flea market finds or grandma's hand-me-downs into functional decor is so rewarding!
DIY Wall Art
Are bare walls getting you down? I've covered you with some easy DIY art ideas to make your bathroom pop!
Create your wall prints using free online resources or stencils. Websites like Canva allow you to design custom prints by remixing their templates and photos. Or get artsy with removable wall decals, free printable wall art, or your hand-painted stencil designs.
Frame pages from old magazines, calendars, or discarded books. I love flipping through old reading materials and pulling out full-page photos, illustrations, or even single words to frame. Tip: Stick pages onto colored paper before inserting them into a frame so the edges don't show.
Paint a mural or accent wall using leftover paints. Get creative and paint a forest mural, geometric pattern, or soothing color gradient using small amounts of paint excess from other projects. Even painting a single accent wall in a bold or mood-enhancing shade can make a statement.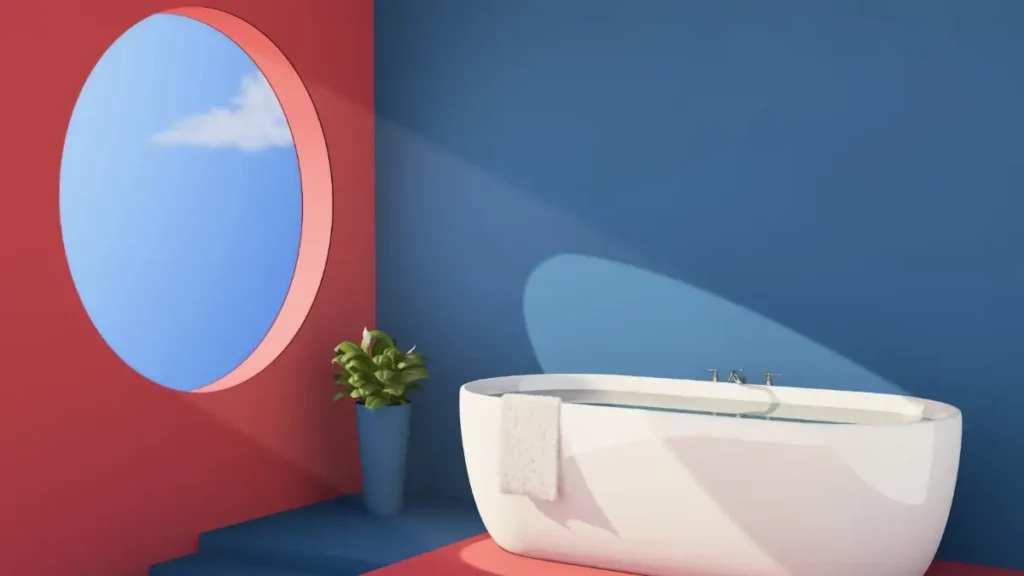 dding unique art is one of the most affordable ways to infuse personality into your bathroom. It transforms the vibe and makes the space feel curated when done right. Artwork is as essential as towels and toilet paper!
Affordable Peel & Stick Tiles
If your bathroom walls or floors look a little lackluster, let me introduce you to the magic of peel-and-stick tiles! These self-adhesive tiles have become a budget decorating favorite for a good reason – they're low commitment and super easy to install.
Here are some tips for working with peel-and-stick tiles:
Thoroughly clean the installation surface and remove any protruding nails, soap residue, etc., that could prevent adhesion.
Measure the area and purchase adequate square footage of tiles. Buy a couple extra, just in case!
Lay tiles out on the floor first to visualize placement and test fit.
Remove the backing and place carefully, using spacers and a level for accuracy. Press each tile firmly to ensure a good grip.
Use a sharp utility knife to trim any perimeter tiles needed.
Allow adhesive to cure before grouting or using the space entirely.
With so many colors and patterns, peel-and-stick tiles open up a world of options for bathroom floors, walls, backsplashes, and more. I especially love using them to create a bold accent wall on the cheap!
Plants & Natural Elements
As a proud plant mom, I firmly believe every bathroom needs greenery! Plants can purify the air, add life, and even boost your mood while showering. And they make great decor additions on the cheap.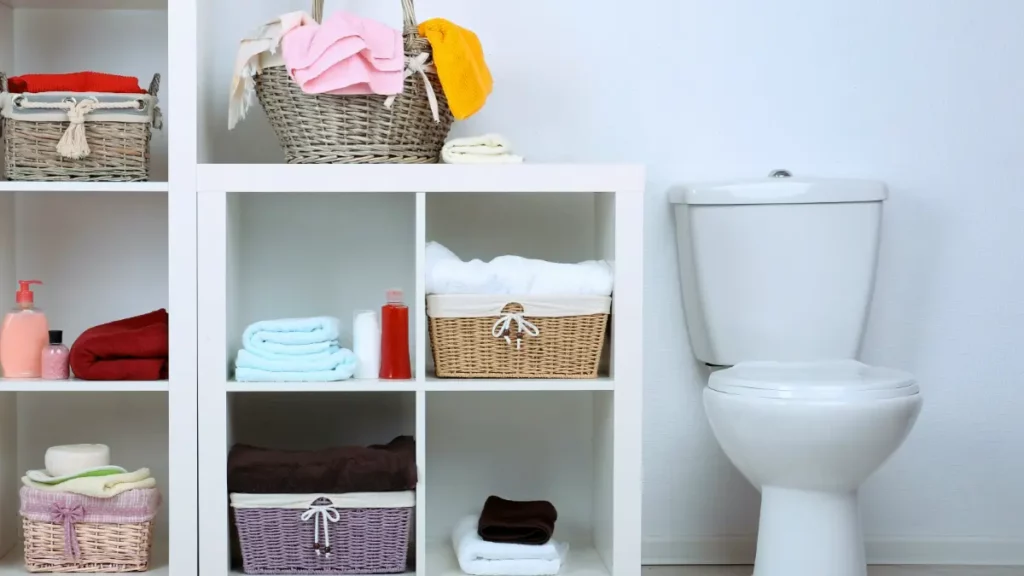 Some of my favorite plants for bathrooms include:
Ferns. With their preference for humidity, varieties like Boston ferns thrive in bathrooms.
Succulents. Low-maintenance succulents, like aloe or snake plants, tolerate low light.
Orchids. Beautiful in bloom, orchids do well in bathrooms as long as you water sparingly.
Beyond plants, I love incorporating natural elements like pebbles, shells, and driftwood. You can display these finds in glass jars or bowls or use them to make simple wall art and DIY bathroom accessories.
Change Hardware & Fixtures
Giving your existing hardware and fixtures a makeover is one of the most accessible and affordable ways to change the look of your bathroom. Here are some ideas:
Replace old knobs and pulls on vanities and cabinets with updated hardware. Brushed nickel and oil-rubbed bronze have a modern feel.
Swap out an outdated faucet for a sleek, minimalist model. Newer water-saving faucets start at around $50.
Freshen up your mirror frame with a coat of metallic spray paint in rose gold, bronze, or silver for an instant change.
Change lighting with new finishes. Black nickel or brass light fixtures can make a statement.
Paint the overhead vent hood or replace it with a stylish new model.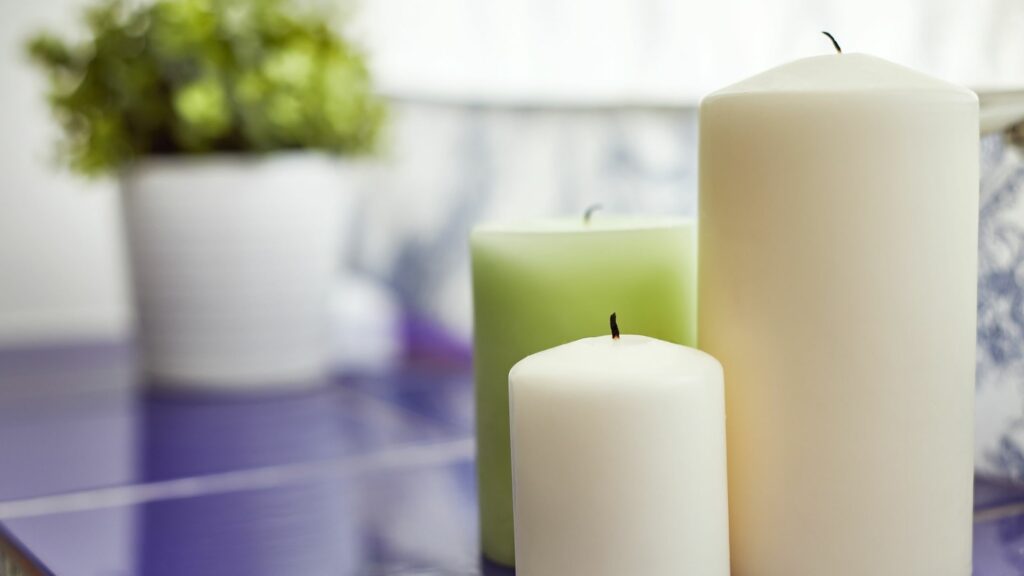 Browse clearance sections and stores like Habitat for Humanity for significant discounts. And don't forget the power of DIY – sometimes spray paint is all you need to give fixtures new life!
Revamp with Fabrics
Fabrics are an easy and affordable way to refresh a bathroom's look. Here are some of my favorite ideas:
Sew a new shower curtain from clearance fabric. Add style by picking a vibrant pattern or unique material like faux leather or lace.
Make your bath rug using absorbent terry cloth wrapped around a rubber mat base. Custom-fit to any size.
Display stacks of rolled washcloths or hand towels in a woven basket or ceramic vase for a spa vibe.
Use an ornate scarf, tablecloth, or tapestry as an alternative to traditional curtains on windows. Hang with clip rings.
Don't be afraid to mix and match. Mismatched towels in different hues or patterns add eclectic flair. Changing your shower curtain and accessories with the seasons is another easy switch. Get inspired at your local craft store's remnant bin!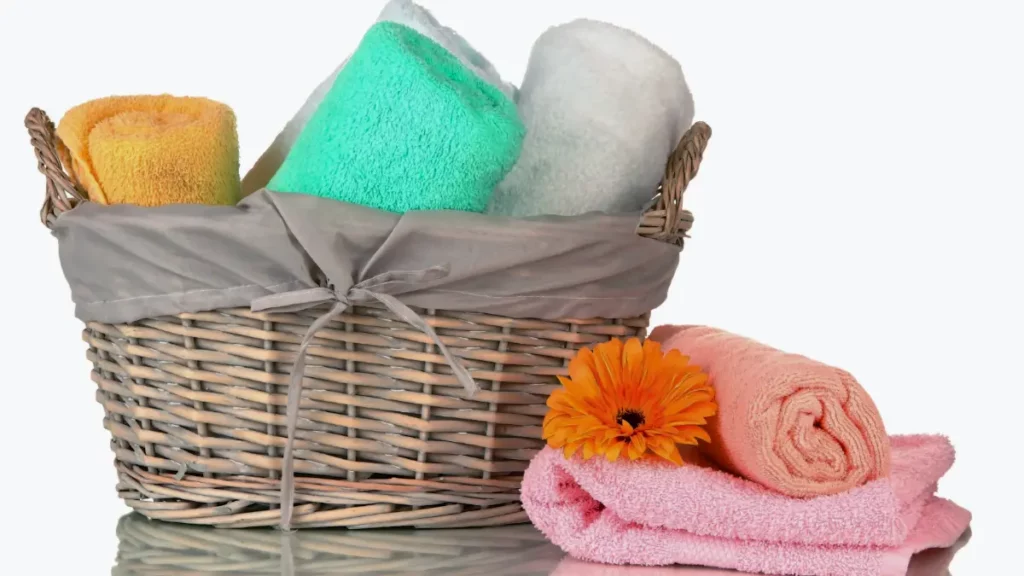 Mirrors & More Mirrors
Strategically placed mirrors can make a bathroom feel instantly larger and brighter. Here are some mirror makeover ideas:
Hang an oversized mirror opposite windows to reflect light and views.
In an unexpected shape like a round or octagon.
Surround mirrors with a creative frame made from seashells, painted tiles, or fabric.
Add narrow-profile vertical mirrors on either side of the sink to expand views.
Freshen up an existing structure with metallic spray paint or chalk paint.
Check secondhand stores for unique mirrors you can make over. Even the placement of your current mirror can make a difference in how spacious your bathroom feels. Give it a try!
Creative Storage Solutions
Between extra toiletries and cleaning supplies, bathroom storage needs are real. Here are some of my favorite storage solutions that also boost style:
Pretty up open shelving by lining with baskets, bins, or rolled towels.
Add narrow shelving above the toilet for stacked rolled towels, candles, and decor.
Use over-the-door organizers on the back of the door to corral items.
Repurpose a wall-mounted wooden ladder into shelving for folded towels and toiletries.
Under-sink storage can double with DIY use of crates, adjustable bins, or old drawers.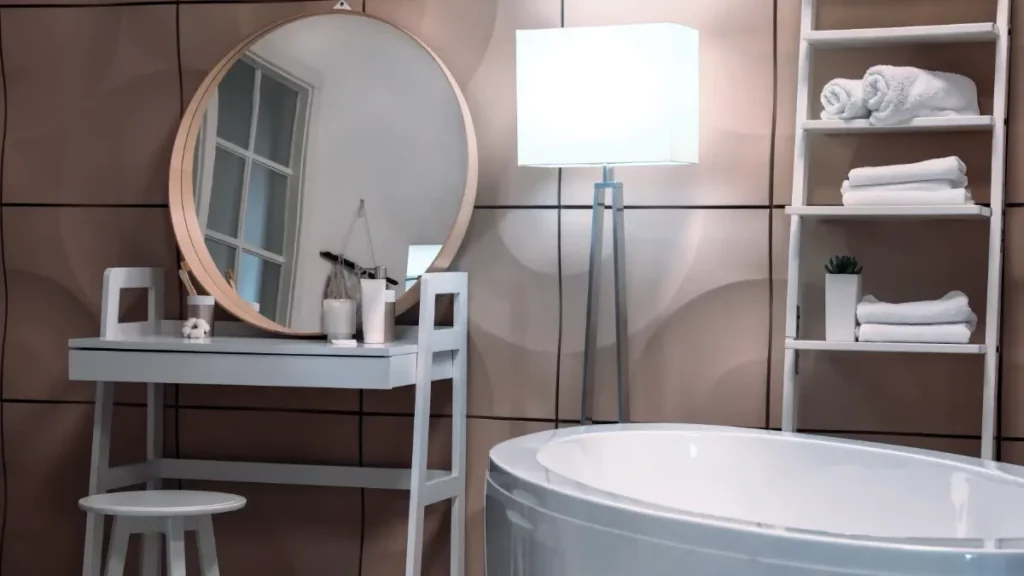 Getting organized doesn't have to look dull. Look for storage solutions in fun colors, materials, or unique shapes. I especially love woven baskets – the texture adds visual appeal.
Paint & Wallpaper
Fresh paint or wallpaper is the only thing that updates a bathroom. Here are a few tips for picking winning colors and patterns:
Opt for light, neutral paint colors that make spaces feel open and airy.
Blues and greens evoke serenity – perfect for a spa bath. Yellows bring energy.
Choose paint with a shiny finish for moisture resistance and easy wipe-downs.
For wallpaper, select durable vinyl or treated options explicitly made for bathrooms.
Wallpaper one wall in a bold print as an accent or cover them all for significant impact.
Continue color schemes from the rest of your home for a cohesive feel.
Don't forget the ceiling and cabinetry! Painting these areas makes everything feel crisply renewed. Watch for sales on paint and wallpaper remnants.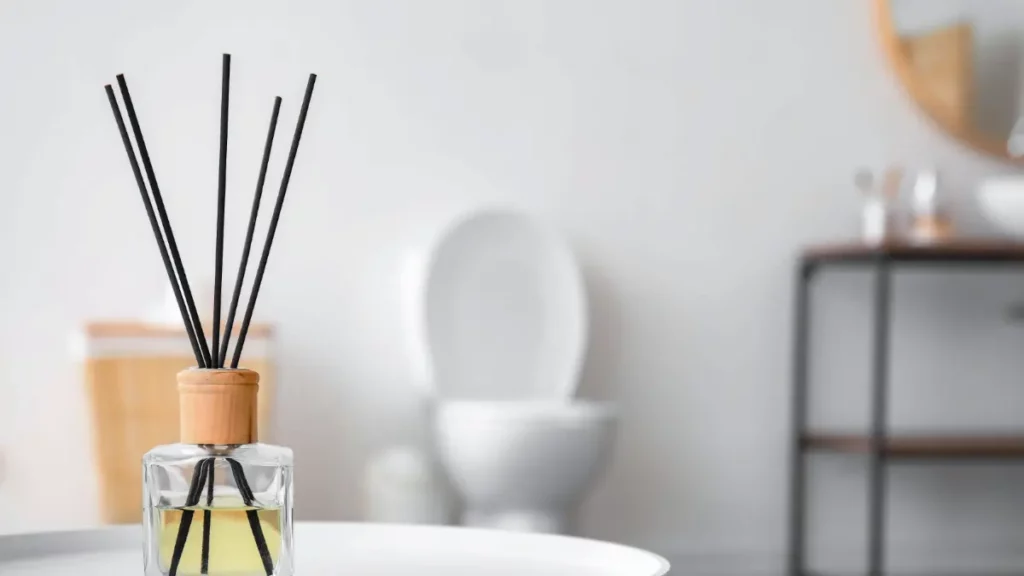 Add Plants For Life Into your Bathroom Space
Adding plants to your bathroom can brighten the space and make it feel more alive. Not only that, but plants also have several benefits for your health. They can help improve air quality, provide humidity, and even reduce stress levels. So if you're looking for a way to add some life to your bathroom on a budget, adding some plants is a great option.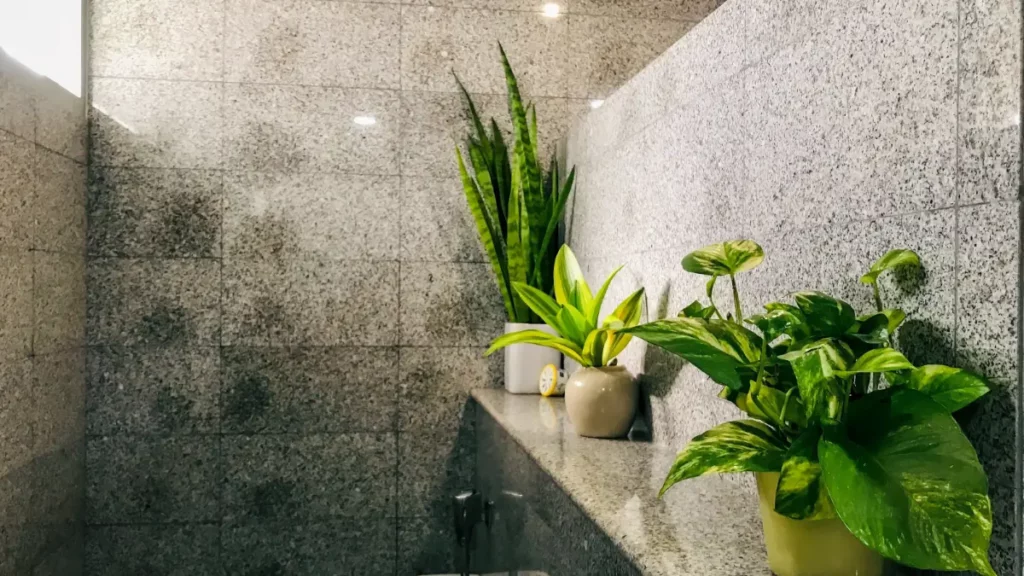 Lighting Upgrades
The proper lighting can make or break a bathroom. Here are affordable upgrades that make a noticeable difference:
Swap out an outdated overhead fixture for a new statement piece like a glittering chandelier or modern LED.
Install stylish sconces by the mirror for better visibility. Wall-mounted fixtures are easy to DIY.
Experiment with fun lighting like pendant lights, lanterns, or a string of Edison bulbs.
Replace existing bulbs with eco-friendly LEDs, which last longer and save on energy costs.
Add accent lighting under cabinets or shelves for spotlighting specific areas. Battery-operated is easiest for renters.
Dimmer switches allow you to adjust the ambiance. Dimmers work with LEDs for the ultimate mood lighting control.
As you update lighting, don't forget the practical necessities like adequate general illumination and task lighting at the mirror. But have fun picking statement pieces to reflect your unique style, too!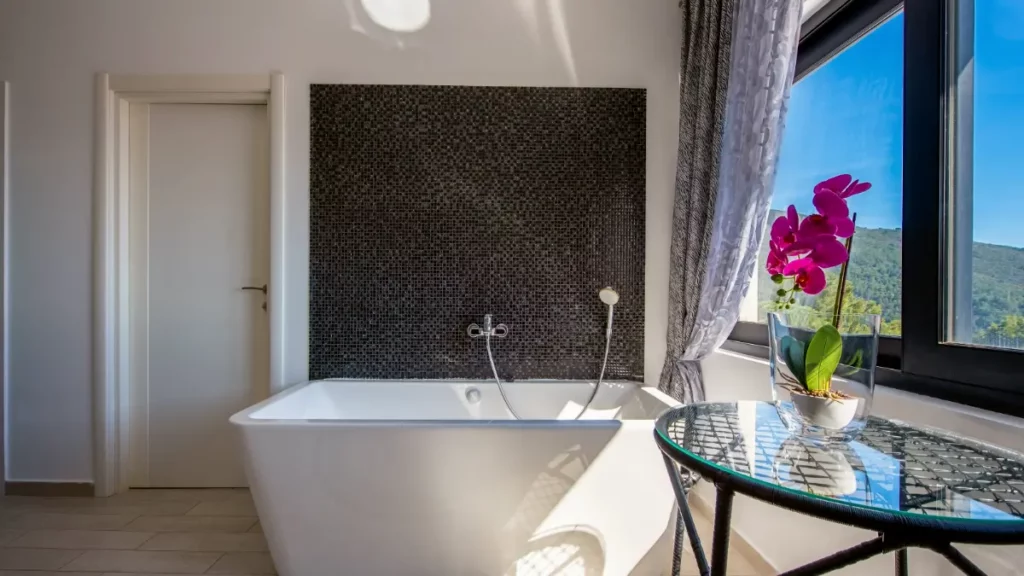 There are 10 budget-friendly ways to infuse personality and style into your bathroom decor! With some resourcefulness and imagination, you can give this well-used space an affordable makeover.