Hey there! Amanda here, your friendly neighborhood interior design enthusiast. I'm excited to share my tips for maximizing a small bathroom space. I know the struggles of tiny bathrooms all too well, having grown up in a New York City apartment where "cozy" was a generous way to describe the WC.
But with some creativity, you can transform your pintsized washroom into a luxurious oasis. The key is working with what you have – using intelligent storage solutions, illusions of space, and multifunctional fixtures. Read on for 15 design hacks tailored for modest square footage.
Make Use of Every Inch of Space
As a born and bred New Yorker, I'm accustomed to finding potential where there seems to be none. Small bathrooms are no different – you need to tap into vertical and horizontal space through clever furnishings.
Start by taking stock of your bare walls. Are you utilizing the total height with shelves and cabinets? You'd be amazed at how much storage you can create simply by going upwards. I'm a big fan of wall-mounted cabinets with mirrored fronts – not only do they hold all your toiletries, but the mirrors create that desirable illusion of more space.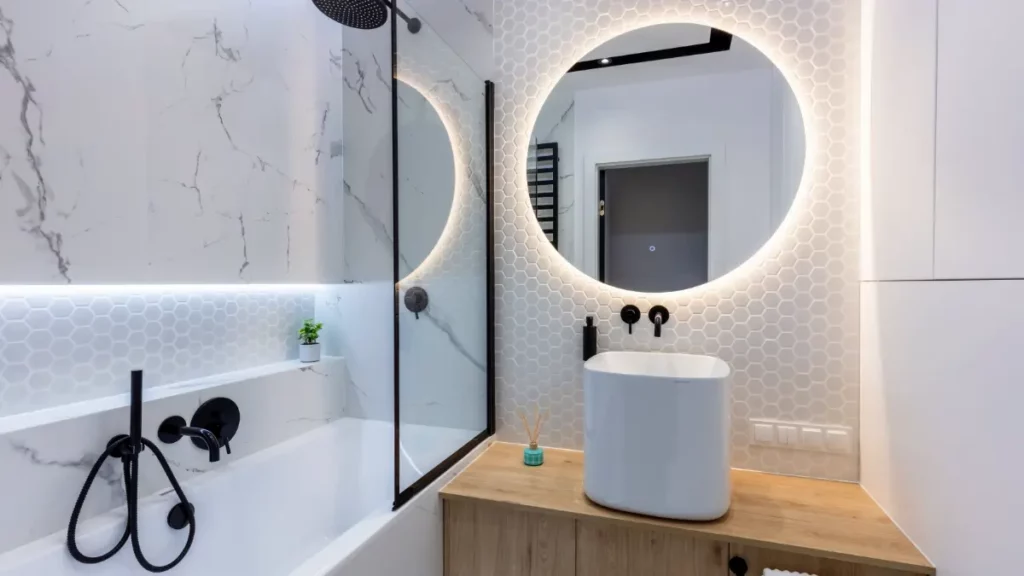 Remember the corners, too. You can find narrow shelving units that tuck perfectly into 90-degree nooks. I once helped a client install angled shelves across an empty corner – the custom look was stunning.
When it comes to horizontal space, consider a vanity that extends across one wall. Look for one with closed cabinets and open shelving for a concealed and display storage combo. Choose a slender console table or floating shelves for keeping folded towels and washcloths within arm's reach.
With the right furnishings, you can CAPITALIZE on the dimensions you have rather than letting them limit you. It's all about perception – your bathroom will feel more expansive when you utilize every possible inch.
Think Carefully About What You Need in Your Bathroom
Now, THIS is a lesson I've learned the hard way. When I first moved into my little walk-up apartment, I excitedly filled the bathroom with trinkets and accessories. A diffuser here, some decorative bowls there – you know how it goes.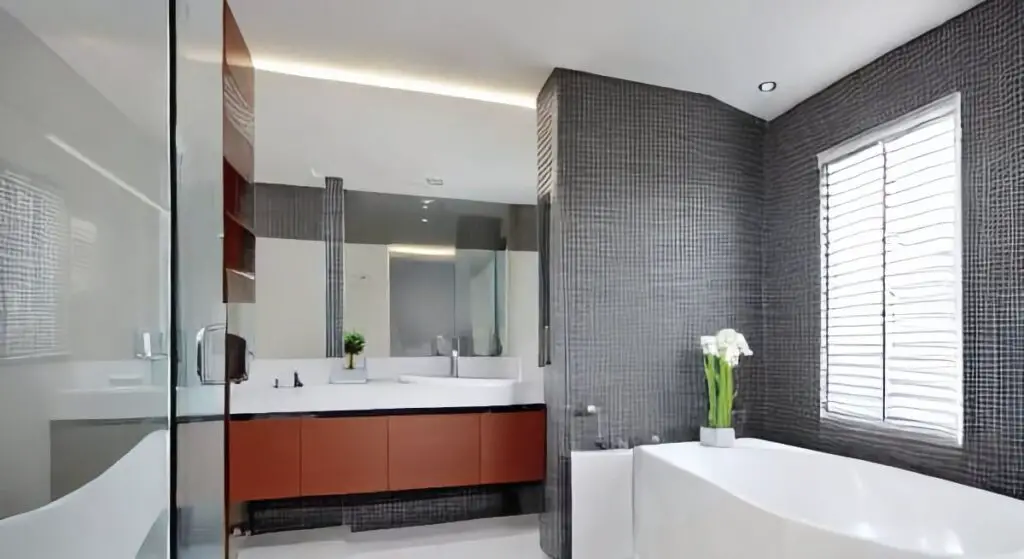 But it quickly started to feel cluttered and cramped. That's when I realized I needed to step back and analyze how I use the space. Do I soak in the tub for hours or take quick showers? Do I need double sinks if I live alone? Asking these questions helps separate the essentials from the excess.
Here are a few tips:
Make a list of your must-have items and daily bathroom activities.
Measure your existing space and create a layout to reveal what can realistically fit.
Stick to streamlined storage and minimalist decor for a sleek, spa-like look.
Multifunctional furnishings are your friend! Items like a towel rack/shelf kill two birds with one stone.
I know it's tempting to cram in as much as possible, but sometimes less truly is more. Focus on your needs; you'll have a better bathroom than you imagined.
Use a Light Color Palette to Create the Illusion of More Space
Take it from me – nothing brightens up a small bathroom like a light color scheme. You want tones reflecting and diffusing light, making the space feel airy and open. Soft blues, greens, and violets are lovely, but you can't go wrong with crisp, clean whites.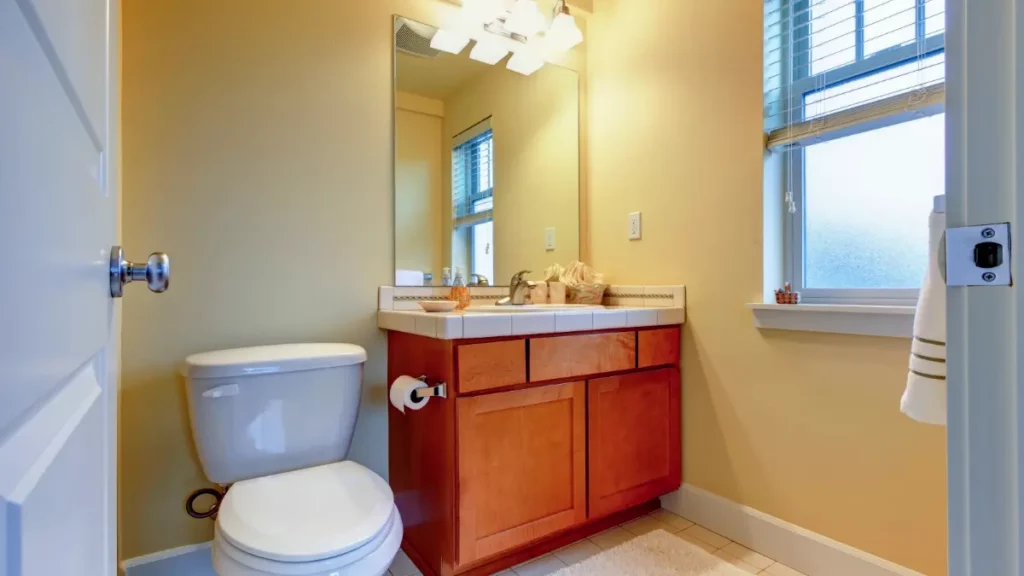 Paint your walls and ceiling, and trim a bright white – it's incredible what a difference this alone will make. Continue the light and colorful theme with your flooring. White subway tiles are a classic or check out new large-scale porcelain tiles for a seamless look.
Pay attention to the power of mirrors for light enhancement, too. Hang one across from a window to maximize natural light. Or do mirrored walls on either side of a narrow bathroom to create the illusion of more space.
And think about light coming from fixtures as well. A pale ceiling fixture or sconces flanking the mirror provide task lighting while contributing to the overall ethereal vibe. The result is a serene, airy bathroom that is twice as big!
Opt for Vertical Storage Solutions Wherever Possible
In a cramped bathroom, prime real estate = floor space. That's why taking storage up is crucial rather than out with vertical solutions wherever possible.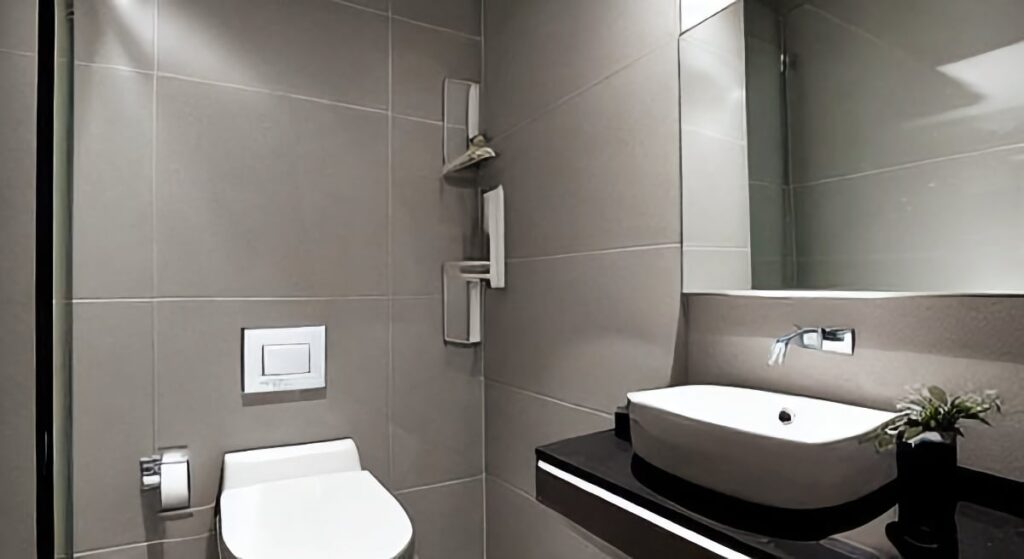 Take a fresh look at your walls – are they hiding unused storage potential? Install floating shelves, wall-mounted cabinets, and cube organizers. You can even find bamboo ladder shelving with a slim profile. Measure first and maximize every bit of vertical room.
Over-the-toilet shelving is genius. An awkward space is typically transformed into a spot for extra towels or toiletries. A wall-mounted magazine rack provides reading material without taking up precious floor area.
Even small shifts like hanging a cleaning caddy offer storage off the floor. The key is to exploit vertical space so that limited floor footage stays open and uncluttered. Your bathroom will instantly feel more spacious.
Install a Wall-Mounted Sink to Free Up Floor Space
One of my favorite space-saving tricks is swapping a vanity for a wall-mounted sink. Without the bulky cabinet and countertop hogging floor space, your bathroom automatically feels more open.
Now, installing a wall-mounted sink does require some planning. The sink must be correctly secured to studs in the wall, and the plumbing rerouted. So, you'll want to hire a professional for this project.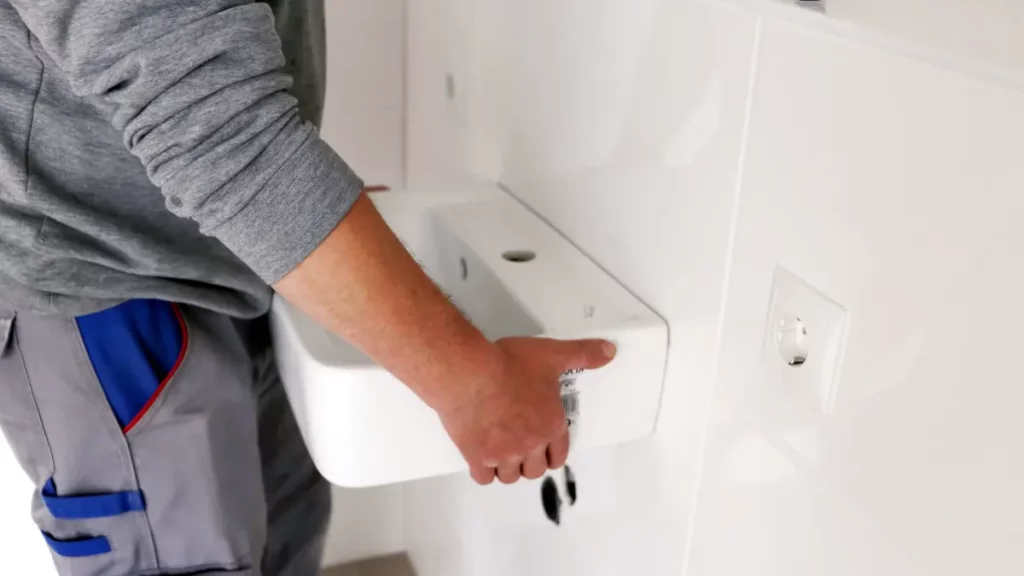 But the impact is SO worth it. You gain back several square feet of floor real estate. And there are so many stylish options – floating modern rectangles, round porcelain vessels, glass bowls – you're bound to find one that suits your taste.
Remember storage, too! Many wall-mounted sinks include handy shelves or cabinets built right in. But you can add floating shelves or a slim console table to keep necessities close.
Just take care to keep the surroundings minimal. With a bulky vanity, your sink becomes a striking focal point – and you want to ensure that beauty is apparent!
Choose a Pedestal Sink If You Have Limited Floor Space
Pedestal sinks have such an elegant, vintage appeal. But they serve a practical purpose in petite bathrooms, too. With a smaller footprint than vanities, they leave a more open floor area surrounding them.
The key is finding the right size pedestal sink for your space. Too large and it will overwhelm – too small and it will look oddly proportioned. Take measurements to find one that fits just right.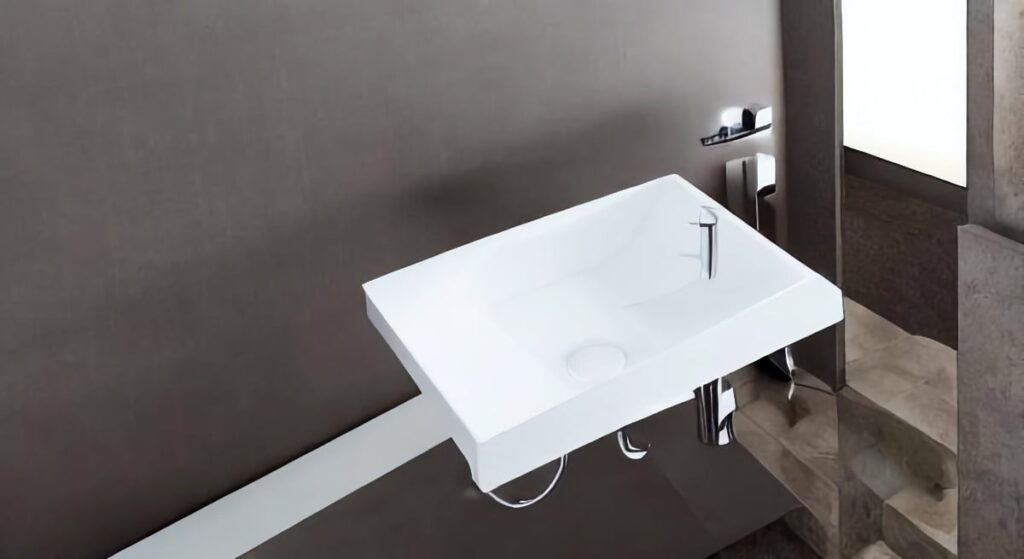 In my friend's postwar bungalow reno, we installed a compact pedestal sink that freed up space for a more oversized walk-in shower. By contrast, my neighbor went for a statement-making vintage-style pedestal sink as the centerpiece of her art deco powder room.
Either way, the lack of cabinetry underneath creates a lighter, airier look. It's easier to clean around and under the sink without a vanity.
Just make sure you have storage covered elsewhere. A wall cabinet or narrow shelving unit can provide a spot for essentials. And take styling cues from the sink's pedestal – keep the decor minimal for a sense of openness.
Install a Shower Instead of a Bathtub, If Possible
Let's be honest – when space is tight, a bath is usually a luxury we can live without. Showers are just more practical for those of us in modest homes. And swapping a bath for a shower can make a huge difference.
I remember the tiny bathroom in my first apartment had an old clawfoot tub wedged against one wall. It dominated the room, yet I only used it twice a year for leisurely Sunday soaks.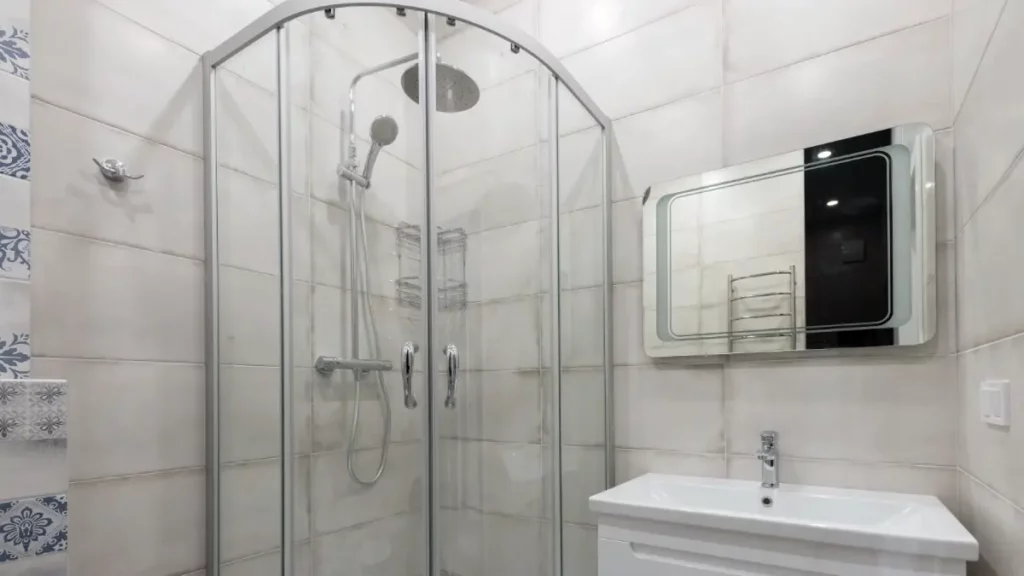 When I eventually overhauled the bathroom, I claimed SO much extra space by installing a walk-in shower instead. And thanks to the glass door, it still felt open and airy. The difference was incredible!
Of course, if baths are essential in your home for kids or relaxation, look for compact soaking tubs. There are many with a small footprint but ample bathing space. An option like the oval Kohler Veil tub fits in spots standard tubs can't.
But for many homeowners, a well-designed shower is the more intelligent choice. Focus on features like wand-style adjustable showerheads, built-in shelving, and high-end finishes. You may find yourself always wearing that old tub!
Use Recessed or Corner Cabinets to Store Toiletries and Other Necessities
Finding a spot for all those toiletries, medications, and cleaning supplies is tricky in a petite bathroom, right? This is when crafty built-ins come to the rescue!
Recessed cabinets are excellent for small bathrooms. Set back into the wall, they provide discreet storage without protruding into the space. And they maintain a sleek, streamlined look when closed.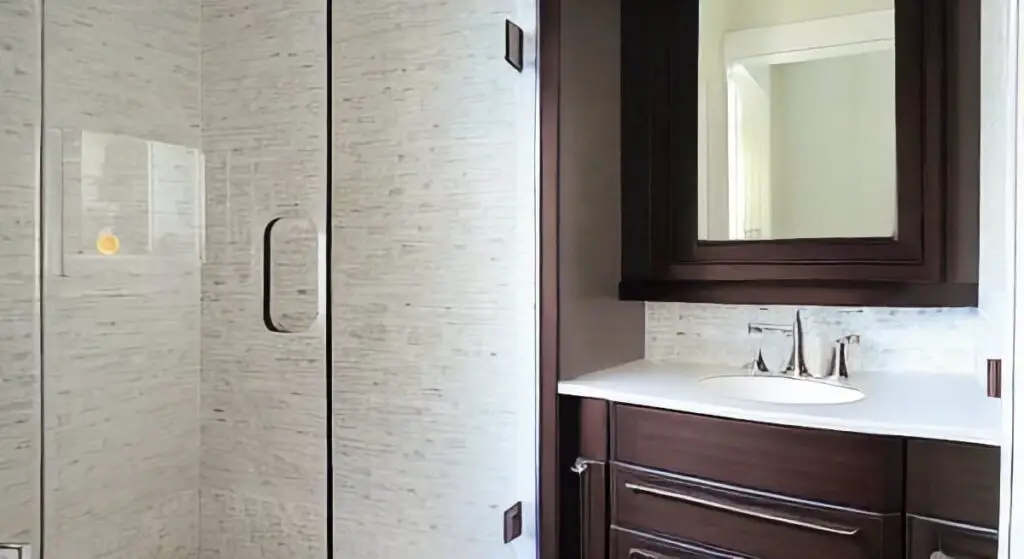 I also adore an excellent corner cabinet! Triangular cabinets utilize wasted space and have a unique shape. Or you can find "blind corner" cabinets with swiveling trays or pocket doors. They make use of the entire corner.
The key is measuring first and finding bathroom storage that fits your space. Custom or semi-custom cabinets can be adapted to your wall shape and dimensions.
Pro-tip: Look for bath cabinets with moisture-resistant finishes if going entirely custom is outside your budget. And incorporate elements like glass fronts, soft-close hinges, and built-in charging stations whenever possible. Your future self will thank you!
Hang Mirrors on the Walls to Reflect Light and Create the Illusion of Extra Space
Mirrors can completely transform a cramped bathroom. They reflect light, making any room feel bright and airy. But, more importantly, they create depth – the appearance of more space.
Use this optical illusion to your advantage. Hang one larger mirror, or do a collage of small mirrors on the wall opposite windows. This will infinitely reflect natural light streaming in.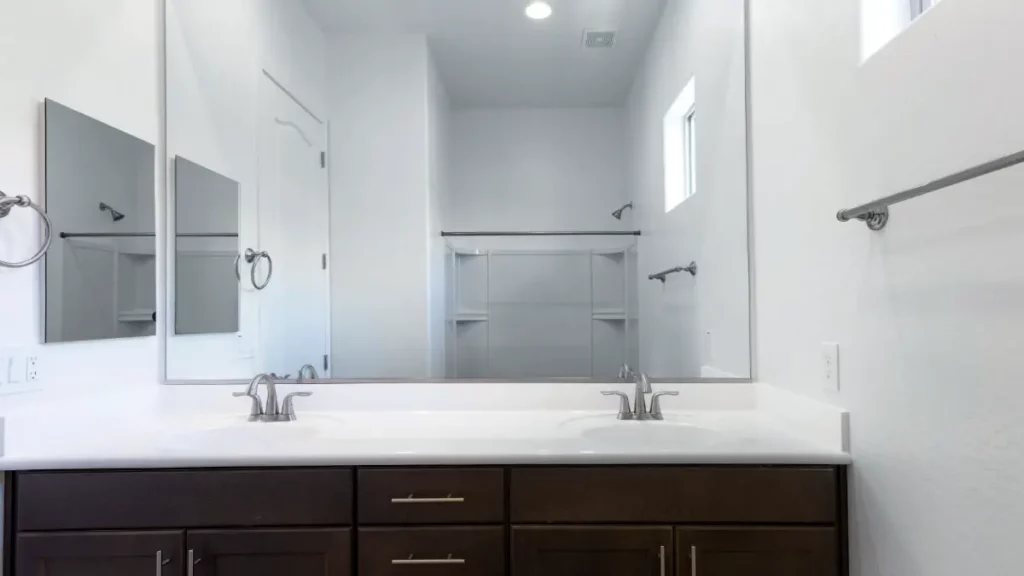 You can also mirror entire walls, like in a glamorous powder room. Mirror the wall behind a tub or the walls on either side of a narrow space. Just beware – all mirror rooms show every smudge!
Incorporate mirrors into storage, too. A mirrored medicine cabinet doubles function, while a mirrored cabinet with lights serves as decoration and illumination.
And remember the power of reflection below eye level. Pair a mirror with open shelving or glass-front cabinets to reflect items on display. The result is a bathroom that looks deceptively more expansive.
Choose Furniture and Accessories That Are Compact and Streamlined in Design
When dealing with limited square footage, oversized furniture is a no-go. But even pieces with petite footprints can overwhelm a tiny bathroom if they are ornate, opulent, or visually busy.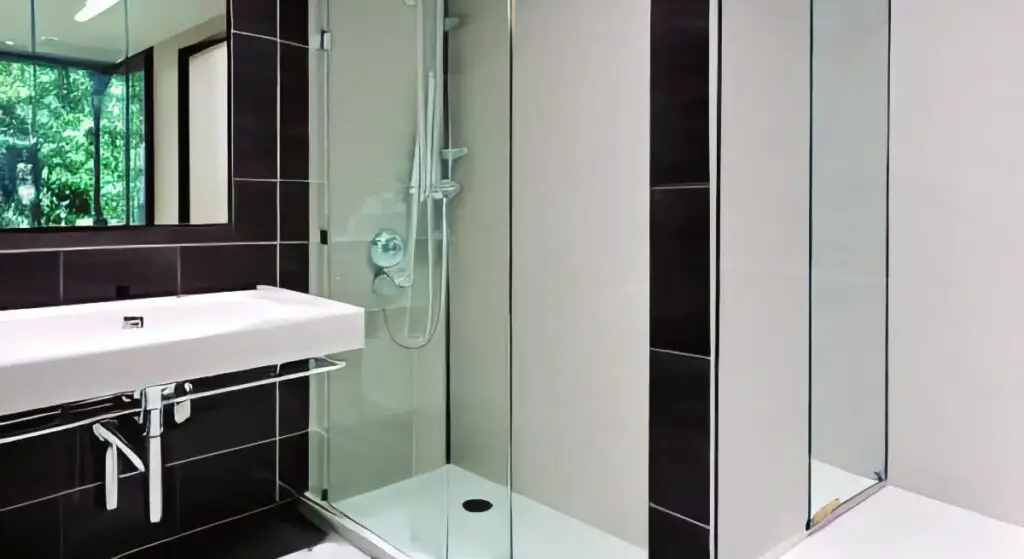 Save the Baroque details and damask prints for the formal living room – that's not the vibe we want here. Instead, seek out bathroom furnishings and accents with clean, simple lines.
Some characteristics to look for include:
Furniture with straight, angular silhouettes rather than curved
Pedestal sinks and wall-hung toilets rather than bulky concealed tanks
Frosted glass, stainless steel, or sleek porcelain finishes
Plain shower curtains rather than frilly or patterned
Accessories in solid minimalist forms – think ceramic vases and stone trays
While compact bathrooms can't handle large pieces, don't be afraid to use furnishings for visual impact. A bold floor-to-ceiling storage unit or oversized round mirror can feel like art. Just surround it with plenty of breathing room.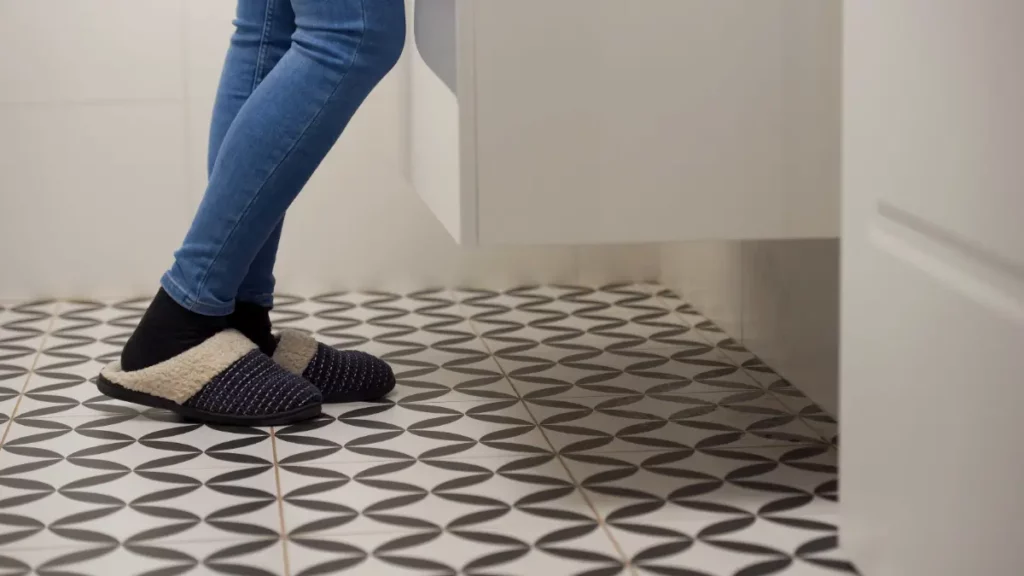 If Possible, Choose a Shower With a Sliding Door Instead of a Traditional Hinged Door
In a pint-sized bathroom, every inch counts. So you want fixtures and features that won't impose on the space. Traditional hinged shower doors can be space-hogs, needing a clear floor area to swing open fully.
That's why I recommend sliding shower doors for tight bathrooms whenever possible. They glide along tracks right up against the shower walls. This prevents them from invading your floor space.
Frameless glass sliders, like DreamLine's, also have a clean, modern aesthetic. And they make a small shower feel more expensive.
Pro tip: Make sure sliders have enough clearance from the ceiling. Measure the shower opening and height carefully. Nothing ruins your beautiful new doors like a bad fit!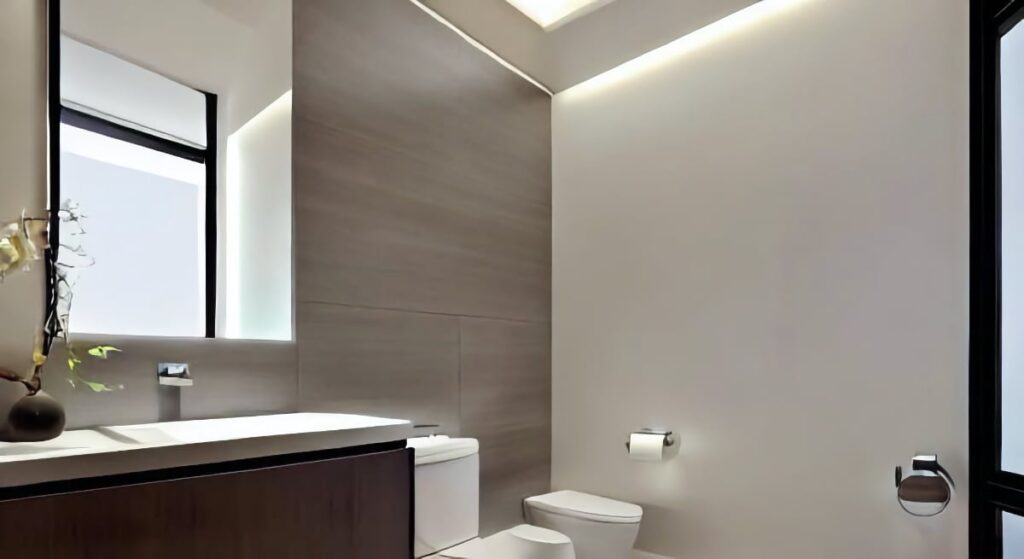 If you must have swing doors, choose ones that open inward rather than outward. Also, consider bi-fold doors that accorded neatly to one side when open. Just avoid any design that obstructs precious floor space.
Use Decorative Accents Sparingly to Avoid Overwhelming the Space
I'll admit I tend to go overboard on the decor. But when dealing with pint-sized square footage, restraint is essential. Few knickknacks or over-the-top accents quickly overwhelm the space.
Keep decorative accents in a small bathroom minimal. Focus on one or two statement pieces, like a vase of fresh flowers or sculptural wall art.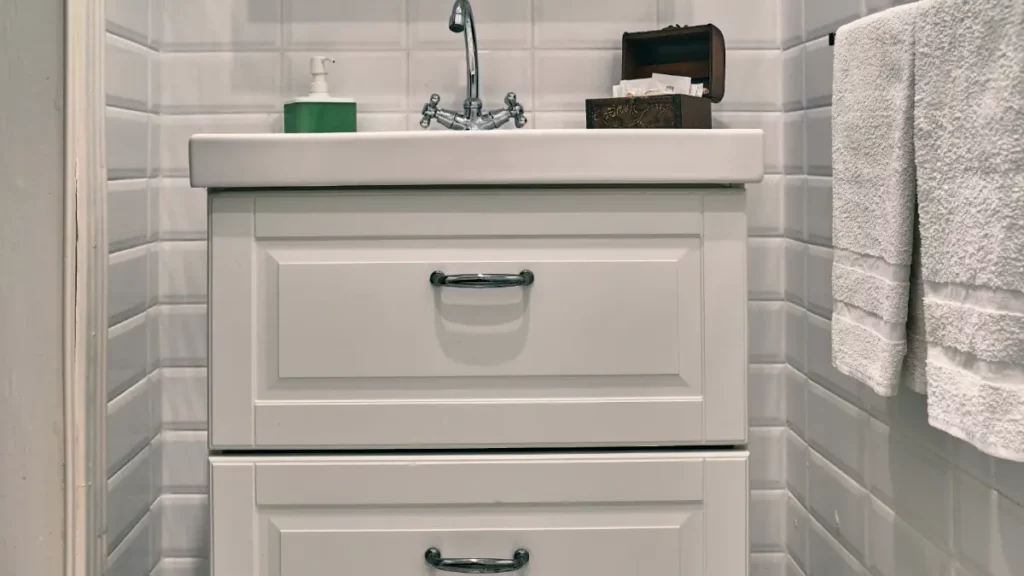 Stick to objects and accessories in neutral palettes so they blend rather than compete with their surroundings. Soft greens, ivories, and blues complement most color schemes.
And when possible, choose accents that serve double duty. A ceramic soap dispenser adds color while providing function. Decorative glass bottles hold cotton swabs or Q-tips.
Cluster decor on open shelving or wall ledges rather than scattering lone objects about. This results in a collected, cohesive look rather than clutter.
Remember – with decorative accents in a tiny bathroom, less is more. Carefully curate one or two eye-catching items to elevate the space. Then, let their beauty shine through.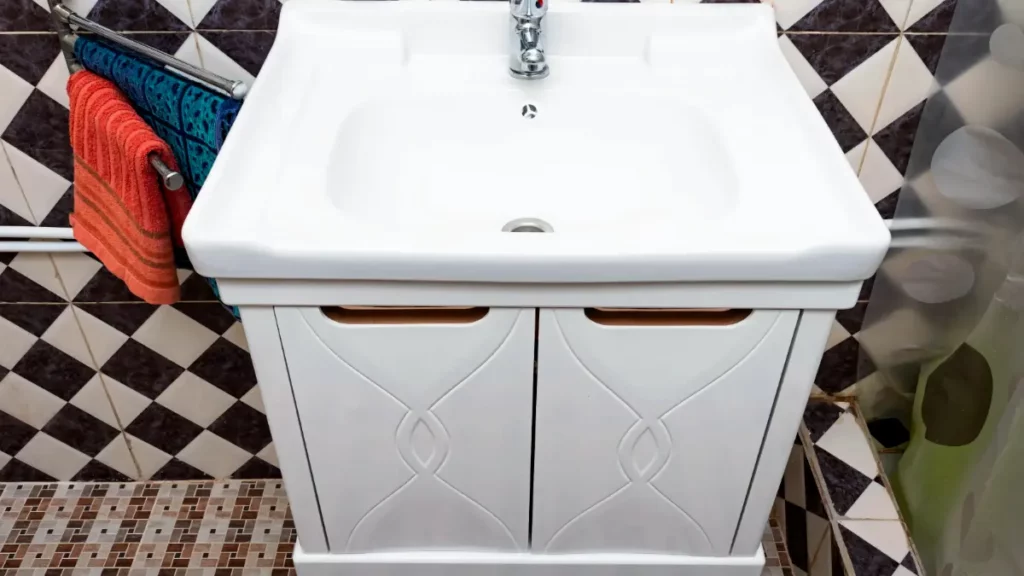 There you have it – my top 15 design strategies for maximizing the potential of your petite powder room. Use my tips to craft a beautiful, functional bathroom that feels much larger than it is. Don't let size constraints stop you from creating your dream oasis – where there's a will (and a little creativity), there's a way!
Let me know if any advice rings true for your home. I'd love to hear about your minor bathroom frustrations AND successes. This is Amanda signing off for now – over and out!