Ahoy, there decor lovers! The winds of kitchen design trends have blown blue to the forefront lately. And with good reason – this cool hue adds a splash of serenity and style to one of the home's most important spaces.
As a loyal reader of Home Décor Chat, you know I'm obsessed with everything related to stylish and livable home decor. As a renovator of my own 1910s bungalow, I always look for budget-friendly ways to give my rooms a mini makeover. Kitchen cabinetry is one of the most significant focal points for home decor. So, I was naturally drawn to experimenting with different shades of blue when it came time to revamp my kitchen.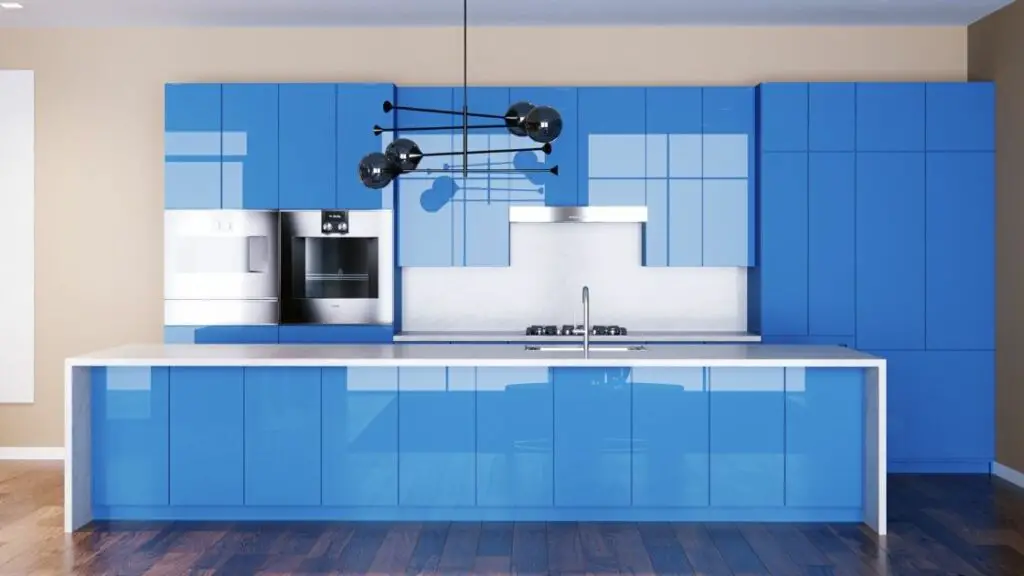 After reading this post, I hope you'll be inspired to dive into the playful world of blue cabinets. We'll explore why blue is having a moment in kitchen design, the many shades to choose from, and tips for incorporating blue cabinetry into your space. Let's shove off on this oceanic adventure!
The Appeal of Blue in Kitchen Design
Before we delve into the practical side of choosing and installing blue kitchen cabinets, let's discuss why this beautiful hue makes waves. As an aesthetics lover, I'm naturally drawn to colors and palettes that create certain moods or feelings. And blue has some particularly appealing psychological effects that make it a fitting choice for the kitchen.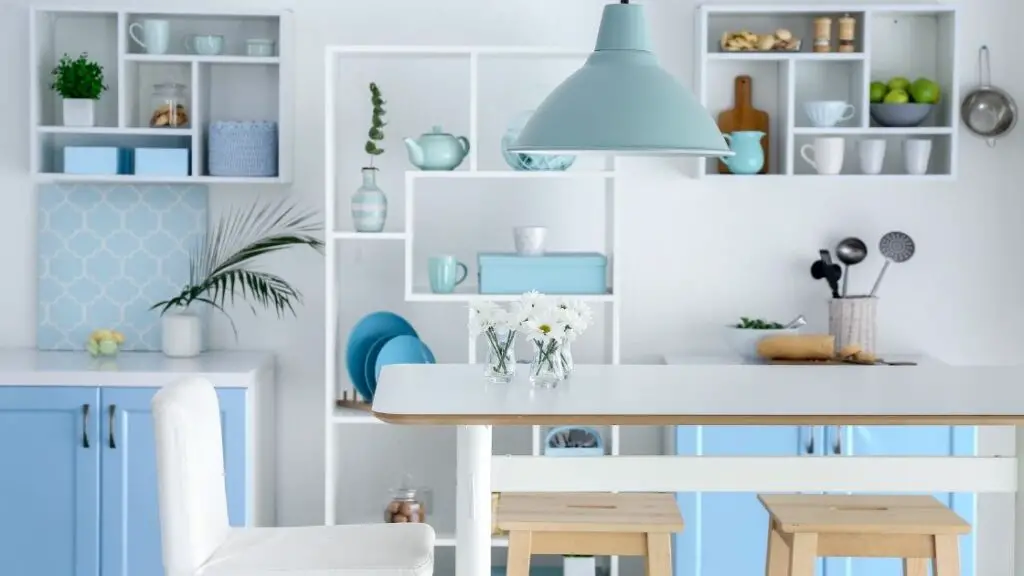 Blue Evokes a Feeling of Calm
Think of your favorite relaxing getaway. For me, it's the beach, where the sound of rolling waves instantly washes my stress away. There's just something about being near the serene blue ocean and sky that has an innately calming effect.
This same impact translates to interior color palettes. Multiple studies have shown that blue hues help reduce feelings of anxiety and lower heart rate and blood pressure. Scientists believe it's tied to our cultural associations of blue with things like calm waters and peaceful skies.
When you want the heart of your home to feel like a sanctuary, blue cabinetry can set the right tranquil tone. Mixing blue with other cozy and inviting accent colors and textures creates a kitchen that beckons you to sit back and savor special moments.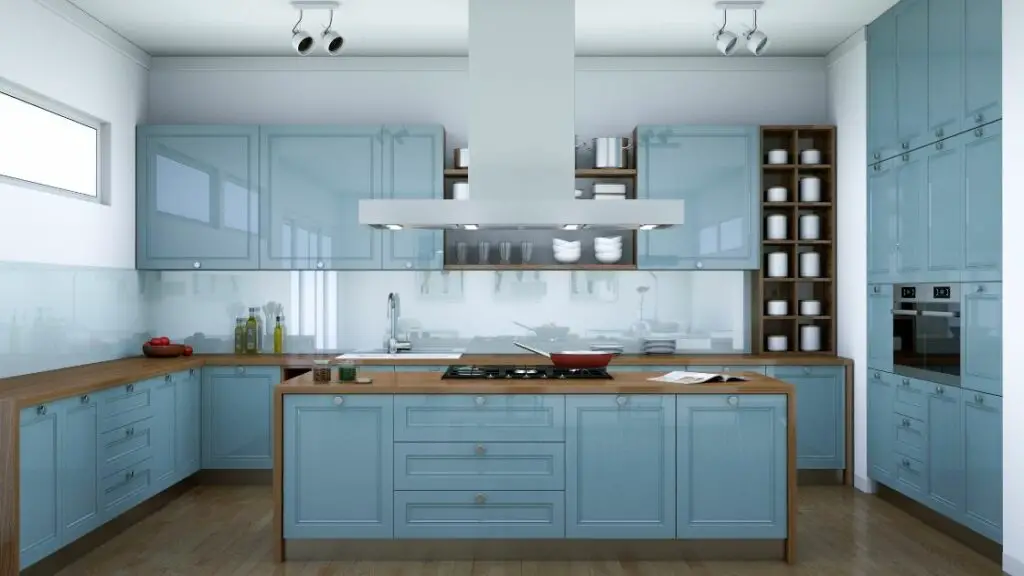 Blue Connotes Cleanliness
In addition to calmness, blue also evokes a sense of cleanliness. Just think of the many household cleaners in cheery shades of blue. When I see that crisp blue Windex spraying across windows, it looks like a sparkling ocean breeze magically wiping away dirt and grime.
This association of blue and cleanliness extends back centuries. Ancient civilizations thought of blue as representing the purity of water and the open sky. And medically, we think of "turning blue" when someone can't get enough oxygen into their blood.
For a room where sanitation is paramount, blue cabinets cue that sparkling sense of cleanness. While, of course, you'll still need to do the dirty work of actual cleaning, the cheerful shade creates the impression of tidy tidiness.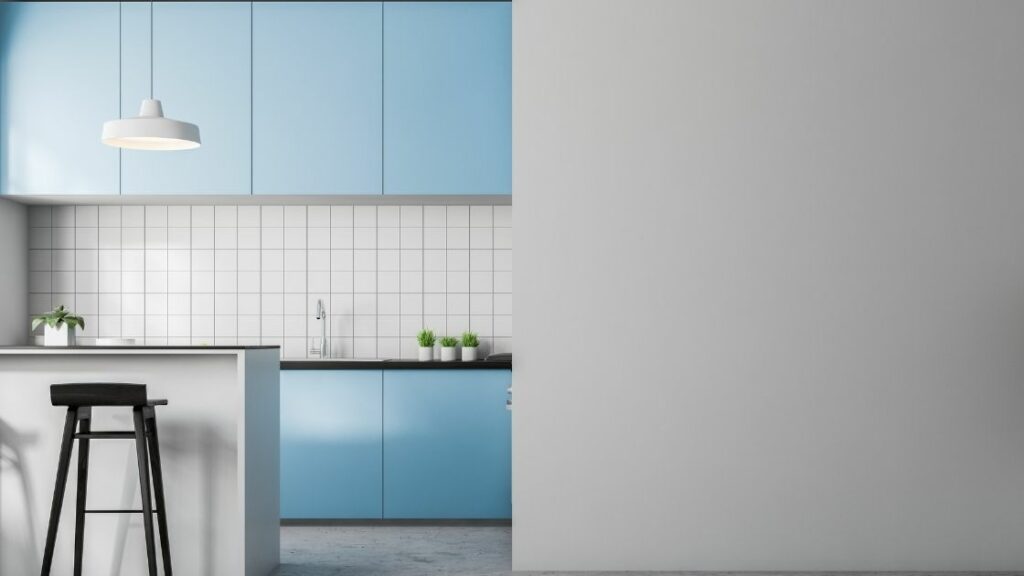 Blue is Universally Versatile
Beyond its pleasant psychological undertones, blue is one of the most aesthetically versatile color options. With a broad spectrum from soft sky blue to bold navy, a shade suits any style kitchen.
Vintage farmhouse kitchens pop with a retro powder blue. Coastal cottages drift towards aquas and teals. Traditional kitchens can accentuate dark marble counters with deep navy cabinets. Contemporary spaces feel crisp and minimalist with authentic blues.
No matter your taste or the era of your home, there's a blue that feels fresh. When working with such a foundational element as cabinetry, versatility is critical for longevity.
Painted finishes or cabinets with integrated blue laminate mean the tone can be easily switched out. But even permanent stained blues fit well with various future design schemes.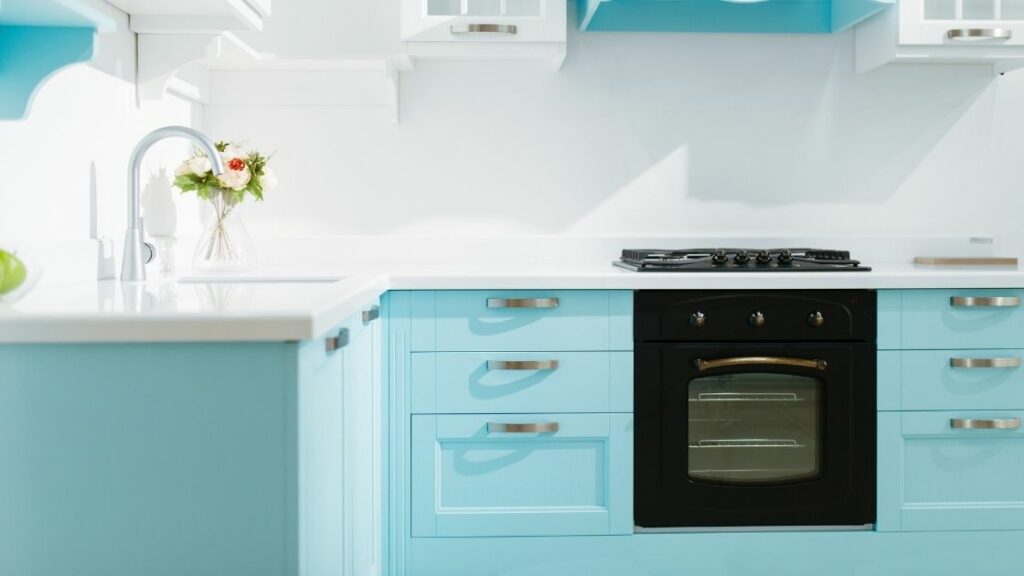 Types of Blue Kitchen Cabinets
Now that we've mulled over the meaningful motivations for choosing blue, let's dive into how to implement this trend through your cabinetry. There are several standard options for incorporating blue hues: paint, stain, laminate, and thermofoil. Each has its own pros, cons, and installation considerations.
Painted Cabinets
The most accessible and adjustable route to blue cabinets is a simple paint makeover. Paint opens up an endless array of shades and sheens to match your decor goals. My original fiberboard cabinets were a basic beige – primed and ready for jazzing up with a fresh, colorful look!
If your cabinets are wood, a thorough sanding and priming will prepare them for accepting paint. For laminate cabinets, use a bonding primer explicitly designed for slick surfaces. Always opt for high-quality cabinet paint that protects you from knocks and scuffs.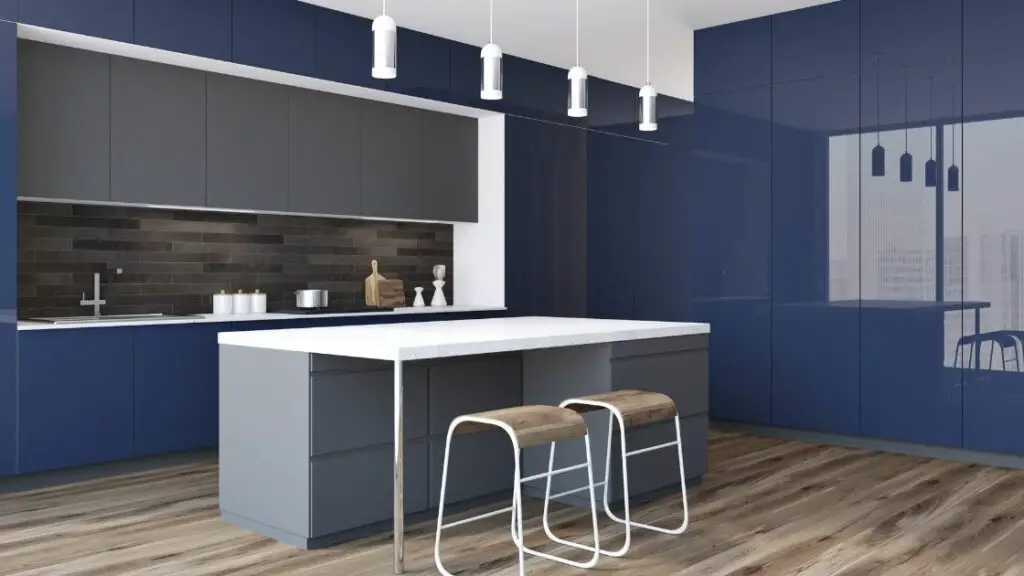 Painted finishes stand up well to typical kitchen wear and tear thanks to protective topcoat sealers. But be prepared for occasional touching up or complete repainting as the years roll on. With painted cabinets, you'll want to clean with only gentle soap and water, avoiding harsh chemicals that can react with the paint.
But the payoff for this delicate care is the ability to modify your kitchen's whole look just by painting the cabinets. When I was ready to transition my beachy sky blue cabinets to a more modern navy, it was a simple long weekend project rather than a complete renovation.
Stained Wood Cabinets
For a more classic and permanent take on blue cabinets, staining natural wood is a stunning option. The grain and variation of natural wood paired with a hint of color create unparalleled depth and interest.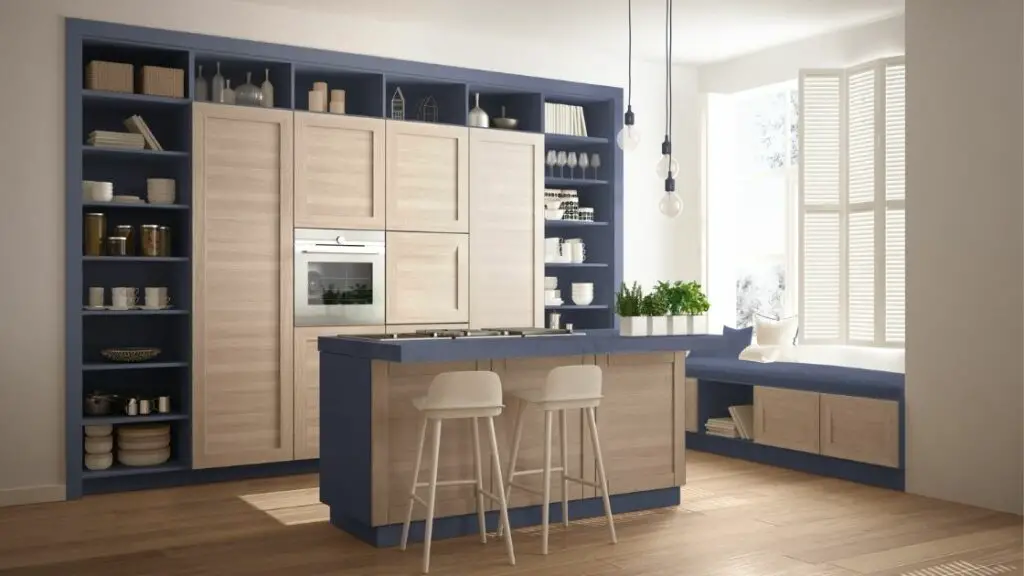 Popular wood types like oak, walnut, and maple take on a rich saturation when stained a deep blue. The undertones of the wood influence the result, with some absorbing more vivid colors than others. Be sure to do sample tests on the exact type of cabinet wood you'll use.
Keeping stained wood cabinets looking their best requires more regular upkeep than painted finishes. The porous wood soaks up stains and needs careful cleaning with wood soap. You'll also need to periodically re-apply sealant to protect the finish from excess moisture damage. But for some, lovingly caring for beautiful wood furniture is a nostalgic ritual.
While painted cabinets can be easily adapted to new color schemes, stained wood is a permanent addition to your kitchen. But its timeless beauty guarantees it will always feel elegant and appropriate. And the craftsmanship of natural wood cabinets increases a home's long-term value for future owners.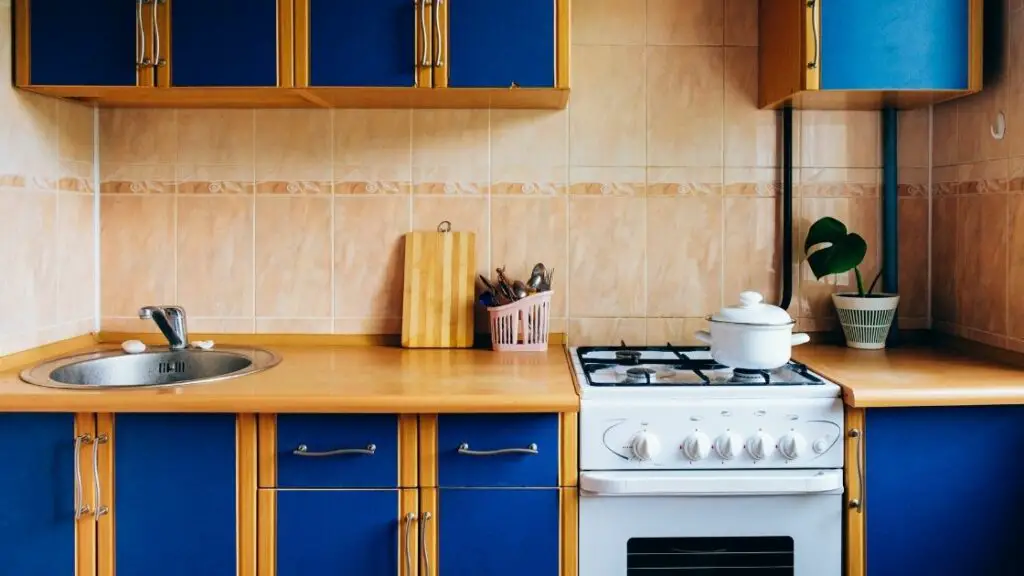 Laminate and Thermofoil Cabinets
For a budget-friendly option with limitless color options, laminate, or thermofoil cabinetry, check all the boxes. These finishes use advanced techniques to fuse decorative sheets into cabinet boxes for a seamless look. Both laminate and thermofoil are highly resistant to damage from moisture, stains, and scuffs.
Laminate fuses high-pressure plastic resin sheets to wood materials using adhesives and pressure. The decorative surface design goes all the way through the sheet. Thermofoil finishes adhere to a thin vinyl film over composite wood products for consistent results. Durability and easy cleanability make both finishes ideal for families and busy kitchens.
The hidden bonus is that colored laminate and thermofoil cabinets won't show nicks and water damage like painted or stained finishes will over time. Minor scratches can be sanded and buffed out of the decorative surface. These low-maintenance finishes offer incredible durability for the price.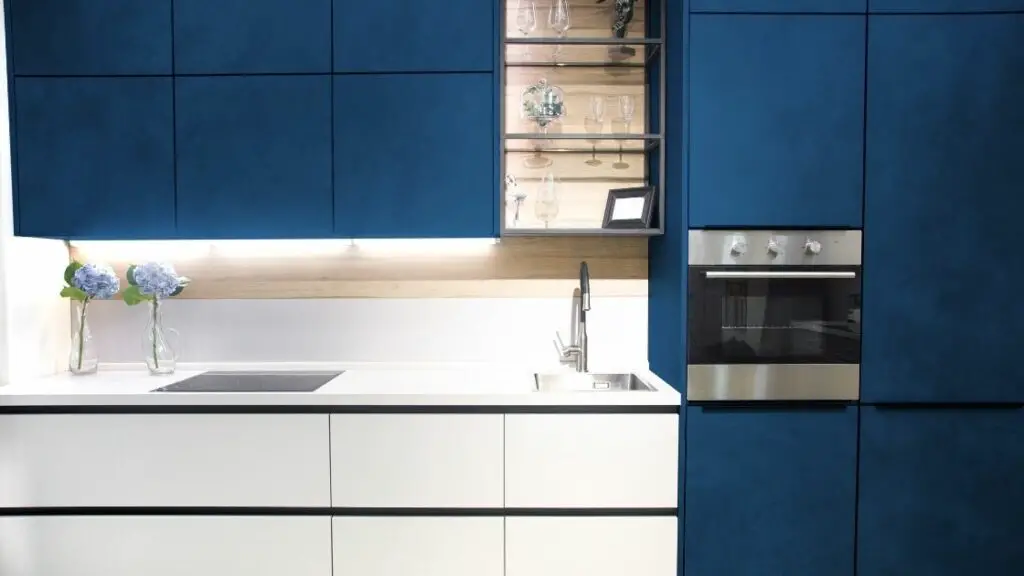 Design Tips for Blue Kitchen Cabinets
You know I love dishing out my best decorating advice! So, let's get into the fun details of designing a kitchen with gorgeous blue cabinets as the star. From selecting a complementary shade to decking out with perfect hardware, these tips will have you channel your inner interior designer.
Choose a Shade in Harmony with Your Decor
With the vast range of blue hues, settling on just one can be overwhelming for your kitchen revamp. My advice is to start by looking at the other vital elements already in your space.
Hold up painted samples next to your countertops, flooring, and any existing backsplashes. You want the cabinet color to complement what's already there rather than compete.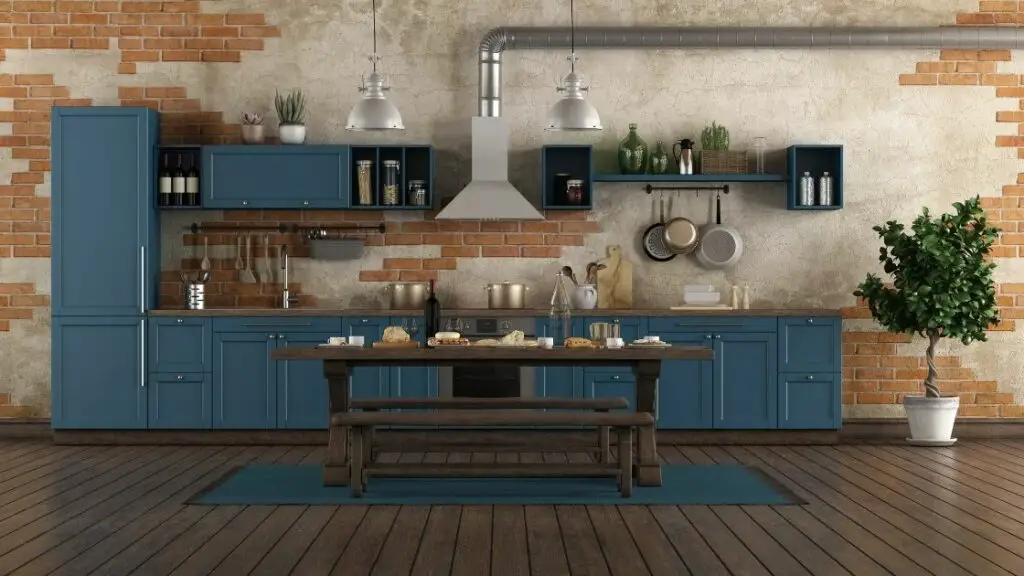 Try out samples during different times of the day to see how the lighting shifts the look as well. Soft north-facing light may call for a lighter sky blue, while full southern sun could handle a dramatic navy. Don't forget to follow my motto – "When in doubt, mock it out!" Use masking tape or removable samples to get a feel for how the color will look.
Pair with Countertops and Backsplashes for a Complete Look
Beyond the cabinets, nearby surfaces offer fun ways to incorporate blue in the kitchen. Countertops and backsplashes are prime spots to echo your cabinets with a splash of blue.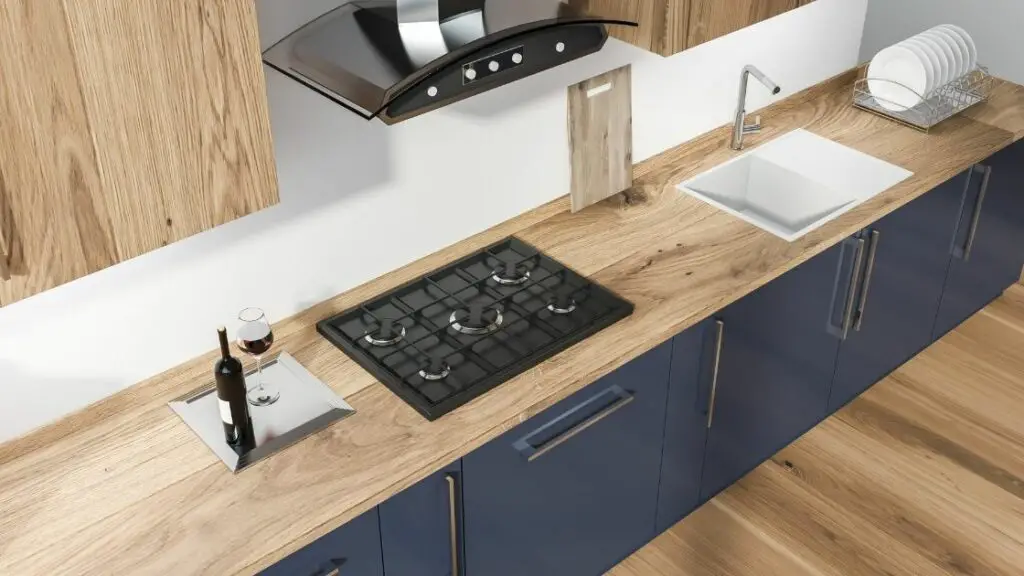 For a clean and spacious look, white or light-colored solid surface countertops allow the blue cabinets to take center stage. Pair with an accent backsplash in one of the secondary kitchen colors. Granite or butcher block counters add pleasant warmth and texture next to crisp blue cabinets.
If you want blue to be more dominant, consider a vibrant glass or tile backsplash. Contrasting blue and white tiles creates a lively contrast. Or fill your backsplash with multi-colored glass aggregates or Moroccan-style tiles.
Don't be afraid to mix and match materials, either. Blue-gray quartz countertops with white subway tile backsplash are a favorite go-to combo of mine. The options for personalization are endless!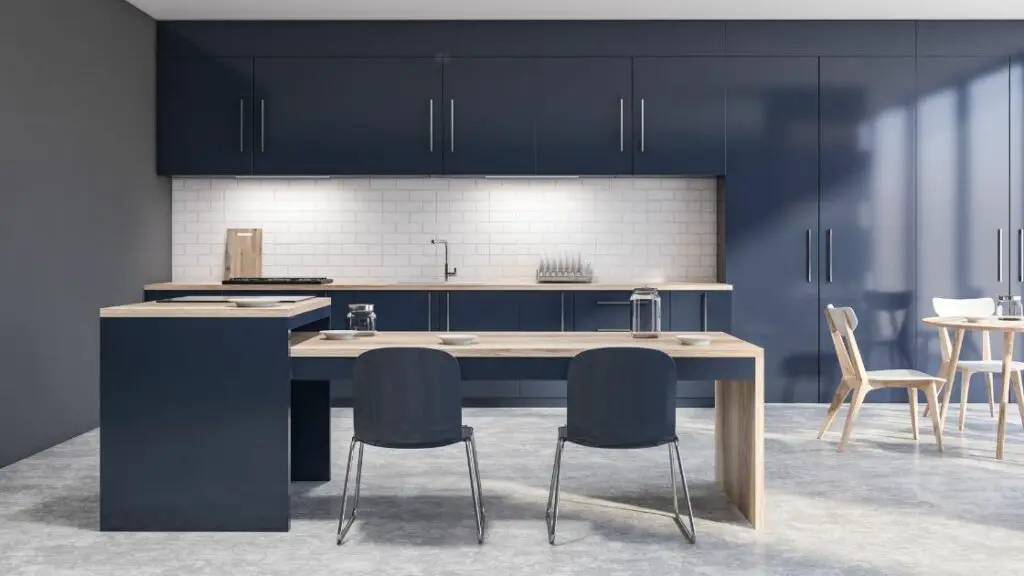 Dress it Up with Complementary Hardware.
Once you settle on the perfect shade of blue cabinets, it's time for the fun part – accessorizing! Cabinet hardware offers the ideal chance to layer in metals and shapes that complete your kitchen's style.
Matte black hardware looks sophisticated against navy cabinets, while satin brass handles give a vintage twist. For contemporary spaces, sleek silver pulls keep the focus on the crisp blue hue. Whimsical glass or patterned ceramic knobs work with playful powder blue kitchens.
Take cues from other finishes in your home, like lighting fixtures and faucets. Mixing metals can have plenty of appeal, but too many competing metal sheens end up feeling busy. Limit yourself to one or two complementing hardware finishes for a refined look. Those small but mighty details complete the kitchen's overall design!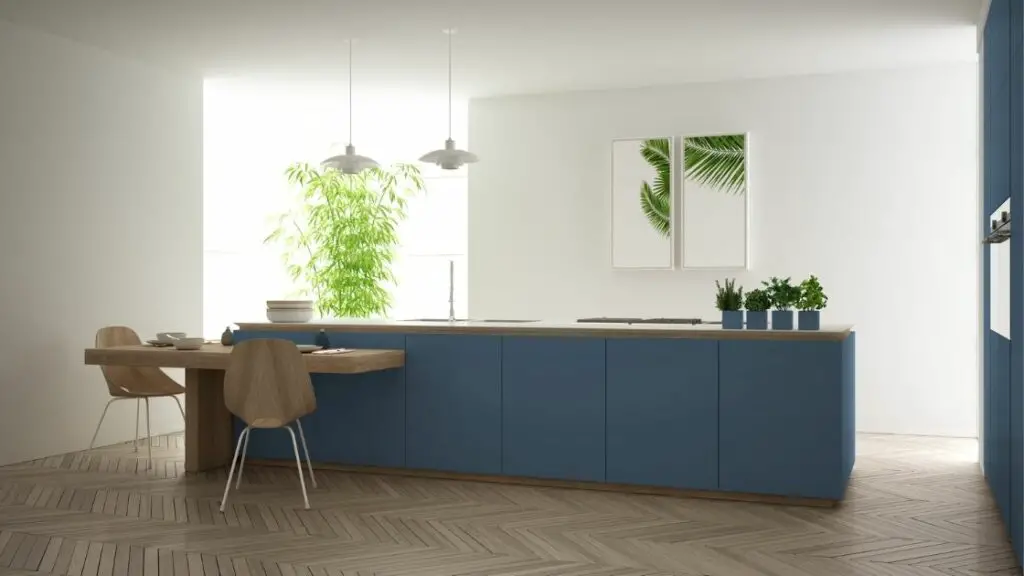 Color Combinations and Themes for Blue Kitchens
If you're unsure where to begin with palette planning, look no further! Here are some of my favorite blue kitchen color schemes perfect for your favorite decor motifs.
Breezy Nautical and Coastal Kitchens
Channel your favorite seaside escape with a beachy kitchen designed around blue cabinets. The blue provides the base, with secondary colors like white, sand, and wood tones pulling in natural elements.
A light robin's egg blue paired with weathered wood counters and a sandstone tile backsplash creates a casual coastal kitchen. For more pop, try a rich navy on the lower cabinets and white uppers. Add details like rope trim, shell hardware, and art with nautical references.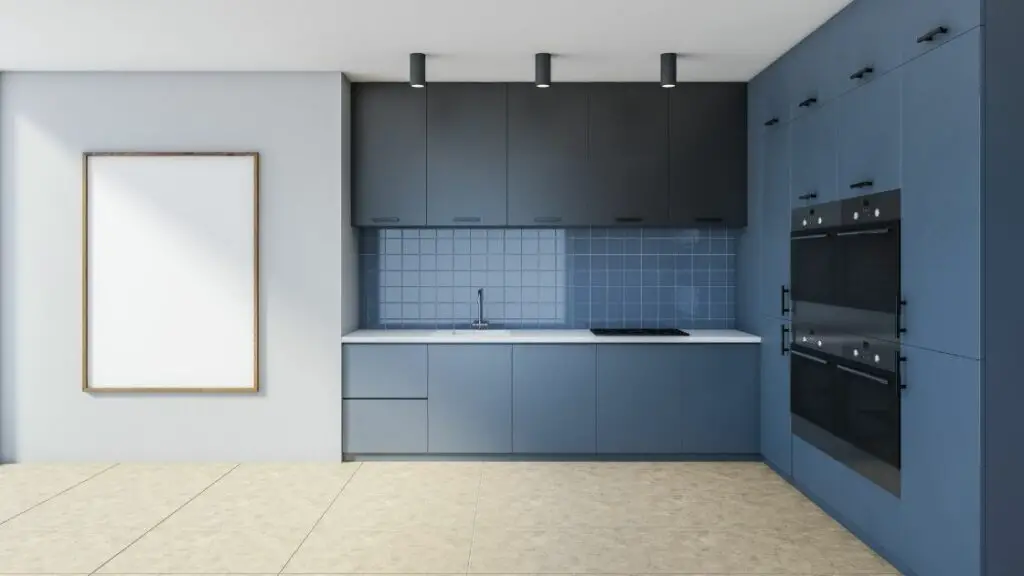 You'll feel like you're cooking in the Hamptons or Cape Cod. A soothing escape whenever you need it!
Modern and Contemporary Cool
If sleek lines and minimalist forms are your thing, blue cabinetry creates the perfect crisp foundation. Dark blues in glossy finishes or two-toned styles embody a contemporary edge.
Pair navy lower cabinets with light blue or white uppers for definition—accent with polished chrome hardware and modern touches like industrial pendants. For an ultra-modern vibe, opt for handleless cabinets and discreet finger grooves.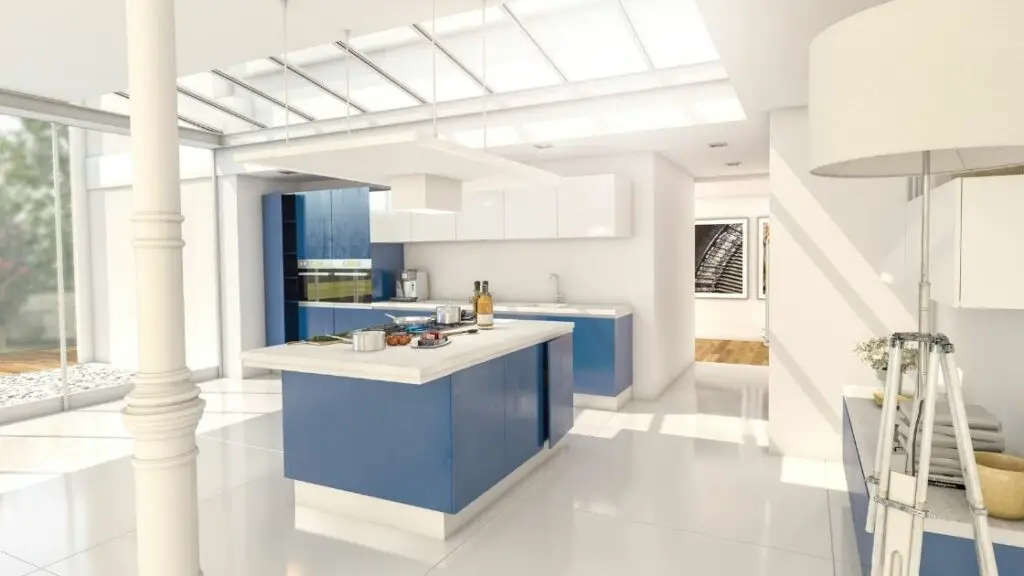 High-contrast white quartz countertops make the blue pop even more. Add in metallic pewter or silver accents for a hint of glam. The result is a kitchen any design maven would envy—bold, innovative style without going overboard.
Timeless Traditional Kitchens
For a classic kitchen with staying power, blue offers a distinctive yet timeless accent. Softer Robin's egg blues or muted navy pairs perfectly with traditional charms like crown molding, glass cabinet fronts, and oversized subway tile.
Warm wood counters and antique-inspired hardware add to the nostalgic feel. Include framed botanical prints, woven baskets, and ceramic canisters for an authentic old-world cottage kitchen.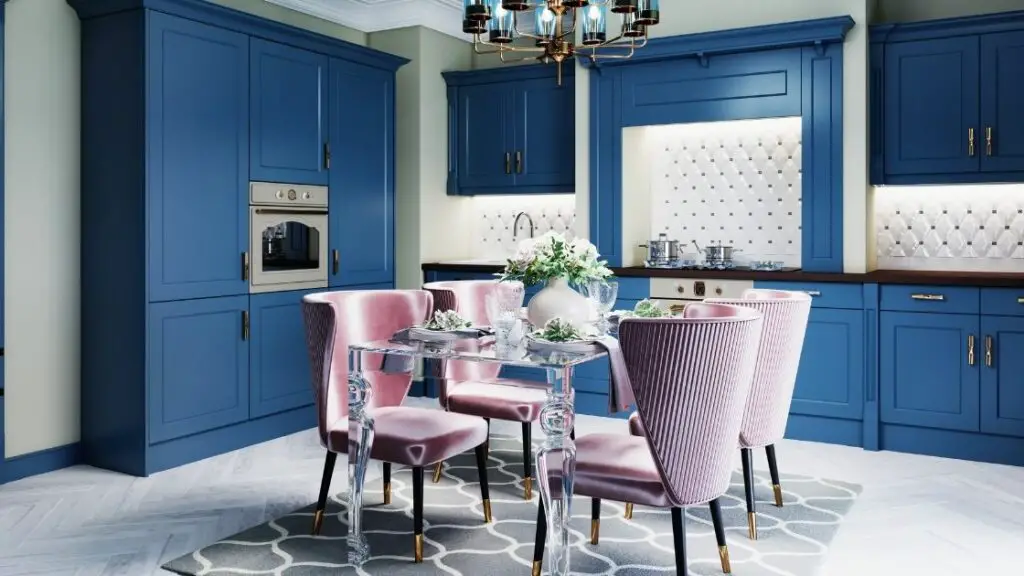 The handcrafted appeal of blue-stained wood cabinets creates a next-level traditional ambiance. Distressed paint techniques on shaker-style cabinetry also channel time-tested character. This is one trend that seamlessly transitions from coastal casual to country cottage.
Care and Upkeep for Blue Beauty
I always believe decorating is only half the fun – maintaining your stylish space is equally important! Let's dive into keeping your blue kitchen cabinets looking fabulous. Implement these essential cleaning habits from the start for cabinets that wow.
Establish a Regular Cleaning Routine
Gentle, frequent cleaning keeps kitchen grime from building up into a sticky mess. I like to give my cabinets a good wipe-down every week during my complete kitchen cleanup.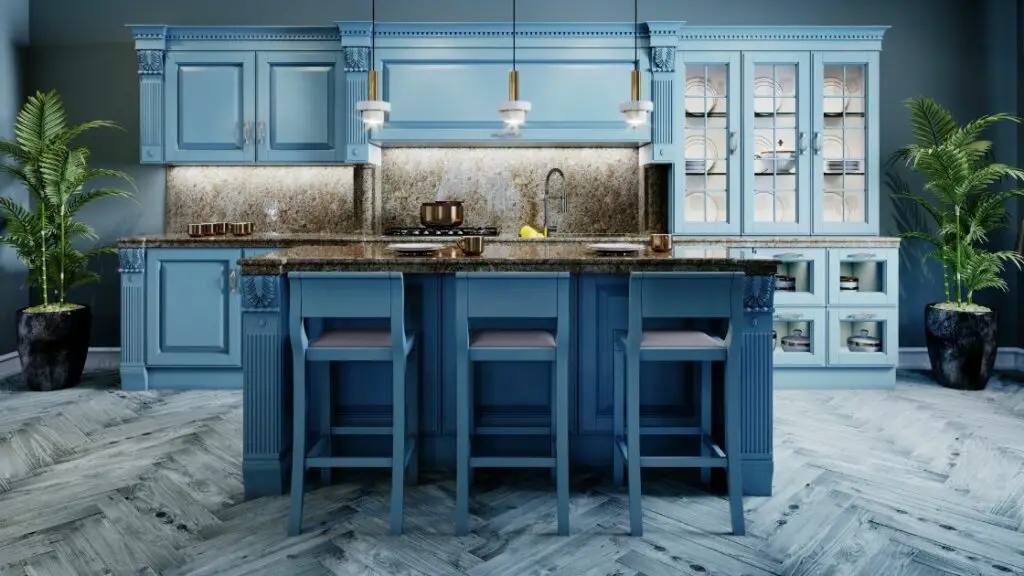 Use a soft microfiber cloth dampened with warm water and mild dish soap. Gently clean doors, being careful not to let moisture seep into unfinished cabinet edges. Avoid harsh cleaners or scrubbing pads, which can damage the finish.
For painted cabinets, dry immediately and buff out water spots. Wood cabinets also need thorough drying to prevent warping. Easy weekly wipe-downs make deep cleaning easier down the road.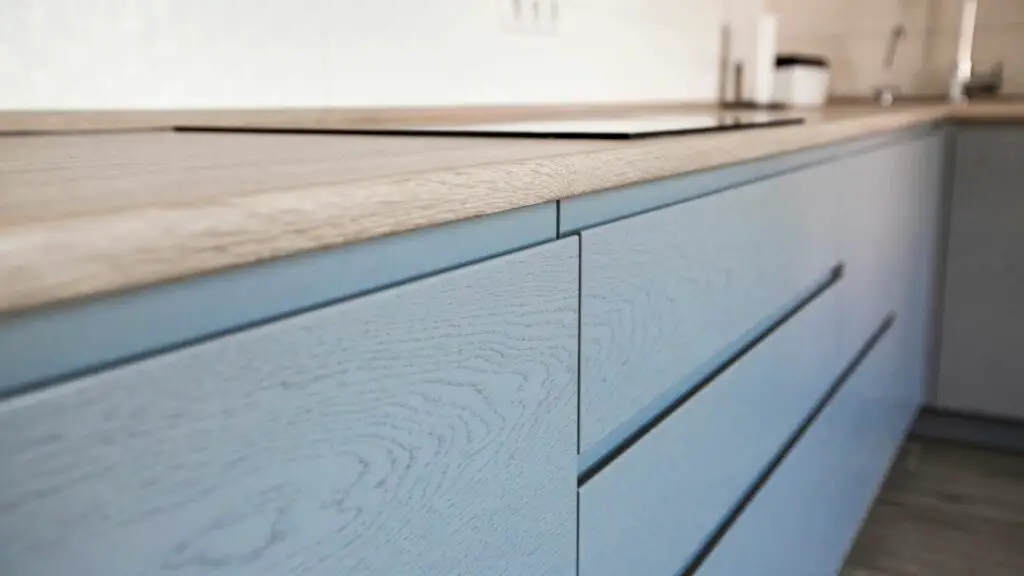 Handle Spills ASAP
We've all been there – upending that giant bottle of tomato sauce right onto the cabinet front! While major spills can't always be avoided in the kitchen, acting fast to clean them prevents lasting stains.
Immediately soak up excess liquid from the cabinet with a dry towel. Then, gently scrub the area with your mild detergent solution using a soft cloth or sponge. Rinse with clean water and dry thoroughly. Persistent stains may need touch-up paint or re-staining.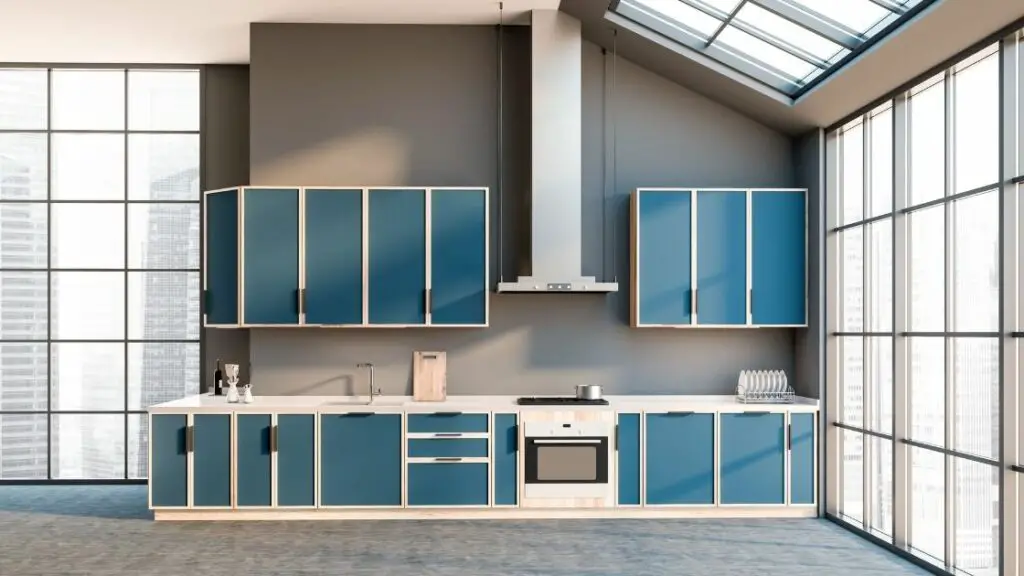 Check for Signs of Wear
Make it a habit to inspect your cabinets inside and out during regular cleanings. Look for any scratches, chips, or color fading. Address these right away to maintain the original beauty of your kitchen.
For painted cabinets, use small paint brushes to touch up any damaged areas. Re-stain wood cabinets as needed to protect and refresh the color. Laminate scratches can often be massaged away with toothpaste or mineral oil for quick fixes.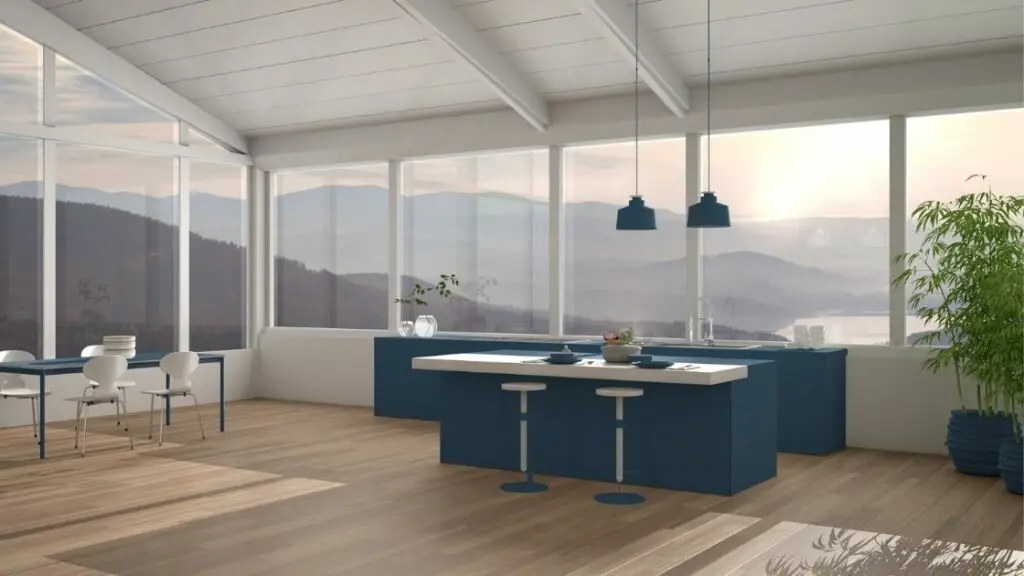 Periodic inspections allow you to be proactive about repairs before more significant issues arise. An ounce of prevention is worth a pound of cabinet replacements!
Set Sail on Your Blue Kitchen Quest
I hope all you ocean-loving design fans out there feel reenergized and inspired. Blue kitchen cabinets offer endless versatility for crafting your dream maritime-flavored space. With proper planning and care, you can enjoy smooth sailing with this timeless trend.