A blue bathroom vanity can be the pièce de résistance that brings your bathroom design together whether you're looking to create a coastal cottage vibe or prefer a more modern, spa-like aesthetic, the right shade of blue offers a world of possibilities.
In this post, we'll explore why blue makes for such an inviting bathroom hue and help you select the perfect shade and style for your space. From traditional to modern blue vanities, I'll share plenty of design inspiration to spark your creativity. We'll also cover materials, hardware selections, and decor accents so you can pull together a cohesive look.
So grab your swatches and style guides! Let's dive into the beautiful world of blue bathroom vanity ideas.
Why Choose a Blue Bathroom Vanity?
There are so many reasons to consider a blue vanity for your bathroom:
Visual Appeal of Blue Hues
Blue is gorgeous, from soft and pale turquoise tones to dramatic navy shades. A blue vanity can create a soothing oasis or make a stylish statement in your bathroom. The color instantly catches the eye and works with various materials, from wood to marble.
Whether you opt for a dusty blue-gray vanity or a vivid cobalt, a blue vanity becomes a beautiful focal point in the room.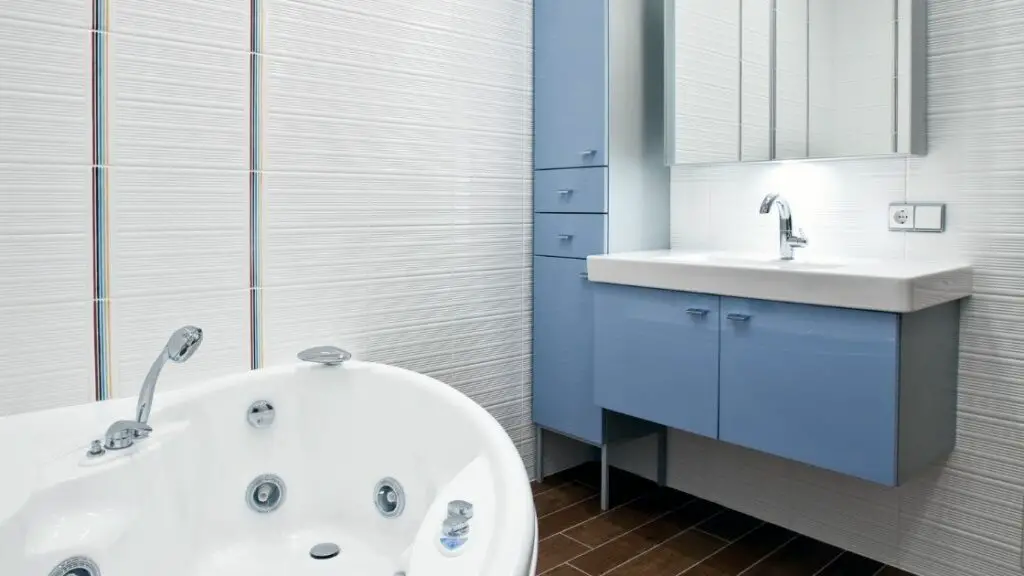 Psychological Effects of Blue
Beyond just looking pretty, blue also has a calming and tranquil effect. Since the bathroom is where we prepare for the day, unwind at night, and rejuvenate, blue is an ideal color choice.
The cool tones evoke relaxation and can even lower blood pressure and heart rate. That's why blue is often recommended in spas and wellness-focused spaces.
Lighter blues like powder blue or sky blue create an incredibly peaceful ambiance. But don't be afraid to go bold with a navy vanity to make a luxurious statement.
Blue's Versatility in Design
One of the best things about blue is its versatility. It can work in any design aesthetic and pairs beautifully with other colors.
For traditional spaces, soft blue-gray vanities nicely complement marble counters and polished chrome fixtures.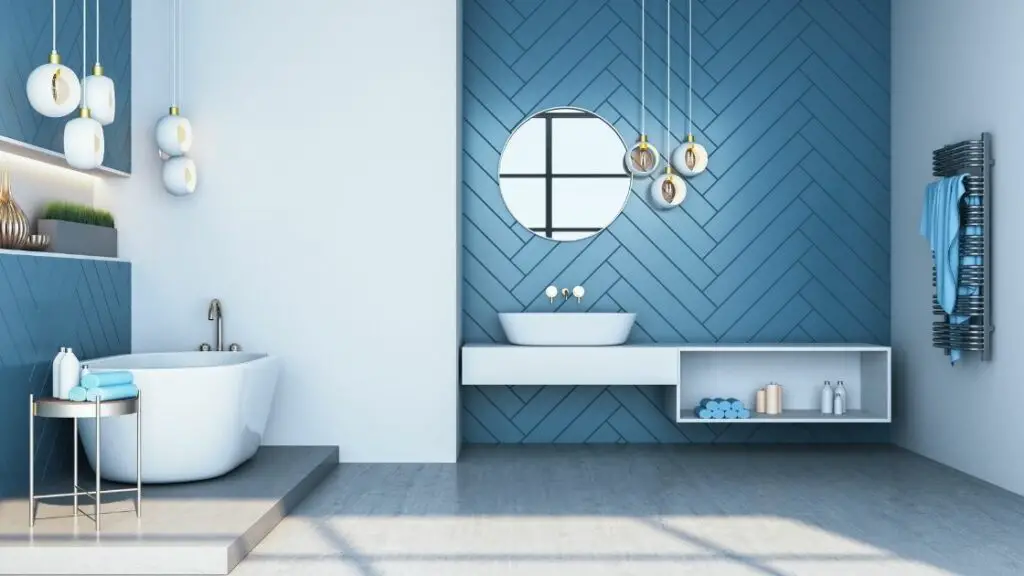 Contemporary bathrooms can feature bolder blues paired with sleek glass, metal, or solid surface materials.
You can also give a colorful farmhouse bathroom twist with a weathered antique blue vanity and vintage accents.
So whether you prefer modern, coastal, rustic, or traditional styles, there's a shade of blue that will work for your bathroom.
Selecting the Right Shade of Blue
With so many blue hues, it can be tricky to select the right shade for your vanity and overall bathroom design. Here are some of the most famous blue bathroom color schemes to consider:
For a look that's refined and just a bit moody, you can't go wrong with a navy or deep blue-gray vanity. Especially when paired with brass accents and warm wood tones, a dark blue vanity creates a cohesive and luxurious look.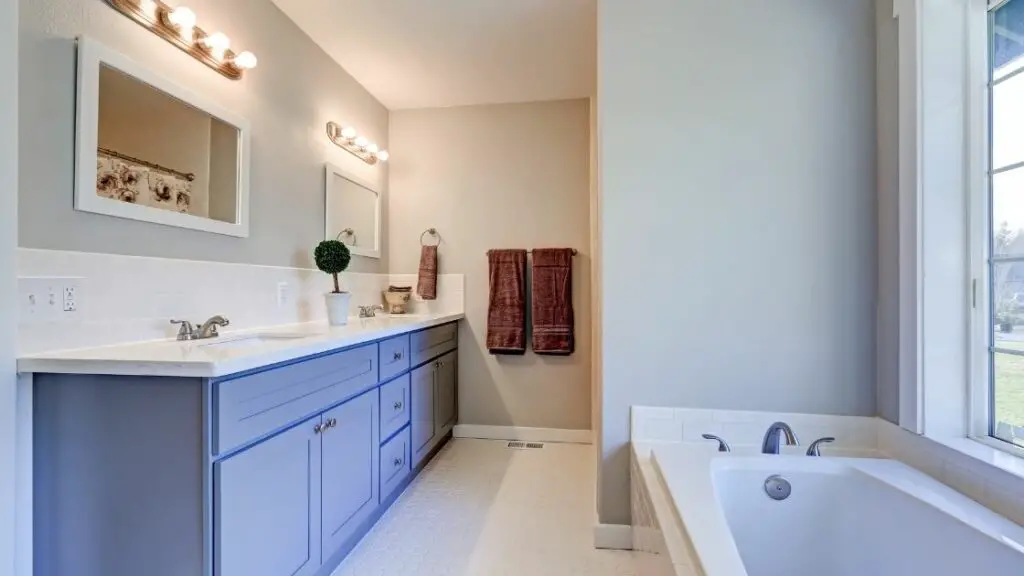 Deep blue works well for traditional, modern, and contemporary design styles. Try matching a navy vanity with pale blue walls or white subway tiles for a striking contrast.
Sky and Light Blues: Airiness and Calm
Soft powder blue, sky blue, and other pale blue shades feel airy and ethereal. They work perfectly for a spa-like bathroom retreat.
Pair a light blue vanity with crisp white cabinets and marble counters for a timeless look. You can also add some barely-there blue wallpaper for a soft backdrop.
For a beachy cottage bathroom, look for a weathered turquoise vanity or upcycle a flea market dresser in Robin's egg blue.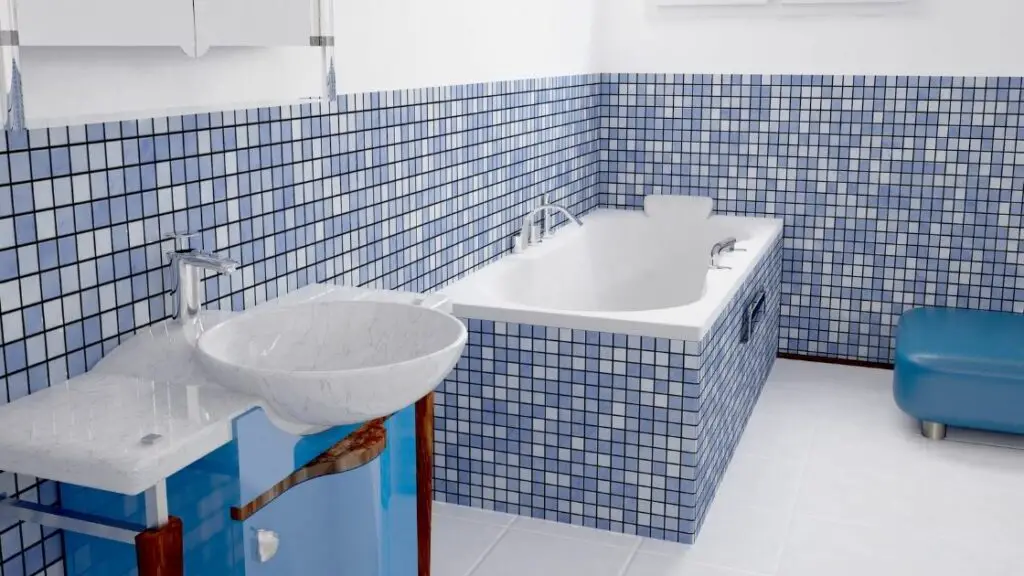 Turquoise and Teal: Vibrant and Energetic
Make a bold splash with a turquoise or teal vanity! These vibrant shades create an energetic, tropical vibe in the bathroom.
Use turquoise as an accent color if you're not quite ready to commit to a full vanity in this vivid shade. Add pops of color with a turquoise stool, tiles, or decor accents.
For a cohesive turquoise or teal bathroom, match your vanity with tile backsplashes and towels in coordinating shades. Brass fixtures also pair nicely with these bright colors.
Popular Blue Vanity Styles
The options are nearly endless when it comes to blue bathroom vanity designs. Let's explore some of the most popular styles and get inspired!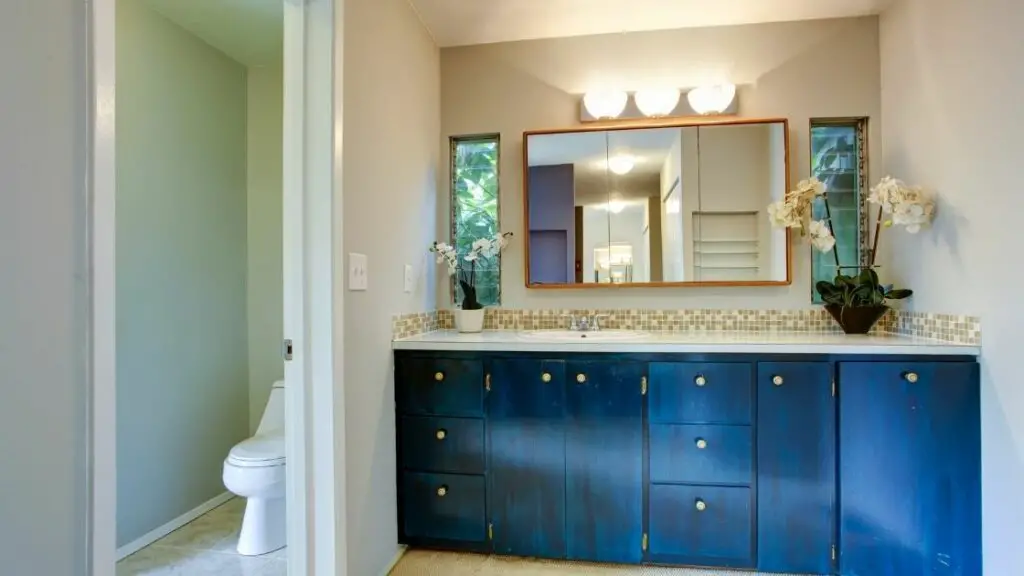 Traditional Vanities with a Blue Twist
Give a traditional bathroom vanity an update with a pop of blue color. Some ways to incorporate blue into a classic design:
Paint a wooden vanity in a soft powder blue or blue-gray tone
Choose a vintage vanity with a washed blue patina for a timeworn look
Select a traditionally styled vanity with blue cabinet doors for a subtle touch of color
Pair an antique white vanity with a striking blue vessel sink
Switching out the cabinets for a lighter blue inside a white vanity frame can make a significant visual impact.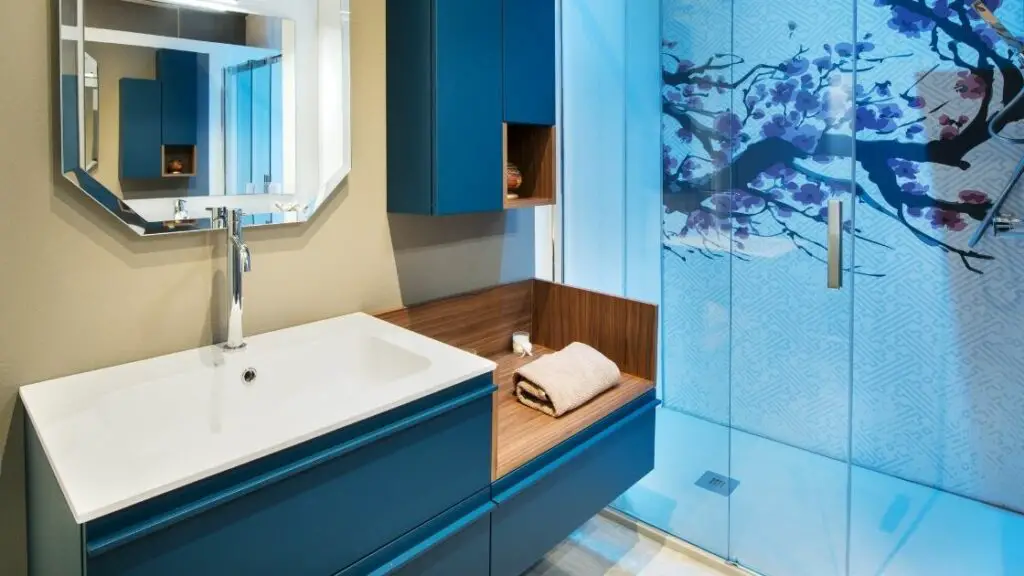 Modern and Minimalist Blue Vanities
For contemporary bathrooms, blue offers endless possibilities. Some modern blue vanity ideas include:
A sleek floating vanity in a matte navy blue hue
A glossy cobalt blue vanity paired with stone or concrete counters
A vanity with cool-toned blue cabinets and brass accents
A simple white vanity with a bold blue sink basin and faucet
Take a minimalist blue vanity to the next level with modern metallic or black accents.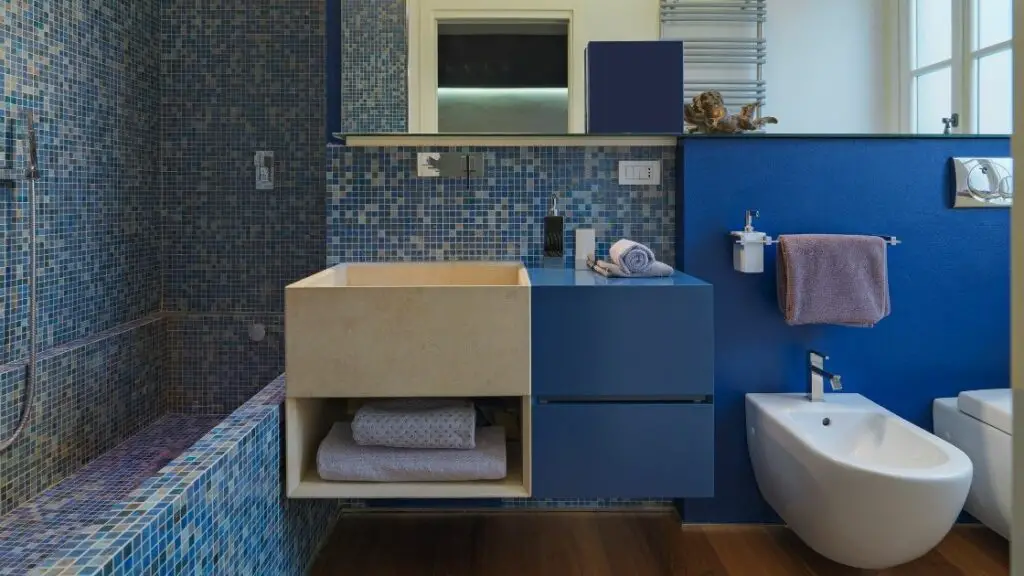 Rustic Blue Vanities for a Cozy Touch
Want to add a pop of color to a cozy, rustic bathroom? Blue is a great choice!
An antique blue dresser repurposed as a vanity creates a cottage feel
Try a weathered teal vanity with an aged patina for a beach house vibe
A reclaimed wood vanity with a washed blue-green finish looks right at home in a farmhouse
Soft robin's egg blue brings a cheerful touch to a rustic bathroom
Play up the charm factor with vintage blue and white ceramic sinks, woven baskets for storage, and fresh flowers
Blue Vanity Design Ideas
Let's explore some vanity setups and configurations for making the most of blue hues in your bathroom.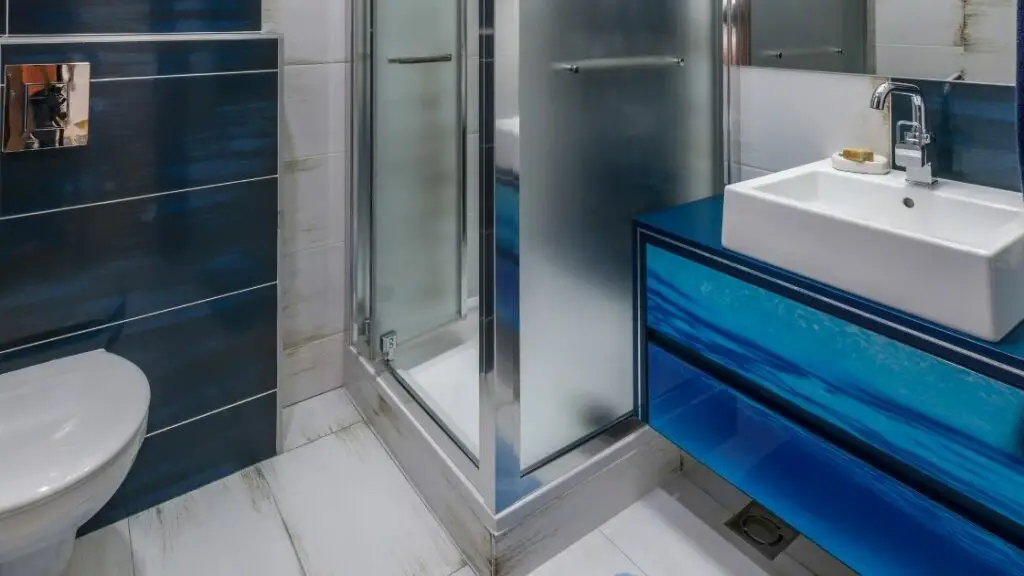 Single Vanity Designs
Single blue vanities are perfect for small bathrooms. A few ideas:
A compact wall-mounted vanity with a powder blue finish maximizes floor space
Try a narrow floating vanity in navy blue to open up a tight space
Add an unexpected pop of color with a petite turquoise vanity in a neutral bathroom
With some clever design choices, even the most miniature bath can accommodate a bright blue vanity!
Double Vanity Designs
For bathrooms with two sinks, a double-blue vanity makes a stylish shared space. Some options include:
A classic double vanity with sky-blue cabinet doors and crisp white counters
A modern teal vanity with his & hers sinks and storage
Mismatched blue vanities in varying shades for an eclectic look
A spacious navy blue double vanity with brass fixtures for drama
Double up on style with blue vanities designed for two!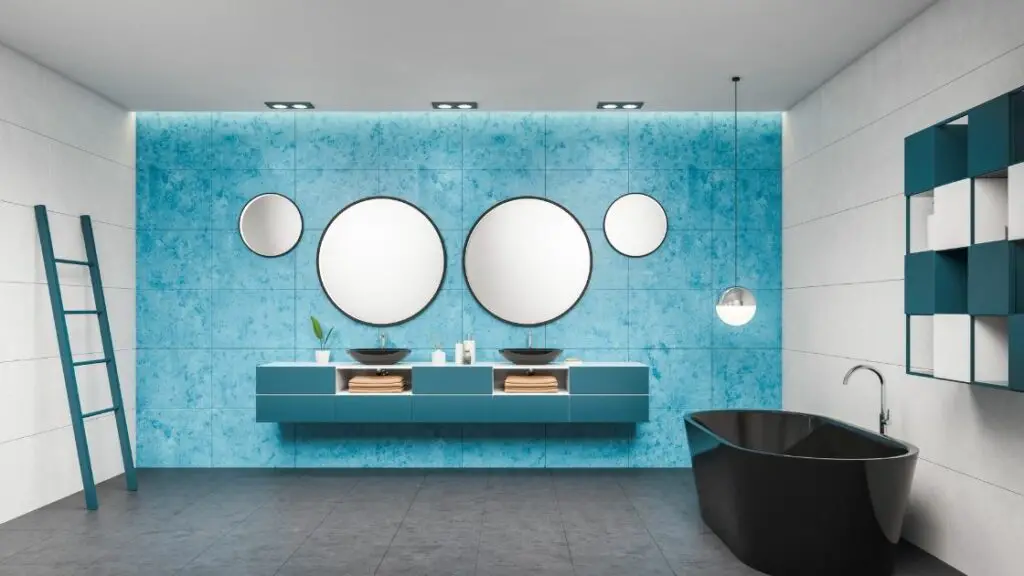 Freestanding vs. Built-In Vanities
Another decision is whether to opt for a freestanding vanity or a built-in design:
Freestanding Blue Vanities
Offer flexibility if you move or remodel
Come in a range of materials and colors
Provide a stylish focal point in the bathroom
Take up more floor space than built-in vanities
Built-In Blue Vanities
Customized specifically for your bathroom space
Seamlessly integrated into the design aesthetic
Gain counter space by fitting snugly against walls
Can't be easily changed or relocated
Consider your bathroom layout, style, and needs when deciding between freestanding or built-in.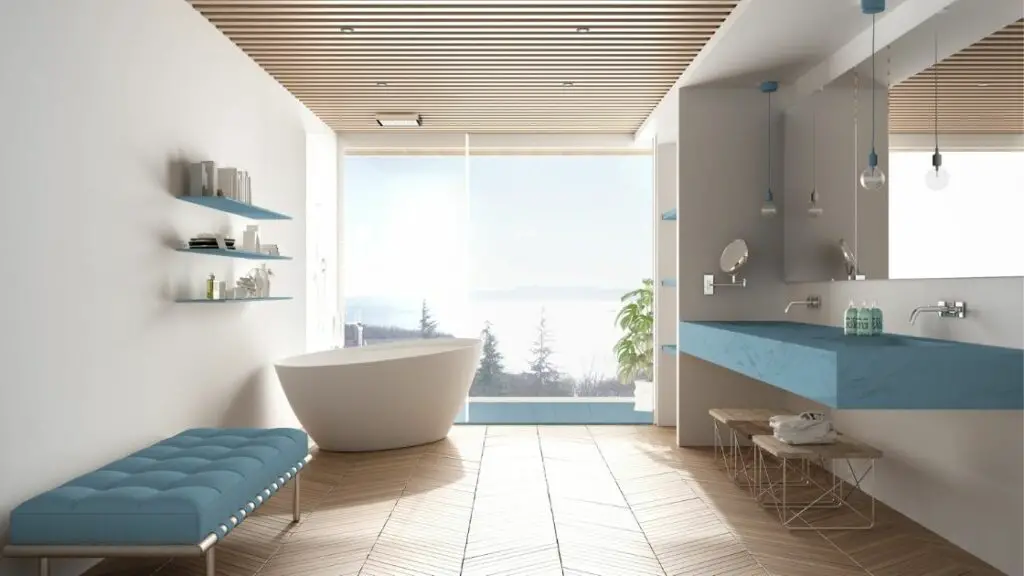 Materials and Finishes for Blue Vanities
The materials and finish you choose impact the overall look, durability, and maintenance of a blue bathroom vanity. Let's look at some top options:
Painted Wood for a Classic Look
Painted wood vanities are a popular choice for traditional and cottage-style bathrooms. The finish can be easily touched up if needed. Opt for high-quality maple, oak, or birch wood vanities and use semi-gloss or gloss paint for a durable, scrubbable surface. Soft powder blue and Robin's egg blue work nicely on painted wood.
Blue Laminate for a Modern Appeal
For a more contemporary vibe, laminate vanities come in every shade of blue imaginable. The artificial material is budget-friendly and attains moisture and wear and tear. Matte navy blue laminate paired with a stone resin counter makes a bold style statement.
Glass and Metal Accents
Adding glass and metal accents creates a stylish, spa-like look. Try a cool-toned blue vanity with a sleek glass countertop. Or opt for a sink basin in chrome, stainless steel, or brushed nickel. Just keep metal surfaces free of hard water stains and mineral deposits, which can be tricky to remove from the smooth surface.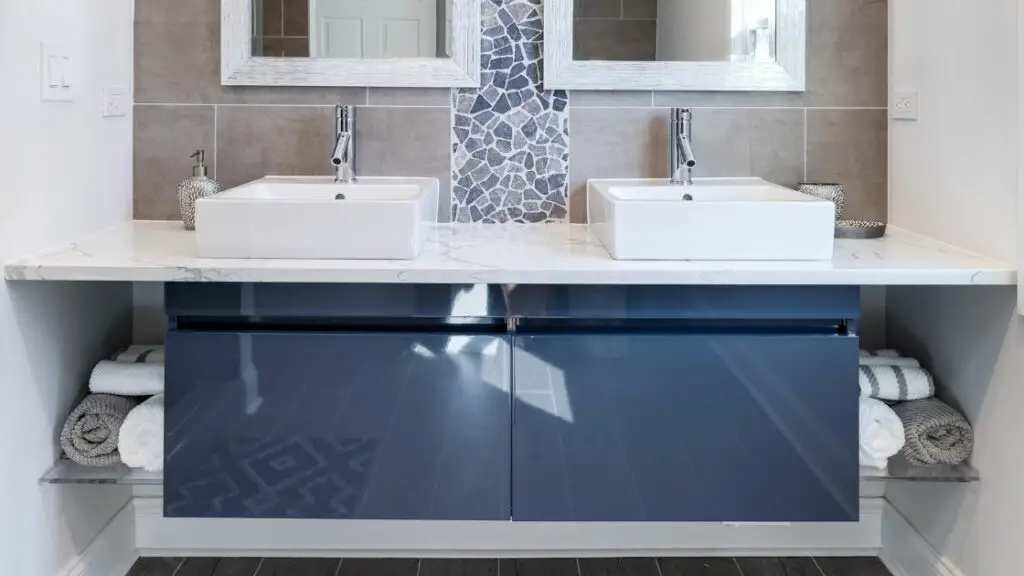 Durable Finishes
No matter what material you select, choose a blue bathroom vanity with a durable, protective finish. Gloss and matte finishes tend to repel water spots and wipe clean easily. Seek out vanities made from moisture-resistant materials or look for waterproof coatings. Avoid unfinished wood, which can warp or discolor when exposed to humidity over time.
Countertop and Sink Options
Along with your blue vanity, you'll need to decide on countertops and sinks. Here are some ideas for a coordinated look:
Complementary Countertop Colors
Popular countertop hues that complement blue vanities include:
Crisp White – Matches any blue tint, from navy to sky blue
Soothing Gray – Providing subtle contrast with blue vanities
Warm Beige – Pairs nicely with antique vanities in muted blue tones
Bold Black – Creates drama against a vivid blue vanity
Natural Wood – Adds warmth and texture to balance cool blue tones
Aim for countertops in materials that are low-maintenance and moisture-resistant.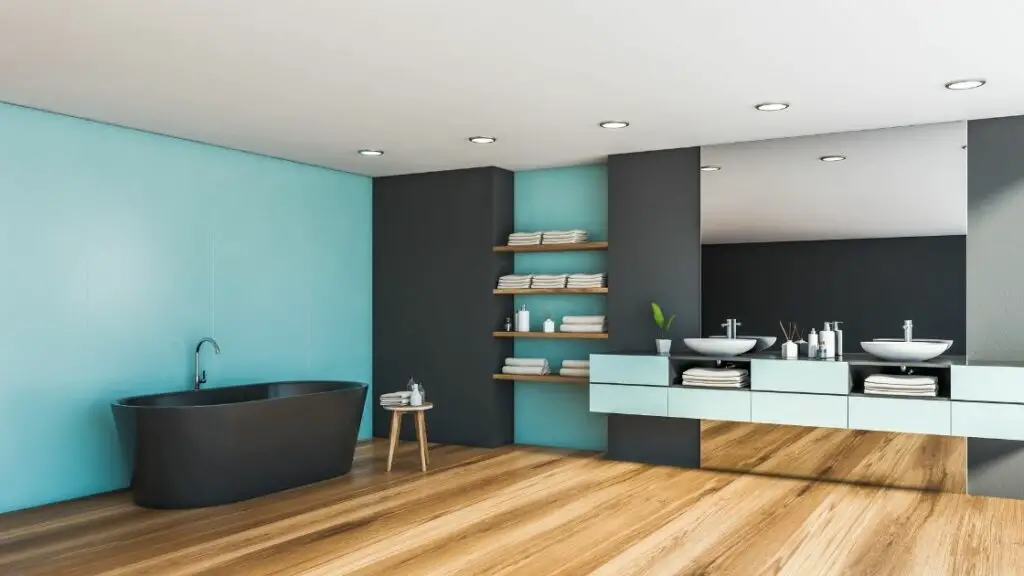 Material Choices
Countertop materials like quartz, granite, and solid surfaces work well with blue vanities.
Quartz is durable, scratch-resistant, and has various patterned and solid color options to match any design.
Granite offers natural beauty and luminosity but requires more sealing to prevent stains.
Solid Surface materials like Corian provide a seamless, built-in look that works for contemporary spaces.
Marble makes a lovely pairing with a traditional blue vanity but is prone to etching and stains. Maintaining the porous natural stone requires diligent sealing and care.
Sink Styles
Some sink options that complement blue vanities wonderfully:
Vessel Sinks in materials like glass, ceramic, or metal make a stylish statement atop vanity counters.
Undermount Sinks are installed below the counter for a streamlined, built-in look.
Integrated Sink Basins form a continuous surface with the vanity top for a modern aesthetic.
Select a sink size and shape that fits comfortably within your vanity's counter space.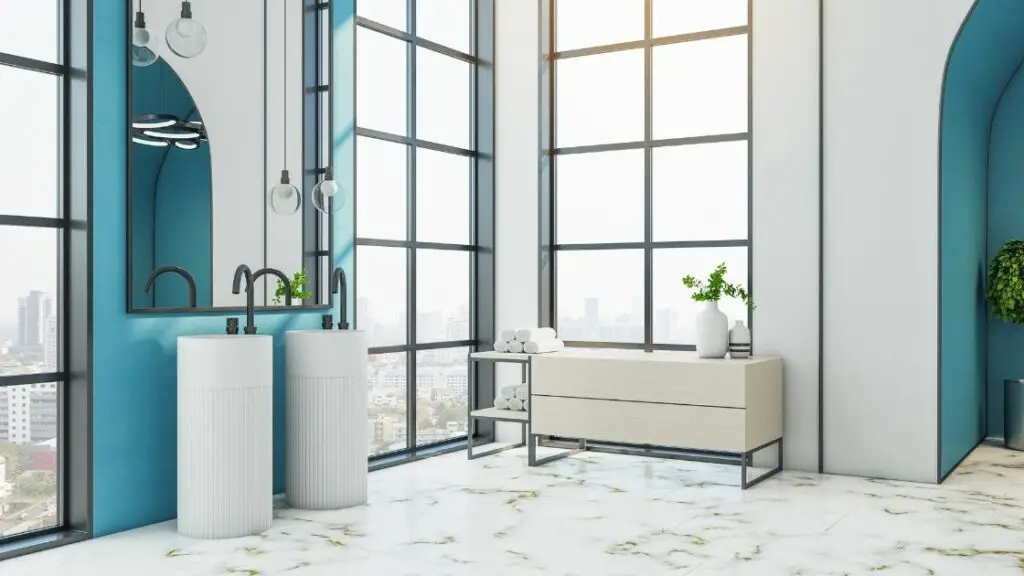 Hardware and Fixture Selections
Finish your blue bathroom vanity with perfect knobs, handles, taps, and fixtures:
Coordinating With Blue Vanities
Match cool-toned blues with ultra-modern brushed chrome or sleek stainless steel hardware.
Warm antique brass, oil-rubbed bronze, or unlacquered brass pairs beautifully with more traditional vanities.
For a trendy mixed metals look, combine blue with black metal, satin nickel, and copper.
Knobs, Handles, and Faucets
Glass, ceramic, or crystal knobs lend a glamorous touch.
Sculptural hardware in artistic shapes provides visual interest.
Nautical rope pulls complement coastal blue bathrooms.
High-arc handles add a graceful silhouette.
Single-lever or widespread faucets offer adjustability.
Waterfall faucets make an elegant, contemporary statement.
Have fun and get creative with your hardware selections!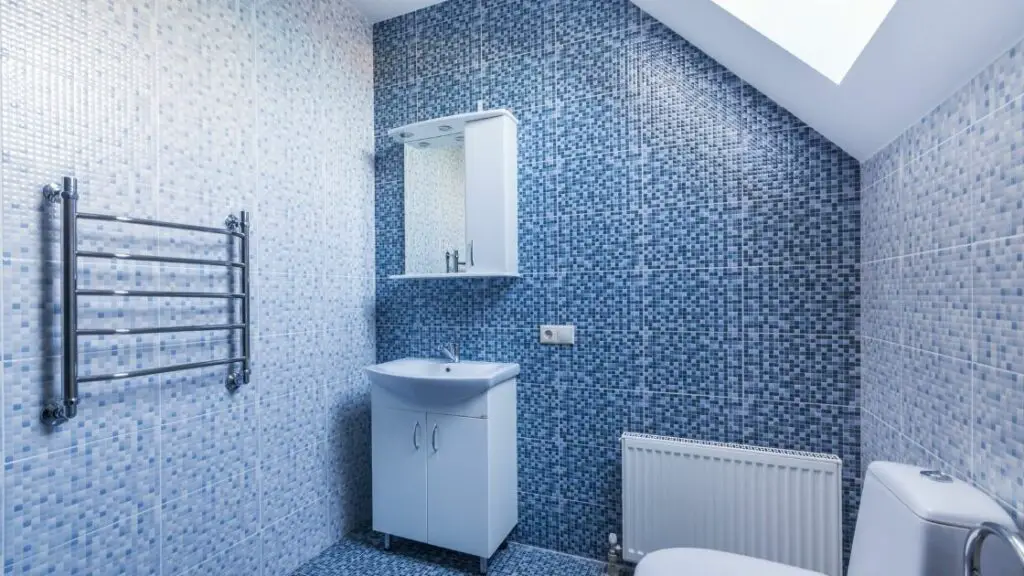 Accentuating With Wall Colors and Tiles
Pull your whole blue bathroom together with coordinated wall hues and tile designs:
Wall Colors
Soothing gray or greige tones allows blue vanities to take center stage.
Crisp white provides contrast and feels fresh and bright.
Light blue walls match perfectly with a blue vanity in the same or slightly different shade.
Bold navy blue creates an enveloping, cozy feel on vanity and walls.
Muted greens complement blue vanities in subtle, inviting ways.
Tile Designs
Subway tiles in white, light blue, or pale aqua keep the focus on the vanity.
Herringbone tiles in soothing grays or beiges add quiet interest.
Mosaic tiles with shades of blue, green, and turquoise make a vibrant splash.
Moroccan-inspired tiles look exotic against a navy blue vanity background.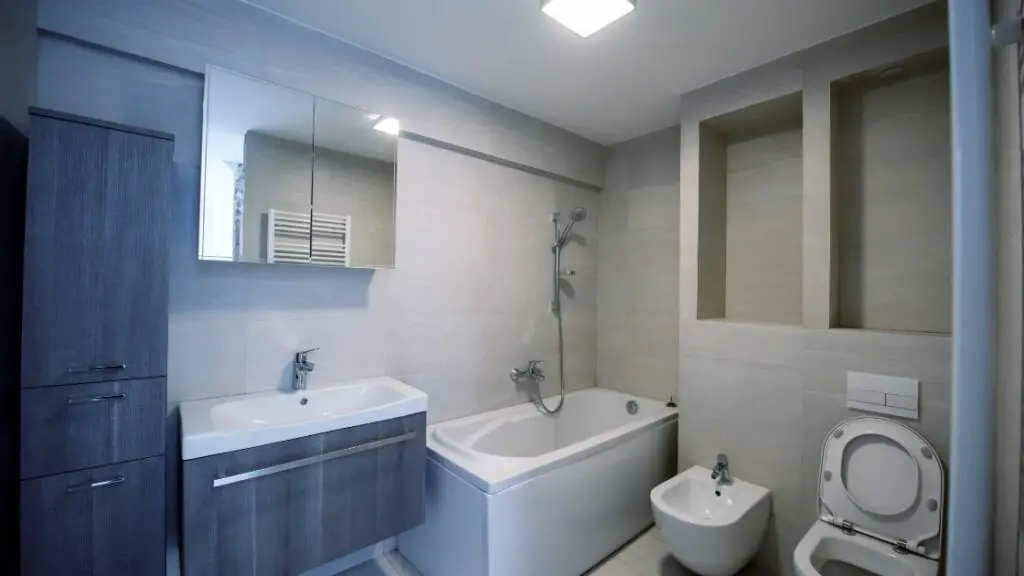 Accessories and Decor to Complement Blue Vanities
The finishing touches like lighting, towels, plants, and artwork complete your blue bathroom's look:
Modern sconces or a minimalist LED mirror provide sleek, focused light.
Plush blue and white towels introduce coordinating colors.
Nautical rope baskets bring beachy texture to coastal baths.
Fresh flower arrangements add natural beauty and fragrance.
Minimalist black and white prints keep the focus on a bold blue vanity.
Glass canisters and organizers add aquatic interest.
Candles in relaxing scents like lavender, eucalyptus, or sea salt enhance the spa vibe.
Carefully chosen accents that complement your blue bathroom vanity complete the design.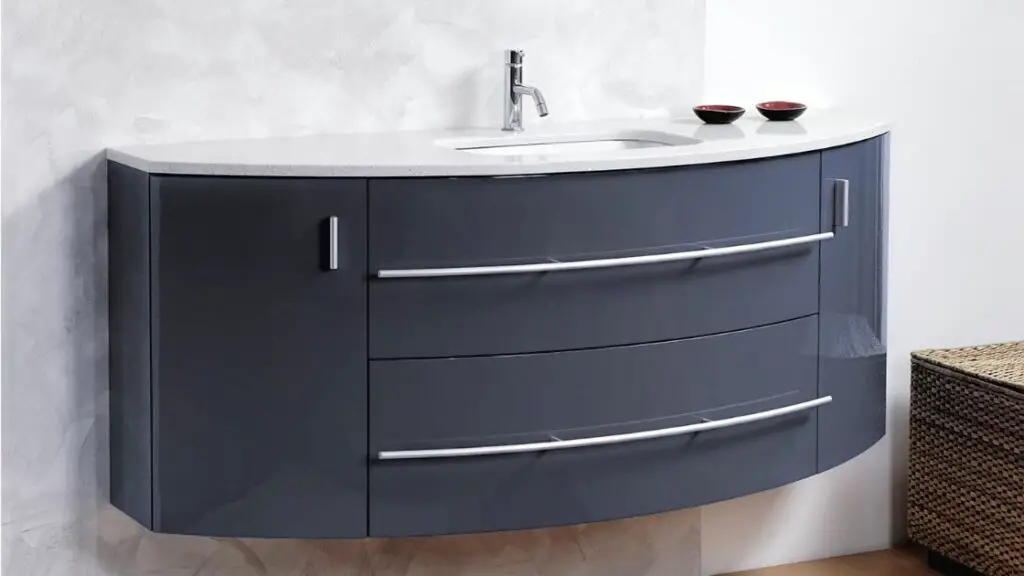 Case Studies: Successful Blue Vanity Installations
Seeing real-life blue bathroom vanity makeovers provides helpful inspiration. Here are a few stunning before-and-afters:
Coastal Blue Bathroom Vanity
This dated all-white bathroom received a breezy coastal makeover with a weathered turquoise vanity:
BEFORE: Plain white vanity, beige walls, white tile floor
AFTER: Beachy weathered teal vanity, soft blue wall paint, driftwood-look tile flooring, woven baskets, flowers
Modern Blue Bathroom Vanity
A bold matte navy vanity took this bathroom from bland to beautiful:
BEFORE: Bulky oak vanity, brown granite top, tan walls, dated light fixture
AFTER: Sleek navy floating vanity, crisp white quartz top, gray walls, modern matte black fixtures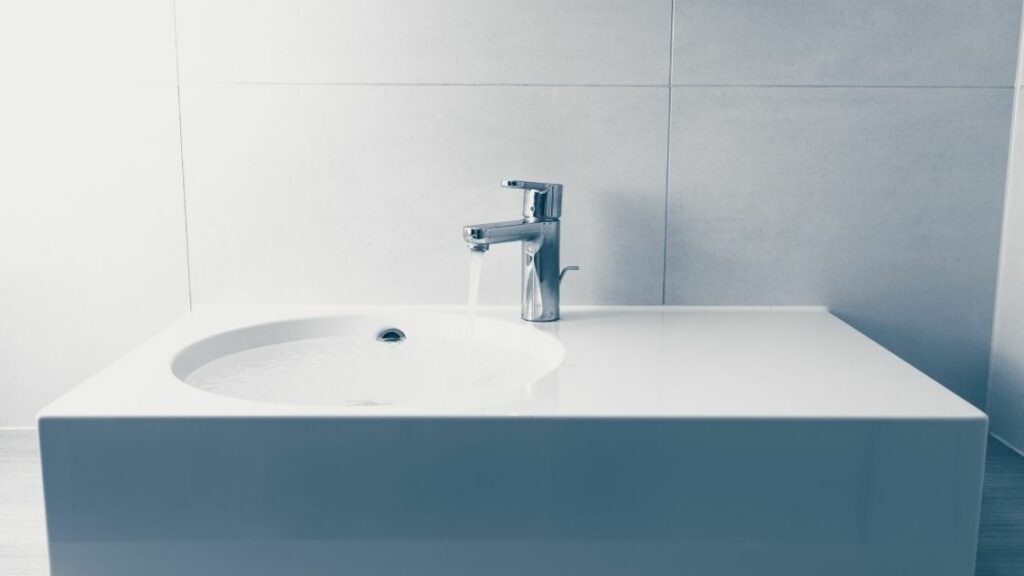 Rustic Blue Bathroom Vanity
An antique dresser painted robin's egg blue gave this bathroom farmhouse charm:
BEFORE: Traditional oak vanity with green marble top, beige walls, white tile floor
AFTER: Distressed blue dresser vanity, white porcelain sink, sky blue walls, braided rug, flower art
Traditional Blue Bathroom Vanity
This bathroom was transformed with the addition of an elegant blue-gray vanity:
BEFORE: Plain white vanity with cream marble top, pink walls, dark wood floor
AFTER: Ornate blue-gray vanity with white marble top, light blue walls, chrome fixtures, floral art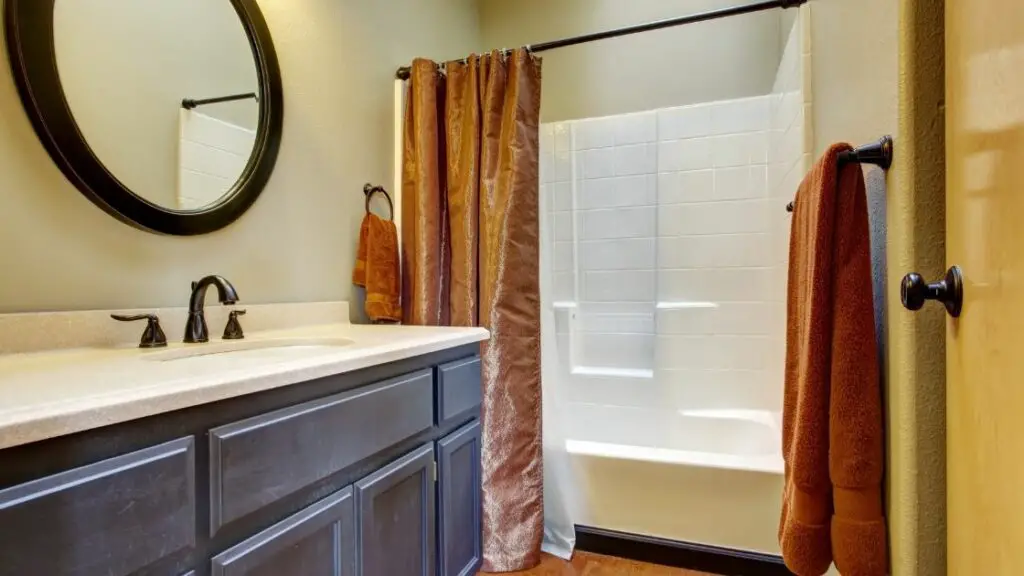 Care and Maintenance Tips for Blue Vanities
Keep your blue bathroom vanities looking like new with proper care:
Clean surfaces frequently with mild soap and water to prevent buildup.
Wipe spills quickly to avoid staining or discoloration.
Apply wax or sealant regularly to protect the finish from moisture damage.
Use coasters and trivets to prevent heat damage from curling irons, etc.
Check for signs of wear, like scratches or water spots, and address them quickly to avoid worsening.
Dust hardware and fixtures regularly and clean with a mild cleaner to maintain luster.
Have countertops professionally re-sealed every 1-2 years to prevent staining or etching.
With consistent care and maintenance, a quality blue bathroom vanity will stay beautiful for years!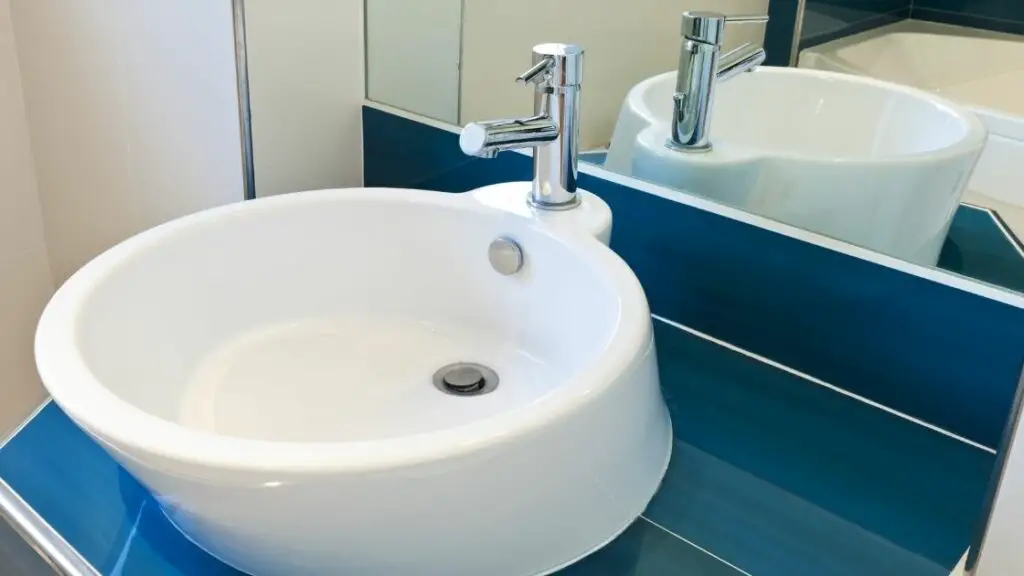 FAQ: Common Concerns About Blue Vanities
Do you still have some questions about choosing a blue bathroom vanity? Here, I'll address some frequently asked questions:
Are blue vanities durable and long-lasting?
Yes, blue vanities are available in durable materials like wood, solid surface, quartz, and quality laminates that stand up well to moisture and everyday wear when correctly cared for. Look for vanities constructed from moisture-resistant materials with protective finishes.
What style of bathroom does a blue vanity work best for?
One of the great things about blue is its versatility to fit any style. Blue vanities complement traditional, cottage, coastal, modern, contemporary, rustic, and eclectic bathrooms beautifully. Choose the right shade of blue for your desired aesthetic.
Is a blue vanity hard to keep clean and maintain?
Blue vanities are no more challenging to care for than vanities in other colors. Use mild cleaners and quick cleanup of spills to keep surfaces looking fresh. Opt for glossy or matte finishes that repel water and wipe clean easily. Re-apply sealants as needed. Ask manufacturers about the best cleaning methods for their vanities.
Will a blue vanity go out of style quickly?
Not at all! Blue is a timeless color.