Hey everyone! Welcome back to the blog. Today, I want to dive into a topic near and dear to my interior designer heart – how to choose the best carpet for your rental property.
As a New Yorker, I've lived in my fair share of apartments. And let me tell you, the carpet can make or break the living experience! I've had the scratchy, cheap kind that showed every speck of dirt, and I've had the plush, cozy kind that made me look forward to taking off my shoes after a long day. One made me count down the days until I moved out, while the other had me ready to renew my lease.
As a renter-turned-landlord, carpet selection has become a priority for me. I want to provide my tenants with durable and comfortable flooring underfoot. Of course, I also need to balance this with affordability.
If you're a landlord looking to upgrade your rental, read on! I'll explain the ins and outs of choosing the best carpet for your tenants' happiness and bottom line.
The Rental Rundown: Why Carpet?
Of all the flooring options, why should landlords opt for carpet? Well, there's a few compelling reasons: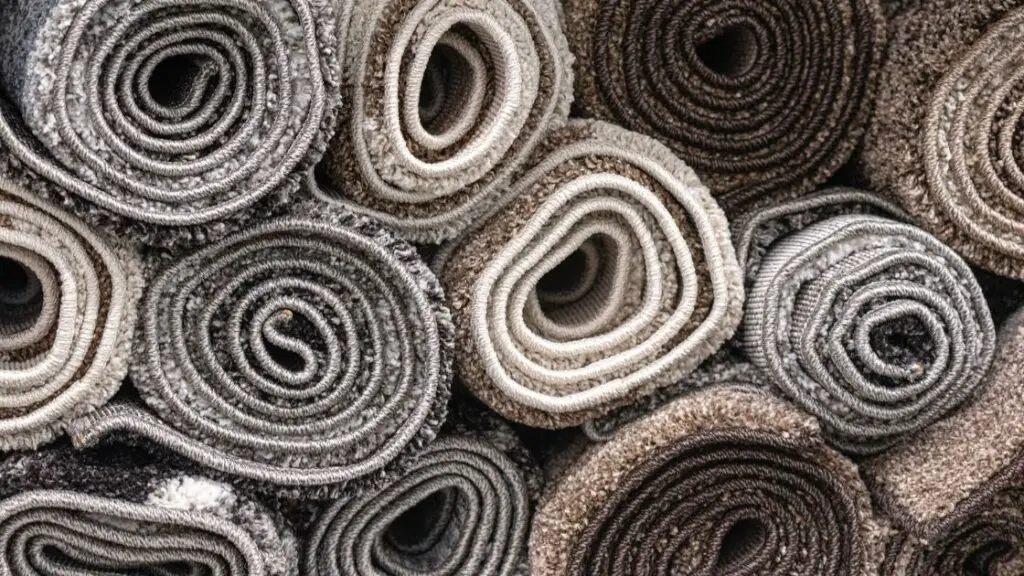 Comfort: The carpet offers a soft landing, especially in bedrooms. Tenants will surely enjoy sinking their toes into the plush pile after a long day.
Warmth: Unlike hard surfaces, carpet helps insulate rooms and keep heat in. This can lead to lower heating bills in winter – a perk for landlord and tenant pocketbooks!
Noise reduction: The carpet is excellent at absorbing noises and cutting down on external sounds and those echoing across your unit. Forget stomping footsteps from upstairs – the rug helps create a peaceful oasis.
Cost-effectiveness: Budget-friendly carpets are more cost-effective than pricier options like hardwood. And compared to other soft surfaces like rugs, wall-to-wall carpeting can cover more space for less expense.
Kid and pet-friendly: The carpet provides a soft play surface for little ones and pets, protecting them from potential falls or scraped knees. It's also generally more forgiving of claws, stains, and high traffic.
Classic appeal: Carpet remains a staple flooring option many renters prefer for its versatility, comfort, and traditional charm. Choosing an updated, neutral style ensures attracting quality tenants.
Now that you know why carpet earns top marks for rentals, let's explore how to choose the best options.
The ABCCs: Key Carpet Considerations for Rentals
When selecting a carpet, keep these four factors top of mind:
A = Aesthetics
While durability is crucial, aesthetics can't be ignored. First impressions matter when showing your rental!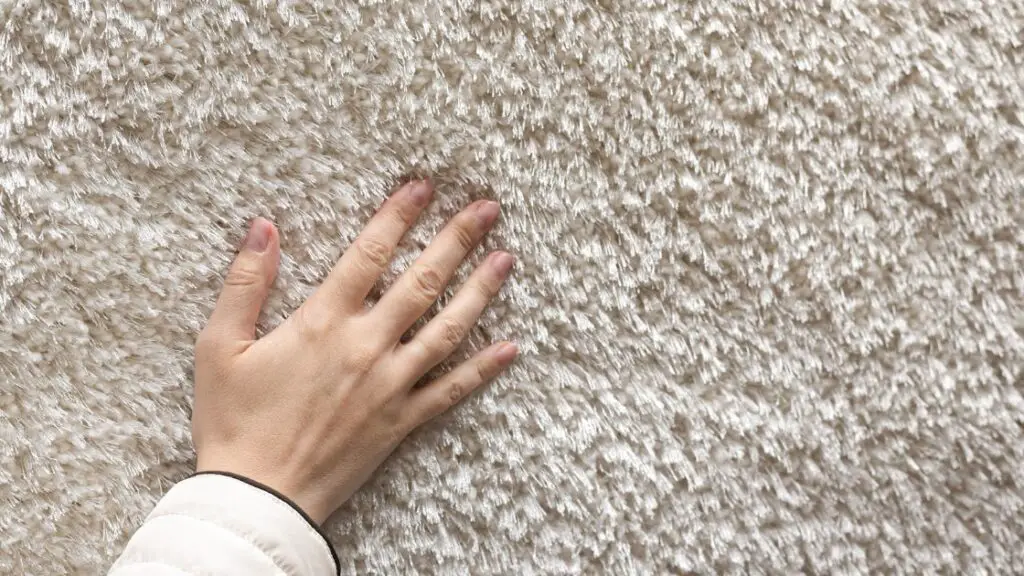 Aim for versatile, neutral colors in lighter or mid-tones. Beige, gray, and taupe flexibly coordinate with various furniture and styles. Add visual interest with subtle patterns like dots or textures. And for high-traffic areas like stairs, go slightly darker to conceal everyday wear and tear.
Pile height also affects appearance. For a sleeker look, opt for low or tight piles. For softness underfoot, choose medium to high piles. Just keep in mind higher piles show tracks more easily.
B = Budget
Carpeting options range from do-it-yourself varieties at big-box stores to luxurious custom installations. Set a realistic budget that allows for quality without overspending.
Value-grade carpets are ideal for rentals. Made of lower-cost fibers with budget-friendly construction, they strike the perfect balance of affordability and durability. Big box home improvement stores carry them at excellent prices.
Also, estimate the size of your space and shop sales when possible. Buying remnants can significantly reduce costs. And don't underestimate installation costs – while DIY is tempting, professional installation prevents headaches – and mess – down the road.
C = Construction
The strongest carpets have tightly packed fibers and sturdy backings. Synthetic fibers like nylon and polyester, popular in value-grade carpets resist crushing and everyday abuse. Wool offers unmatched softness but comes at a premium.
Density also matters. Measurements of 3,000 grams/square meter or higher equal more excellent durability. Plus, dense carpets better resist moisture, stains, and allergy-aggravating molds.
Backings reinforce the carpet's structure. Jute and synthetic cloth backings prevent stretching and wrinkles. For extra peace of mind, ask about sponsorships warranted against delamination.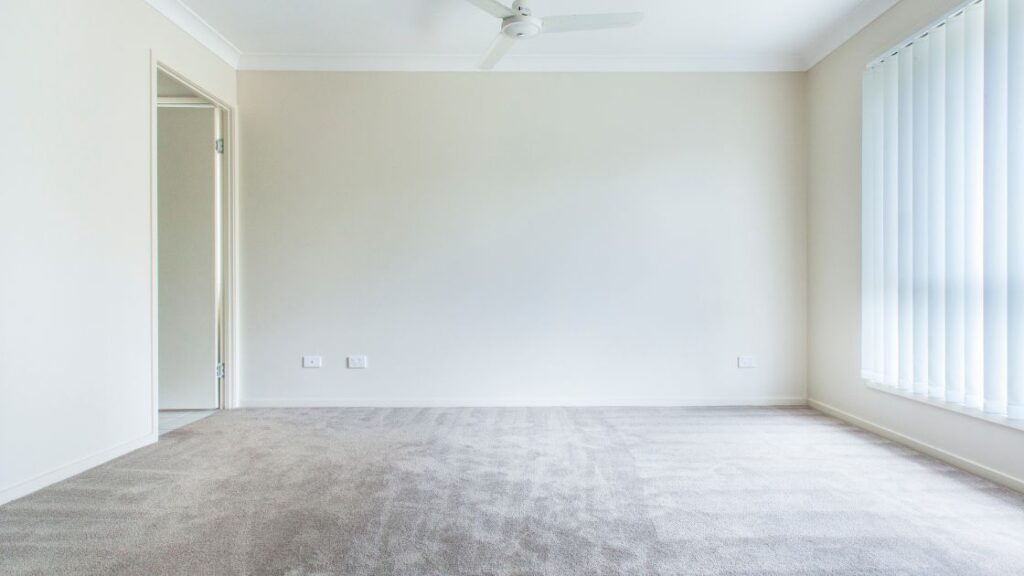 Lastly, opt for low-profile, tight-loop pile textures. Compared to shag or Saxony piles, these camouflage crushed fibers and hide dirt! Berber-style loops make stains nearly invisible.
D = Durability
Rentals demand carpets that can withstand their toughest tenants! Prioritize these durability factors:
Stain resistance – A major must for kitchens, entryways, and family spaces! Look for built-in stain fighters or Scotchguard treatments.
Fade resistance – Sunlight fades colors over time. Opt for solution-dyed nylons with hues woven into fibers versus topical dyes.
Crushing resistance – Heavy furniture and foot traffic crush carpet fibers. To prevent this, choose dense, low-pile carpets and rotate furniture occasionally.
Pet friendly – No carpet is truly claw-proof, but some resist stains and stand up to pets better than others. Look for tight, low piles and synthetic fibers.
Ask manufacturers about warranties, too. Many back-value-grade carpets have limited 5-10-year product warranties. Though pricier, consider extended warranties of up to 20 years for extra peace of mind.
Special Considerations for Wet Areas
Kitchens, laundry rooms, basements, and bathrooms demand carpets to withstand moisture. Here's how to choose the best water-resistant options:
Olefin (Polypropylene): This synthetic fiber resists moisture, mold, and mildew. Brands like Bentley Mills create stylish, durable olefin carpets for damp areas.
Rubber-backed: Natural and synthetic rubber backings prevent water seepage to the pad and subfloor. Options like rubber-backed berber work well.
Marine or outdoor: Surprisingly, carpets designed for boats and outdoors transition beautifully indoors, too! Just ensure proper indoor installation and maintenance.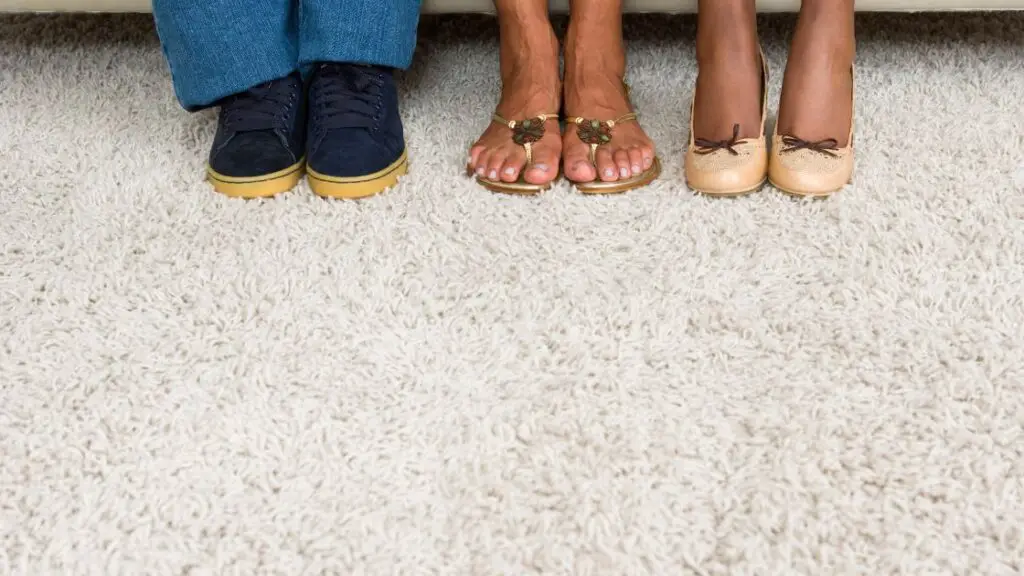 Dyes: Solution-dyed carpets retain color despite minor flooding or leaks. Compared to less stable topically dyed rugs.
Pad: Pair wet area carpet with a waterproof pad and adhesives so moisture can't penetrate the subfloor.
Lastly, remind tenants to clean spills promptly, run dehumidifiers, and allow proper ventilation in wet areas. Preventing excessive moisture is the best long-term carpet protector!
Top Brands: My Value-Grade Favorites
Ready to shop for your rental? Here are some excellent value-grade brands worth checking out:
Shaw Floors – This company offers outstanding pet-friendly, stain- and fade-resistant options, perfect for family rentals. The Shaw Value line balances cost and quality with nylon face fibers. Their Anso Caress and SoftUR collections are excellent budget-friendly choices.
Mohawk Home – Mohawk manufactures value lines with exceptional warranties. Both the EverStrand and EverStrand Soft Appeal incorporate durable recycled polyester. And their SmartStrand forever-clean technology resists stains beautifully.
Dream Weaver – This Shaw brand crafts soft yet affordable carpets combining nylon, polypropylene, and polyester. Their high-density Infinity and Celestial lines are ideal for budget-savvy landlords seeking quality.
Fabrica: Looking for carpets with flair? This innovative brand blends style and durability. Its patterned Frieze and textured Saxon rugs conceal dirt while adding visual punch.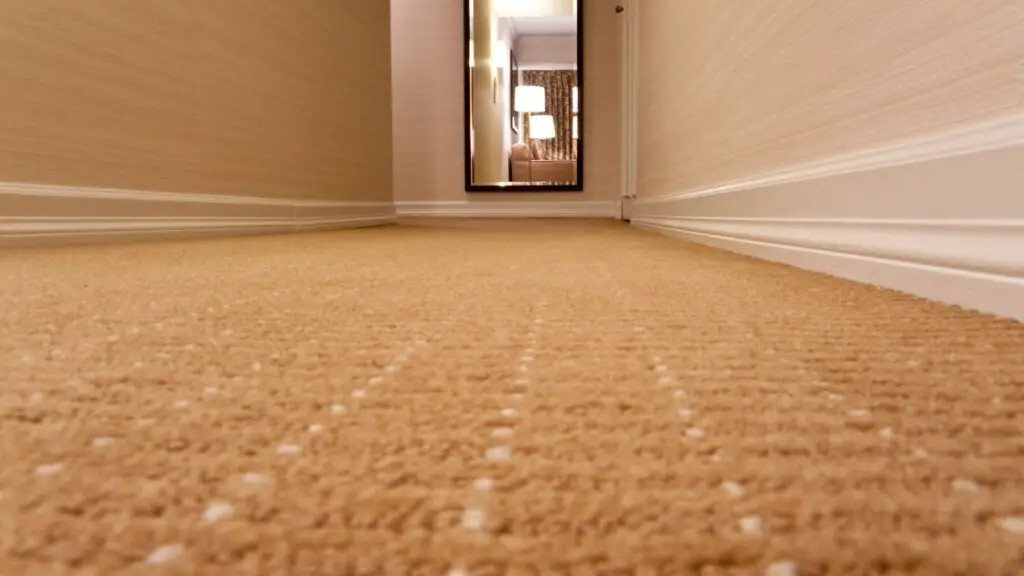 Bloomsburg – Known for durability and value, Bloomsburg's Nexgen and Endurance lines utilize resilient
. Polyester has warranties of up to 12 years. Great for pets and kids!
The best advice? Visit showrooms, compare samples side-by-side, and calculate cost per square foot. And remember – when it comes to carpet, the cheapest is rarely the best!
Installation: DIY or Call the Pros?
Once you've selected the perfect carpet, decide whether to DIY or hire a professional installation. Here are my top tips:
Consider room size – Call the pros for wall-to-wall installation in large, open-concept areas. But for one-room installations, DIY may work.
Prepare properly. Take time to remove old carpet, tack strips, vacuum, and level subfloors – skipping this step causes significant issues! YouTube has excellent DIY installation tutorials.
Roll out carefully. Unrolling and positioning the carpet takes skill. Rushing leads to stretched, wrinkled carpet and pulled fibers. DIYers, work slowly and gently!
Leave seams to pros – Sewing seams incorrectly creates gaps or puckering at the edges. Professionals properly glue and seam edges for smooth transitions.
Mind the transitions – Transition strips between rooms prevent snags and create flush edges. Pros can taper edges and install these properly to prevent safety hazards.
Professional installation costs more upfront but saves endless headaches later. Do it right the first time, and your carpet will deliver years of enjoyment for you and your tenants!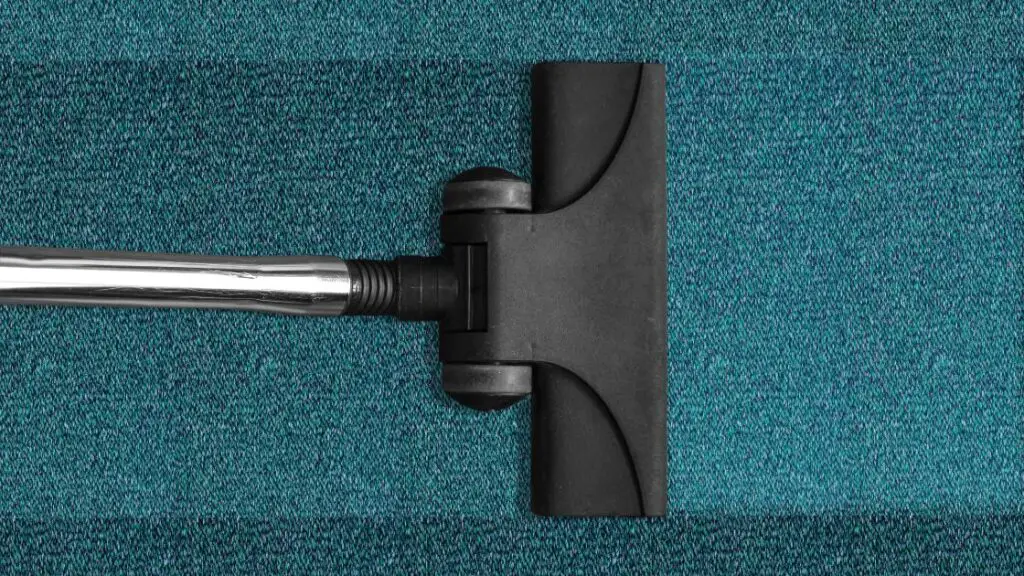 Maintaining the Magic
Carpets look their best with consistent care. Here are my top maintenance tips for landlords and renters alike:
Vacuum frequently – Once or twice weekly, control dirt before it can settle and stain. Provide tenants with vacuum cleaners or ask that they bring their own.
Clean spills quickly. Liquid spills can become stubborn stains if left untreated. Stock units with carpet cleaner and remind tenants to blot spills right away.
Professional cleaning once a year – Regular steam cleaning revives carpet fibers and removes deep-down grime. Hire a trusted service or offer tenants a cleaning allowance.
"Avoid soap. Skip carpet "shampoos," which leave sticky soap residue that attracts dirt faster! Stick to mild, soap-free carpet cleaners. "
Rotate furniture – Rearrange furniture seasonally to prevent uneven wear patterns in frequently used areas.
Protect high-traffic areas – Use carpet runners in doorways and area rugs in front of couches and beds to prevent excessive wear.
With the proper selection, installation, and care, your rental carpeting will keep tenants' feet – and your wallet – happy for years to come. Thanks for joining me today! Until next time, happy renting and decorating.