Hey friends! Sarah here from Home Décor Chat, coffee in hand and ready to chat black furniture. I don't know about you, but I'm utterly obsessed with the sophistication and mystery black furniture can bring to a bedroom. But, like any bold design choice, it can feel a bit daunting to pull off. Have no fear – I'm spilling all my tips today on rocking black bedroom furniture with serious style.
The Timeless Appeal of Black Furniture
Let's dive into why black furniture has stood the test of time when creating an alluring ambiance. I think of black decor as that little black dress of interior design – elegant, versatile, and always making a statement.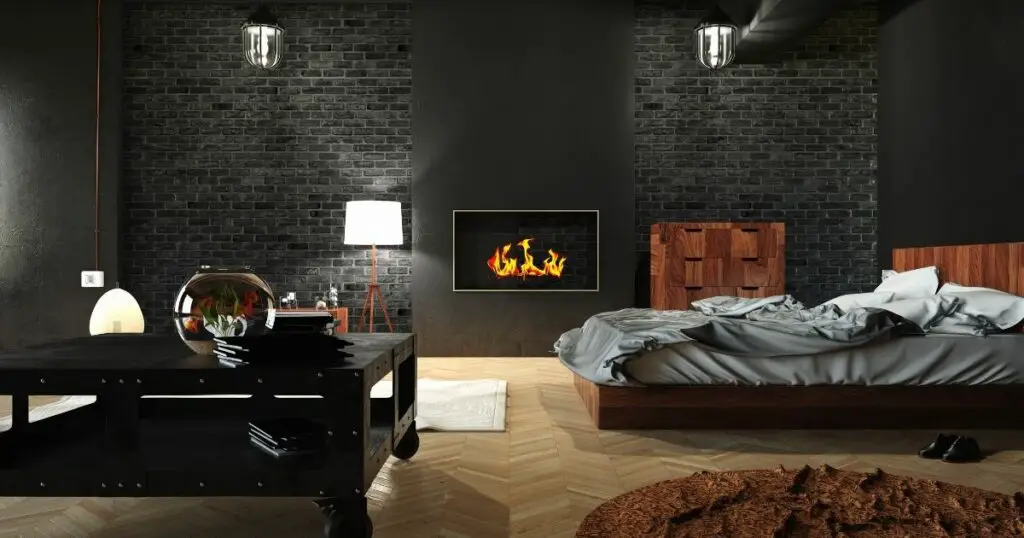 Black furniture adds sophistication and depth to your rooms, transforming your living spaces into style showstoppers. But it can also be dramatic if not appropriately balanced. The key is striking that perfect equilibrium, just like crafting a memorable outfit.
When artfully combined with other colors and textures, black can morph your space into a stylish haven. I like to think of black as a versatile canvas. Whether you prefer a moody monochromatic allure or a vibrant fusion of colors, black furniture can complement various design themes beautifully.
Design Fundamentals with Black Furniture
Now that we've swooned over the versatility of black furniture let's get down to the design fundamentals. Proper implementation is crucial in preventing black pieces from feeling too heavy or dismal.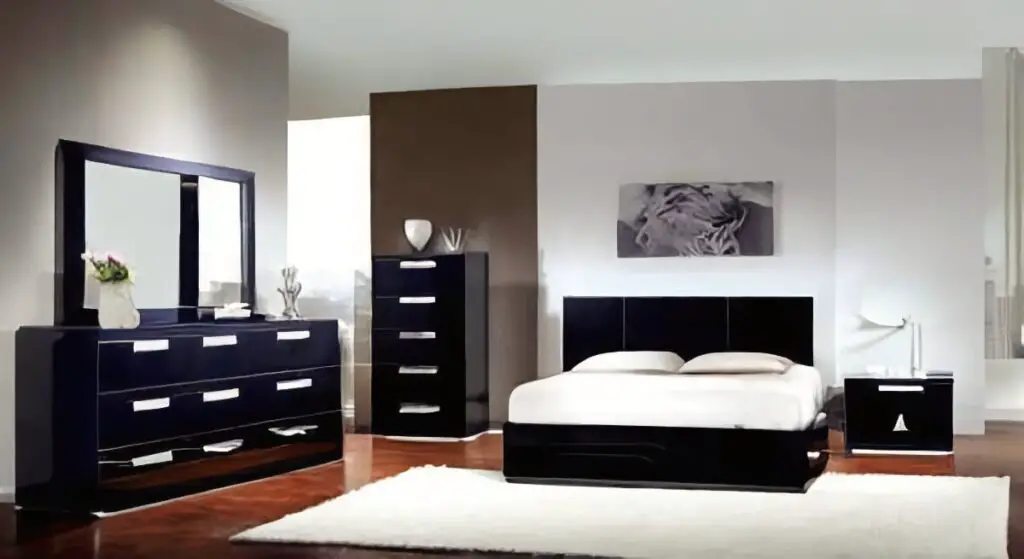 The Importance of Color Balance and Contrast
When decorating with black furniture, it's crucial to have a contrasting color against the black to keep the space from looking dark and gloomy. White is the most classic pairing, creating an easy, light-dark contrast. I love how crisp white walls make black furniture pop!
Black and white is one of my favorite combinations. I'll often start with black statement pieces like a bed or sofa, then build up the lighter accents. High-contrast color combos with black can make bright, saturated hues like red and yellow stand out even more.
Selecting the Right Materials and Textures
Choosing complementary materials and textures helps black furniture feel integrated rather than stark. Mixing natural and modern elements creates a nice balance. I'll often bring in black wood or leather, along with sleek lacquered pieces.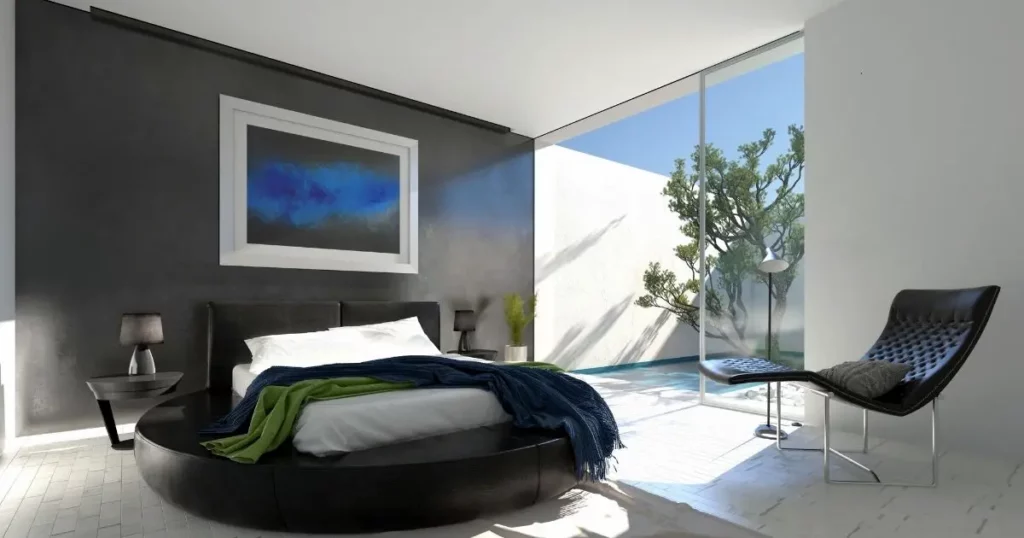 Adding pops of colors and patterns through pillows, rugs, and art keeps things from feeling one-note. Different sheens like silky lacquer, nubby velvet, or metallic finishes make black furniture shine. Mirrors are great for bouncing light around and opening up small dark spaces.
Overall, look for pieces with unique shapes, curves, or details to add visual interest to solid black objects. The mix is what makes it unique!
Lighting Considerations for Rooms with Black Furniture
Proper lighting helps prevent black furniture from feeling like a black hole sucking up all the brightness in a room. A healthy mix of overhead fixtures and table/floor lamps is ideal.
Make sure to have lighting elements on both sides of a black focal point, like a bed or sofa. This washes the black with light rather than allowing it to absorb illumination on one plane.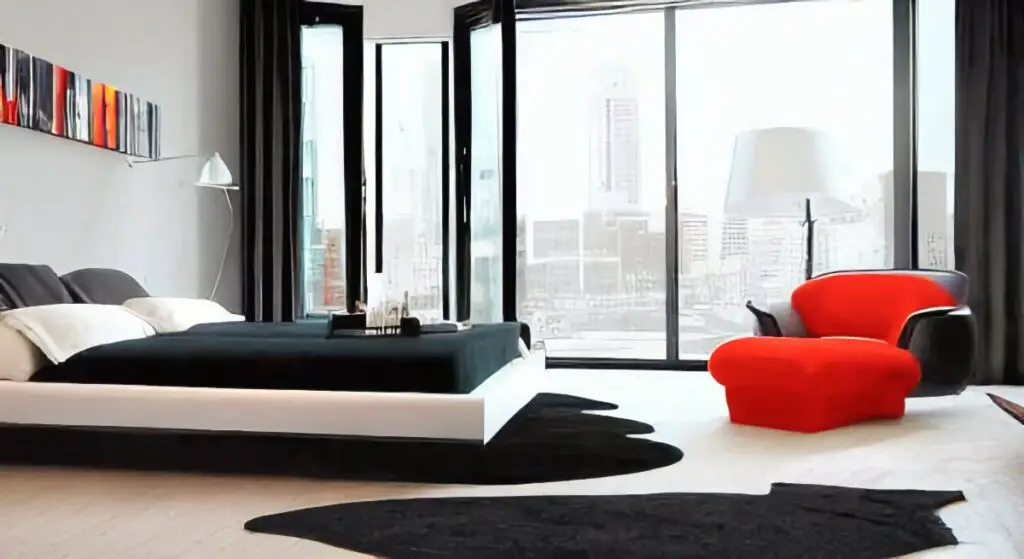 The amount and temperature of light impact how black furniture is perceived, so play around with dimmers and bulbs. Cool-toned lighting reads darker and more moody, while warm light feels vibrant and illuminating.
Bedroom Theme Ideas
Now that we've covered the design essentials let's explore some inspiring black bedroom ideas! I'll take you through different themes to spark ideas on integrating black furniture into various decor styles.
Minimalist Monochrome
If you love contemporary design, a minimalist black-and-white scheme creates a sleek, modern look. Opt for a black wood platform bed displayed prominently. Paint the walls black or charcoal grey to let the beautiful craftsmanship of the furniture shine.
Keep decor minimal with just a few sculptural accents in glossy black or white. Add tactile interest with nubby black and white throws atop the bed. A cowhide rug or sheepskin adds organic contrast. Metallic accents like copper or gold bring in a bit of shine.
Bohemian Rhapsody
While black may seem too severe for bohemian style, it can create a luxe, grounded element when combined with lighter textures. Think of a black wrought iron canopy bed with translucent white or cream linens.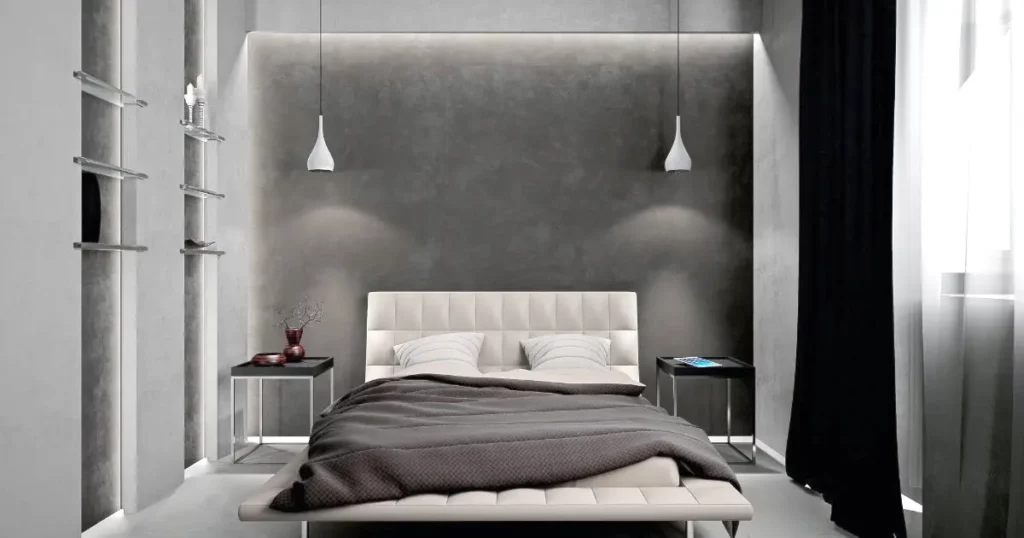 Layer in a mix of monochromatic and colorful patterned throw pillows and rugs to achieve that eclectic boho look. Incorporate plenty of greenery with hanging plants, a living wall, or potted palms.
Don't be afraid to go for dark dramatics on the walls, too! Navy blue or emerald green walls contrast beautifully with black. Add some romantic chinoiserie prints and vintage elements for extra charm.
Glamorous Art Deco
Leaning into the bold geometrics and metallics of Art Deco is a gorgeous way to highlight black lacquered furniture. I envision sleek tables, an upholstered bench, and magnificent side chairs surrounding a statement-making black dining set.
Gold-framed mirrors, sconces, and picture frames make the black lacquer shine. For textiles, look for graphic black and metallic patterns. A shaggy black sheepskin rug adds a nice contrast underneath.
Industrial Edge
The rugged, raw vibe of industrial decor provides an edgy complement to black. Wrought iron, metal, concrete, and exposed brick add a gritty texture.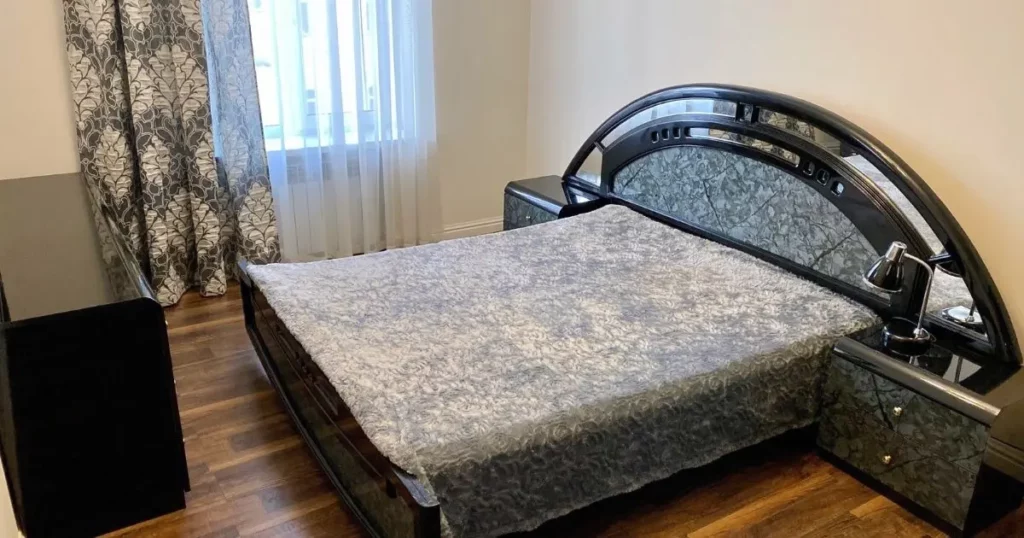 A distressed black wood dining table pops against concrete floors and exposed metal beams overhead. Repurposed pieces like factory carts and architectural salvage make great consoles or nightstands alongside black beds.
Leave some piping, vents, or wiring exposed rather than hiding them away to embrace that unfinished industrial look. Black hardware and lighting keep things cohesive.
The light and neutral palette of the Scandinavian style perfectly balances out bold black accents. Try a black bed frame or dresser against breezy white linen curtains and blonde wood floors.
Incorporate Scandinavian principles of functionality and simplicity by limiting embellishment. Focus on clean lines, natural textures like sheepskin and linen, and purposeful multifunctional furniture.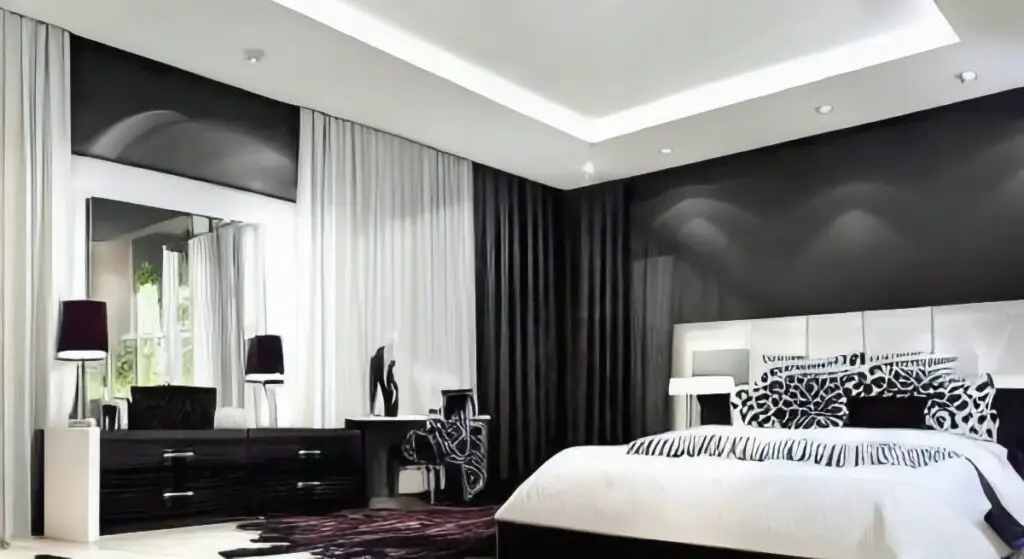 Add pops of color with accessories, such as throw pillows, artwork, and lighting, to create visual interest and add a touch of personality to the space. Choose colors that complement the black furniture or bold and vibrant colors to create a striking contrast.
Incorporate metallic accents, such as gold or silver mirrors, frames, and lighting, to add a touch of glamour and sophistication to the space. This can help to reflect light and make the room feel brighter and more open.
Keep the room's overall design simple and uncluttered, with plenty of open and negative space. This can help create a calm and relaxing atmosphere and make the black furniture stand out and become the room's star.
Dramatic look
Many different types of furniture can create a dramatic look in a bedroom, and the specific types of furniture you choose will depend on your style and the overall aesthetic you want to make. Here are a few examples of furniture that could be used to create a dramatic look in a bedroom:
Four-poster beds with ornate carving and tufted headboards can add a touch of elegance and grandeur to the space and create a focal point for the room.
Antique-inspired dressers and nightstands, with intricate details and patina finishes, can add a sense of history and character to the space and help create a rich, layered look.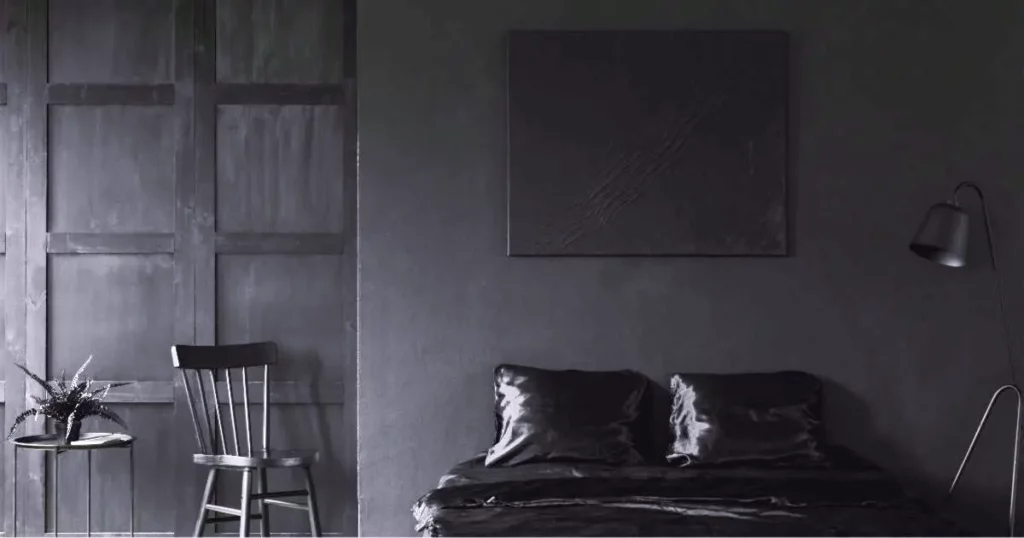 A black leather bench at the foot of the bed adds a nice contrast to the light wood. Add warmth with black and white botanical prints and plenty of plants.
Classic Elegance
For a touch of timeless glamour, traditional silhouettes paired with luxe fabrics complement black furniture elegantly. I'm picturing a stunning black four-poster bed adorned with crisp white linens and plush shams.
Flanking nightstands with sleek black marble tops add a luxurious feel, as does an ornate rug underneath. Opt for sumptuous fabrics like silk, velvet, or brocade on upholstered seating to balance the sleek lines.
Finish it with dramatic statement lighting like a crystal chandelier and polished sconces. This look oozes refined sophistication.
Contemporary Chic
If you love the modern, forward-thinking style, combining black furniture with innovative shapes and materials creates a space brimming with chic.
Make a black wood platform bed the bold centerpiece, flanked by sleek matching nightstands. Add visual interest by pairing it with chairs or a sofa in an unexpected material like acrylic, Lucite, or bright lacquer.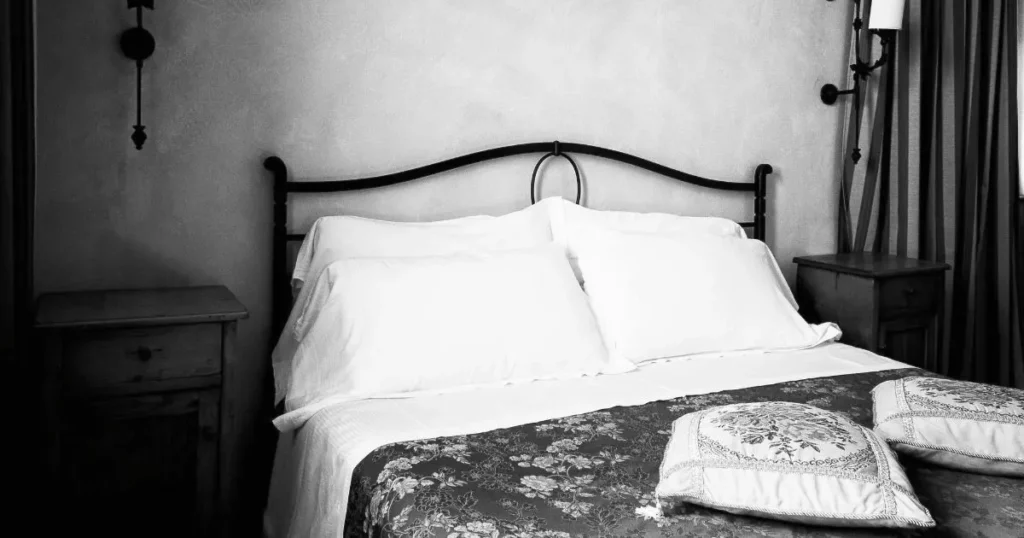 Glossy black kitchen cabinets make a dramatic statement against clean white walls and quartz counters in an open floor plan. Incorporate reclaimed wood or concrete elements to add organic contrast.
Rustic Retreat
Rustic decor emphasizes raw, natural elements that pair beautifully with black to create depth and contrast. Try a black iron chandelier over a reclaimed wood dining table, surrounded by matching black leather and wood chairs.
Use tone-on-tone woods, like whitewashed oak cabinets and darker walnut open shelving. Wrought iron, galvanized metal, and leather add to the rugged vibe.
Layer in texture with stone walls, exposed beams, an animal hide rug, and a rustic wood console topped with a candlestick telephone and antiqued typewriter.
Vintage Charm
I adore blending black with vintage for a timeless, collected look. A black wrought iron bed frame pops against painted vintage dressers or side tables.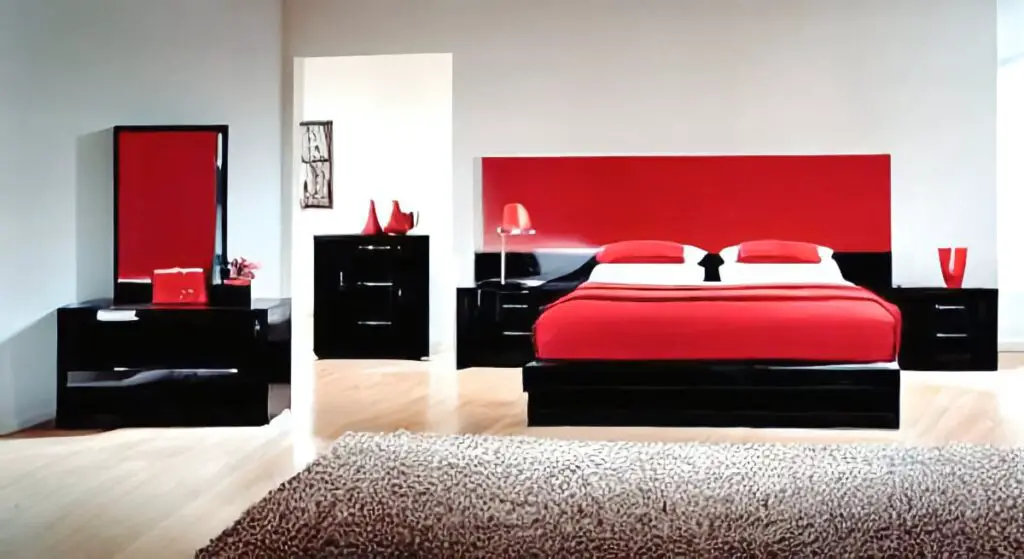 Add character with artifacts like wall-mounted rotary phones, framed botanical prints, and stacks of old books. Mismatched nightstands, sconces, and table lamps add quirky charm.
Salvaged signs, curiosities, and artwork tell a story. I love blending black with faded antique rugs, cozy textiles, and distressed woods. This is vintage and done elegantly!
Global Fusion
Incorporate your love for travel and cultural pieces by blending black furniture with exotic patterns, materials, and artifacts.
Center your bedroom around a carved black wood canopy bed from Indonesia. Drape colorful batik fabrics overhead and layer Turkish kilim pillows and rugs underneath.
Display collected treasures from your journeys – handpainted pottery, framed maps, and shadowboxes of beautiful keepsakes. A black dresser provides the perfect backdrop for displaying your rotating collection of cross-cultural curiosities.
Luxury Loft
If you have the space, black furniture creates a striking foundation for a luxe modern loft. Imagine a black lacquer bed on a floating platform, flanked by mirrored nightstands for depth.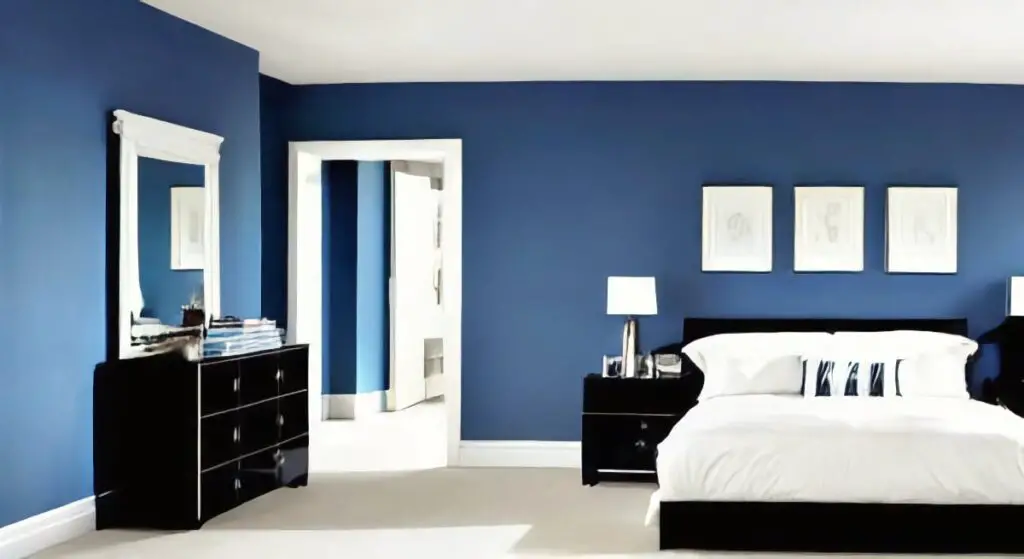 An oversized black velvet sofa anchors the living space, accented with glass coffee and side tables. Bold abstract art makes a dramatic feature wall.
High-impact metallic lighting, like geometric pendants and linear floor lamps, illuminate the sleek space. This look screams upscale city living!
Accessorizing and Accenting with Black Furniture
Now that we've covered some inspiring bedroom themes, I want to share my tips on accessorizing black furniture. Carefully chosen accents and fabrics truly take black decor from flat to fabulous.
Bedding
Your bedding choice impacts the overall vibe, so choose wisely! Crisp white looks ultra chic but can feel stark. For a cozy yet contemporary look, try a black and white buffalo check duvet. Or make it pop with bedding in a saturated accent color like emerald or sapphire blue.
Remember the shams and pillows! Mixing patterns and fabric textures creates excellent depth against solid black. Add visual interest with black and white accent pillows.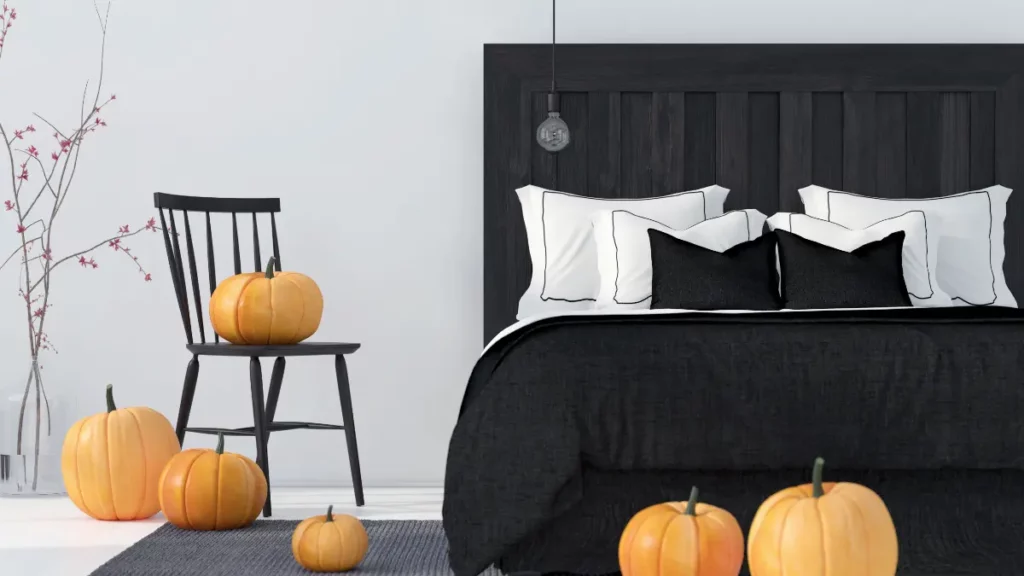 Rugs
An area rug brings warmth to rooms with black furniture. Try a jute or braided natural fiber rug for lots of texture. Or make a statement with a graphic black and white print. There are so many options!
Be mindful of size and material. Small rugs can get lost, but going too big creates clutter. A low pile is best – high shag will compete with black furniture. And make sure to coordinate with your pillows and curtains.
Curtains
Your curtain choice impacts the light and ambiance of the entire room. For a clean, modern look, hang white linen panels. Or add coziness with blackout curtains in a muted color like cream or taupe.
Make black furniture pop with vibrant curtain colors like burnt orange, emerald, or sapphire – so striking! For pattern, try classic herringbone, damask print, or subtle ticking stripes.
Artwork
Carefully chosen wall art creates a focal point and brings personality to a black decor scheme. Try grouping a salon-style collection of black-and-white photography above a bed or sofa.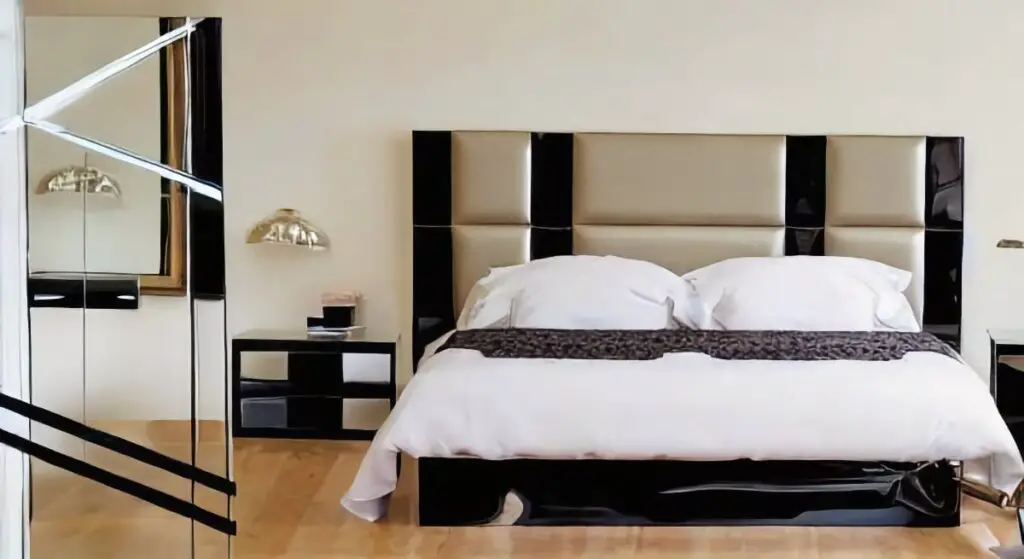 Seek out works featuring bold pops of colors complementary to your scheme. Sculptural pieces also look striking against a black backdrop. Don't be afraid to go big and make a statement!
Maximizing Small Spaces with Black Furniture
For those decorating small spaces, have no fear – black furniture can make rooms appear more prominent when used strategically. Here are my top tips:
Utilize vertical space. Install floating shelves, tall cabinets, or floor-to-ceiling drapery panels to draw the eye up and create the illusion of higher ceilings.
Select furniture with legs. Beds, nightstands, and other pieces on legs have an airy, open feel compared to bulky solid bases.
Mirrors are magic. Hang one horizontally to widen the walls visually. Or try framing out a window with mirrors to double the view.
Limit patterns. Stick with solid black furniture and decor accents. Patterns tend to clutter small spaces.
Incorporate multifunctional furniture. Look for beds with storage drawers underneath, sofas with chaise lounges, and ottomans or benches with hidden storage.
Take it vertically. Utilize vertical space with wall-mounted cabinets, floating shelves, and floor lamps that take up less visual space than bulky tables.
Edit ruthlessly. Be disciplined about only keeping essential furniture and accessories that you genuinely use and love. Donate or sell the rest.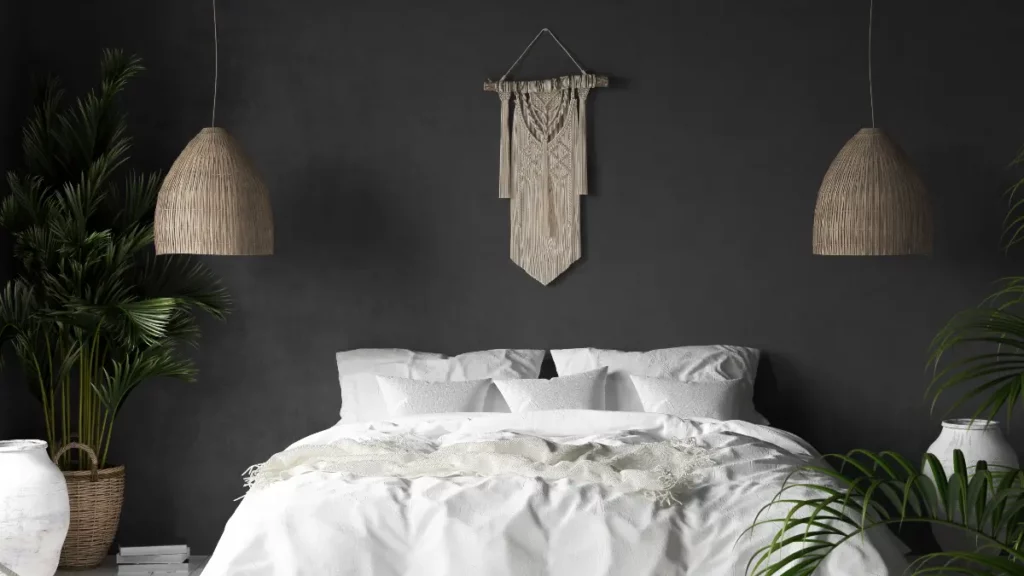 Caring for Black Furniture
To keep black furniture looking its stunning best, be diligent about care and maintenance:
Dust frequently using microfiber cloths to prevent buildup and scratches.
Use felt pads under the legs and change surface-level furniture protectors to avoid scuffs.
Clean gently using the proper products for your furniture's finish. Avoid abrasive scrubbing.
Use furniture wax/polish formulated for your finish to protect and restore luster.
Limit direct sunlight exposure, which can cause fading and drying over time.
Address finish damage right away to prevent issues from worsening. Consult a pro if needed.
-Consider protective covers for upholstery when not in use to prevent stains and fading.
With the proper care, your black furniture will maintain its gorgeous good looks to elevate your space for years.
So there you have it, friends – everything you need to know to incorporate dramatic black furniture into your bedroom confidently! I hope these ideas and tips have your creative wheels spinning. Remember, the most important thing is choosing a style that fits your personality.