Hey friends! It's Amanda, your favorite interior design enthusiast. Today, I want to tackle a question I always get: How do you decorate a room with super-high ceilings?
I get the struggle. While high ceilings can make a space feel grand and spacious, they can also be tricky to decorate. You don't want your beautiful, lofty space to feel cold and hollow!
Well, fret not! In this post, I'll share all my tips and tricks to help you fill your high-ceiling room with style and personality. We'll cover everything from choosing the right furniture to adding gorgeous lighting. Let's dive in!
The Beauty and Challenge of High Ceilings
Tall ceilings are undeniably gorgeous. There's something about all that vertical space that just feels luxurious! High ceilings make a home feel more open, airy, and spacious.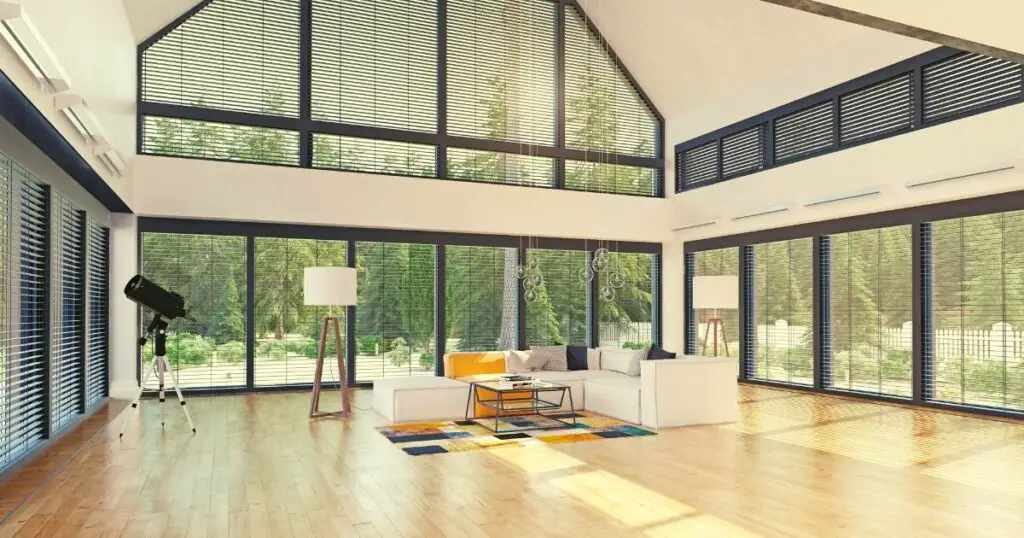 But with great height comes excellent decorating responsibility! Managing all that vertical real estate can be tricky. Here are some of the common challenges you might face:
Creating balance and proportion: If your ceilings are very tall, your furniture may start to look small and disproportionate in comparison.
Managing acoustics: High ceilings can lead to echo and acoustics issues with all the empty space.
Lighting: Figuring out lighting with tall ceilings can be a puzzle since overhead lighting sometimes seems too far away.
Drawing the eye upwards: You want to emphasize and celebrate the height, not ignore it!
While rooms with high ceilings require a bit of extra decorating forethought, the payoff is worth it. When done right, spaces with lofty ceilings feel magical!
Design Principles for High Ceiling Spaces
When decorating a room with high ceilings, there are a few fundamental principles to keep in mind:
Embrace the Verticality
Tall ceilings are all about vertical space, so use this as inspiration in your design. Incorporate tall furniture, floor-to-ceiling drapes, hanging lights, and more to draw the eyes upwards.
Mind the Scale and Proportions
Choose furniture and décor that is appropriately sized for the room's scale. Oversized pieces like an overstuffed sofa or a big, chunky coffee table will help anchor the space.
Use Warm, Inviting Color Palettes
Rooms with high ceilings can sometimes seem cold. Combat this with warm paint colors, rich textiles, and warm lighting. Think cozy sunset tones like peach, terracotta, and gold.
Bright Lighting for High Ceilings
Lighting can make or break a high-ceiling space. Use a layered lighting plan to brighten up every corner: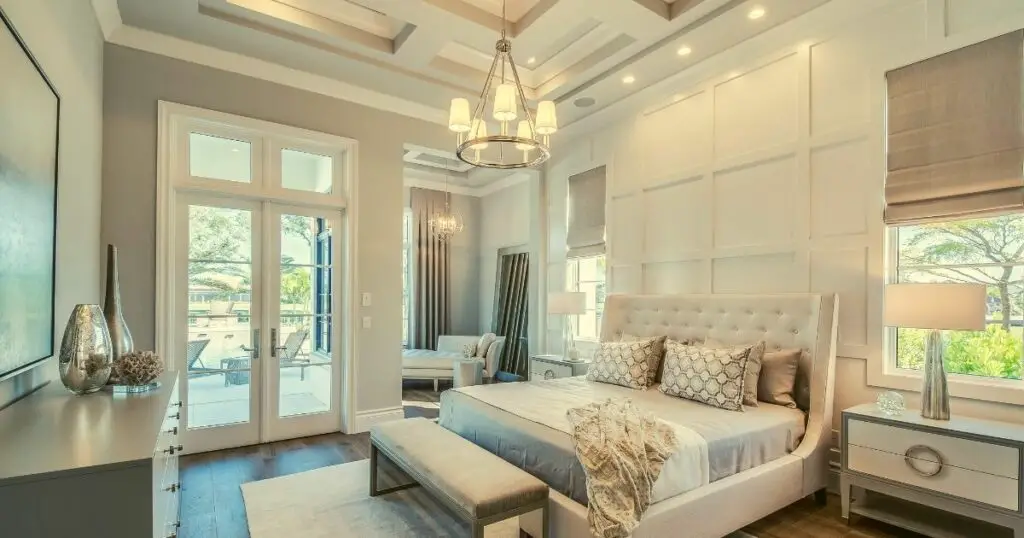 Ambient Lighting
Chandeliers, pendants, and flush mounts are lavish for providing overall ambient lighting. Place them strategically to illuminate critical areas.
Task Lighting
Direct table and floor lamps where you need illumination for reading, working, etc. Choose adjustable lights so you can direct the beam as required.
Accent Lighting
Accent lighting, such as picture lights, recessed lighting, track lighting, or wall sconces, can draw the eye to architectural details, art, and other focal points.
Dimmer Switches
Install dimmers to adjust the mood and ambiance. Lower light levels create intimacy in large, lofty spaces.
Uplighting
Uplights placed on the floor or tabletop bounce light off the ceiling and walls, minimizing shadows and brightening the whole space.
Filling Vertical Wall Space
With super tall walls, you've got lots of vertical real estate to fill creatively. Some ideas:
Massive Statement Artwork
Giant paintings, oversized prints, or even murals will suit the grandeur of the space. For galleries, group collections of minor art and space them generously.
Mirrors
Strategically placed mirrors will visually enlarge the space and beautifully reflect light. Go for the glam with mirrored walls or ceilings!
Bold Wallpaper
Choose a graphic or nature-inspired print that catches the eye. Metallic or textured wallpaper adds terrific visual depth.
Floating Shelves
Stagger floating shelves at different heights to add display space and interest. You can alternate frames with wall-mounted cabinets.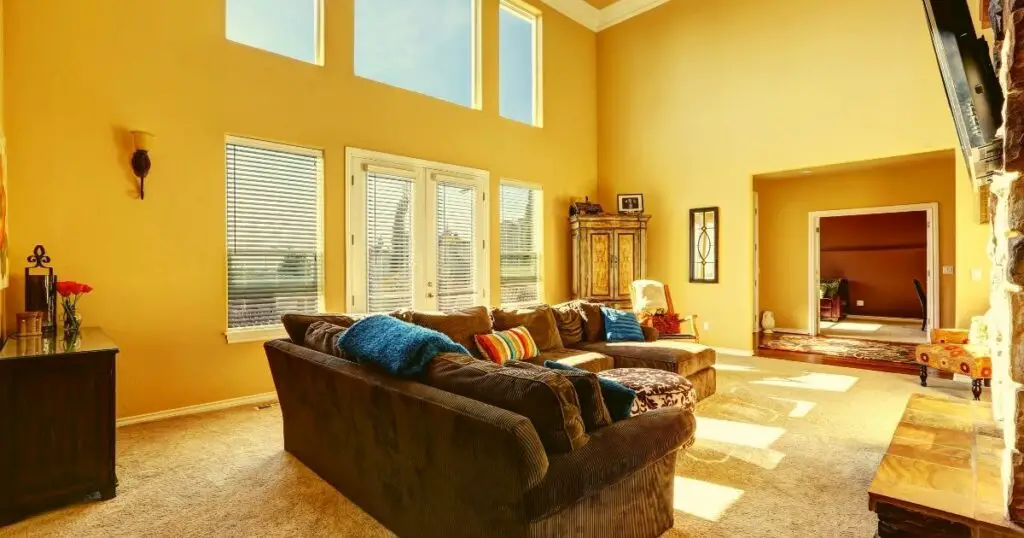 Textiles
Hang tapestries, macramé, or textile art pieces like woven wall hangings. The texture adds coziness and warmth.
Furniture Layouts and Statement Pieces
How you arrange furniture makes a huge difference in a high-ceiling space.
Separate into Zones
Use area rugs, lighting, and furniture groupings to divide the ample space into separate living zones, such as a reading nook, dining zone, etc.
Float Furniture Away From Walls
Pull furniture away from the walls so you don't compact everything in the center. This creates a better flow.
Incorporate Oversized Pieces
At least one or two bold, oversized pieces- think giant sofa, monumental dining table, or larger-than-life armchair- will help anchor the room.
Layer in Texture
Add lush layers with rugs, throws, and cushions in cozy fabrics like wool, velvet, and linen. This will bring in warmth and softness.
Decor Ideas with Height in Mind
Always keep scale and verticality in mind when accessorizing a space with dramatically tall ceilings. Some ideas:
Sculptural Vases
Vertical ceramic or glass vases in earthy neutral tones work beautifully. Place them on pedestals for serious drama!
Floor Lamps and Plants
Towering floor lamps and tall tropical plants like fiddle leaf fig trees draw the eyes skyward.
Hanging Decor
Suspend intriguing objects from the ceiling like branch chandeliers, hanging terrariums, or macramé.
High-Positioned Shelves
Place high floating shelves on the walls to break up the vertical space. Style them with sculptures, vases, or books.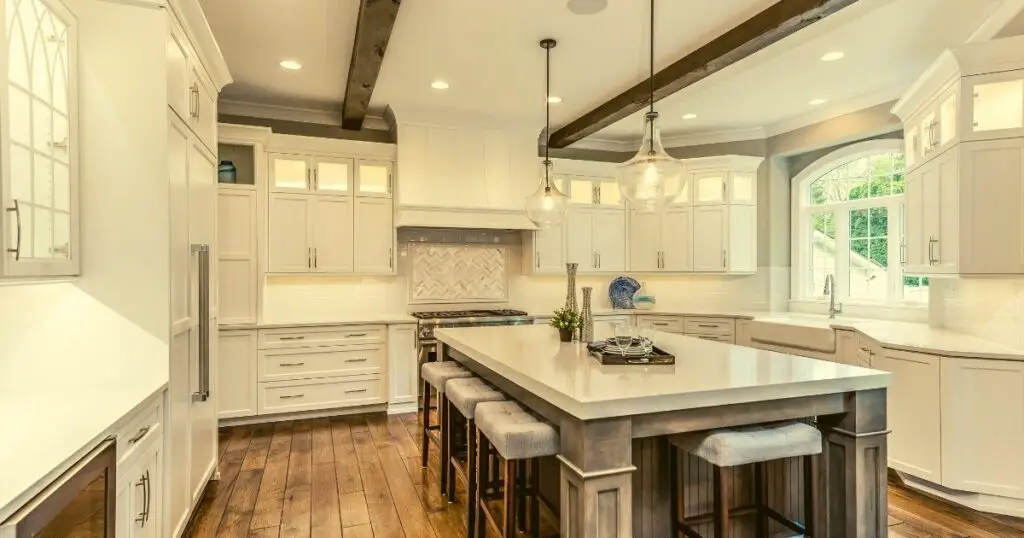 Making a Tall Space Feel Cozy
While highlighting the height, you also want to avoid an atmosphere that feels too cold or bare. Here's how to create a welcoming vibe:
Incorporate Soft Fabrics
Pillows throws, and drapes in velvet, faux fur, and cashmere add irresistible plushness.
Add Portable Lighting
Strategically place floor lamps and table lamps around seating areas to create cozy pockets of light.
Use Area Rugs
Rugs instantly create zones within the larger space. Layer them for extra dimension.
Display Meaningful Collections
Photographs, art, books, and objects with personal significance will make the space feel more intimate.
Dealing with Sound and Acoustics
Managing sound in a room with dramatic height is crucial. No one wants to hear their voice echoing endlessly! Here are some strategies:
Incorporate Sound-Absorbing Materials
Sound-absorbing wall panels and soft furnishings will help minimize noise and echoes.
Use Heavy Drapes and Rugs
Fabrics help absorb sound reverberation. So do dense rugs with a thick pile.
Arrange Furniture Strategically
Place sofas, bookshelves, and cabinets as sound buffers instead of randomly scattering pieces.
Add Textured Elements
Things like wall tapestries and hanging decor provide depth to absorb sound.
Real-Life High Ceiling Designs
Seeing how others have tackled high ceiling décor can spark tons of ideas! Here are some of my favorite ceiling height transformation stories:
The Industrial Loft Makeover
This urban loft was 25 feet in height but felt dark and hollow. The designers used a brilliant lighting plan, warm wood tones, and lighter wall colors to make it feel welcoming yet edgy. Genius!
Grandmillennial Transformation
This 19th-century home had dramatic Victorian proportions that felt tired. It was refreshed with a youthful, grand millennial vibe by layering in antique furniture, ornate rugs, and romantic chandeliers. Swoon!
From Minimalist to Lush
This family's Scandinavian-inspired home felt stark and cold. They added textures like rattan chairs, woven wall hangings, and a vibrant orange rug to infuse it with life. Now it has such a personality!
Final Thoughts and Design Checklist
I hope all of these high-ceiling decorating tips have sparked inspiration for your own space! Remember, the key is emphasizing vertical proportions, keeping scale in mind, and adding warmth.
Here's a quick high-ceiling design checklist:
Incorporate ambient, task, and accent lighting
Use warm color palettes
Add large statement art and graphics
Include oversized furniture
Layer in ornate rugs and plush textiles
Arrange furniture to help absorb sound
Add tall greenery, floor lamps, and hanging decor
The design possibilities with dramatic height are endless. Have fun celebrating the vertical dimensions and making it your own! Let me know if you have any other high-ceiling questions.