Hey friends! Amanda here, coffee in hand, ready to chat about one of my favorite interior design challenges – making the most of small rooms with high ceilings.
As a New Yorker, I'm no stranger to limited square footage. While small spaces can feel confining, those soaring ceilings offer a world of potential! We can transform these vertical spaces into airy oases with planning and creativity.
In today's post, I'll share tips and tricks for embracing your home's height. Prepare to draw the eye upwards and create a spacious, uplifting ambiance!
Understanding the Dynamics: Contrast Between Floor Area and Vertical Space
When dealing with a petite footprint, it's easy to feel boxed in and make the space seem smaller. But don't forget to look up! Take note of how your ceiling height compares to the floor area.
You have more vertical space to work with than you realized. We must highlight this contrast between the floor and ceiling to open up the room.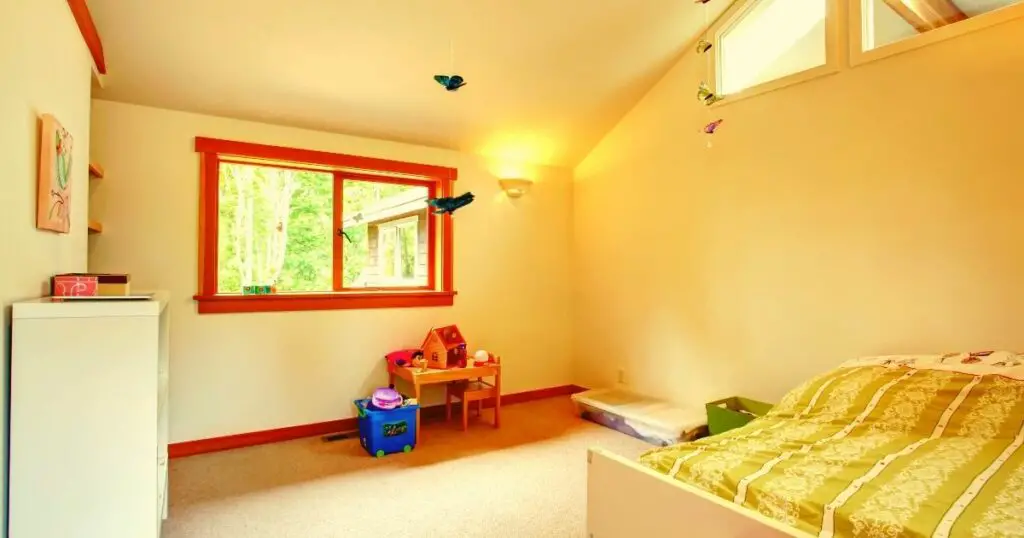 A few key factors to consider:
Ceiling height – Measure from floor to ceiling and make note of this number.
Windows – Position and size can impact light and proportions.
Architectural details – Columns, beams, etc., affect visual interest.
Perception of space – How closed in or airy does it feel?
Record these details in a sketch of the layout. This will help you better understand the room's spatial dynamics and design accordingly.
Do you have a story to share about deceiving room dimensions? Let me know in the comments!
Illusion of Space: Lighting and Color Schemes
When it comes to lighting and paint choices, we want to create a seamless visual extension from the floor to the ceiling. This will make the room feel more open and airy.
Harness the Power of Light Colors
Painting the walls, ceiling, and even floor a light neutral shade makes it easy to brighten a small space. The coloring reflects light, opening up the room.
Some go-to shades:
Soft whites – Timeless and airy.
Greys – Great alternative to white that adds subtle depth.
Beiges – Warm and welcoming.
Have fun playing with different undertones! Cool-toned greys feel crisp and clean, while beiges with yellow undertones have a cozier vibe.
Don't Forget the Ceiling!
Painting the ceiling a lighter color than the walls is one of my favorite tricks. Visually, it recedes upward, increasing the sense of height. This is especially effective for rooms with ceilings over 9 feet.
Pro tip: Choose a crisp, bright white for the ceiling and molding to make architectural details pop.
See the Light
Maximize natural light through large windows, skylights, or solar tubes. Supplement with ample layered lighting. In a small space, the more light, the better!
Have any game-changing light and color combinations? Share your secrets below!
Drawing the Eye Up: Patterns and Textures
Patterns and textures add visual interest to any space. But they can get overwhelming quickly in a petite room.
The key is to incorporate them thoughtfully in ways that enhance verticality. Let's explore some techniques.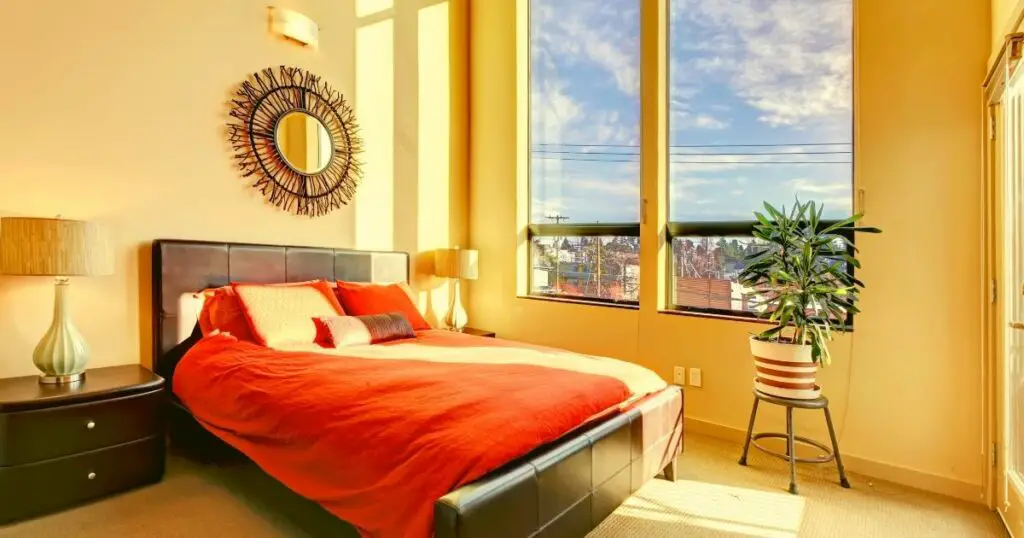 Lead the Eye Upwards with Lines
Vertical lines visually lift the eye, pointing to the ceiling. Think:
Wallpaper with stripes or trellis patterns
Textured wall panels running floor to ceiling
Floor-length drapes with linear patterns
Slim rods or rails for curtains also accentuate height. Avoid stark horizontal lines – they chop up the space.
Texture Adds Depth Without Clutter
Skip the knickknacks and opt for a subtle texture instead. Here are a few ways to inject depth:
Grasscloth or faux-finish wallpaper
Wood accent wall with reclaimed panels
Fluffy rug in natural fibers like wool or jute
Layer in cozy elements like throws and pillows for a luxe, welcoming look without clutter.
Got a favorite texture or pattern? Let me know your go-tos!
Furniture: Scaling and Arrangement
Furniture can make or break a petite room. Careful selection and placement are crucial to maximizing both aesthetics and function.
Scale Matters
When choosing furniture, size and proportions matter. Avoid bulky pieces that overwhelm and dwarf the space. Instead, opt for:
Smaller scaled pieces
Table with thin profiles, tall legs
Multifunctional items like ottomans with storage space
Comfortable downsized seating like loveseats instead of large sofas
Don't worry – even with smaller furniture, you can still create a super comfy vibe. Add plush pillows and throws for a touch of luxury!
Smart Layout Adds Function
Carefully mapping the layout beforehand allows you to add ample function without clutter. Some ideas:
Float furniture away from walls to allow flow
Use a console table behind a sofa instead of bulky side tables
Add specialized storage like wall-mounted shelving
Angle furniture to create conversation nooks
Use sheer curtains to divide space into functional zones
How do you arrange furniture in a small room? Share your layout secrets with us!
Lighting: Ambient, Task, and Accents
We want to draw the eye upwards while creating a welcoming ambiance when it comes to lighting. Layering is key!
Ambient Lighting Sets the Mood
Overhead lighting forms the general ambiance of the room. For soaring ceilings, look for:
Chandeliers or pendant lights that are proportionate to ceiling height
Recessed lighting to brightly and evenly illuminate the space
Dimmers that allow you to adjust brightness as needed
Also, use table and floor lamps to add warmth and fill in darker corners.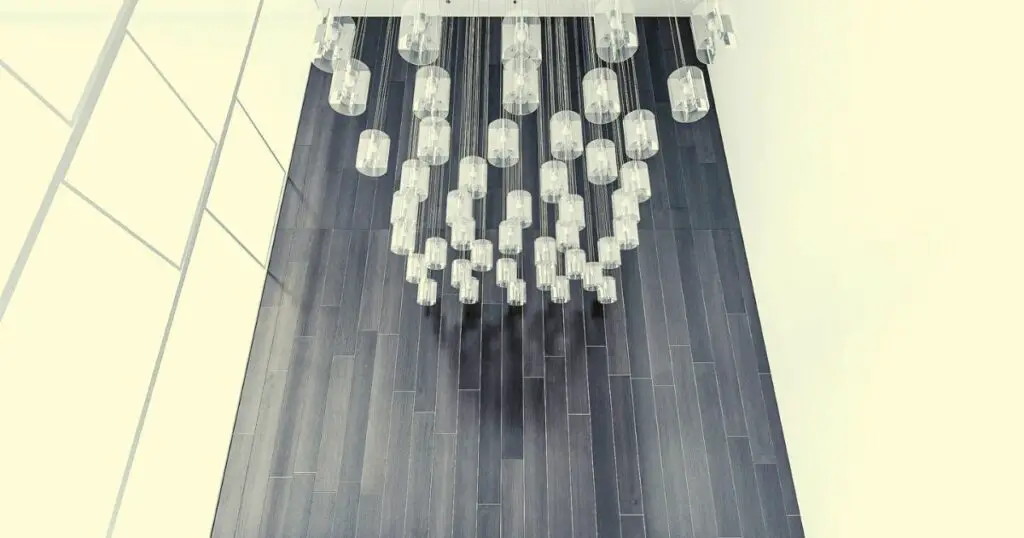 Task Lighting Adds Function
Focus light where you need it with specialized fixtures:
Swing arm lamps for reading nooks
Undercabinet lights in a kitchen or bar area
Desk lamps for workspaces
Floor lamps behind seating groups
This boosts functionality without compromising mood.
Accent Lighting Showcases Features
Draw attention to architectural details with targeted accent lighting:
Upward sconces shining on a tall mirrored wall
Mini fixtures highlighting display alcoves
Adjustable spotlights on artwork or textiles
Make your striking ceiling part of the feature line-up!
Do you have any favorite lighting sources? Share in the comments below!
Drawing the Eye Up With Decor
When decorating a vertically gifted space, we want to highlight the height without cluttering the petite footprint.
Use these strategies to direct eyes upwards.
Lead with Vertical Artwork
Hang art high and large to maximize impact. Some options:
Oversized abstract piece as a focal point
Gallery wall or collection of vertical frames
Long, narrow antique mirror reflecting the ceiling
Place console tables or floating shelves underneath to balance out the weight.
Incorporate Greenery
Lush, vertical greenery energizes a room. Opt for:
Floor plans with tall fronds and leaves
Hanging plants displayed at different heights
A living wall with built-in planters
Vining plants on trellises crisscrossing a wall
They are lovely to look at, and plants improve air quality, too!
Add Whimsy with Hanging Decor
Hanging elements draw eyes skyward. Some fun ideas:
Delicate mobiles that dance in the light breeze
Paper lanterns at varying heights
An airy macrame tapestry on the wall
Display of exotic feathered fans
Make your ceiling a place of discovery!
Do you have any fresh decor ideas for small rooms with high ceilings? I'd love to hear about them!
Textiles: Curtains, Rugs, and More
Textiles can make a significant impact in a petite space. Use them to add comfort, texture, and verticality.
Draw Focus Upward with Curtains
Floor-to-ceiling curtains frame windows and walls beautifully. Go for:
Airy, light-filtering materials like linen, cotton voile, or sheer
Rods that extend past the window width to exaggerate height
Vertical stripes or patterns to draw eyes up
A bold print or color on the curtains can be a focal point.
Warm Up the Space with Rugs
Rugs might seem counterintuitive in a small room, but they define sitting areas and add much-needed coziness.
Stick to smaller sizes like 5×8 ft. flats. Low-pile, patterned styles work well. Place furniture on top so the rug doesn't chop up the space.
Rugs with vertical stripes or gradients are particularly effective at creating visual height. Woven jute rugs add a welcoming texture.
Have a favorite small space rug? Share your rug wisdom in the comments!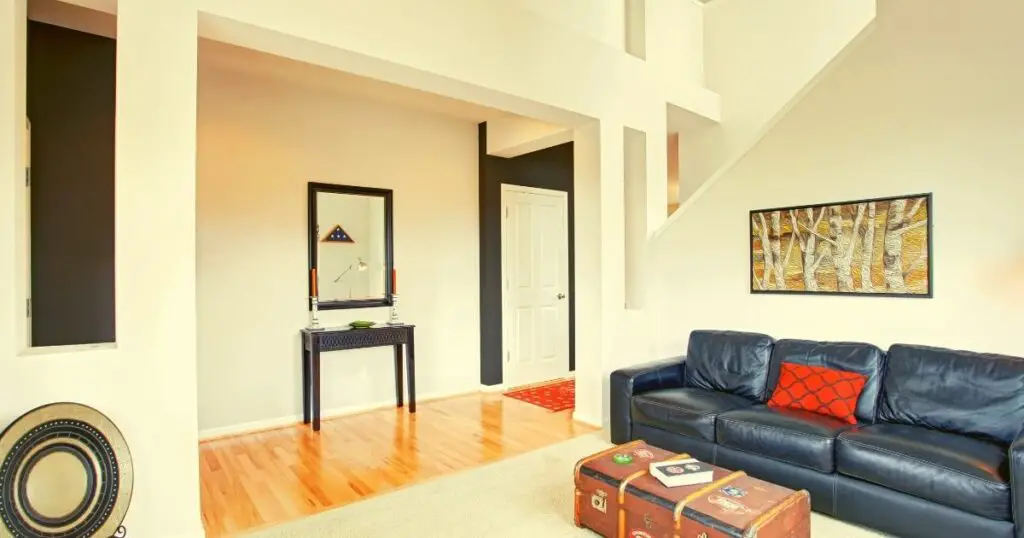 Storage: Maximize Every Inch
One challenge with soaring ceilings is that all that space could be better spent. Time to get creative with storage!
Think Vertical for Shelving and Systems
Max out vertical storage with:
Floor-to-ceiling shelving or bookcases
Wall-mounted cabinets above desks or kitchen counters
Multi-level systems with ladders or library steps
Wall-mounted drying racks, magnetic strips, pegboards
Tailor these storage solutions to your needs – they keep items organized while taking up minimal floor space.
Seek Out Multifunctional Pieces
Furniture that doubles as storage is a small space must-have. Look for:
Storage ottomans
Coffee tables or benches with lift-up tops
Upholstered headboards with built-in shelving
Dining benches with under-seat storage
What are your favorite space-saving furniture pieces? I'd love to know!
Celebrate Your Height with Focal Points
Now for the fun part – highlighting those soaring ceilings! Use these techniques to create a dramatic focal point.
Incorporate a Bold Color
Paint one wall in a deeply-hued accent color. This energizes the space and instantly draws the eye up. Try moody blue, bright fuchsia, or even a deep green.
Pair your color pop with decor in complementary tones for a pulled-together look.
Install a Sculptural Lighting Piece
Make a stunning lighting fixture the pièce de résistance. Consider:
A sparkling statement chandelier
Edgy modern fixtures like overlapping metal discs
Branching antler chandelier for organic flair
Vintage find reflecting your style
This makes the most out of vertical real estate!
Create an Art Installation
You can commission a mural, apply removable wallpaper, or arrange an art wall inspired by what you love. A botanical jungle, abstract shapes, or mountainscape are all dramatic options.
Add integrated lighting to make it shine!
Embracing height opens up endless possibilities. Do you have any bold ideas for focal features? Share them below!
Final Thoughts on Designing for Height
And there you have it, friends. My best tips and tricks for optimizing and celebrating small rooms with lofty ceilings!
The key is working with, rather than against, your space's dimensions. Draw the eye upward with intelligent lighting, monochromatic color schemes, and vertical decor. Seek out the right-sized furniture, add plenty of storage, and expand visual space with mirrors. Lastly, have fun highlighting those soaring ceilings with a custom focal feature.
While every home is unique, I hope these ideas spark your creativity in maximizing your vertical real estate. Don't forget to measure twice, visualize the possibilities, and take advantage of the contrast.