There's nothing quite like walking into a beautifully decorated bathroom. The wall décor plays a huge role in setting your bath space's overall mood and style. But if your bathroom walls look a little lackluster, don't worry – a splash of style is just a few decor choices away!
As an interior designer based in bustling New York, I've worked on all sorts of bathrooms. I've found that creatively decorated walls can transform even the plainest bathroom into a spa-like oasis. With the right wall art, tile, mirrors, and more, you can reflect your personality while creating a functional space to start and end your days.
Follow along as I share my insider tips and ideas for livening up boring bathroom walls. I'll provide plenty of options to fit various budgets and design aesthetics. Let's dive in!
Understanding the Bathroom Environment
Before choosing any décor items, it's crucial to consider the bathroom's unique conditions. The humidity and moisture can damage materials unsuitable for the space. Even quality wall art can succumb to issues like peeling, warping, and discoloration when improper materials are used.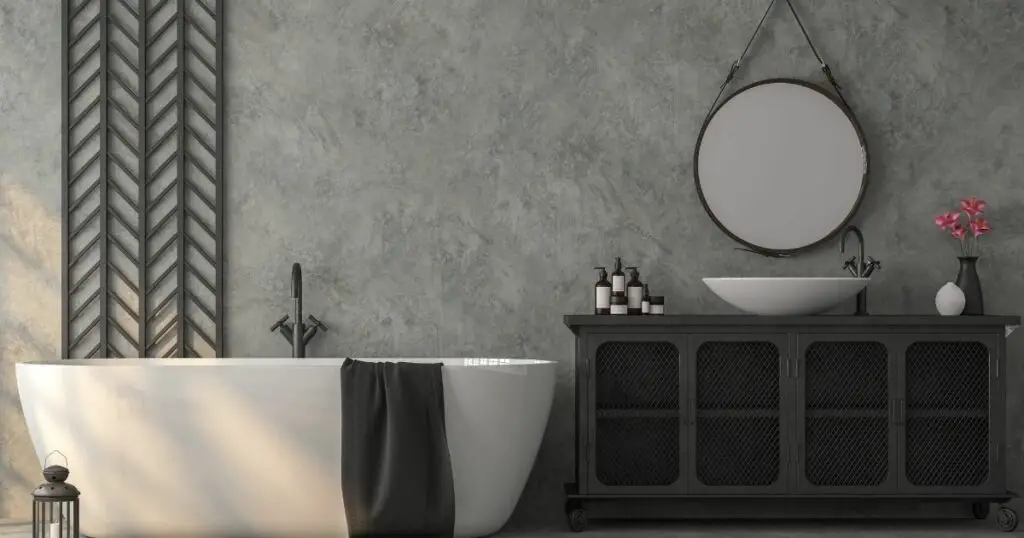 The bathrooms I design in New York can get steamy, especially with multiple long showers daily! Here are some good rules of thumb for picking wall décor that stands up to moisture:
Use moisture-resistant finishes – Prioritize materials like tile, natural stone, metals, and water-resistant wood composites. Avoid unprotected paper or cardboard.
Account for humidity – Absorbent materials like canvas or wood may not hold up well unless properly treated and sealed. Even quality frames can warp.
Pick mold/mildew-resistant materials – Natural materials like wood and rattan need a protective coating. Porous surfaces also require extra maintenance to prevent mold growth.
Ease of cleaning is vital – From soap scum to splashed bath products, bathroom walls get grimy. Choose materials and finishes that can be easily cleaned without damage.
Considering the unique bathroom environment, you can pick wall décor that enhances the space instead of deteriorating over time.
Setting the Tone with Color Palettes and Themes
The colors and patterns you choose for the bathroom walls set the tone for the whole space. I always start by getting a feel for the mood my client is going for. Here are some popular bathroom color palettes and corresponding themes I often work with: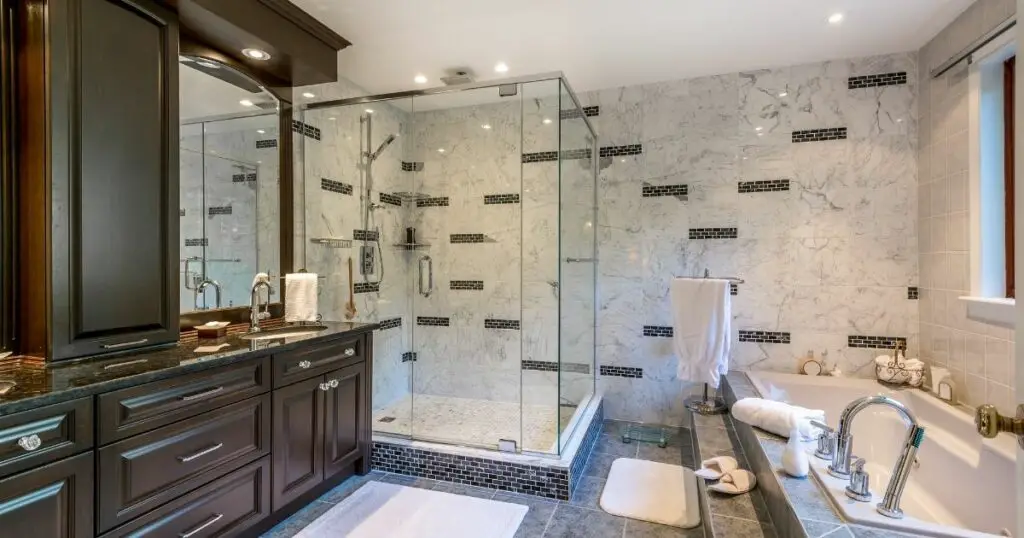 Serene Spa Style
Cool hues like pale blue, seafoam, and lavender create a peaceful spa-like environment. I often use an accent wall with slate gray, light blue, or metallic silver wallpaper as a focal point. The key is sticking to a narrow color palette with little contrast.
Beach Cottage Theme
Coastal colors like navy, coral, and yellow evoke ocean views and beach vacations. I'll use these colors in natural textures like woven baskets, weathered wood signage, and driftwood frames to create a cottage vibe. White wainscoting or shiplap enhances the breezy, nautical look.
Bold and Dramatic
Rich jewel tones help create an opulent, high-contrast statement. Deep greens and blues evoke a lush forest, while vibrant eggplant and crimson reds feel plush and regal. I'll accessorize with gold-framed mirrors, sconces, and ornate hardware. Dark colors can feel closed-in, though, so I balance them with ample lighting.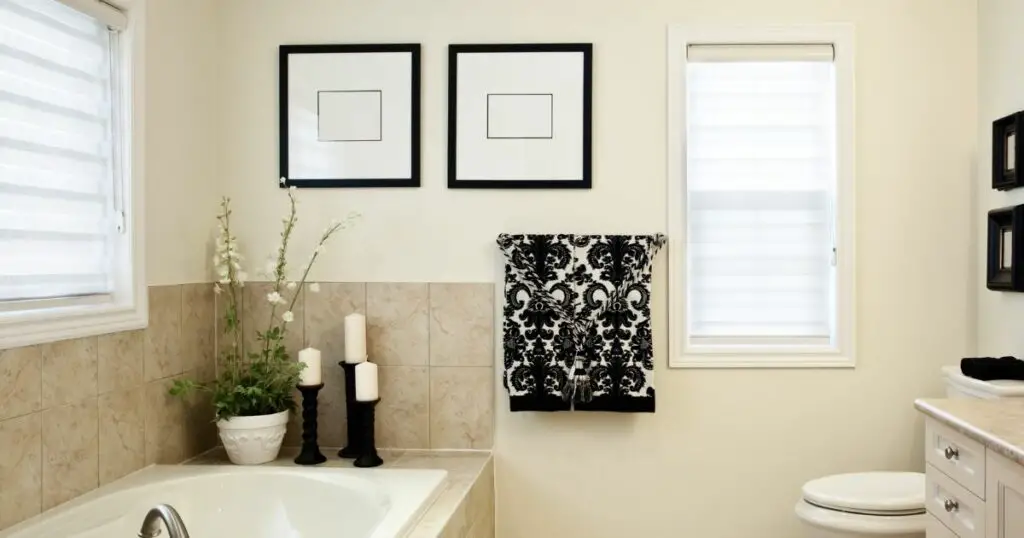 Earthy and Organic
Natural hues like mossy greens, warm terra cotta, and deep browns have an earthy, grounded feel. I complement these colors with decor touches like woven baskets, framed botanical prints, and stone or wood surfaces. By limiting the contrast between tones, a spa-like ambiance can be achieved.
Clean and Bright Minimalism
Stick to crisp white, beige, and light gray walls for a light, airy spa aesthetic. Pops of color can be added with towels, flowers, and other accents. Frameless rectangular mirrors keep lines clean. Natural light and ample storage are critical for this pared-down look.
Remember – color trends may come and go, but choosing a palette and theme you connect with will remain timeless. The colors should complement your personality and the overall home's style.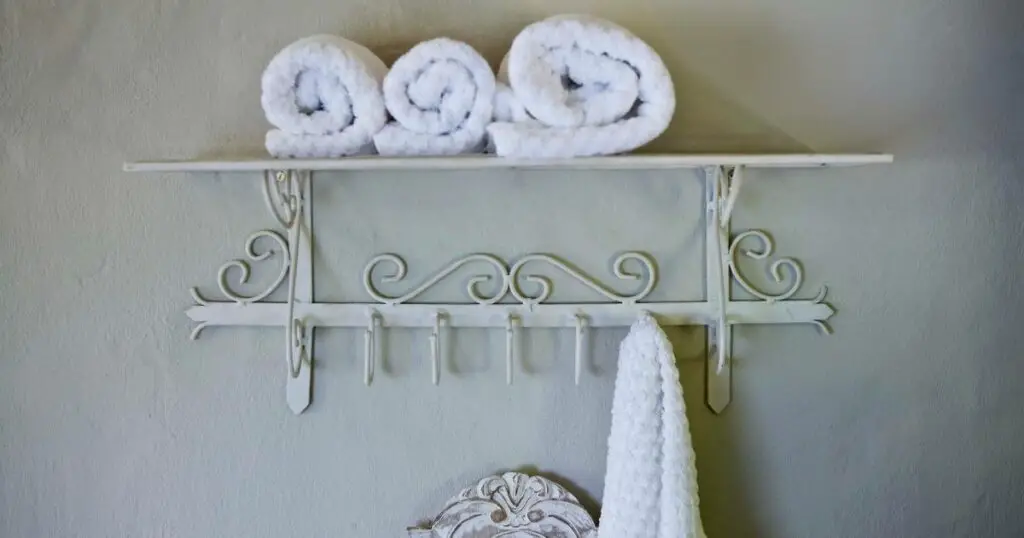 Wall Art Choices for a Captivating Bathroom
Artwork is one of my favorite ways to personalize a space while introducing color, texture, and visual interest. Here are some of my tried-and-true wall art recommendations for creating a magazine-worthy bathroom:
Framed prints and photography – Don't shy away from hanging framed art and family photos in your bathroom! For moisture resistance, choose acrylic or metal frames over wood. Make sure any paper or canvas prints are professionally treated and sealed. I love grouping coordinating frames of various sizes to create a gallery wall.
Canvas pieces – From abstract designs to nature scenes, canvas artwork adds warmth and texture. Stretched canvas withstands humidity better than paper prints. For extra protection, choose acrylic gel finishes or marine-grade canvas for humid conditions.
Wall decals – Removable decals make it easy to switch up your style. They come in every motif imaginable – floral designs, inspirational quotes, geometric patterns. Adhere decals to a clean wall, smoothing any bubbles for a professional look. Avoid areas with moisture and mildew.
Mirror art – Mirrored art is a top trend I'm seeing lately – it adds literal and visual dimension to walls! To create stunning focal points, cover a primary mirror with mosaic tiles, ornate metalwork, or colored glass. Monogrammed and etched mirrors also infuse personality.
When selecting and placing wall art in the bathroom, carefully consider the size, style, and placement. Be sure to account for functional fixtures like towel bars, TP holders, and sinks. The artwork should complement the decor, not overwhelm it.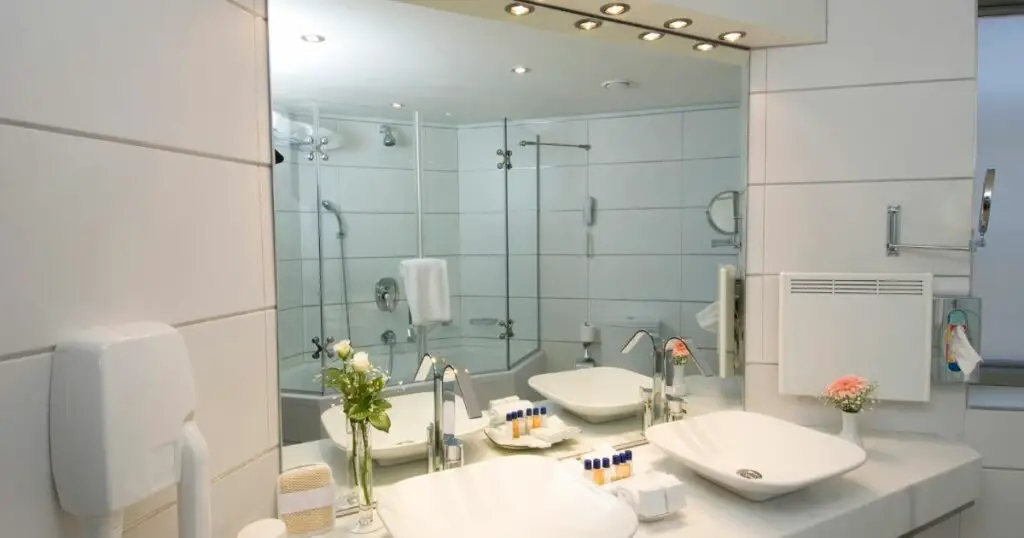 Creative Touches with Wall Accessories
Beyond wall art, accessorize with functional fixtures that double as decor. Here are some of my favorite ways to personalize bathroom walls:
Floating shelves – Floating shelves provide both open storage and display space. They're easy to install and come in endless materials like wood, marble, glass, and metal. Style them with rolled towels, candles, plants, or bath accessories. Just avoid placing valuable items that could be damaged by moisture.
Mirrors – A statement mirror does more than offer reflection – it makes rooms feel lighter and larger while acting as a focal point. Look for beveled edges, unique shapes, integrated storage, and character-filled surrounds. Above the sink or vanity are ideal spots, and consider your lighting.
Hooks and hangers – Hooks add form and function for hanging towels, robes, and more. Seek unique shapes, materials, and placements – themes don't have to be boring! Try grouping them in an asymmetrical arrangement. Floating shelves also work nicely.
Baskets – I love the woven, natural look of bathroom baskets lately. They store necessities in an organized way while complementing wood, marble, stone, and neutral color schemes commonly found in bathrooms. Use baskets atop shelves or on the floor.
You can amplify the style by creatively incorporating wall storage and accessories while keeping necessities at hand. Just ensure you use humidity-resistant finishes and materials.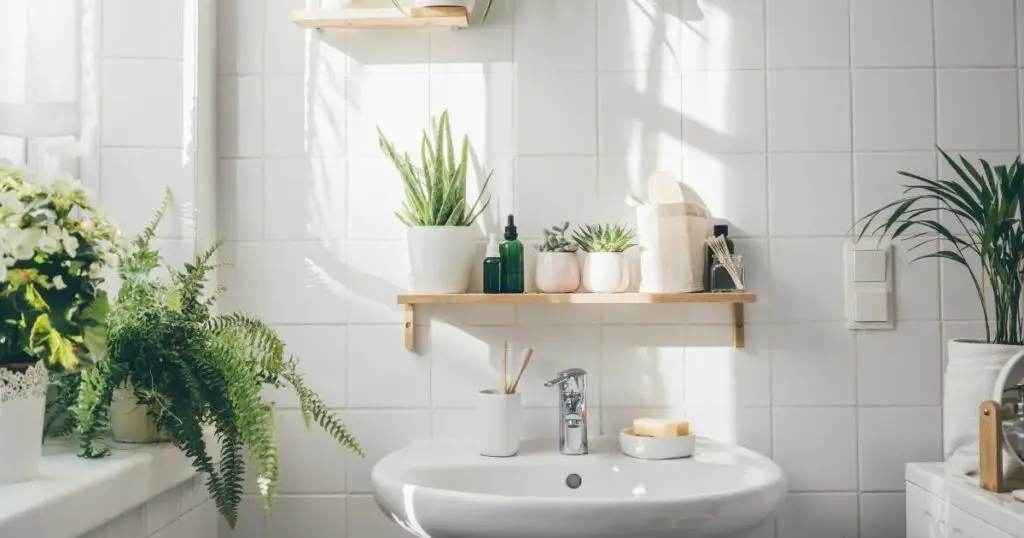 The Elegance of Wall Tiles and Mosaics
As a designer and a New Yorker, I'm drawn to the beauty and versatility of tile. The color, shape, pattern, and texture options are endless! T tiles, from mosaics to ceramic and porcelain, lend an elevated, custom feel. Some gorgeous ways to use tile in the bath:
Accent walls – Use eye-catching tile to make the bathtub or vanity wall pop. Subway, hexagon, fish scale, and rectangular styles create visual interest and depth. Limiting tiles to one wall keeps the look harmonious.
Borders – Horizontal and vertical edges seamlessly blend wall colors. Borders along mirrors and light fixtures also frame focal points. Classic designs include checkerboard, beadboard, and crown molding looks.
Patterns and mosaics – Embellish a sink surround or shower wall with ornate tile patterns. Geometric, floral, sea glass, and Mediterranean motifs set the tone. Hide imperfect cuts behind fixed items like mirrors.
Backsplashes – A stunning backsplash transforms dull vanity spaces into artworks. Opt for glass, metal, or ceramic backsplashes with appealing color combinations. Natural stone mosaic tiles create an elegant spa vibe.
Grout – This minor detail has a huge impact! Match grout to tile for a cohesive aesthetic, or contrast grout shades to make the tile pattern pop. Consider how lighting affects color, and opt for mildew-resistant epoxy grout.
With careful prep and installation, tiles add timeless beauty while withstanding busy family bathrooms. Be wary of slick surfaces and opt for textured tiles or grip strips when needed.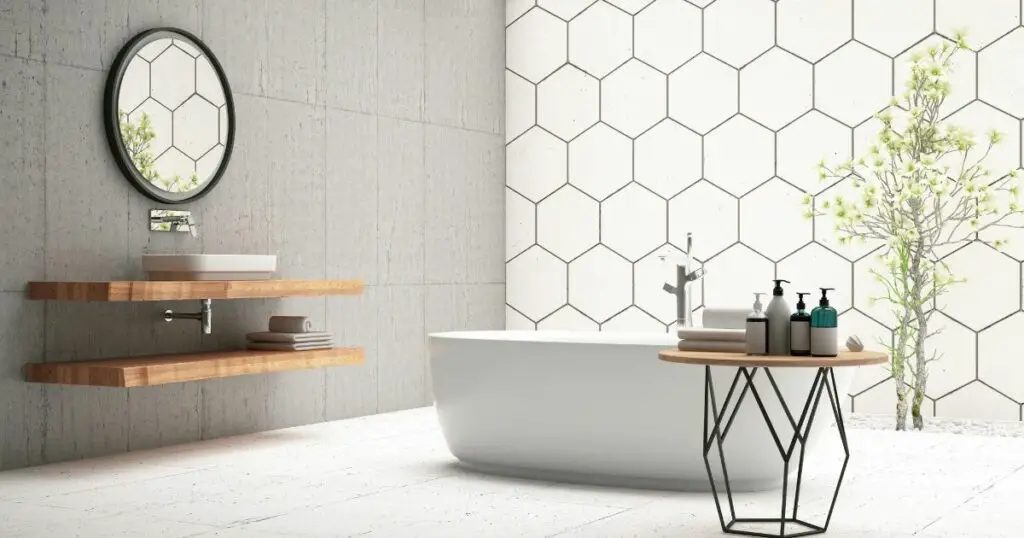 DIY Decor Ideas for Personalized Walls
Looking to add personalized flair on a budget? As a longtime thrift shopper and flea market hunter, I've gathered some fun DIY ideas to liven up bathroom walls:
Stenciled designs – Use stencils and specialty paint to create your wall art. Painted flowers, vines, words, or shapes complement various aesthetics. Learn proper prep and techniques for crisp lines. Consider mold-resistant paints.
Photo display: Show off favorite photos with a budget-friendly photo display. Mount same-sized frames on square MDF or plywood painted to match your walls. You can also string prints or clothespins along the twine.
Salvaged window mirror – Upcycle an old window into a mirror for bohemian flair! Remove the glass, affix mirror film, and hang it like art. Add interest with paint or surround it with architectural salvage wood.
Wall planters – Use hand-painted terracotta pots or wooden crates to hold bathroom plants for an earthy vibe. Then, mount them in groupings at various heights for dimension. Just avoid direct sunlight and overwatering.
Pallet shelves: Upcycled wood pallets make rustic wall storage easy. Sand, stain, and finish the pallets, then mount them directly on properly reinforced walls. Style the open shelves with rolled towels, candles, or decor.
Assess if DIY materials can withstand the warm, humid bathroom environment long-term and treat them accordingly. Shop secondhand stores to spark your creativity without spending a fortune!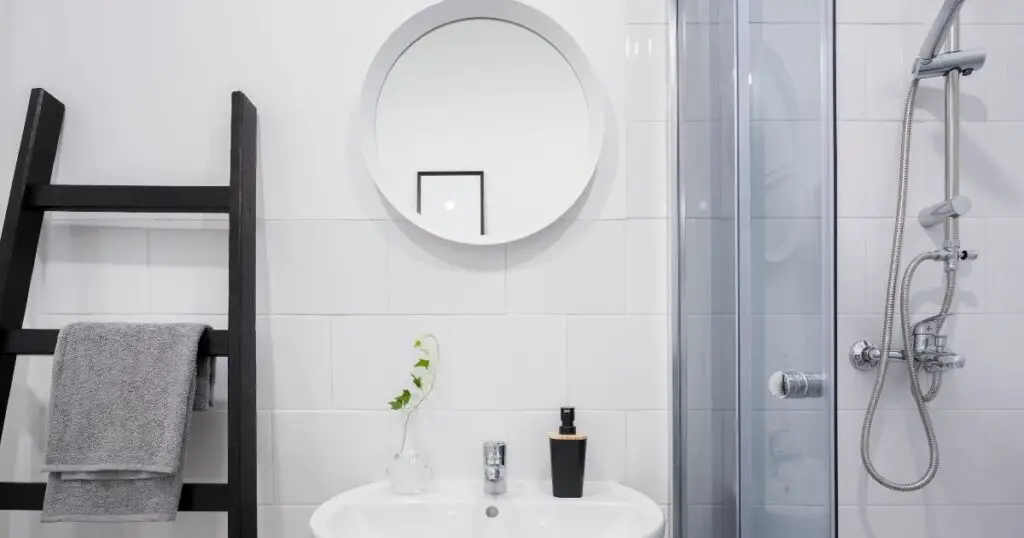 Lighting: The Unsung Hero of Bathroom Ambiance
As an interior designer, I consider lighting as crucial as the physical décor. Lighting and décor work hand-in-hand to create an overall aesthetic. Follow this advice to make your new bathroom wall decor shine:
Maximize natural light – I take full advantage of windows and skylights to reduce the need for artificial lighting during the daytime. For privacy, use textured glass treatments that still allow light through. Mirror placement also bounces more sunlight around.
Task lighting – Properly illuminate tasks like shaving, makeup application, and grooming with fixture lighting aimed at vanities and mirrors. Wall sconces flanking mirrors are one of my favorite vanity lighting tricks.
Mood lighting – Use fixtures like pendant lights and wall sconces to create an ambiance with soft, diffused lighting. Dimmers allow you to adjust the mood. Uplighting behind floating shelves or wall art creates dramatic shadows.
Consider scale – Choose adequate lighting for your bathroom's size. A soaring cathedral ceiling needs a statement chandelier, while an intimate powder room benefits from modest sconces. Seek balance.
Match finishes – Coordinate the light fixtures with other metals and hardware finishes in your space, like chrome, bronze, nickel, or oil-rubbed bronze. The amenities should feel cohesive.
With strategic placement and fixture styles, your bathroom lighting can complement the walls instead of competing with them. It can also set the mood while aiding tasks and daily routines.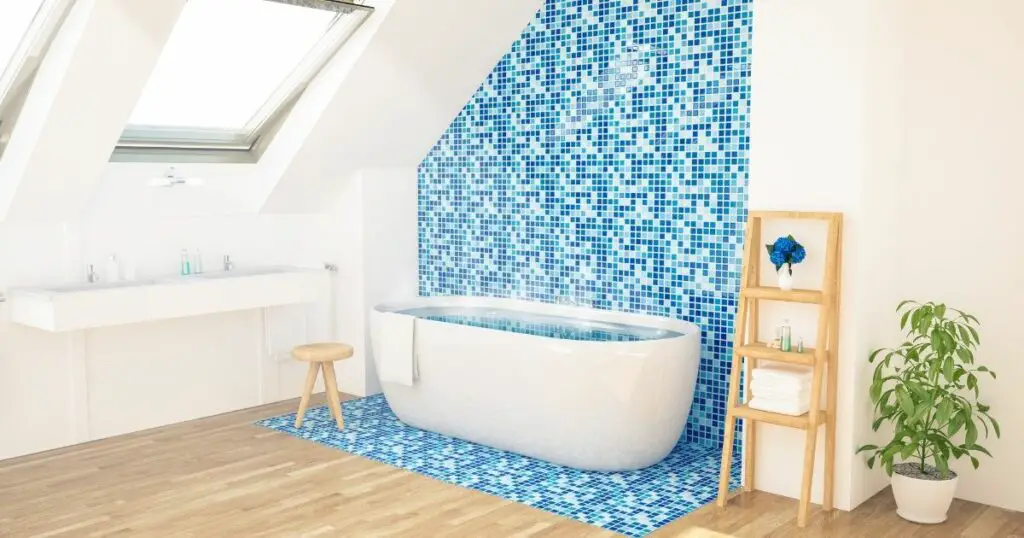 Trends and Innovations in Bathroom Wall Decor
Working in interior design, I'm always excited to see fresh new trends emerge. Here are some of the latest bathroom wall innovations catching my eye:
3D wall panels – These sculptural panels add literal depth and texture to walls. Panels with geometric, nature-inspired, and abstract designs create visual drama. They're easy to install over existing walls and come in waterproof materials.
"Digital shower walls – Technology meets tile with digital shower walls that display ocean views, seasonal forests, and more with the push of a button. These LCD""tiles" offer limitless customization. Though cost-prohibitive for some budgets, the concept is intriguing."Digital shower walls – Technology meets tile with digital shower walls that display ocean views, seasonal forests, and more with the push of a button. These LCD "tiles" offer limitless customization. Though cost-prohibitive for some budgets, the concept is intriguing.
Smart mirrors – Imagine a mirror that doubles as an interactive hub – that's the beauty of intelligent mirrors! Features like touch screens, voice control, video calling, lighting adjustment, and more simplify routines. They're on the pricier end but make getting ready high-tech.
Metal and faux wood finishes – I'm shifting away from actual wood in humid baths and embracing waterproof metal and wood-look finishes. Patterned metal sheets imitate woodgrain, while durable PVC panels resemble weathered barn wood but withstand moisture.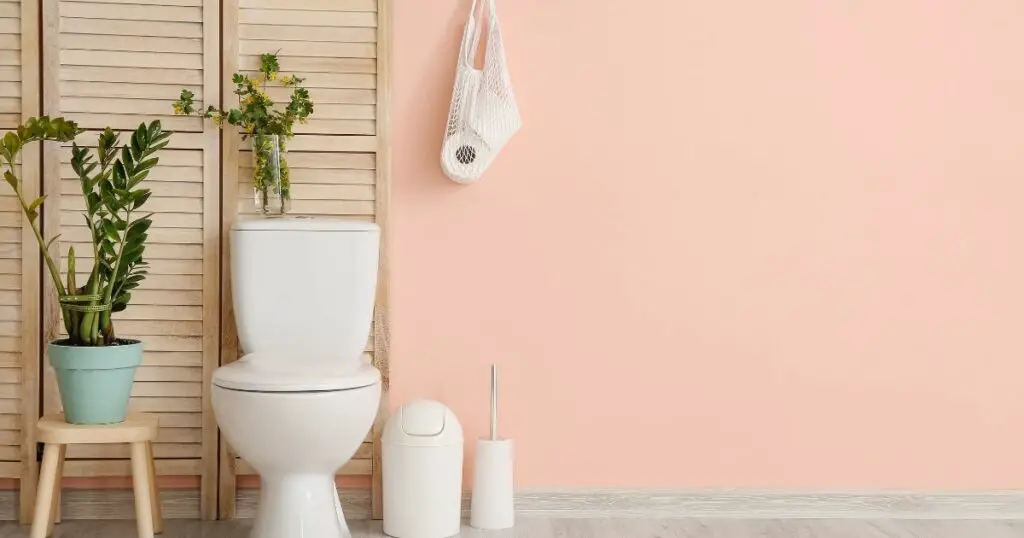 Bold black – Muted baths are giving way to bold black accents and fixtures. Think black framed mirrors, walls, tile, and hardware for a dramatic, glamorous effect. Use ample lighting, metallics, and greenery to keep dark colors from feeling closed in.
By keeping up with trends and innovations, you can keep your bathroom wall decor fresh and current for years before a complete redesign. Focus on flexible updates like paint, lighting, and art.
Maintaining Your Bathroom Wall Decor
Now that your bathroom walls look fabulous let's keep them that way! Humidity and routine cleaning take a toll. Here are my top tips for preserving wall décor:
Use gentle, bathroom-safe cleaners and microfiber cloths to routinely wipe down walls, mirrors, tile, and fixtures. Avoid abrasive materials.
To reduce humidity buildup and moisture damage over time, use a bathroom fan, open windows, and run the hot shower before bathing.
Spills, splashes, and drips should be cleaned immediately to prevent stains, damage, and mold/mildew growth on surfaces.
Check for any signs of damage, such as peeling or cracks, and address them immediately before they expand. Be vigilant about grout and caulking integrity.
For wall art, dust and clean the frame/glass carefully. If paper prints or canvas are used, keep them out of direct moisture contact.
Test cleaning solutions on inconspicuous areas first. Opt for gentle, non-streaking cleaners formulated for bathrooms.
Wipe metal finishes and hardware periodically with a soft cloth to prevent water spotting and mineral buildup, which can cause corrosion over time.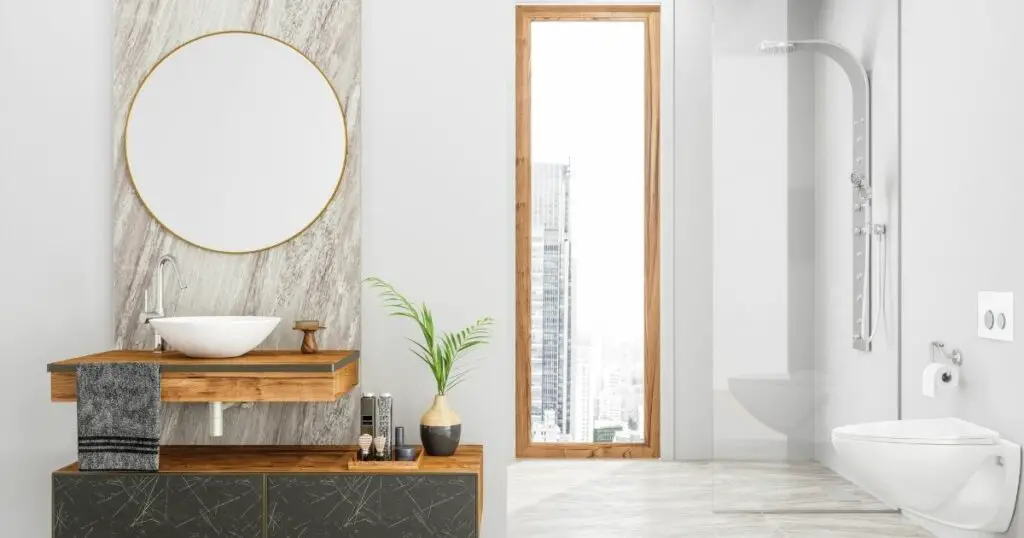 Don't let your beautiful new bathroom décor go to waste! Frequent maintenance goes a long way in preserving your investment and keeping walls lustrous.
I hope these insider tips help you confidently tackle your bathroom wall décor makeover. Remember: the best spaces reflect your personality and style. Have fun with color, texture, and art to create a bathroom where you're excited to spend time.